Gen info
- Connarus is a genus of plants in the family Connaraceae. Species are usually woody climbers, occasionally shrubs or tress. Flowers are bisexual and fragrant. Fruits are pod-like. (12)
- Etymology: Connarus semidecandrus derives from the Greek word konaros, meaning a "spring tree", and from the Latin words semi (half), deka (ten) and andro (male).
Botany
Sandalino is a scandent, woody vine, reaching a height of 2 to 6 meters, smooth except for the inflorescence. Leaves are 25 to 30 centimeters long. Leaflets are 5 to 7, oblong, 8 to 15 centimeters long, and pointed at both ends. Panicles are borne in the upper axils, 10 to 20 centimeters long. Flowers are numerous, yellowish-white, fragrant, and about 7 millimeters long. Pod is red, obovoid, 2 to 3 centimeters long, somewhat curved and compressed, and short stalked.
Distribution
- Native to the Philippines.
- In thickets and forests at low and medium altitudes from northern Luzon southward to Panay and Negros.
- Also native to Andaman Is., Bangladesh, Bismarck Archipelago, Borneo, Cambodia, Caroline Is., Jawa, Laos, Lesser Sunda Is., Malaya, Myanmar, New Guinea, Nicobar Is., Solomon Is., Sulawesi, Sumatera, Thailand, Vietnam. (1)

Constituents
- Phytochemical screening yielded the presence of tannin, terpenoids, saponins, flavonoids, alkaloids, and anthraquinones in various plant parts. (7)
- Bergenin, an isocoumarin compound, and homorapanone, a quinone compound, have been isolated from the stem of C. semidecandrus. (8)
- In a study for antioxidant vitamins, young leaves of Connarus semidecandrus yielded vitamin C 87.64 ± 0.47, ß-carotene 5.54 ± 0.07, and vitamin E 0.45 ± 0.01. (see study below) (9)
- Phytochemical screening of polipog leaves, barks, and roots decoction for secondary metabolities yielded triterpene and flavonoid (∞-benzopyrene), with absence of alkaloids. (13)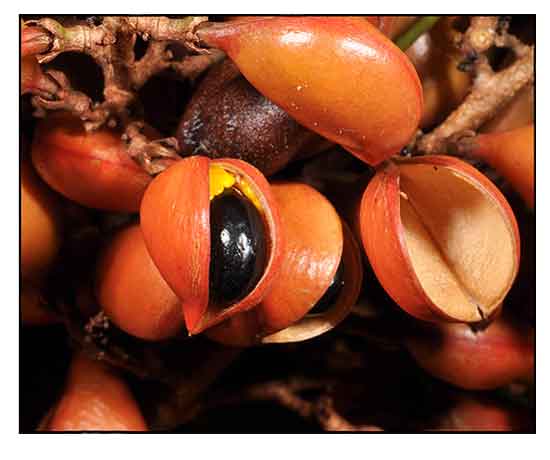 Properties
- Studies have suggested antipyretic, antinociceptive, anti-alopecia properties.
Parts used
Roots, leaves, stems.

Uses
Edibility
- In Indo-China and the Moluccas, young shoots eaten as vegetable.
Folkloric
- In the Philippines, decoction of fresh and dried roots taken internally for amenorrhea and as a uterine tonic.
- Used for treatment of diabetes.
- In Cambodia, roots used for treatment of bubonic plague.
- Decoction of leaves used for constipation. (2)
- Root decoction used for colic. (3)
- In Thailand, roots used for tetanus and boils.  (4) Leaf decoction used for chest pains; root used for fever; leaf and stem used as laxative and anthelmintic.
- In Malaysia, roots used to treat fever.
- In India, Andaman and Nicobar Islands, root decoction used for colic. (8)
- In Indonesia, used as thrush remedy.
Others
- Tying: Stems used for binding.
Studies
• Antipyretic / Antinociceptive / Bergenin / Stem: Study evaluated the methanol extract of stem of C. semidecandrus and its constituent, bergenin, for antinociceptive activity using writhing, hot plate and formalin testing in mice and antipyretic activity in yeast induced fever in rats. Results showed dose dependent antinociceptive activity by acetic acid testing; bergenin produced a less pronounced effect than the extract. The extract also significant attenuated fever induced by yeast in rats. (5)
• High Antioxidant Vitamins: In an HPLC study of 30 edible indigenous Thai plants for antioxidant vitamins, the top five plants were Sauropus androgynus, Sesbania grandiflora, Moringa oleifera, Momordica charantia and Connarus semidecandrus. (see constituents above) (9)
• Anti-Androgenic Alopecia Effect: Study demonstrated the anti-alopecia effect of an ethanol extract of Connarus semidecandrus in a testosterone-induced androgenic alopecia (AGA) model, in measures of hair-skin ratio, hair type frequency, and hair thickness. Results showed hair growth-promoting effect of Cs-EE evidenced by area of restored hair growth and thickened hair population. Histological data suggest Cs-EE could reduce hair loss and upregulate hair proliferation in mouse skin by shifting hair follicles from catagen phase to anagen phase. Western blotting indicated Cs-EE reduced expression of the androgenic receptor. Extract treatment also inhibited programmed cell death by upregulating Bcl-2 expression at mRNA and protein levels. The Cs-EE had suppressive effects on 5-α reductase activity and a proliferative effect on human hair-follicle dermal papilla (HDP) cells. Apoptotic pathways in HDP cells were downregulated by CsEE treatment. Results suggest potential for AGA treatment. (10)
Availability
Wild-crafted.