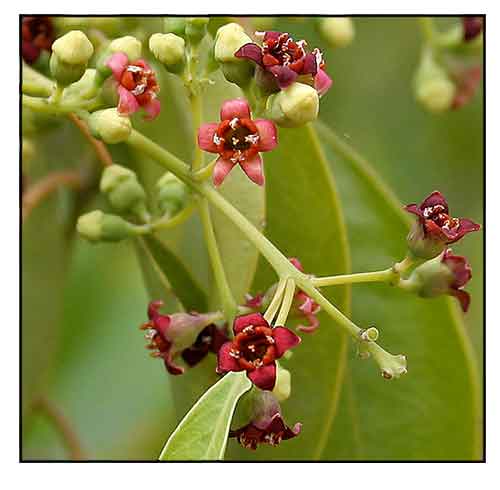 Gen info
- Sandalwood is one of the long-established medicinal aromatic plants, in human use for at least 3000 years. It was mentioned in the Nirukta, a Vedic commentary written about 500 BC. As early as 900 BCE, powdered sandalwood was used in personal care, bathing, or as paste applied to the skin. (4)
- The genus Santalum contains about 25 species of semiparasitic plants of the family Santalaceae, including the fragrant wood of the true or white sandalwood, Santalum album.
- Santalum album is a small tropical tree, native to southern India and Southeast Asia. (2)
- It is the traditional and primary source of sandalwood and the derived oil. The first extraction of essential oil occurred in Mysore, India in 1971. India used to dominate production of sandalwood oil worldwide, but the industry has been in decline in the 21st century. At present, demand exceeds supply. (2)
- Santalum album is considered sacred in Hinduism.
- Its high value has caused over-exploitation and has rendered it vulnerable to extinction.
- Etymology: The genus name Santalon derives from Greek, meaning 'sandalwood'. The species epithet album is Latin meaning "white" alluding to the heartwood. (2)
- Santalum album is the species first to be known as sandalwood. (2)
- Sandalwood is mentioned in De Materia Medica written by Greek physician, Discorides, considered the father of phamacology. (5)
- SAO (Santalum album oil) is listed in the United States Food and Drug Administration (FDA) Food Chemical Codex as a natural flavoring ingredient, and the Australian Therapeutic Goods Administration (TGA) has classified the oil as a Listed Medicine, available as active ingredient in many non-prescription products. (22)

Botany.
Santalum album is a small evergreen tree that grows to 4 m in Australia, but in India it is much larger and can grow to a height of 20 m; girth of up to 2.4 m, with slender drooping branchlets. Bark is tight, dark brown, reddish, dark grey or nearly black, smooth in young trees, rough with deep vertical cracks in older trees, red inside. Leaves thin, usually opposite, ovate or ovate elliptical, 3-8 x 3-5 cm, glabrous and shining green above, glaucous and slightly paler beneath; tip rounded or pointed; stalk grooved, 5-15 cm long; venation noticeably reticulate. Flowers purplish-brown, small, straw colored, reddish, green or violet, about 4-6 mm long, up to 6 in small terminal or axillary clusters, unscented in axillary or terminal, paniculate cymes. Fruit a globose, fleshy drupe; red, purple to black when ripe, about 1 cm in diameter, with hard ribbed endocarp and crowned with a scar, almost stalkless, smooth, single seeded. (3)
Distribution
- Native to the Philippines.
- Also native to Jawa, Lesser Sunda Is., Northern Territory, Western Australia. (1)
- Grows primarily in the wet tropical biome.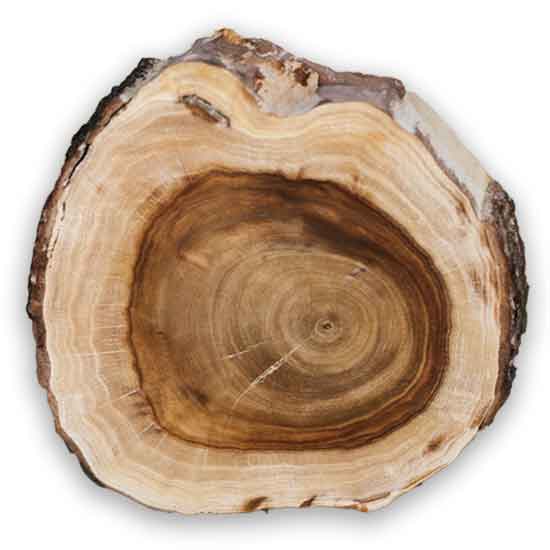 Constituents
- Major constituents of commercially available sandalwood oil are sesquiterpene alcohols like α- and ß-santalols (C15H24O), bergamotols and several of their stereoisomers; minor constituents includes lanceol, nuciferol, bisabolol and the sesquiterpene hydrocarbons such as α- and ß-santalenes (C15H24), bergamotenes, α-, ß- and γ-curcumenes, ß-bisabolene and phenylpropanoids. (5)
- GC and GC/MS analysis of oil led to the detection of fifty-three compounds representing 99.9% of the total oil, including 30 sesquiterpenols (78.5%), 9 sesquiterpenes (7.8%), a terpenoic acid (0.4%) and 5 sesquiterpenoid isomers (4.4%). The major constituents in the essential oils were - and -santalol, accounting for 19.6 and 16.0%, respectively. (5)
- Hydroalcoholic extract of leaves yielded glycosides, alkaloids, steroids, saponins, tannins, and flavonoids. (see study below) (20)
Properties
- Considered coolant, sedative, astringent.
- Studies have suggested anticancer, antidiarrheal, catalytic, antibacterial, memory enhancing, immunopharmacological, anti-inflammatory, antiviral, cardioprotective, antifungal, antiulcer, antihyperglycemic, antihyperlipidemic properties.

Parts used
Heartwood, roots, leaves, oil.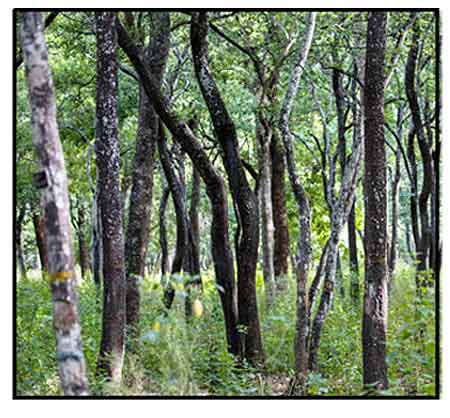 Uses
Edibility
- Fruits are edible.
- Oil is also used as flavoring in food products such as frozen dairy desserts, candies, pan masala, baked foods, gelatin, puddings, alcoholic and non-alcoholic food beverages. In many countries, sandalwood oil has been approved as food additive. (5)
Folkloric
- Used in traditional systems of medicine such as Ayurveda, Siddha, and Unani medicine for a wide range of ailments. In Ayurveda, as antiseptic, antipyretic, antiscabietic, diuretic, expectorant, stimulant, and for treatment of bronchitis, dysuria, gonorrhea, piles, vomiting, poisoning. (5)
- Used for its calming and relaxing effect, to reduce stress, depression, anxiety, and insomnia.
- Oil used for the treatment of acne, eczema, psoriasis, and skin cancers.
Others
- Wood: Heartwood is yellow-brown in color, hard and durable, with an oily texture. Valued in construction and a good wood for carving. Considered rotproof. Outer part, sapwood, is unscented;p white or yellow, it is used to make turnery items. (2)
- Oil: Indian sandalwood has a high santalol content (about 90%). Sandal oil is distilled from the heartwood which yields 4-10%. Sandalwood oil is used in aromatherapy and the manufacture of perfumery, soap, pharmaceuticals. (3)
- Fragrance: The heartwood is the only part of the tree used for its fragrance. Used in the production of perfume Samsara by Guerlain.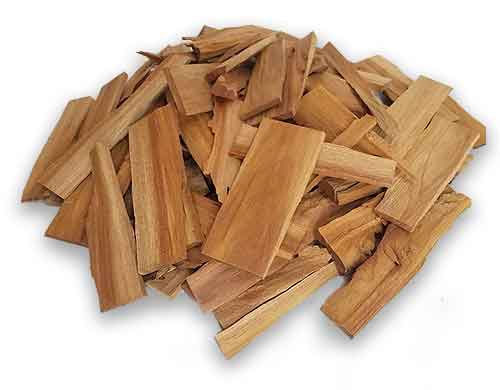 - Rituals / Therapies: Sandalwood has been used in China for construction of statues and temples, and was burned in censers during religious rites; also, as aromatic medicine in the Tang Dynasty (581 AD) to treat respiratory maladies. In Egypt, used for embalming mummies, and later was burned as part of Muslim funerals. (2) In Egypt use in ritual burning to venerate the gods. Used by Buddhists as therapy for depression, anxiety, and insomnia. Monks used it to relax the body and focus the mind. (4)
- Fodder: Trees are lopped for fodder. Foliage is palatable to grazing animals such as rabbits, sheep, goats, cattle, pigs, horses, and camels. (3)
- Fuel: Wood can be used as fuel but considered too valuable for such.
- Tannin / Dyestuff: Bark yields 12-14% tannin with potential in the tannin industry. Seed oil can be used in the manufacture of paint. (3)
- Incense: Heartwood powder made into incense sticks, used to perfume houses and temples. (3)
- Green manure: Leaves make a good green manure.
- Pigment: Mature berries of Santalum album yield the best amount of anthocyanin (cyanidin-3-glucoside) (see study below) (21)
Studies
• Anticancer / Review: Review discusses studies supporting the anticancer effect and mode of action of sandalwood oil and α-santalol in carcinogenesis. Cell line and animal studies have reported chemopreventive effects of sandalwood oil and α-santalol without causing toxic side effects. Study identified its anticancer effects in chemically-induced skin carcinogenesis in CD-1 and SENCAR mice, ultraviolet B-induced carcinogenesis in SKH-1 mice and in vitro models of melanoma, non-melanoma, breast and prostate cancer. A most reported anticancer mechanism is its ability to induced cell-cycle arrest and apoptosis in cancer cells. (6)
• Immunopharmacological / Anti-Inflammatory / Antiviral / Roots: Study evaluated the immunopharmacological activity of aqueous root extract of S. album against Hepatitis B surface antigen (HBsAg) and Newcastle disease virus (NDV) on human peripheral blood mononuclear cells (PBMCs). The root extract inhibited proliferation, nitric oxide production and CD14 monocyte surface marker at higher doses. Results suggest both antiviral and anti-inflammatory activities. (8)
• Antimicrobial / Anticancer / In Silico Admet Prediction: Study evaluated various fractions of heartwood, leaves, and heartwood oil against few human pathogens by disc diffusion method. Methanol fraction and oil showed high potential against E. coli, S. aureus, and S. typhi. In silico prediction of Santalol and Santayl acetate using PRE-ADMET showed 100% human intestinal absorption and plasma protein binding. Positive against carcinogenic cell lines Positive CNS-Barrier test affirmed them as potent antibacterial and anticancer lead compounds. (9)
• Protective on Doxorubicin Induced Cardiotoxicity: Study evaluated the protective effect of aqueous extract of S. album in acute doxorubicin induced cardiotoxicity in male wistar rats. There was reversal of elevated decreased MDA, LDH, CK-MB. Levels of IL-6, TNF-α, and caspase-3 in cardiac tissue were also reversed. S. album attenuated the vacuolization and restored myocardium structure. Results showed invitro antioxidant potential. SA reduced levels of inflammatory and pro-apoptotic biomarkers due to DOX. SA can protect cardiac tissue from oxidative stress induced cell injury and lipid peroxidation and interfere with DOX-induced inflammatory and apoptotic induction in cardiac tissue. Results suggest S. album is protective against DOX-induced cardiotoxicity. (10)
• Antifungal and Ichthyotoxic Sesquiterpenoids / Heartwood: Study of n-hexane soluble extract from heartwood of S. album yielded potent fish-toxic activity upon screening using killfish (medaka) and characterized α-santalol and ß-santalol as the active components. The fish toxic compounds including ivulavosin showed significant antifungal effect against dermatophytic fungus Trichophytoon rubrum.
α-Santalol showed to be a potent antimitotic agent induced by interference with microtubule assembly. Results suggest α-santalol or heartwood oil has potential for further investigation as therapeutic agent for cancers and fungal skin infections. (11)
• Memory Enhancing: Santalum album has been described in Siddha medicine as possessing memory and cognitive properties. An Ayurvedic formulation is described as having the property to decrease dementia in older people. Study evaluated the effect of S. album in male albino mice with memory loss induced by ß-amyloid protein. Results showed S. album has memory enhancing property as suggested by increased enzyme levels. (12)
• Paladium Nanoparticles / Catalytic and Antibacterial / Leaves: Study reports on leaf extract mediated phytosynthesis of palladium nanoparticles (PdNPs). PdNPs showed significant catalytic activity. The NPs showed antibacterial activity against Gram negative and Gram positive bacteria. (13)
• Antidiarrheal / Nanoparticles / Catalytic and Antibacterial / Leaves: Study evaluated the antidiarrheal effect of methanol extract of sandalwood in mice. At 200, 400, and 800 mg/kg, SE showed significant anti-diarrheal activity against castor oil-induced diarrhea as compared to control. At same doses, there was inhibition of gastric emptying and small intestinal motility in small intestinal hyperfunction induced by neostigmine. There was inhibitory effect on spontaneous contraction of rat-isolated jejunum in a dose dependent manner. Results suggest sandalwood extract played a spasmolytic role in gastrointestinal motility, probably mediated via inhibition of muscarinic receptors, 5-HT receptors, and calcium influx. (14)
• Anti-Ulcer / Stem: In Unani medicine, Santalum album is used for treatment of gastric ulcers. To confirm this claim, study evaluated the antiulcer activity of hydroalcoholic extract of S. album stem using three models: water immersion--restrain stress, ethanol and indomethacin induced gastric ulcerations in albino wistar rats. Omeprazole, a proton-pump inhibitor, and Ranitidine, an H2 receptor antagonist, were used as standard drugs. Results showed gastroprotective effects evidenced by significant decrease (p<0.001) in average number of ulcers and cumulative ulcer index, along with supporting histopathological findings. The antiulcer effect of SASE at 500 mg/kg was comparable to the standard drugs. (15)
• Antihyperglycemic / Antihyperlipidemic: Study evaluated the antihyperglycemic and antihyperlipidemic effect of long-term oral administration of S. album pet ether fraction in streptozotocin-induced diabetic rats. Treatment for 60 days resulted in blood glucose level reduction by 140 mg/dl. Metformin treated group showed decrease in blood glucose by 70 mg/dl. Total cholesterol, low density lipoprotein (LDL) and triglyceride levels were decreased by 22, 31, and 44%, respectively, with 46% increase in HLD. (16)
• Antioxidant / Callus: Study evaluated the antioxidant potential of aqueous extract of sandalwood callus using DPPH, FRAP, and hydroxyl radical scavenging in vitro assays. Results showed significant concentration-dependent antioxidant activity. At 100 mcg/ml, the extract showed 48.7% DPPH scavenging, 1 micromoles of ferrous iron/ml by FRAP assay, and 53.2: scavenging of hydroxyl radicals. (17)
• Neuroprotective / Geroprotective / Oil: Study evaluated the protective effects of East Indian sandalwood oil (EISO) and α- and ß-santalol against neurotoxic (6-OHDA/6-hydroxydopamine) and proteotoxic (α-synuclein) stresses in a Cenorhabditis elegans model. The oil and its principle components exerted excellent antioxidant and antiapoptotic activity, inhibit ROS generation, and germline cell apoptosis in 6-OHDA-intoxicated C. elegans. Supplementation of EISO and α- and ß-santalol reduced 6-OHDA and α-synuclein-induced Parkinson's disease associated pathologies and improved physiological functions. Results suggest EISO and its principle components has potential as a candidate redox-based neuroprotectant for prevention and management of age-related neurological disorders. (18)
• Neuroprotective Against TLR3-Mediated Neuroinflammatory Response: Neuroinflammation is an inflammatory response in the nervous system associated with various neurological diseases like Alzheimer's disease and others. Study evaluated the effect of S. album extract on modulation of toll-like receptor 3 (TLR3) agonist polyinosnic-polycytidylic acid (Polyl:C)-induced neuroinflammatory response in human neuroblastoma cells. Results showed S. album was able to attenuate Polyl:C-induced neuro-inflammatory effect through induction of TLR2, TLR4, and modulation of TR negative regulators of the TRAF3, IRF3 and NF-kB pathways. (19)
• Hemolytic Activity / Leaves: Study screened a hydroalcoholic extract of Santalum album leaves for presence of saponins and evaluated its hemolytic activity towards bovine erythrocytes. The extract produced lysis of erythrocyte at a minimum concentration of 475 µg/ml. (see constituents above) (20)
• Source of Anthocyanin Pigment / Berries: Study evaluated the changes during development of S. album berries with respect to contents of pigment, carbohydrates, proteins, phenols, organic acids, color, and biomass. Cyanidin-3-glucoside (anthocyanin pigment) content increased rapidly from early (green) through intermediate (pink) to mature stage (black). Carbohydrates and proteins also increased during berry development; phenols decreased on maturation, while total organic acids increased. Results suggest that for maximum yield of anthocyanin pigment only the black (matured) berries of S. album should be harvested. (21)
• Sandalwood Oil as Botanical Therapeutic in Dermatology: Sandalwood album oil (SAO), an essential oil distilled from S. album tree, has demonstrated biological activity as anti-inflammatory, antimicrobial, and anti-proliferative agent. In clinical trials, it has shown promise for treatment of acne, psoriasis, eczema, common warts, and molluscum contagiosum. Its favorable safety profile, ease of topical use, and availability of pharmaceutical-grade SA oil support its broader use as basis of novel therapies in dermatology. The review discusses its many biologic properties and uses. (22)
• Safety Profile of Sandalwood album Oil: SAO has been long used as a topical in traditional medicine and personal care products. The dermal LD50 in rats is in excess of 5gm/kbw. In human patch testing, neither neat sandalwood oil nor a 10% SAO ointment produced irritation or sensitization. In routine testing, a small percentage (0.1-2.4%) of people were found allergic to album oil. However, in many of these studies, the purity, and source of the sandalwood is not clear. To note, other species of sandalwood, such as S. spicatum (Western Australia) or S. paniculatum (Hawaii) contain significant percentages of farnesol, an irritant, which is not found in S. album oil. SAO contains no known carcinogens and showed no toxicity in the Bacillus subtilis rec-assay. (22)
• Anticancer Effects / Review: Cell line and animal studies have reported chemopreventive effects of sandalwood and α-santalol without causing toxic side effects. Laboratory studies identified the anticancer effects in chemically-induced skin carcinogenesis in CD-1 and SENCAR mice, ultravioltet-B-induced skin carcinogenesis in SKH-1 mice and in vitro models of melanoma, non-melanoma, breast and prostate cancer. The most reported anticancer mechanism is its ability to induce cell-cycle arrest and apoptosis in cancer cells. The review discusses studies that support the anticancer effect and the mode of action of sandalwood and α-santalol in carcinogenesis. (23)
Availability
Wild-crafted.
Ornamental cultivation.
Sandalwood oil, seeds in the cybermarket.