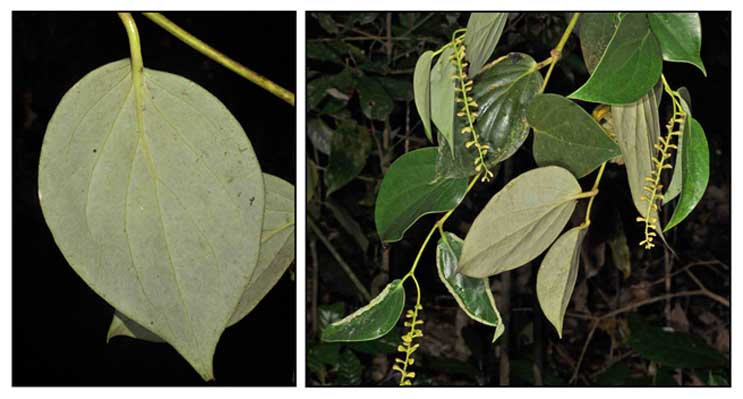 Botany
Sambañganai is a dioecious vine with branches smooth, terete, 2 to 4 millimeters in diameter. Leaves are leathery, oblong-elliptic or rounded-ovate, 12 to 16.5 centimeters long, 4 to 9.5 centimeters wide, 5- to 7-plinerved, and smooth on both surfaces. Pistillate spikes are pendulous, 4.5 to 9.5 centimeters long, and about 1.5 centimeters in diameter. Bracts are smooth, conate to the rachis, with their ends fusing and forming the cupular receptacles. Fruits are globose, borne on the cupular receptacles, 4.5 to 6 millimeters long, 4 to 5 millimeters in diameter. Stigmas number 3 to 4, slightly hairy and rounded. Cupular receptacle is sessile to subsessile, stout, smooth outside, smooth to ciliate on the rim, and pilose inside. Staminate spikes are pendulous, slender, 3 to 6 centimeters long, and 2 to 2.25 millimeters in diameter. Stamens are 5, small, and sunk in the cupular receptacle, with very small, ovoid to subglobose, bilocular, 2-valved anthers, and the filaments oblong, swollen at the base and slightly longer than the anthers.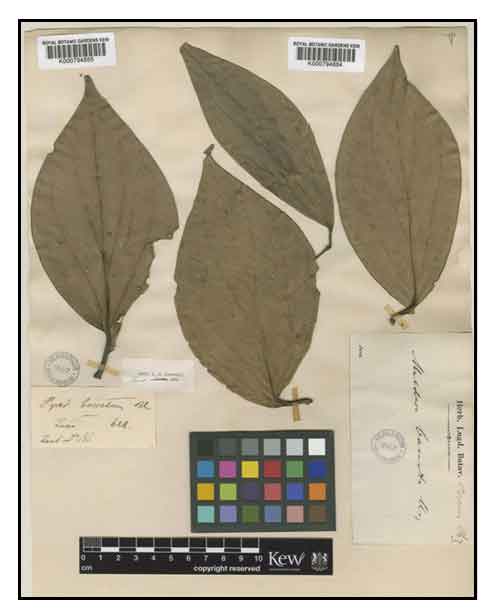 Distribution
- In forests at medium altitude, in Agusan and Lanao Provinces in Mindanao.
- Also occurs in Borneo and Java.

Parts used
Roots, leaves, stems.

Uses
Folkloric
- Decoction of roots used in venereal diseases.
- Juice of plant drunk as cough remedy and shredded leaves used as neck poultice.
- In Indonesia, leaves and stems used for fever and swelling.
Others
- Fruits: Used in tonics. Reportedly used to adulterate P. cubeba.

Studies
• Naturally Occurring Antioxidants: Study of compounds of Piper species (P. nigrum, P. retrofractum, P. baccatum) revealed 14 phenolic amides, two from P. baccatum. All the phenolic amides exhibited significant antioxidant activities more effective than naturally occurring alpha-tocopherol. (1)
Availability
Wild-crafted.