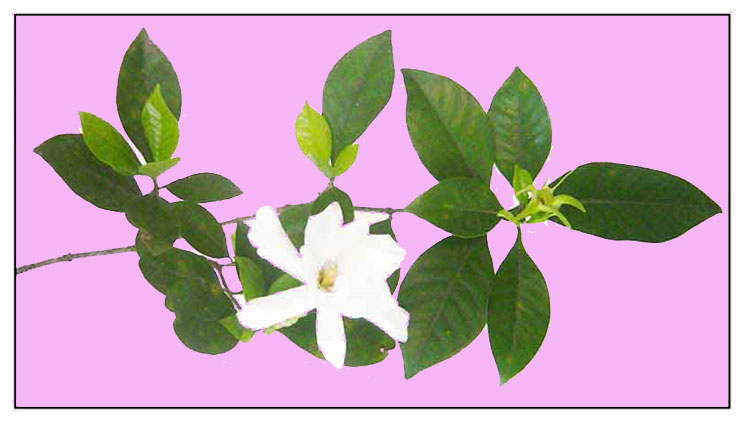 Botanical snippet
- the genus Gardenia belongs to the family Rubiaceae with more than 80 species in tropical and subtropical regions. (51)
Botany
Rosal is a smooth, unarmed shrub 1 to 2 meters high. Leaves are opposite, elliptic-ovate, 2 to 6 centimeters long, narrowed and pointed at both ends, shining and short petioled, and stipulate. Flowers are large and very fragrant, occurring singly in the upper axil of the leaves. Calyx is green, with funnel-shaped tube and about 1.5 centimeters long, 5-angled, or winged and divided into linear lobes about as long as the tube. Corolla is usually double, white but soon turning yellowish, and 5 to 8 centimeters wide. Stamens are as many as the corolla lobes. Anthers are linear, sessile. Ovary is 1-celled, style stout, clavate, fusiform, or 2-cleft, ovules numerous on parietal placentae. Fruits are ovoid or ellipsoid, 2.5 to 4.5 centimeters long, 1.5 to 2 centimeters in diameter, yellow, with 5 to 9 longitudinal ridges.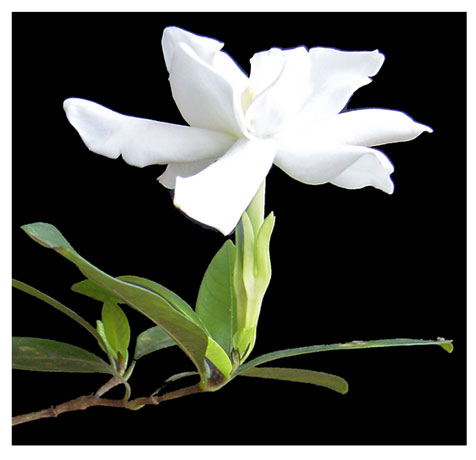 Distribution
- Cultivated for ornamental purposes.
- A common garden plant.
- Nowhere spontaneous.
- Only the double-flowered variety occurs in the Philippines.
- Native of southern China.
- Now pantropic in cultivation.
Properties
• Antiophthalmic, emollient, emetic, stimulant, diuretic, antiperiodic, cathartic, anthelmintic, alterative, antispasmodic, antiseptic, sedative, analgesic, hypotensive, febrifuge.
• Studies have suggested antioxidant, antidiabetic, antiangiogenic, antifungal, anti-inflammatory, antiproliferative, apoptotic, gastroprotective, anti-hepatofibrotic, anti-thrombotic, antidepressant, antihyperlipidemic, neuroprotedtive properties.

Constituents
• Study of chemical constituents in fruits isolated nine compounds: imperatorin, isoimperatorin, crocetin, 5-hydroxy-7,3',4',5'-tetrainethoxyflavone, 2-methyl-3,5-dihydroxychromone, sudan III, geniposide, crocin and crocin-3. (8)
• Chemical components include iridoid, iridoid glucosides, triterpenoids, organic acids, and volatile compounds. Major volatile compounds in essential oil of G. jasminoides are aliphatic acids, ketones, aldehydes, esters, alcohols and aromatic derivatives. Major bioactive compounds are geniposide, genipin, gardenoside, crocin, and iridoid. (44)
• Fruit contains a coloring matter, gardenin, identical to crocin.
• Resinous exudation of the fruit yield two resins: gardenin, a crystalline resin of golden-yellow color, and another resin that is soft and of greenish color that acts as antiperiodic, cathartic, anthelmintic, alterative, and antispasmodic.
• Flower yields styrolyl-acetate and linalool, and other substances. The scent is attributed more to styrolyl-acetate than to the other fragrant components.
• Study for chemical components yielded 10 compounds: syringic acid (1), syringaldehyde (2), vanillic acid (3), 3-hydroxy-vanillic acid (4), 3, 4, 5-trimethoxy-phenol (5), 4-hydroxy-3,5-dimethoxy-phenol (6), 4-methoxy-benzaldehyde (7), 7-hydroxy-5-methoxy-chromone (8), crocin-1 (9), crocin-2 (10). (33)
• Study isolated crocin (1), gentiobiosyl glucosyl crocetin (3), and mono-gentiobiosyl crocetin (4) from the fruit of Gj, and crocetin (2) from the processed fruit of Gj. (see study below) (34)
• Study of flowers isolated 15 compounds identified as: 5, 7, 3'-trihydroxy-6, 4', 5'-trimethoxyflavone (1), 5, 7, 3', 5'- tetrahydroxy-6, 4'-dymethoxyflavone (2), kaempferol (3), quercetin (4), 3beta,23- dihydroxyurs-12-en-28-oic acid (5), 3beta,19alpha-dihydroxy-urs-12-en-28-oic acid (6), 3beta,19alpha,23-trihydroxy-urs-12-en-28-oic acid (7), emodin (8), physcion (9), crocin-I (10), beta-daucosterol (11), beta-sitosterol (12), stearic acid (13), palmitic acid (14), oleic acid (15). (37)
• Fresh flowers on maceration with petroleum and distillation of extract yield about 0.07 per cent of a clear yellowish essential oil. Oil contains benzyl acetate, styrene acetate, linalool, linalyl acetate, terpeneol, and methyl anthranilate. Fragrance is attributed mainly to styrene acetate. (51)
• Study of fruits isolated a new iridoid gardaloside (1), and new safranal-type monoterpene, jasminoside G (2), along with 10 known compounds, including nine iridoids and a second safranal-type monoterpene. (see study below) (53)

Parts utilized
· Roots, leaves, fruits.
· Collect fruits during August to October.
· Roots: rinse, section into pieces, sun-dry.
· Fruits: sun-dry after stemming.
Uses
Edibility
· In China, flowers are used to perfume tea.
· Flowers sometimes eaten raw or pickled.

Folkloric
· Roots used for fever with delirium.
· Decoction of roots used for flatulence, dyspepsia, and nervous disorders due to dentition.
· Decoction of leaves and flowers used for dyspepsia, flatulences, nervous disorders and abdominal pains.
· Decoction of bark used for menorrhagia and uterine problems.
· Decoction of flowers used as wash for inflamed eyes.
· Poultice of leaves for swollen breasts; may be mixed with violeta and other herbs.
· Decoction of bark of stems and branches used for intermittent fevers, dysentery, and abdominal pains. Also used as tonic.
· Jaundice, hepatitis
· Fruit is antiseptic; used for toothaches, foul sores.
· Used for cough, fever. bacillary dysentery, nephritic edema, epistaxis, painful outgrowth at the tongue, mastitis, furuncle, and lymph node tuberculosis
· Fruits are pulverized and applied to regions with furuncle, sprains, lymph node tuberculosis with water or alcohol.
·Resin or paste made from the resin exudate of the fruit is applied to aching teeth, foul sores, and callous ulcers; also, to keep flies from the sores. Internally, used to expel worms. Resin also given for corpulence and to reduce the spleen.
· Powdered fruit used as febrifuge.
· In China, extract used traditionally to treat diabetes. Also used for inflamed eyes, tumors, painful urination and hematuria. Infusion of lowers used as emollient and as an antiophthalmic. Fruit reportedly used as emetic, stimulant, and diuretic. Smaller fruit used for fever, fluxes, dropsies, lung disease, and jaundice; externally, for vulneraries. Pulp of larger fruit used as poultice applied to swellings and injuries, and to various ailments like wine-nose, dog-bite, slight burns and scalds.
· Malays consider it cooling. Poultice of leaves used for swollen breasts and headaches.
· In Oriental medicine, fruit has been used for inflammation, jaundice, headache, fever, liver disorders and hypertension.
· In Chinese folk medicine, flowers used for birth control. (51)
· In Kerala, India, the intact flower is put on water overnight, and the infusion is filtered and used to treat conjunctivitis. (56)

Others
- Decorative: In the Philippines, used in making wreaths, bouquets, etc. In the U.S., used for making corsages, only second to Cattleya.
- Perfumery: In China, used to perfume tea and cosmetic preparations
- Dye: Dye obtained from the yellow fruit. Dye is identical to the dye of madder (Rubia) and chay root (Oldenlandia), and in part, with the crocin characteristic of the Saffron Crocus. Dye used in Thailand for coloring cloth. In China, the dye is used as food coloring. (•) Crocetin and crocin are the yellow pigments isolated from G. jasminoides. Crocin is an important coloring agent in a wide variety of foods in Japan. (51)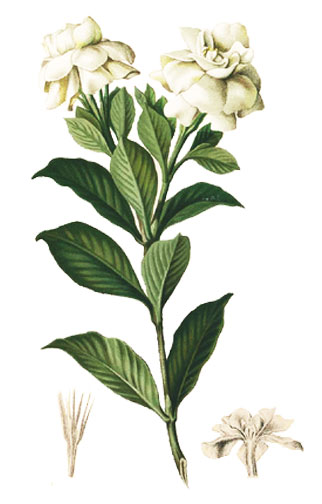 Studies
• Antioxidant / Crocin: Crocin is a water soluble carotenoid found in the fruits of gardenia (Gardenia jasminoides) and seems to possess moderately strong antioxidant activity. (1)
• Diabetes / Genipin: Study discovered "genipin" from the Gardenia extract. Genipin blocks the the UCP2 enzyme (uncoupling protein 2) that inhibits pancreatic insulin secretion. It suggests a potential for genipin-related compounds. (4)
• Antiangiogenic Activity: The n-butanol fraction of the ethanol extract of gardenia fruit was found to be most effective in the antiangiogenic assay. (5)
• Anti-Cerulein Pancreatitis Protective Activity: Study showed Gardenia jasminoides pretreatment ameliorated the severity of cerulein-induced acute pancreatitis in rats. (6)
• Alzheimer's Disease / Amyloid Beta Peptide: The brains of Alzheimer's disease patients have large deposits of amyloid beta peptide known to increase free radical production in nerve cells leading to cell death. The study of extract of G jasminoides suggest it can reduce the cytotoxicity of amyloid beta peptide in PC 12 cells, possibly by reducing oxidative stress. (7)
• Immunosuppressive Iridoids: Study yielded a new iridoid, gardaloside and a new safranal-type monoterpene, jasminoside G, with 10 other known compounds from the fruits of G jasminoides. Four of the compounds, geniposide (3), 6a-hydroxygeniposide (5), ixoroside (7), and shanzhiside (8), showed significant inhibition of IL-2 secretion and anti-CD28 monoclonal antibody co-stimulated activation of human peripheral blood T cells. (9)
• Geniposide: Study showed geniposide, an extract from Gardenia jasminoides, to be the its main choleretic principle. It also markedly decreased the content of cholesterol and elevate HCO3 concentration in bile without affecting the bilirubin and bile acid levels. (10)
• Crocetin / Sleep Benefits / Pilot Study: Crocetin is a pharmacologically active carotenoid compound of Gardenia jasminoides. In a double-blind, placebo-controlled, crossover trial of 21 healthy adult men with mild sleep complaints, study results showed that crocetin may contribute to improving the quality of sleep. (11)
• Treatment Benefits / Acute Pancreatitis: Empirical studies on the use of extract of G jasminoides in treating acute pancreatitis showed that GJ remarkably reduces the serum amylase and myeloperoxidase levels of both serum and pancreatic tissue as well as TNF-alpha and interleukin-6 while also reducing injury by oxygen-free radicals, NO and endoxins. GJ extract has been found to lower vasopermeability and inflammation, improve pancreatic hemodynamics and inhibit the release of pancreatic enzymes and other biotic active factors. (12)
• Antifungal / Genipin and Geniposide: Study showed the methanol extracts to show the highest level of antifungal activity against Pleurotus ostreatus, a wood-rotting fungus, compared to five other methanol extracts (T orientalis, D innoxia, L japonicum, J chinensis, M Japonica). The antifungal components against Pleurotus ostreatus were identified as genipin and geniposide. (13)
• Anti-Inflammatory / Vascular-Inflammatory Inhibition: Study of extract of GJ showed inhibition of TNF-alpha-induced NF-kappaB activation, adhesion molecule expression and monocyte-endothelial interaction, suggesting an anti-inflammatory role of EGJ, which may be useful in preventing vascular disease, such as atherosclerosis. (14)
• Gastroprotective / Antioxidant / Anti-H pylori / Cytotoxicity: Study investigated the effects of GJ extract and its constituents, ursolic acid and genipin on gastritis in rats and the growth of human gastric cancer cells. Results showed acid-neutralizing capacities, antioxidant activities, and inhibitory effects on H. pyloric growth. Also, there was cytotoxic activity against gastric cancer cells. (15)
• Fruit / Chemical Constituents: From the fruits, study yielded a new lignan glucoside, (+)-(7S,8R,8'R)-lyoniresinol 9-O-β-D-(6″-O-trans-sinapoyl)glucopyranoside, and a new iridoid glucoside, 10-O-trans-sinapoylgeniposide, together with eight known compounds, Some of the compounds were studied for short-term memory enhancement. (16)
• Geniposide / Protective Against LPS-Induced Acute Lung Injury: Pretreatment of mice with genoside resulted in marked reduction in inflammatory cells and total protein in the BAL fluid of mice. There was significant alteration of inflammatory mediators, Results showed geniposide may provide protective effects against LPS-induced acute lung injury through mitigation of inflammatory responses. (17)
• Sandostatin and Gardenia Combo / Pancreatitis: Study showed a combination of sandostatin and Gardenia jasminoides can protect pancreatic mitochondria injury in severe acute pancreatitis. (18)
• Genipin / Antiproliferative / Breast Cancer: Study showed that genipin induces apoptosis and inhibits invasive/migratory abilities of highly invasive MDA-MB-231 human breast cancer cells. Results suggest a potential application of genipin as a chemopreventive agent to prevent or alleviate metastatic breast cancer. (19)
• Glycoprotein / Natural Antioxidant / Apoptotic: Study evaluated the antioxidative and anti-apoptotic effects of a glycoprotein isolated from the fruit. The glycoprotein showed dose-dependent scavenging activity and dose-dependent blocking activities against induced cytotoxicity and apoptosis. Results suggest the GJE glycoprotein is a natural antioxidant and a modulator of apoptotic signal pathways in NIH/3T3 cells. (20)
• Anti-Hepatofibrotic Effects on Liver Fibrosis: Study evaluated the anti-hepatofibrotic effects of Gardenia jasminoides in liver fibrosis using male Sprague-Dawley rats that underwent common bile duct ligation. Treatment decreased serum ALT, significantly reduced liver mRNA and/or protein expression of transforming growth factor ß1(TGF-ß1), collagen type 1 and a-SMA. Results showed antifibrotic effect and may represent a novel antifibrotic agent. (22)
• Attenuation of UVB-Induced Injury and Skin Inflammatory Responses: Study evaluated the UVB-protecting effects of yellow-colored plant extracts in cell-based assays. Gardenia jasminoides showed lowest toxicity and dose-dependently enhanced the viabilities of UVB-exposed cells. Gardenia jasminoides extract also exhibited antioxidative and antiapoptotic effects in HaCaT cells exposed to UVB. (23)
• Anti-Thrombotic Effects: Study evaluated the anti-thrombotic effects of the aqueous extract of G. jasminoides in mouse and rat models of carrageenan-induced tail thrombosis and arteriovenous shunt thrombosis. Results showed GJ extract and geniposide demonstrated remarkable antithrombotic activities and supports its therapeutic use for thrombotic diseases. (24)
• Geniposide Bioavailability / Herb-Herb Interaction: Study reveals herbal ingredient-ingredient or herb-herb interaction may affect oral absorption of geniposide-related herbal formulation. Results of bioavailability of geniposide suggest that Gardenia fruit extracts, single herb, is the more efficient way for geniposide absorption. (25)
• GP / Antioxidant: Study isolated GP, a water-soluble polysaccharide. In vitro free radical scavenging tests showed significant scavenging abilities for ABTS, DPPH, and hydroxyl radicals, which showed GP t be a novel antioxidant. (26)
• Anti-Depressive / Geniposide: Study evaluated the anti-depressive activity of ethanolic extracts of G. jasminoides, G. jasminoides var. grandiflora, and geniposide. Results showed GJ and GHG significantly reduced immobility time without effect on locomotor activity in mice. Geniposide augmented the anti-depressive effect of desipramine and fluoxetine. The anti-depressive mechanism of GPO may be related to the increasing serotonin level in striatum and hippocampus in mice. (27)
• Genipin and Geniposide in Liver Diseases: Study reviews the current findings on the application of geniposide and genipin in the treatment of liver diseases. Both compounds exert extensive beneficial effects to patients with liver disease. Geniposide is an iriodglyco compound isolated from the fruits; genipin is a metabolite of geniposide. (28)
• Anti-Diabetic / Starting Point Therapy Aimed at ß-cell Dysfunction: Study discovered genipin rapidly inhibits UCP2-mediated proton leak. In pancreatic islet cells, genipin increases mitochondrial membrane potential, increases ATP levels, closes K(ATP) channels, and stimulates insulin secretion.   (29)
• Antihyperglycemic / Enhanced Glucose Uptake / Improved Insulin Resistance: Study evaluated the anti-hyperglycemic actions of Gardenia Fructus in streptozotocin-diabetic mice. Results showed improvement on insulin resistance associated with repair of insulin signaling via P-Akt, GLUT4 and glucose uptake pathway in soleus muscle of STZ-diabetic mice. (30)
• Crocin / Crocetin / Antihyperlipidemic: Study isolated pancreatic lipase inhibitors from the fructus of Gardenia jasminoides: crocetin and crocin. The compounds showed hypolipidemic activity in hyperlipidemic mice induced by high cholesterol, high fat and high carbohydrate diet. The hypolipidemic effect may be due to the action of crocin and crocetin and the inhibition of pancreatic lipase. (31)
• Crocetin Derivatives / Anti-Inflammatory: Study investigated the antioxidant and anti-nitric oxide (NO) production activities of crocetin derivatives isolated from Gardenia jasminoides. Compounds 1-4 reduced NO production in a dose dependent manner. Crocetin showed the most potent anti-inflammatory activity (IC50=29.9 µM). There was also suppression of protein and m-RNA expressions of iNOS and COX-2 in LPS-activated macrophages. Results suggest antioxidant and anti-NO production activities were increased by processing, and increased anti-inflammatory activity were due to increase of crocetin, the aglycone with greater activity than crocin. (34)
• Silver Nanoparticles: Study reports on the biosynthesis of silver nanoparticles with Gardenia jasminoides extract as reducing agent. Results showed Gj extract can reduce silver ions to form silver nanoparticles. (35)
• Geniposide / Anti-Allergic Effects on Atopic Dermatitis / Histamine Inhibition: Study investigated the mechanism by which GJ extract elicits anti-allergic effects in mast cells and in mice with atopic dermatitis. Results showed GJE and its EA fraction inhibited compound 48/80-induced histamine release from MC/9 mast cells. Topical application to Dermatophagoides farinae-exposed NC/Nga mice reduced the symptoms of atopic dermatitis, inhibited the infiltration of inflammatory cells, and lowered serum levels of immunoglobulin E and histamine. There was also reduced expression of cytokines and adhesion molelcules in ear lesions. Geniposide, but no crocin, inhibited the release of histamine from mast cells, which contribute to the anti-allergic effect of GJE and its fraction. Results suggest potential for geniposide in the therapy of AD (atopic dermatitis). (36)
• DNA Topoisomerase 1 Inhibitor / Oral Cancer: Study investigated the presence of DNA topoisomerase 1 inhibitor in various solvent fractions of GJ extract and the induction of oral cancer cell death. Results suggest the dichlormethane fraction from GJ extract induces apoptotic cell death by DNA topoisomerase 1 inhibition in KB cells and suggest the potential for GJE as an anticancer modality. (38)
• Hepatoprotective / CCl4 Hepatotoxicity: Study evaluated the potential benefit of G. jasminoides in a mouse model of carbon tetrachloride induced liver injury. Results showed hepatoprotective activity likely due to reduced oxidative stress and the downregulation of pro-inflammatory mediators. (39)
• Antioxidant: A methanol extract showed significant free radical scavenging activities in DPPH radical scavenging antioxidant assays compared to standard ascorbic acid. Total phenolic compounds in the extract was 190.97 mg/g of gallic acid equivalent. High antioxidant activity was attributed to phenolic compounds and flavonoids. (40)
• 27 kDA Glycoprotein / Hepatoprotective / Hypolipidemic: Study investigated the hepatoprotective and hypolipidemic effects of a 27 kDA glycoprotein isolated from GJ in glucose/glucose oxidase (G/GO)-treated BNL CL.2 cells, CCl4, Triton WR-1339 and corn oil-treated mice. Results showed amelioration of liver function attributed to its hepatoprotective and hypolipidemic activities. (41)
• Gardenia Yellow Pigment (GYP) / Antidepressant: GYP is a collection of compounds with shared structure of crocin which confers antidepressant activity. GYP is enriched in G. jasminoides and implicated in rapid antidepressant effects exerted through enhanced neuroplasticity. In the study, GYP-induced immediate antidepressant response was dependent on synthesis of proteins, including synaptic proteins, followed by enhanced expression of CREB and BDNF, which likely mediated the persistent antidepressant responses. (42)
• Increased Estradiol / Effects on Bone Mineral Density: Study evaluated the effects and mechanisms of gardenia oil on bone density and bone mechanisms in ovariectomized female rats. Results showed gardenia oil increases estradiol levels and BMD in an ovariectomized rat model. The effects were associated with up-regulation of the expression of COX-2. Increased COX-2 expression may induce metabolic changes such as promoting the secretion of estrogen by ovaries and other glands. (43)
• Rapid Antidepressant Activity: Study evaluated the ethanol extracts of constituent herbs of Yueja, a traditional Chinese medicinal herbal formula used to treat mood disorders with a rapid antidepressant effect similar to ketamine from instant enhancement of brain-derived neurotrophic factor expression in the hippocampus. Of the five herbal components, Gardenia jasminoides showed a significant and raid antidepressant effect attributed to elevated expression of BDNF in the hippocampus. (45)
• Anticancer / HepG2 Human Hepatoma Cells: Study of Gj in HepG2 human hepatoma cells showed strong anticancer effect through its apoptosis inducing abilities in hepatic cancer. (46)
• Peroxisome Proliferator-Activated Receptor / Hypoglycemic Effect: Study evaluated the insulin-sensitizing effect of Gj and its potential as an insulin-sensitizing agent in steroid-induced insulin resistant rats. Results showed improvement of IR which can effectively lower plasma glucose and prevent hyperinsulinemia and/or lower the required doses of antidiabetic agents. GJ is potential insulin-sensitizing agent for T2DM patients and/or adjuvant therapy. (47)
• Effect onLNNA-Induced Hypertension / Geniposide: Gardenia jasminoides with its four key active components (genipin, gentiobioside, geniposide, crocin 1 and crocin 2) is used in traditional Chinese medicine. Study evaluated the antihypertensive effects of Gj in vivo. Study showed antihypertensive effects which was attributed to the active component geniposide. (48)
• Hepatoprotective in CCl4-Toxicity / Ascorbic Acid as Screening Substance: Study evaluated the hepatoprotective effect of pre-treatment with ethanolic extract of fruits of Gj against CCl4-induced hepatotoxicity in Wister rat model. The extract and silymarin prevented CCl4-induced reduction of ascorbic acid in urine. Study suggests ascorbic acid excretion can be used as a non-invasive screening test for protective substances against CCl4-induced hepatotoxicity in rats. (49)
• Neuroprotective / Amyloid-ß-Induced Cognitive Impairment: Alzheimer's disease (AD) is the most common neurodegenerative disease in the world. Study evaluated the effects of GJ-4 on learning and memory injury induced by amyloid 25-35 injection in mice. GJ-4 dose-dependently enhanced the memory and cognitive ability of injected mice. The protective effect was attributed to GJ-4 protection of neurons and cholinergic dysfunction, enhancement of antioxidant capacity and attenuation of neuroinflammation. Results suggest a potential for CJ-4 as a drug to improved cognitive and memory impairment with multiple targets. (50)
• New Triterpenoid / Mild Anticancer Activity / Fruits: Study evaluated a novel triterpenoid 3α,16β,23,24-tetrahydroxy-28-nor-ursane-12,17,19,21-tetraen (1) was isolated from the fruits of Gardenia jasminoides var. radicans Makino. The compound was tested for in vitro cytostatic activity on human throat cancer (Hep-2) cell line and showed mild anticancer activity with IC50 of 31.2 µM. (51)
• Comparative Bioavailability of Geniposide: Study compared the oral bioavailability and pharmacokinetic data between pure compound of the major active component, single herbal extract and complex herbal formulation following oral and intravenous administrations. Results of oral bioavailability of geniposide suggest the fruit extract, single herb, is the more efficient way for geniposide pure compound absorption than traditional herbal formulation administration and direct pure compound administration. Results suggest that herbal ingredient-ingredient or herb-herb interaction may affect the oral absorption of geniposide-related herbal formulation. (52)
• Steriodogenic Components for Postmenopausal Syndrome: Estrogen-stimulation principles have been shown to relieve postmenopausal syndrome effectively. A chromatographic fraction of GJE with estrogen-stimulation effect yielded nine compounds. Rutin, chlorogenic acid (CGA) and geniposide (GA) exerted an estrogen-stimulating effect on ovarian granulosa cells. Collectively, the three compounds may have therapeutic potential for the treatment of postmenopausal syndrome. (53)
• Selective Extraction of Gardenia Yellow and Geniposide: Study reports on a novel method for selective extraction of gardenia yellow and geniposide from G. jasminoides. The extraction simplifies the separation process, and advantageous in terms of low organic solvent consumption, ease, rapidity, and efficiency. (54)
• Sleeping Pill or Mood Enhancer: In collaboration with Dr. O. Sergeeva and Prof. H Hass from Heinrich Heine University in Dusseldorf, researchers from Bochum have discovered that two fragrances. VC (vertacetal-coeur) and chemical variation (P124513) have the same molecular mechanism of action and as strong as prescribed barbiturates or propofol, which soothe, relieve anxiety, and promote sleep. (55)
• Repellency, Toxicity, Anti-Oviposition / Essential Oil: Study evaluated the repellent, insecticidal, and anti-oviposition activities of ethanol extract of essential oil of G. jasminoides. GC-MS study identified main chemicals in the essential oil and selected four compounds i.e., squalene, ethyl linoleate, n-hexadecanoic acid and 9-12-octadecadienoic, to evaluate activity on whiteflies and mites. The EO showed maximum effect in fumigation against whitefly adults (81.48%) and contact toxicity against whitefly nymphs (46.44%), adult mites (49.81%), mite nymphs (66.46%). The EO also showed maximum antioviposition activity against whiteflies and toxicity to mite nymphs. Study suggests G. jasminoides and its major chemicals may effectively control whiteflies and mites. (57)
• Psychopharmacological Effects / Geniposide / Anxiolytic: Study evaluated the psychopharma-cological activities of G. jaminoides and its constituents genipin and geniposide. Results showed G. jasminoides extract and geniposide alleviate anxiety, especially stress-induced anxiety. The anxiolytic activity of the extract seems related to Cl influx. (58)
• Herbal Combination for the Treatment of Postmenopausal Symptoms: Artemisia princeps, Lenonurus japonicas, and Gardenia jasminoides fruit have been traditionally used in East Asia to treat women's diseases related to the reproductive system. Study explored the combination of the three herbs to overcome the symptoms of estrogen deficiency and the mechanism involved. Results showed the combination of the three plants attenuated various menopausal symptoms in OVX rats, suggesting therapeutic potential for the treatment of postmenopausal symptoms (59)
• Anti-Inflammatory / Membrane Stabilization / Fruit: The major constituents of Gardenia fruit extract are geniposide and crocins. Geniposide is an iridoid glycosides the provide strong anti-inflammatory activity. Study evaluated the in-vitro anti-inflammatory activity of fruit extract using sheep red blood cells (SRBC) membrane stabilization of gardenia fruit extract. The gardenia fruit extract effectively inhibited or stabilized RBC from hypotonic-induced and heat-induced hemolysis. The extract exhibited higher potency than aspirin. (61)
• Anti-Gastritis / Anti-Cancer Cells: Study evaluated G. jasminoides ethanol extract and single compounds for potential anti-gastric diseases activity (gastritis and gastric cancer). The ethanol extract exhibited free radical scavenging activity (IC50=34.56 µM), and chlorogenic acid and rutin showed significant scavenging activity (approximately IC50 of 9.55 and 8.25 µM, respectively). Ursolic acid and rutin showed antibacterial activity against Helicobacter pylori. Ursolic acid showed significant cytotoxicity to gastric cancer cell lines SUN638 and AGS cells, with IC50 of 47.42 and 36.27 µM, respectively. Results suggest ursolic acid, genipin, and crocin-constituents of G. jasminoides ethanol extract-may play potential role against gastric diseases. (62)
• Larvicidal / Anopheles sp. Larvae: In a study of medicinal plants for antimalarial activity in measure of Anopheles sp. larvae, an ethanol extract of Gardenia jasminoides showed 80% mortality at 1:25 concentration and 50% mortality at 1:50 concentration. (63)
• α-Glucosidase Inhibition: In a study of 74 traditional Chinese medicines, geniposide and gardenoside, compounds isolated from Gardenia jasminoides, showed better α-glucosidase inhibitory activity (IC50 of 0.35 and 0.46 mg/ml, respectively) than acarbose (IC50 0.75 mg/ml). The findings illuminate the possible anti-diabetic mechanism of G. jasminoides and supports its use for the treatment of diabetes. (64)
Availability
- Wild-crafted.
- Common garden plant.
- Cultivated for ornamental use.
- Essential oil in the cybermarket.