Botany
Calliandra haematocephala is a spreading well-branched shrub or small tree, growing to a height of 1 to 3 meters. Branches are brown, cylindric, and rough. Leaves are pinnately compound, oblong, acute, with 5 to 10 pairs of glossy green leaflets. Flowers are clustered in globose heads, up to 7 centimeters across. Stamens are numerous, long and silky, very brilliant, pink to red. Fruit is a dehiscent pod, dull brown, linear -oblanceolate, 6 to 11 centimeters long, 5 to 13 millimeters wide, opening along the sutures when ripe. Seeds are 5 to 6, brown and oblong.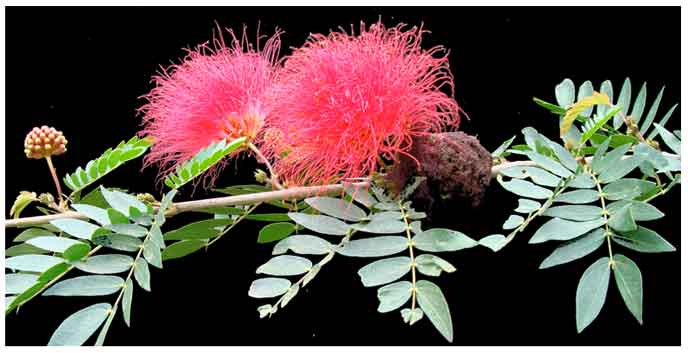 Distribution
- Ornamental cultivation; grown in gardens and parks.
- Native to tropical America.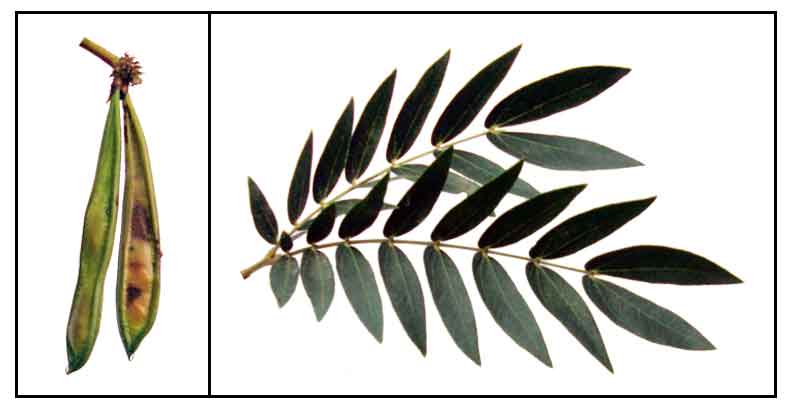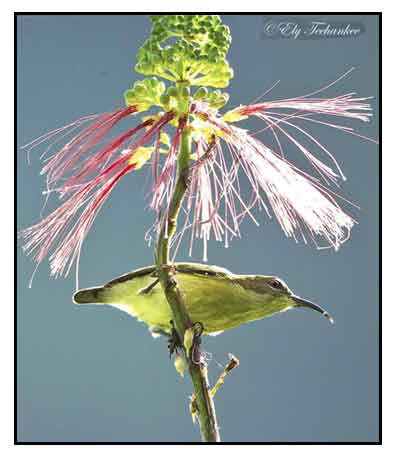 Constituents
- Fractionation of EtOAC extract of bark yielded p-hydroxybenzoic acid, caffeic acid, protocatechuic acid, astilbin, neo-isoastilbin, and catechin-3-O-rhamnoiside. (See study below) (6)
- A non-active fraction yielded lupeol and betulinic acid.
- Condensed tannins from leaf were prodelphinidins, mainly of (epi)gallocatechin and (epi)gallocatechin-3-O-gallate units. Condensed tannins from wigs and stem bark were predominantly of procyanidins, with catechins, epicatechin, and (epi)catechin-3-O-gallate as main constituents. (see study below) (9)
- Phytochemical screening of flowers yielded alkaloids, tannins, cardiac glycosides, saponins, and flavonoids. (see study below) (12)
- Study of a hexane fraction of leaves isolated lupeol and a mixture of sterols, together with four major fatty acids (palmitic, oleic, linoleic and linolenic). (see study below) (13)
Properties
- Studies with other species of the genus showed various pharmacological properties: anti-inflammatory, anticonvulsant, immunomodulatory, and antiulcerogenic.
Uses
Folkloric
• No reported folkloric medicinal use in the Philippines.
• In Nigeria, roots used in the treatment of hemorrhoids. (7)
• Elsewhere, decoction of the flowers used as blood purifier and tonic.

Studies
• Antioxidant / Flavonol Glycosides / Cytotoxicity: Study isolated three new acylated quercetin rhamnosides from the leaves and stems – quercitrin 2"-O-caffeate, quercitrin 3"-O-gallate and quercitrin
2",3"-di-O-gallate – with 17 known compounds. Six compounds exhibited moderate to strong radical scavenging properties. Compounds 7 and 8 (myricitrin and quercitrin) exhibited lethal effect towards brine shrimp Artemia salina. (1)
• Gastroprotective: Study of butanolic extract for gastroprotective effects in acute gastric lesions induced by acidified alcohol showed a gastroprotective effect with moderate control of gastric lesions and inhibition of hemorrhage and necrotic aspects of tissue injury. The mechanism of activity was probably through a cytoprotective property interfering with the ulcerogenic mechanism. (5)
• Antibacterial / Bark / Leaves: Study evaluated ethanolic extractable constituents of bark of C. haematocephala against selected bacteria. Results showed varied antibacterial activity. Fractionation yielded known compounds which showed varied antibacterial activity. (see constituents above) (6) Study for antibacterial activity of ethanolic extract of leaves showed moderate activity against gram negative bacterial strains like Salmonella typhi, Serratia marcescens, Shigella flexneri and gram positive strains like Staphylococcus aureus, Bacillus subtilis and Micrococcus luteus. (15)
• Condensed Tannins / Antioxidants: Condensed tannins isolated from bark, stems, and leaves of Calliandra haematocephala were evaluated for in vitro antioxidant activities using ABTS+ and FRAP methods. All the condensed tannins exhibited stronger antioxidant activities than synthetic antioxidant BHA. Activity was related to the number of hydroxyl groups on the B-ring and level of 3-O-galloylation. (see constituents above) (9)
• Anti-Rotaviral / Leaves: Study evaluated the antiviral activity of various extracts from Calliandra haematocephala leaves against rotavirus (RS) infection in-vitro. All extracts of CH at non-cytotoxic concentrations exhibited anti-RV activities with the methanol extract showing strongest activity. In vivo oral administration of the ME significantly reduced mortality, virus titers, duration, and severity of diarrhea, as well as alleviation of RV-related small intestinal lesions. (10)
• Silver Nanoparticles / Leaves: Study reports on the synthesis of silver nanoparticles using Calliandra haematocephala leaf extract. Study showed antibacterial activity against E. coli and the capacity to detect hydrogen peroxide suggesting potential applications in the development of new antibacterial drugs and new biosensors. (11)
• Antimicrobial / Antihelmintic / Flowers: Study of extract from flowers of C. haematocephala showed in-vitro antimicrobial and anti-helmintic activity against gram positive Staphylococcus aureus and Eisenia foetida (helminths). (12)
• Antihepatotoxic / Antioxidant: Study evaluated the hepatoprotective and antioxidant activities of total alcohol extract against carbon tetrachloride-induced liver damage in vivo. Results showed significant decrease in the lever of serum enzymes ALT, AST, GGT and bilirubin. There was a decrease in MDA content and increase in levels of SOD, GSH and CAT compared to intoxicated rats. The antioxidant and hepatoprotective effects may be attributed to phenolics, flavonoids, or the saponins content acting as free radical scavengers, inhibiting lipid peroxidation and increasing antioxidant activities. (13)
• Wound Healing / Antioxidant / Leaves: Study evaluated an ethyl acetate extract ointment formulation of powdered leaves of C. haematocephala for wound healing activity in incision and excision in-vivo models. Results showed a wound healing effect with significant )p<0.05) increase in tensile strength and well as hydroxyproline and protein level of healed skin tissues. Effect could be related to its antioxidant property. (14)
• Antisickling Potential / Leaves and Roots: Study evaluated the antisickling activities of two Calliandra species namely C. portoricensis and C. haematocephala on human sickled red blood cells in vitro. The antisickling assays of ethanolic and aqueous extracts of leaves and roots of the two Calliandra species showed both inhibitory and reversal activities. The ethanolic root extract of Calliandra portoricensis exhibited the highest inhibitory (90.19%) and reversal (92.63%) activities at 4 mg/ml. (16)

Availability
Wild-crafted.