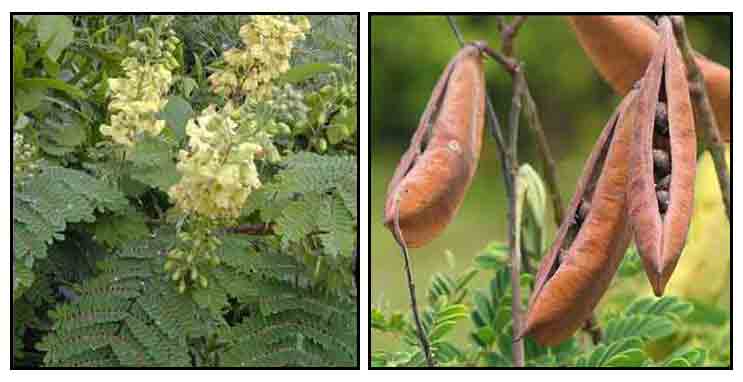 Botany
Puto is a straggling, perennial, woody, thorny, stout climber, vines growing up to 30 feet high. Branches are finely downy, with small yellow prickles. Leaves are two-pinnate, 25 to 40 centimeters long. Leaflets are 10 to 24, opposite, oblong, and 1 to 2.5 centimeters long. Flowers are large, bright chrome-yellow, and on terminal, large, erect racemes. Pod is smooth, nearly flat, obliquely oblong, 5 to 8 centimeters long and about 2.5 centimeters wide, and tipped with persistent style base. There are 4 to 8 oblong, mottled seeds.
Distribution
- In Isabela and the Benguet Provinces in Luzon, in thickets about limestone cliffs and boulder, at altitudes of 1,200 meters.
- Also occurs in India and Japan, and southward to Malaya.
- Introduced into tropical Africa, America and Australia.
Constituents
- Study yielded seven compounds: lupeol acetate, lupeol, oleanoic acid, pentacosanoic acid 2,3-dihydroxypropyl ester, 1-(26-hydroxyhexacosanoyl)-glycerol, stigmasterol, and beta-sitosterol.
- Ethanol extract of stems yielded seven compounds: 6′-hydroxy-3, 4-(1′′-hydroxy-epoxy-propane)-2′, 3′-(1′′β-hydroxy-2′′′-carbonyl-cyclobutane)-1, 1′-diphenyl (1), octacosyl 3, 5-dihydroxycinnamate (2), 2′, 4, 4′-trihydroxychalocone (3), bonducellin (4), 7, 3′, 5′-trihydroxyflavanone (5), daucosterin (6), and β-sitosterol (7).
- Study isolated 14 known compounds viz. andrographolide (1), quercetin (2), ß-sitosterol (3), bergenin (4), rutin (5), emodin (6), betulin (7), stigmasterol (8), baicelein (9), polydatin (10), salicin (11), apigenin (12), epicatechin (13), and cinnamic acid (14). (see study below) (12)
- Study isolated seven compounds viz. peol acetate (I), lupeol (2), oleanoic acid (3), pentacosanoic acid 2,3-dihydroxypropyl ester (4), 1-(26-hydroxyhexacosanoyl)-glycerol (5), stigmasterol (6), beta-sitosterol (7). (13)
- GC-MS study of essential oil yielded 72 components representing 99.6% of total oil identified. Main components were β-caryophyllene (17.2%), followed by β-myrcene (16.6%), (E)-β-ocimene (12.4%), limonene (10.4%), and caryophyllene oxide (9.6%). Monoterpenids and sesquiterpenoids accounted for 90% of the essential oil; both contributed to the characteristic odor of C. decapetala. (15)
- Study of seeds isolated a new cassane diterpenoid designated phanginin Q (1) together with three known cassane diterpenoids, caesaljapin (2), caesaldekarin A (3), and caesaldekarin B (4). (16)
Properties
- Purgative, astringent, anthelmintic , antipyretic, antimalarial.
- Reported as psychoactive and hallucinogenic.
- Studies have shown antioxidant, anti-inflammatory, analgesic, antipyretic, anti-diarrheal, anti-implantation properties.

Parts used
Leaves, seeds, roots.

Uses
Folkloric
- Roots are considered purgative.
- In Chamba, the bruised leaves are applied to burns.
- Seeds are considered astringent, antipyretic, anthelmintic, and antimalarial.
- Used for the treatment of ague.
- In China, decoction of flowers used to expel intestinal worms. Plant also used for malaria and skin affections. In excess, use reported to cause idiocy.
- In india, plant decoction used for baths in treatment of jaundice. Leaves are used for burns, biliousness and stomach problems. Also used as laxative, tonic, and antipyretic.
- In Bhandrdara, India, fresh leaves are boiled with tea powder in a cup of goat's milk and taken twice daily for 3-4 days to control gingivitis and pyorrhea. (14)
Others
- Tanning: In southern India, bark is used for tanning.
- Magic / Superstition: In Chinese herbal medicine, flowers reported to have magical properties, producing levitation and communication with spirits. Decoction of flowers drunk as tea to communicate with spirits or dispel evil forces.
- Psychoactive: Preparations of crushed and powdered seeds combined with seeds of Hyoscyamus niger (lang-tang) made in incense possess psychoactive properties when burned.

Studies
• Anti-Implantation: C. sepiaria is one of nine plants in a study that confirmed the plants have anti-implantation effect. (2)
• Antidiarrheal: On 182 plants studied, C. sepiaria was one of 28 flowering plants with antidiarrheal activity. (3)
• Antioxidant: Study of methanol extracts from the wood and pericarp of C. decapetala showed significant concentration and dose-dependent antioxidant activity. Total phenols, flavonoids and total flavonols were higher in the pericarp than the wood. (5)
• Gallic Acid / Radical Scavenging Activity : Study investigated the antioxidant capacities and phenolic contents of gallic acid isolated from Caesalpinia decapetala. The total phenolic content was 4.31%. Isolated Gallic Acid showed significant in vitro free radical scavenging activity. (8)
• Caesaldecan / Cassane Diterpenoid: Study isolated a new cassane diterpenoid, caesaldecan, from the leaves, together with eight known compounds viz. spathulenol, 4,5-epoxy-8(14)-caryophyllene, squalene, lupeol, trans-resveratrol, quercetin, astragalin, and stigmasterol. (9)
• Seed Gum As Drug Release Vehicle: Seed gum isolated from C. pulcherrima kernel powder can be used for controlled release of both water-soluble and water insoluble drugs. (10)
• Antitumor / Antioxidant: Study isolated 14 known compounds. Emodin (6), baicalein (9), and apigenin (12) showed significant antitumor activities against MGC-803 cell lines with IC50 of 15.6, 16.3, and 13.2 µmol/L, respectively. Baicalein (9), epicatechin (13), quercetin (2) and rutin (5) showed significant DPPH scavenging capacities, stronger than ascorbic acid. (see constituents above) (11)
• Analgesic / Anti-Inflammatory / Antipyretic: Study evaluated 70% aqueous methanolic and n-hexane extracts of C. decapetala using Swiss albino mice. Aqueous methanolic extract showed significant (p<0.05) activities in various pain models viz. acetic acid-induced writhing, formalin-induced licking, and hot plate method and significant antipyretic and anti-inflammatory activities more than the n-hexane extract. (12)

Availability
Wild-crafted.