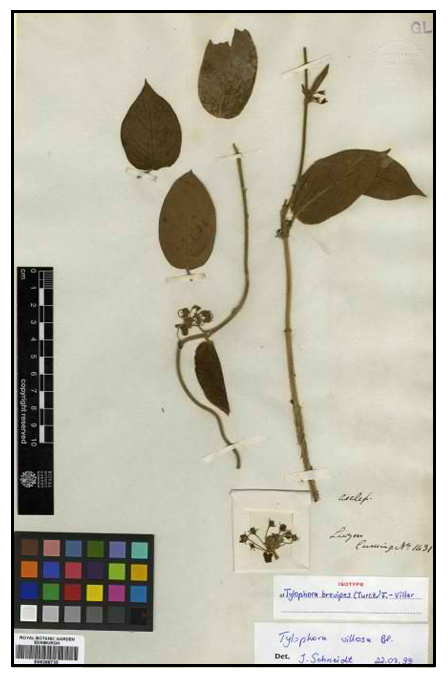 Botany
Posuka is a woody vine with slender, terete stems. Leaves are thin, hairy, oblong-ovate or ovate, 5 to 6.5 centimeters long, 2.5 to 5 centimeters wide, pointed at the tip, and rounded at the base. Inflorescences are slender, borne at the axils of the leaves. Flowers are few, small, 7 to 8 millimeters across, borne on very slender stalks, and 1 to 2.5 centimeters in length.
Distribution
- Found only in the Philippines, in thickets at low altitude in Cagayan, Ilocos Norte, and Zambales Provinces in Luzon; and in Mindoro.
Constituents
- Leaves and bark have yielded an alkaloid, similar in action to the alkaloid tylophorine isolated from Tylophora asthmatica. It is suggested that the local plant can be used in the same manner as Tylophora asthmatica.
Properties
- Emmenagogue, emetic, expectorant, anti-asthmatic, febrifuge.

Parts used
Roots

Uses
Folkloric
- Fresh or dried roots, in decoction, use as a powerful and quick emetic.
- Used as remedy for fevers, indigestions, incipient tuberculosis, asthma, coughs, and for expectoration of bronchial mucus.
- Also used as emmenagogue and as cure for gastralgia and colic.
- Root used as substitute for ipecacuanha in all its uses.
- In excess dosing, induced vomiting can be lethal.
Studies
• No studies found.

Availability
Wild-crafted.