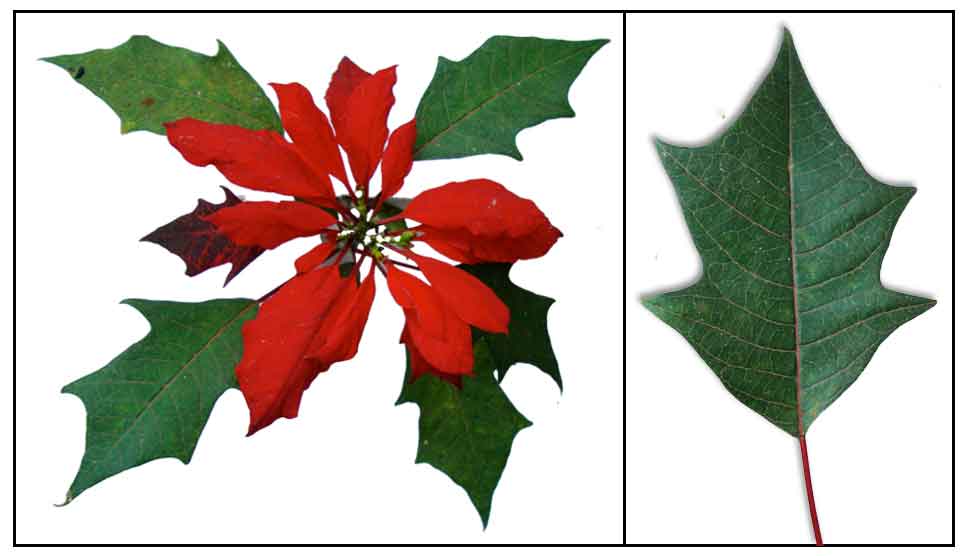 Botany
Poinsettia is an erect, sparingly, and laxly branched shrub, 2 to 4 meters high. Leaves are elliptic to oblong-elliptic or the upper ones lanceolate, 10 to 18 centimeters, the lower ones entirely green, obscurely repand or slightly lobed, long-petioled, slightly hairy beneath, the upper ones, at the time of flowering, uniformly bright-red. Inflorescence is terminal. Involucres are ovoid, about 1 centimeter long, the margins toothed, each with one or two large, yellow glands. Flowers are crowded.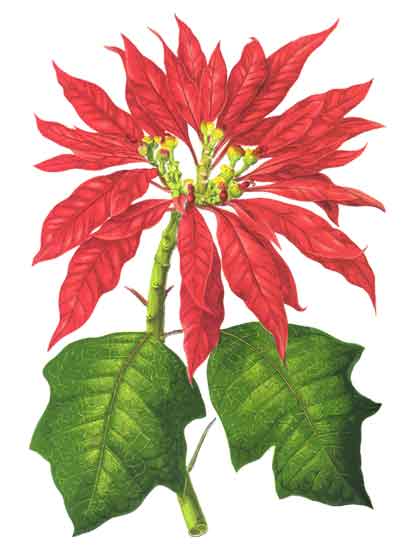 Distribution
- Cultivated as ornamental garden plant.
- A traditional Christmas plant.
- Probably introduced about 1870.
- Native of Mexico.
Constituents
- Triterpenes in the latex of E pulcherrima.
- Bracts yield a resin, a yellow and red coloring-matter, essential oil, tartaric acid, gallic acid, gum, glucose, sucrose, starch, and salts.
- Bark yields a red coloring principle; bracts yield a scarlet dye.
- Leaf yields alkaloids, saponins, sulfur, fat, amilodextrin, and formic acid.
- Aerial parts yielded alkaloids, steroids, terpenoids, saponins, glycosides, reducing sugar, and amino acid. (6)
- Analysis of various fractions of whole plant yielded terpenoids, flavonoids, alkaloids, saponin, and steroids. (12)
Properties
- Emetic, galactagogue, and cathartic.
- Latex considered caustic and poisonous.
- Studies have shown cytotoxic, antibacterial, anticonvulsant, antinociceptive, antioxidant properties.
Parts utilized:
Leaves and flowers.
Uses
Folkloric
- Leaves applied as poultice for erysipelas and a variety of cutaneous problems.
- Latex is poisonous and causes irritation in wounds.
- Latex is very caustic and dangerous to the eyes.
- Infusion of flowers used as galactagogue.
- Plants used as emetic and cathartic.
- In Mexico, decoction of bracts taken by nursing women to increase the flow of milk, although the practice is considered dangerous by some. (see concerns)
- Infusion of flowers prescribed as galactagogue.
- Plant used as emeto-cathartic.
- In Indonesia, the racunan plant (E. pulcherrima) is used as emetic, emmenagogue, and galactagogue, for treating tuberculosis, skin infections, and fractures.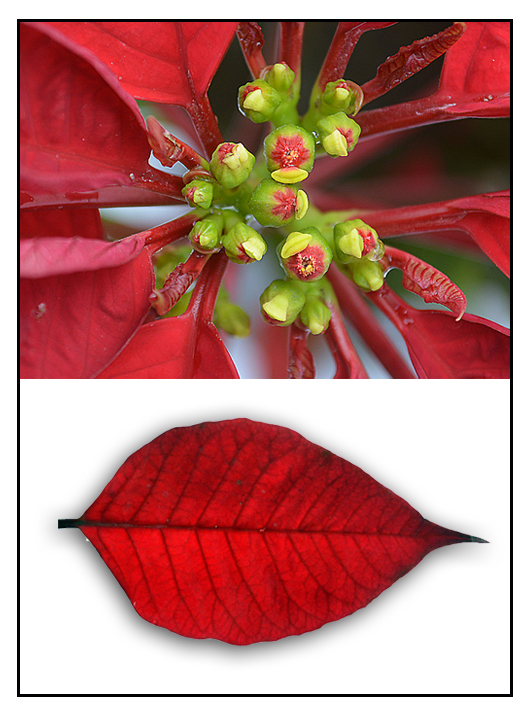 Concerns & Myths
• The common myth of the Christmas flower poisoning originated in 1919 when authorities mistakenly claimed that ingestion of poinsettia leaves caused an American child's death. (16)
• Accidental ingestion of the the plant can cause stomach irritation, discomfort, nausea and vomiting. The latex can cause skin irritation.
• Although the plant is less toxic than once believed, pregnant and breast-feeding persons are advised against its use. Also, because of gastric side effects reported on accidental ingestion, patients with stomach ulcers, IBS, Crohn's disease are advised not to use it. (20)
• These two studies report on 2 cases of contact dermatitis: (1) Contact Dermatitis 1985 May;12(5):285-6 [Contact dermatitis due to Euphorbia pulcherrima Willd, simulating a phototoxic reaction / Massmanian A1.], and (2) Contact Dermatitis 1985 May;12(5):285 [Contact dermatitis from Euphorbia pulcherrima / Santucci B, Picardo M, Cristaudo A.]
* Other than occasional cases of vomiting, the ingestion of poinsettia plant is not associated with serious effects. The United States Consumer Product Safety Commission denied a petition in 1975 to require warning labels on poinsettia plants. In a study of 22,793 cases of poinsettia exposure, 98.9% were accidental exposures in children and 96.1% required no treatment in a health care facility, and 92.4% did not require any type of therapy. (16) (17)
• A study reports a 50-pound child would have to eat more than 1-1/4 pounds of poinsettia leaves (500-600 leaves) to have any side effects. (18)
• Is it poisonous? The Myth of the Poisonous Poinsettia—The weblog is a counterpoint that the deadly poison of the poinsettia is entirely a myth. It could be guilt by association with two other popular Christmas plants—holly and mistletoe—which are genuinely poisonous. While the genus (Euphorbia) to which poinsettia belongs contain some poisonous plants, poinsettia itself is not toxic. (13) (14) (15)

Studies
• Cytotoxicity: Two cytotoxic terpenoids isolated from E pulcherrima. Cytotoxicity evaluation was performed using Ehrlich ascites tumor cells. Although no cytotoxic activity was observed, both isolated triterpenes exhibited cell inactivating effects. (1) Crude alcoholic extracts and isolated fractions of E. milli and E. pulcherrima exhibited promising cytotoxic activity against Artemis salina shrimp larvae attributed to the presence of polar compounds. (10)
• Antibacterial: In a study of fruits, leaves, stems and flowers that included E. pulcherrima, the extracts exhibited moderate antibacterial effects on Micrococcus pyogenes, E coli and P aeruginosa.
• Phytochemicals: A study of the petroleum ether extract of the latex, bracts and flowers of E pulcherrima yielded germanical, ß-amyrin and pseudotaraxasterol; from the latex, a new sterol, pulcherrol; from the stems, an octaeicosanol and ß-sitosterol. (3)
• Bactericide / Chitosan : A chitosan solution markedly inhibited the growth of Xanthomonas sp. pathogenic to E. pulcherrima from different origins. Results showed potential bactericide against plant pathogenic bacteria.
• Anticonvulsant / Antinociceptive: Study evaluated the central nervous system effects of Euphorbia pulcherrima in mice and rats. Results showed the crude dried extracts showed anticonvulsant and antinociceptive properties with no effect on motor coordination and anxiety. (7)
• Antibacterial / Antinociceptive: Study of racunan leaf extract showed it can be used as an antibacterial against Escherichia coli. (8)
• Antibacterial / Free Radical Scavenging / Analgesic: Study of solvent fractions yielded alkaloids, terpenoids, saponins, glycosides, reducing sugar, and amino acid. An EA fraction and methanol extract exhibited significant free radical scavenging activity and moderate antibacterial activity against K. pneumonia, S. epidermis, B stearothermophilus and S typhimurium. A crude extract exhibited significant phytotoxic effect and a crude methanolic extract showed significant analgesic effect. (9)
• Anticonvulsant : Study evaluated the anticonvulsive effects of E. pulcherrima of various extracts using various convulsive experimental models in mice. Results showed EP crude dried extract showed anticonvulsant properties in Maximal Electroshock Seizure test model and Pentylenetetrazole induced seizure models. (11)
• Antibacterial / Bioactive Compounds: Study showed an ethyl acetate fraction of methanol extract of whole plant yielded phytochemicals (terpenoids, flavonoids, alkaloids, saponin, and steroids) which showed remarkable activities against E. coli, S. aureus, S. typhi and P. aeruginosa. (12)
• Acute and Subchronic Toxicity Studies: Study evaluated the acute and subchronic toxicity of Euphorbia pulcherrima methanol extract. Results showed no changes in liver and kidney function parameters. Authors suggest further studies to evaluate the mild hepatic histological changes among a few members treated with 100 and 1000 mg/k/d and for any hepatoprotective or nephroprotective potential the extract may possess. (19)

Availability
Ornamental cultivation.