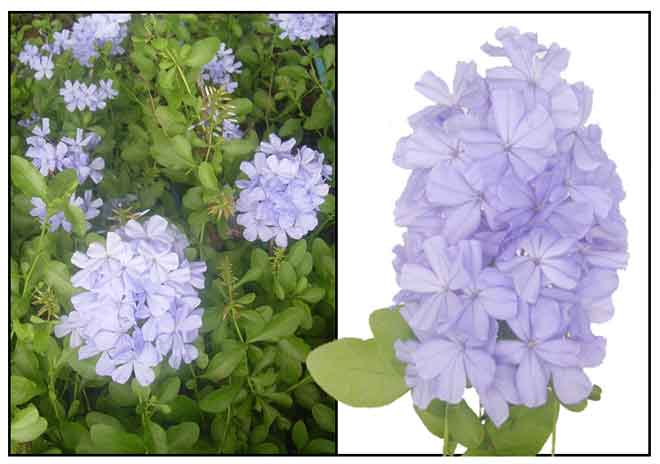 Gen info
- The family Plumbaginaceae Juss. (aka the leadwort family) comprises about 24 genera and about 400 species. This is in conflict with other publications that report 700-800 species in the family.
- The genus Plumbago comprises 10-20 species from the warm climate parts of the world.
- Etymology: The generic name Plumbago derives from the Latin words 'plumbum' meaning "lead" and 'agere' meaning "to resemble", which may refer to its lead-blue flower color, the ability of the sap to create lead-colored stains on the skin, or Pliny's belief that the plant was a cure for lead poisoning. (12)Auriculata refers to the ear-shaped ear base.


Botany
Plumbago auriculata is a semi-climbing, diffusely branched perennial shrub, growing to 2 meters. Leaves are alternate, simple, entire, oblong or oblong-spatulate, up to 5 centimeters long, with the base tapering to a short petiole. Flowers are short spikelike racemes; calyx is tubular, shorter than the slender corolla. Corolla tube measures 2 to 2.5 centimeters long, five-lobed, azure blue and spreading. Fruit is a capsule that splits into five parts.
Distribution
- Introduced.
- Cultivated in gardens in towns and urban-suburban areas. Used as border plant, ornamental hedge, or ground cover.
- Propagated by seeds and stem cuttings.
- Native to South Africa.
Constituents
- Crude chloroform extract of roots isolated the naphthoquinones plumbagin and epiisoshinanolone the steroids sitosterol and 3-O-glucosylsitosterol, plumbagic and palmitic acids. (2)
- All parts of the plant yield the naphthoquinone plumbagin (2-methyl juglone), which may blister the skin. (10)
- GC-MS analysis of methanolic extract yielded Z - 11-octadecen-1-yl-acetic acid derivation, C-sitosterol, heptadecanoic acid, 9 methyl, methyl ester, 4,5,7 trihydroxy isoflavone, E, E, Z, 1, 3, 12 nonadecatriene 5, 14 diol, ethanol 2, (9 octadecenyloxyl, (E), 13 docosenoic corrosive Methyl ester, (Z), bis (2 ethyl hexyl) phthalate and 10, 12, 14- nonacosatriynoic corrosive. (see study below)
- Study of flowers of P. auriculata isolated six new anthocyanins based on three new anthocyanidins with 5,7-dimethoxylated A-rings viz. 3-O-?-galactopyranosides (1,2,4) and 3-O-?-rhamnopyranosides (3,5,6) of 5,7-dimethyldelphinidin, 5,7-dimethylpetunidin, and 5,7-dimethylmalvidin. (19)
Properties
- Considered styptic, wound healing, analgesic.
- Studies have suggest various activities to Plumbagin: antimicrobial, anticancer, cardiotonic, and antifertility. (10)
- Studies have suggested anti-ulcer, antimalarial, anti-H. pylori, cytotoxic, antifungal properties.
Toxicity concerns
• Plumbagin: (1) The plant has been reported to cause skin blistering, and excessive use has been reported to cause death. (2) Because of plumbagin, the use of Plumbago auriculata in traditional medicine is not without risk. Decoction of plant parts should be taken with caution. (10) Powdered bark, which contains the irritant principle plumbagin, is thought to have cause the death of a woman who rubbed it all over her bod. (Hutchings et al.) (21)
• All plant parts i.e., sap, fruit, pollen, leaves, stems, foliage, and roots may cause skin irritation, blistering, and dermatitis. Wear protective gloves and eyewear and clothing when handling the plant. Accidental ingestion may cause stomach upset and vomiting.
• While generally reported as non-toxic to animals, blistering skin eruptions have been reported in dogs, cats, and other pets.

Part utilized
Roots, flowers, aerial parts.
Uses
Edibility
- Flowers reportedly edible; an edible decorative ingredients to salads or herbal teas. (21)
Folkloric
- No reported folkloric medicinal use in the Philippines.
- In other folklore systems, used for warts, broken bones, headaches.
- Used as an emetic and for wound healing.
- Roots used as toothpaste and for fevers.
- In Maharashtra, India, for acidity, root juice or extract taken before each meal for a week.
- In south Africa, decoction of aerial parts or roots used to treat blackwater fever. Root infusion used as emetic. Root powder used for warts; also used as snuff to relieve headaches. Powdered and roasted root rubbed into scarifications over fractures to promote healing. Rubbed on painful areas of the body caused by strenuous exercise. Root extract used as styptic in scrofula. Excess use may cause irritation, even death. (10)
- Root and plant decoctions used for treatment of malaria in various parts of Africa.
- In Tamilnanu, India, Roots used for piles, epilepsy and jaundice.
- Fresh cut flowers used for bruises and for soothing sunburn, burns, spots and rashes. (11)
- In Bangladesh, paste of root and bark topically applied with milk to affected areas of the skin. Also used for jaundice, epilepsy and headache. Dried bark is powdered and taken orally with water. (14)
Others
- Ornamental: Flowers used as ritual ornamental. A popular component of wildflower potpourri.
- Dye: In East Africa, dye extracted from flowers and leaves are used for textiles: beige, lemon or yellow when combined with alum; or gold when combined with chrome. The sap of roots (grey-blue) used for tattoos. (10)
- Superstitions: Used for preventing nightmares and warding off lightning. Plant parts worn as protective charms against evil and lightning and to confound the enemy. Tied bundles of twigs inserted into eaves of houses or tied to roofs to protect against lightning or to ward off evil. Sticks are thrown outside to divert hailstorms. Rootbark used to bathing lotion to heal matrimonial discord. (21)
- Veterinary: In South Africa, the roots of P auriculata and Pelargonium reniforme are soaked water for one hour, strained and given to cows to treat diarrhea. Infusion of roots used to treat blackwater fever in cattle.

Studies
• Phytochemical Study / Plumbagin: Crude chloroform extract study yielded the naphthoquinones plumbagin and epi-isoshinanolone, steroids sitosterol and 3-O-glucosylsitosterol and palmitic acids. Naphthoquinones are typical components of Plumbago species showing interesting biological activities. (2) Study of roots of P. auriculata and P. zeylanica isolated a substance with antibacterial activity, which was found identical to plumbagin.
• Antimalarial Activity: Extracts (n-hexane and DMC) of aerial parts of P auriculata showed moderate activity against Plasmodium falcifarum. (4)
• Antioxidant / Cytotoxicity: Study in rats investigated the antioxidant properties of the leaves of P. auriculata. Results showed the ethyl acetate and ethanol crude extracts had higher antioxidant activity than petroleum ether and dichlormethane extracts. The EA and petroleum ether extracts significantly inhibited the proliferation of HeLa cells.
• Anti-H. Pyloric Activity / Cytotoxicity / Roots: Study evaluated detoxified ethanol root extract of Plumbago auriculata, P. indica, and P. zeylanica for possible activity against H. pylori and cytotoxicity activity. All three plants showed dose-dependent cytotoxicity in HGE-17 cell lines. P. indica showed more anti-H. pylori activity than the other two plants, with P. auriculata having the lowest zone of inhibition. (9)
• Antifungal: P. auriculata contains an antifungal protein that inhibits spore germination in Macrophomina phasiolina. (10)
• Antiulcer: Study evaluated the antiulcer effect of Plumbaginales P. auriculata, P. indica and P zeylanica. Plumbagin showed cytotoxic activity at 40.16 µg/ml. P auriculata decreased the number of ulcers and increased the percentage of gastric protection. (11)
• Anticancer / Antioxidant: Study evaluated methanolic extract of P. auriculata for antiproliferative and apoptotic activities against lung (!549) and ovarian (PA1) malignancy cell lines. Results showed significant anti-lung and anti-ovarian cancer activity at minimal concentration of 10-40 mcg. Leaves exhibited significant antioxidant activity compared to the root extract. (see constituents above) (15)
• Anti-Obesity: Study evaluated Plumbago auriculata and P. europea for anti-obesity effect through inhibition of adsorption of dietary lipids using in vitro porcine pancreatic lipase inhibitory tests. Both plants showed potential antiobesity activity, with P. europea significantly higher than P. auriculata. Both yielded bioactive compounds that can act as lipase inhibitors with potential for the development of functional foods against obesity. (16)
• Silver Nanoparticles / Antitubercular Activity/ Antioxidant / Leaves: Study reports on the biosynthesis of silver nanoparticles utilizing an alcoholic extract of P. auriculata leaves. The AgNPs showed good antitubercular activity with MIC of 1.6 µg/ml and promising antioxidant activity with IC50 of 28.2. (17)
• Plumbagin / Apoptosis in Her2-Overexpressing Breast Cancer Cells: Study evaluated the anticancer potential of plumbagin toward Her2-overexpressing cell lines SKBR3 and BT474. The antiproliferative activity of plumbagin was associated with apoptosis-mediated cell death through the mitochondrial-mediated pathway and suggests potential in the treatment of Her2-overexpressing breast cancer. (20)
• Hepatoprotective / Anti-Fibrotic in Thioacetamide-Induced Liver Fibrosis / : Study evaluated the chemical composition and hepatoprotective activities of Plumbago indica and P. auriculata aerial part on thioacetamide (TAA)-induced liver fibrosis in rats. The liver homogenates exhibited increased levels of antioxidant biomarkers, reduced glutathione (GSH) and catalase (CAT), and decline in malondialdehyde (MDA). Treated groups also exhibited significant suppression in liver inflammatory cytokines: tumor necrosis factor-α (TNF-α) and interlukin-6 (IL-6), and fibrotic biomarker, alpha smooth muscle relaxant. Histopathological examination of the liver showed normality of hepatocytes. The antifibrotic effect was evidenced by reduction in hepatic collagen deposition. White both extracts showed hepatoprotective effects, P. indica showed better activity. (22)
• Silver Nanoparticles / Antibacterial / Larvicidal / Leaves: Study reports on the synthesis of silver nanoparticles using leaf extract of Plumbago auriculata. The synthesized NPs showed significant antibacterial activity against Gram-positive and Gram-negative bacteria such as B. subtilis, S. aureus, E. coli and K. pneumonia. The AgNPs also inhibited fourth instar larvae of Aedes aegypti and Culex quinquefasciatus at 45.1 and 41.1 µg/mL concentration, respectively. Molecular docking studies of salivary protein and odorant binding protein of A. aegypti and C. quinquefasciatus showed the napththoquinone compound plumbagin exhibited reliable binding affinity towards the two enzymes. Results suggests potential for the NPs as alternative to chemical mosquito control. (23)
• Zinc Oxide Nanoparticles / Antiviral / Flowering Aerial Parts: Study reports on the synthesis of zinc oxide nanoparticles (ZnO NPs) using an alcoholic extract of flowering aerial parts of Plumbago auriculata. HPLC analysis for phenolic ingredients yielded gallic acid, chlorogenic acid, and catechin as major compounds at concentrations of 1720.26, 1600.42, and 840.20 µg/g, respectively. The uncalcinated form of the ZnO NPs exhibited significant antiviral activity against avian metapneumovirus (aMPV) subtype B with 50% cytotoxic concentration (CC50) and 50% inhibition concentration (IC50) of 52.48 ± 1.57 and 42.67 ± 4.08 µg/mL, respectively, with inhibition percentage (IP) of 99% and selectivity index (SI) of 1.23. (24)

Availability.
Wild-crafted.
Seeds in the cybermarket.