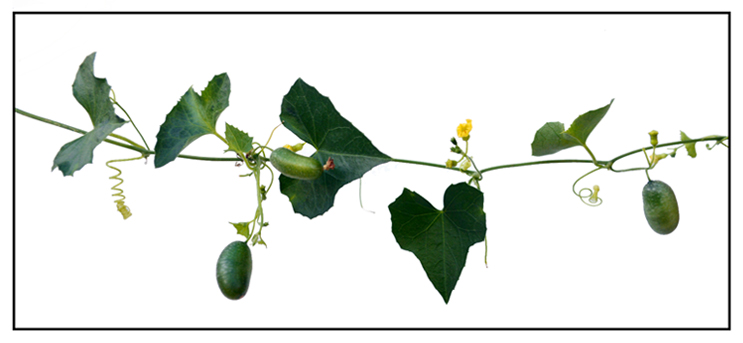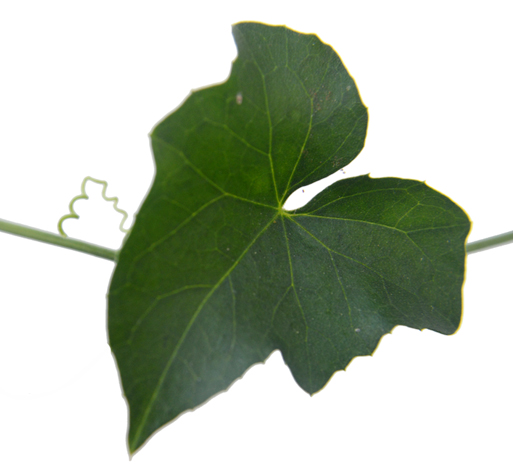 Botany
Pipinong-gubat is a perennial prostrate or climbing vine with thin and smooth stems and coiled tendrils, growing to a length of six feet or more. Leaves are alternate, toothed, shallowly or deeply five-lobed, reaching a length of 5 to 7 centimeters. Flowers are tiny, yellow, with five petals, about 0.8 centimeter wide. Fruit is a tiny, green to black, smooth, and watermelon-like berry, oblong-elliptic, 10 to 19 millimeters long, about 12 millimeters in diameter, with white spots when young, dangling at the end of the pedicel.
Distribution
- Abundant in the Tagalog areas.
- Common vine in forest areas.
Properties
- Leaves smell like cucumber; fruit tastes like cucumber.
- The black fruit considered a drastic purgative.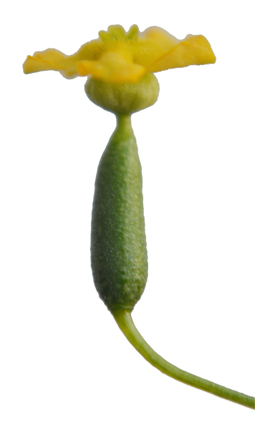 Parts used
Leaves, tendrils, fruit.

Uses
Edibility
- Young fruits are edible; eaten fresh or pickled, boiled, steam or stir-fried.
- Green fruits are crispy and juicy; also used as salad ingredient.
- Avoid the dark green or black fruits as they may cause rapid and drastic diarrhea.
- In Thailand and Mexico, leaves, young shoots, tops of stems reportedly eaten, raw or cooked.
Folkloric
- In Surinam, infusion of tendrils taken as a drink to remedy acidity or sour stomach in children. Fruit is considered a very drastic purgative. (Purgative used probably associated with black ripened fruits.) (2)
- In Brazil, used as a purgative.
- In Mexico, infusion of plant used for diabetes. (8) Used as tonic for anemia. Boiled fruits used for heart disease. Crushed fresh plant used for snake bites and applied to rashes and hemorrhoids. (7)

Studies
• Hypoglycemic Effect / Fruit and Leaves: Study investigated the hypoglycemic effect of homogenized fruit and ethanolic leaf extract in 75% and 100% concentration of M. pendula in alloxan-induced diabetic mice. Two weeks administration of fruit and leaf extract to diabetic mice showed significant hypoglycemic effect (p<0.0001). (9)
Availability
- Wild-crafted.
- Seeds in the cybermarket.