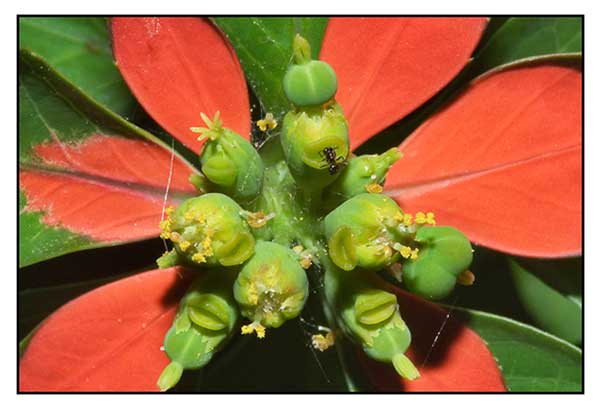 Botany
Pintado is an erect, branched, smooth, half-woody herb or shrubby plant, 0.5 to 1.5 meters high. Leaves are alternate and extremely variable in shape, most often oblong-ovate, 3 to 10 centimeters long, the lower ones usually entire, the upper ones variously lobed, sinuate, dentate, or subentire, and the uppermost ones blotched with red at the base, similar to the bracts. Bracts are leaflike, much smaller than the leaves; the lower part is red and the upper, green. Involucres are clustered at the ends of the branches, about 3 millimeters long, green, with one sinus bearing an unappendaged gland. Capsules are nodding, about 5 millimeters wide.
Distribution
- Introduced species.
- Ornamental cultivation in Manila and larger towns.
- Occasionally, astray in waste places.
- Native of tropical America.
Constituents
- Leaves contain a red coloring matter, porcetin.
- Study yielded tannins, phlobatannin, terpenoids, cardiac glycosides, alkaloids and flavonoids.
- Study yielded terpenoids, quinones, alkaloids, sterol, coumarin, starch, and protein.
- Fresh leaves yielded carbohydrates, reducing sugars, saponins, steroids, terpenoids, tannins, flavonoids, and alkaloids. (11)
- Plant is a high source of energy and water, moderate in protein and fiber contents. Nutrient composition on the basis of percentage magnitude is fat < ash < fiber < protein < moisture < carbohydrate. (11)
- Phytochemical analysis of leaves yielded
tannins, anthraquinones, alkaloids, flavonoids, and phenols. (see study below) (13)
- Aqueous extract of plant yielded secondary metabolites such as alkaloid, flavonoid, tannin, sterol, quinone, lignin and coumarin. Carbohydrate (10.29 mg/g) and proteins (7.43 mg/g) were present in measurable amount. Phenol yield was (3.26 mg/g) and ascorbic acid (1.14%). (see study below) (14)
- Crude plant material yielded secondary metabolites such as saponins, flavoonoids, and tannins. Phytochemical screening isolated four known compounds viz., stigmasterol, -stigmasterol glucoside, benzoic acid and 4-hydroxyl benzoic acid. (see study below) (4)
Properties
- Laxative, purgative, lactogenic.
- Studies have suggest wound healing, antimicrobial, antinociceptive, anti-inflammatory, antioxidant, and anthelmintic properties.

Parts used
Roots, bark, leaves, stem.
Uses
Folkloric
- Used for constipation, bronchitis and asthma.
- In Kedah, decoction of roots and bark used for ague.
- In Yucatan, juice of stem used for erysipelas.
- In Nigeria, used for erysipelas, cough, bronchial paroxysmal asthma, hay fever and catarrh; latex used for insect bites.
- Also, used as purgative.
- Leaves and roots used for traumatic injury.
- Decoction of leaves used as lactogenic, drinking the decoction or massaging the breast with the poultice to induce milk flow. Also used for gonorrhea, and as laxative. (10)
- In Nigeria, used as herbal laxative.

Studies
• Wound Healing: Leaf extracts of E. heterophylla was evaluated for wound healing potential in wistar albino rats in an ointment formulation in an excision wound model. Phytochemical screening yielded alkaloids, cyanide, tannins, flavonoids and saponins. Results showed healing and sealing characteristics of Euphorbia heterophylla leaf gel in rats following topical administration. (2)
• Anti-Inflammatory: Study of the aqueous extract of E heterophylla showed significant anti-inflammatory activity which was not dose-dependent. (3)
• Superoxide Scavenging / Leaves: Study isolated for the first time four chemical constituents - carboxylic acids, 4-hydroxycarboxylic acid, steroidal components - stigmasterol and stigmasterol glucoside. The isolated compounds revealed superoxide scavenging properties, most active with stigmasterol glucoside. (4)
• Anticoagulant / Oxytocic / Laxative: Study of aqueous extract of leaves showed (1) laxative effect as a result of increased peristaltic movements (2) muscaric activity blocked by atropine (3) oxytocic effect from binding to oxytocic receptors, and (4) anticoagulant effect probably from the rich saponin content. (5)
• Antimicrobial: Study of leaf extracts showed good antimicrobial activity against B subtilis, E coli, S aureus, P aeruginosa, C albicans, K pneumonia. (6)
• Antinociceptive: Used as an analgesic in traditional medicine, a study of evaluating the hexane, chloroform, and ethyl acetate extracts of E. heterophylla showed significant analgesic effects at doses of 150-300 mg/kg i.p. (7)
• Antimicrobial / Anticancer: Study of ethanol extract showed significant antimicrobial activity especially against Proteus vulgaris and Staph aureus. An alcoholic extract showed significant in-vitro cytotoxic activity on EAC (Erhlich ascites carcinoma) cell lines. (8)
• Toxicity Testing / Assessment on Hepatocytes of Rats: Study of aqueous extract showed no significant effect on biochemical parameters. Results showed no hepatotoxic potential while showing several bioactive compounds, and suggests further testing for medicinal and food purposes use for humans and grazing animals. (11)
• Antimicrobial / Leaves: Study evaluated E. heterophylla leaves for antibacterial activity and phytochemical components. The plant extracts exhibited antimicrobial activity against both pathogenic bacteria (N. gonorrhea, S. typhi, P. aeruginosa, P. vulgaris, S. aureus, E. coli, S. pneumonia and B. subtilis) and fungi (A. niger, A. tamari, C. albicans, and F. oxysporium) with the water extract showing highest activity. (see constituents above) (13)
• Antioxidant: Study evaluated E. heterophylla for in vitro antioxidant potential by DPPH, NO, H2O2, superoxidant scavenging and reducing power assay. Results showed the aqueous extract of EH exhibited potent antioxidant activity. Activity was attributed to phenol and ascorbic acid content. (see constituents above) (14)
• Anti-Diabetic: / Leaves: Study evaluated the effect of an aqueous extract of leaves of Euphorbia heterophylla on alloxan induced diabetic rats. Results showed antihyperglycemic activity with significant dose dependent reduction in blood glucose. (15)
• Toxicity Study / Leaves: Study evaluated the effect of aqueous leaf extract on some vital organ functions in rabbits. Results showed a loose watery laxative effect, with significant dose dependent increases in AST, ALP, and GGT. Results indicate the extreme weakness and fatalities associated with the use of E. heterophylla as laxative may be due to dehydration and the toxic effect of the herb on some vital organs. The LD50 of the extract was 208 mg/kg. Author suggests traditional admonition for caution in the use of the herbal laxative. (16)
• Anthelmintic / Aerial Parts / Roots: Study evaluated the anthelmintic activity of ethanolic and water extracts of aerial whole plant parts of E. heterophylla against Ascaris suum. Results showed anthelmintic activity with the water extract showing more potent than the ethanolic extract. (17) Study evaluated various extracts of plant parts of Euphorbia heterophylla, A. catechu, C. epigaeus, and C. bonducella for anthelmintic activity against Pheretima posthuma. Corallocarpus epigaeus showed highest activity with death time of 9 minutes, followed root extract of E. heterophylla with death time of 14 minutes. (22)
• Toxicity Study / Aerial Parts / Concerns: Study evaluated an aqueous extract of aerial parts in female wistar rats. Acute toxicity study did not result in any death at dose of 4000 mg/kbw. In prolonged administration of the aqueous extract, results sowed boosting of immunity hypochloremia and anemia in rats. Results advise caution in the use of this plant material for food or therapeutic purposes. (18)
• Antimicrobial Against ESBL Producing Klebsiella Pneumonia: Study suggests E. heterophylla and Acalypha indica has the potential of drug production for the treatment of urinary tract infections caused by antibiotic resistant Klebsiella pneumonia. (19)
• Laxative / Leaves: Study evaluated an aqueous decoction of leaves of Euphorbia heterophylla. A butanol fraction showed laxative action and yielded saponins, phenols, terpenes, and diterpenes. Residual aqueous solution yielded mainly sugars identified as xylose, maltose, galactose, lactose and lactulose, which are bulk-forming laxatives. (20)
• Antioxidant / No Antitumorigenic Activity / Whole Plant: Study evaluated the antioxidant anti-proliferative and apoptotic activities of methanol extract of whole plant. Results showed radical scavenging activity comparable to ascorbic acid. The extract did not showed significant antitumorigenic activity at tested dose. (21)
• Antibacterial Against Enteric Pathogens / Leaves: Study evaluated the antibacterial activity of Euphorbia heterophylla extracts on four enteric organisms i.e., Salmonella typhi, Shigella flexneri, Escherichia coli, and Proteus vulgaris. Methanolic and aqueous crude extracts showed clear zones of inhibition. In mice treated with extracts survived and showed minute pathologic effects, while untreated mice died 48 hours after inoculation. (23)
Availability
Wild-crafted.