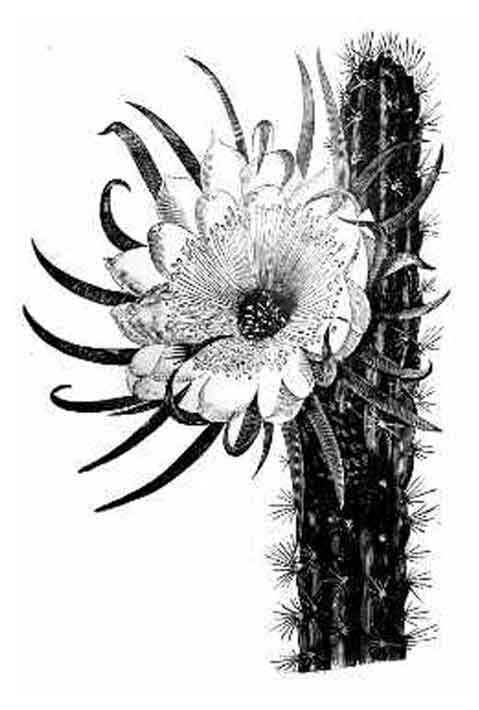 Gen info
- The name 'cereus' originates in a book by Tabernaemontanus published 1625 and refers to the candle-like form of Cereus hexagonus. and now includes all known cacti with very elongated bodies.
- The genus name "Cereus" derives from Latin, meaning "wax" or "thorn." The specific epithet "repandus" derives from Latin, meaning "spread out or flattened back" referring to the slightly unneven and eaved ribs.
- It is being touted as an alternative to the gangling and mangy dragon fruit tree. Peruvian apple has the same taste and consistency as the dragon fruit.
- A commercial breeding program in Israel named the plant "Koubo."
Botany
Cereus repandus is a large shrubby or tree-like cactus with many columnar stems, reaching a height of 10 m. usually much branched from the base. With scaffolding support, it can grow to a height of 34 m. Stems are gray-green to blue-green, cylindrical with 8-13 ribs, sometimes segmented, and up to 20 cm in diameter. Thorns are variable, numerous, gray, and needle-like, but occasionally missing. Longest thorn up to 5 cm long. Flowers are large, white or cream-colored with reddish tips, up to 15 cm in diameter, borne on an elongated tube, somewhat fragrant, tube short and often ridged, stigma exerted before flower open, and nocturnal, which only open for one night. Fruits are without thorns, spherical or egg-shaped, up to 4 cm long, varying in color from dark red, purple, or yellow, containing small, edible, crunchy seeds, the flesh sweetens as it ripens.
D
istribution
- Recently introduced.
- Ornamental cultivation.
- Native to Aruba, Columbia, Netherlands Antilles, Venezuela, Venezuelan Antilles, Windward Is. (1)
Constituents
- Aqueous extract from callus culture yielded carbohydrate and protein contents estimated at 53.4% and 0.66%, respectively, composed primarily of arabinose and galacturonic acid, with minor amounts of glucose. (see study below) (4)
- Phytochemical screening of dried stem powder yielded alkaloids, carbohydrates, saponins, glycosides, quinones, and coumarins with absence of phenols, flavonoids, proteins, terpenoids, phytosterols. (6)
Properties
- Attracts bees and butterflies.
- Studies have suggested anti-obesity and anti-ulcer properties.

Parts used
Flesh, callus.

Uses
Edibility
- Fruits and stems are edible. Fruit is eaten fresh, the flesh with a mild and sweet flavor. Also used in beverages.
- In Aruba and Cura Vao, the green flesh is dried, powdered, or freshly eaten in a mucilaginous soup (cadada in Aruba). It is also cooked with bits of salted pork, goat meat, fish, sweet red pepper and tomatoes.
Folkloric
- No reported folkloric medicinal use in the Philippines.
- The green layer of flesh, found between the cuticle and yellow-colored firm layer of the shoot, is sliced off, sun or fire dried, and consumed to treat diarrhea.
Others
- Inner cane-like wood used in wattle and daub construction.
- Agrofirestry: Used as cactus fences.
- Fodder: Has good potential as food and feed in arid zones.
- Washing: Slice of cactus used as soap to wash dishes or one's body.
Studies
• Antiulcer / Callus Culture: Study evaluated an aqueous extract from Cereus peruvianus callus culture for anti-ulcerogenic activity in in-vivo models of experimental ulcers in Wistar rats. Results showed the culture to be significantly effective against ethanol-induced lesions but ineffective against indomethacin-induced ulcers. (4)
• Anti-Obesity: Study evaluated the effectiveness of a phytotherapic compound developed from Cereus peruvianus as an adjuvant treatment of obesity in rats fed with a high-fat diet. Sibutramine was used as positive control. The phytotherapic compound, KOUBO, was administered orally at 8 mg/jg twice daily for 30 days. Results showed the phytotherapic compound was effective in decreasing body weight in both male and female rats, with a similar profile to that of sibutramine. (5)
Availability
Wild-crafted.
Seeds and plants in the cybermarket.