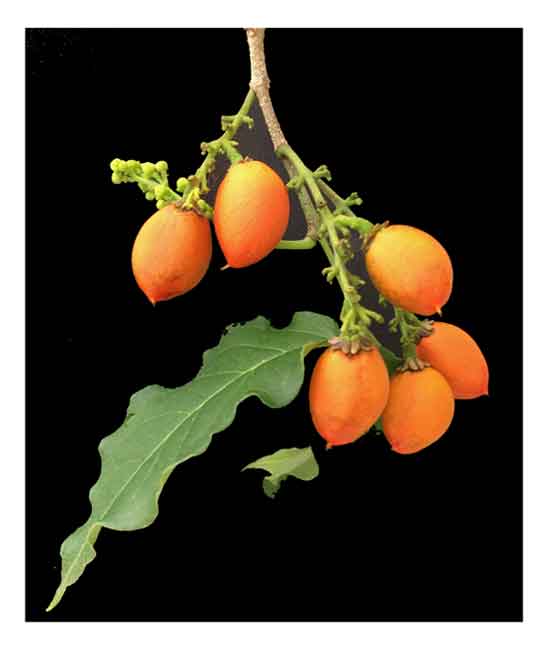 Botany
- Bunchosia glandulifera is an evergreen shrub or smaller tree growing up to 7-8 m high. Bark is grayish-brown, smooth to slightly rough or nodular. Leaves are simple, entire, opposite, wavy at the margins, the underside slightly hairy. Flowers are small, yellow, arranged in racemes. Fruit is a drupe, 2-2.5 cm long, prange and ripening to red, ellipsoidal, almost smooth, slightly hairy, orange to red, the pulp intensely red, stickly, slightly juicy and sweet; containing 1- or more commonly 2-seeded. Seeds are about 1-1.5 cm long, light brown, elliptical, somewhat flattened on one side, smooth and bony. (5)
Distribution
- Introduced.
- Native to South America and the West Indies.
Constituents
- Fruit pulp yields phenolic compounds, anthocyanins, flavonoids, lycopene, ß-carotene, vitamin C, and caffeine. Phenolic compounds identified were rutin, vitexin, amnd quercitrin. (see study below) (2)
- Bioactive compound concentration in mg/100 g of fruit pulp showe: total phenolics 2,245, total flavonoids 138, total anthocyanin 15.9, ß-carotene 8.10, lycopene 16.38, vitamin C 32.95, caffeine 205.35. (2)
- Study of fruit revealed high concentration of soluble solids and sugars in the pulp, while the seeds predominantly contained protein and ash. Elemental composition showed K, P, Ca, and Mg as the most abundant minerals in the fruit. Ingestion of 300 g of fruit provides 100% of daily requirements of some elements. Of the seventeen fatty acids in the pulp and seed, palmitic acid was the most concentrated.   (6)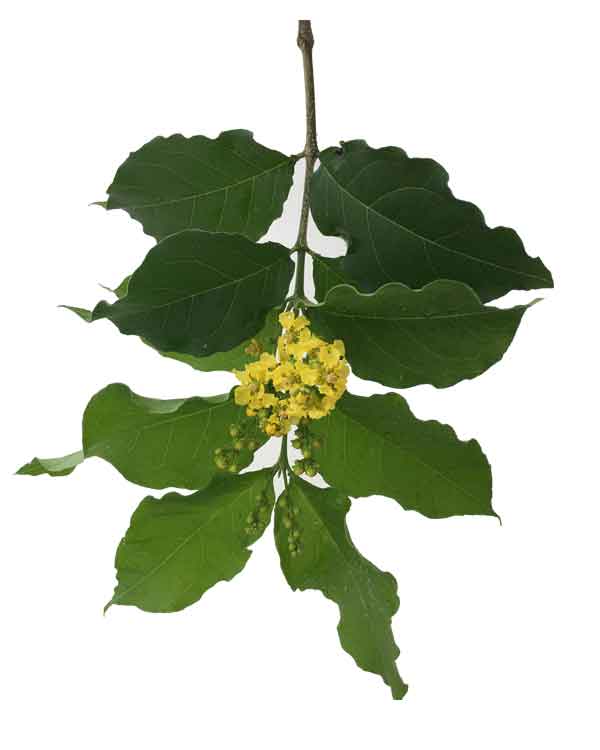 Properties
- High nutritional value and possible anti-aging effects.
- Used as stimulant may be due to the concentration of caffeine in the pulp )206.35 mg/100g). (2)
- Studies have suggested antioxidant and stimulant properties.

Parts used
Fruit..

Uses
Edibility
- Fruit is edible.
- In Brazil, the fruit pulp is consumed in its natural state or as juice. Seeds are roasted and ground, and consumed in a similar manner. (2)
- A blog reports the seed or pit to be poisonous. However, no studies have suggested toxicity related to seeds.
Folkloric
- No reported folkloric medicinal use in the Philippines
- Elsewere, reportedly eaten for its stimulant effects.
- Fruit pulp believed to provide longevity, stamina, and mental clarity. (2)

S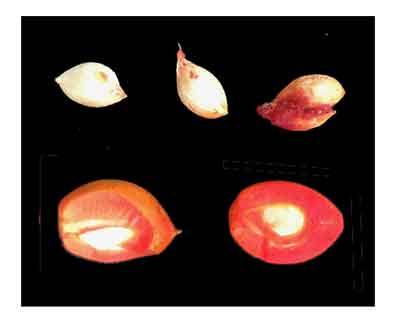 tudies
• Antioxidant / Fruit Pulp: The fruit is a source of bioactive compounds with antioxidant potential. Fruit pulp yields phenolic compounds, anthocyanins, flavonoids, lycopene, ß-carotene, vitamin C, and caffeine. Fruit pulp showed antioxidant activity by ABTS, FRAP, DPPH. High antioxidant activity was attributed to high levels of bioactive compounds. (see constituents above) (2)
• Source of Bioactive Compounds / Antioxidant Potential: The pulp contains phenolic compounds rutin, vitexin, and quercitrin. Lycopene concentration was 16.39 mg/100 g fruit and ß-carotene was 7.10 mg/100 g. Pulp was rich in caffeine (206.35 mg/100 g). Antioxidant activity by FRAP, ABTS, and DPPH assays, expre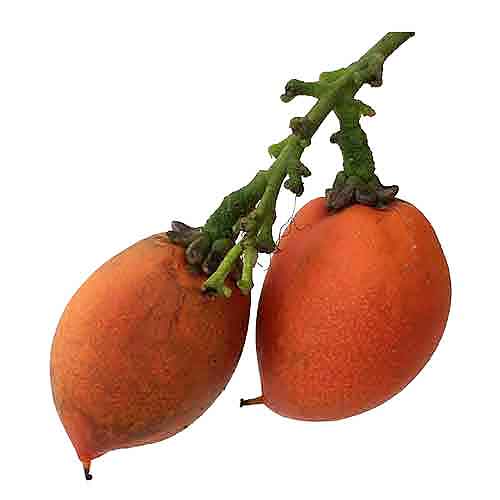 ssed per 100 g of fruit showed 19285.21 µM FeSO4, 8928.57 µM Trolox, and EC50 0.27 g DPPH, respectively. The high values can be attributed to high levels of ß-carotene, lycopene, phenolics, and vitamin C.Carotenoids are responsible for mny biologic activities, among which lycopene stands out in the prevention of prostate cancer and cardiovascular diseases. (2)
• Stimulant Effect / Caffeine Content / Pulp: The species is used as a stimulant, which may be due to the concentration of caffeine in the pulp (206.35 mg/100g), higher than that found in the pulp of guarana (Paullinia cupara- 22 mg/100g), but lower than in "guarana"powder, marketed at 1,418 mg/100g. (2)
• Sequential Extract of Caffeine / Seeds: Study evaluated the composition of caferana seed extracts by 3-steps sequential extraction using ScCO2, ethanol, and water. High yield of 62.4% was achieved. Highest caffeine concentration was obtained. Higher monounsaturated fatty acids content was obtained with supercritical CO2. Enhanced antioxidant activity was attributed to higher phenolic contents. (3)
• Antioxidant Capacity by Voltammetric Method: Study showed B. glandulifera contains high contents of phenolic compounds. Antioxidant capacirty by ABTS, FRAP, and DPPH increased in the order of seed < pulp < bark < leaf < root extract. Phenolic compounds content were 302 ± 10, 327 ± 11, 1008 ± 71, 4003 ± 13 and 7502 ± 30 mg gallic acid/100 g extract, respectively. (4)
• Antioxidant Activity at Different Ripening Stages / Fruit: Study evaluated the changes in bioactive antioxidant compounds in the pulp and seeds during different stages of ripening. The fruits were analyzed for caffeine, carotenoids, flavonoids, vitamin C, total phenolic content and antioxidant activity at four different stages of ripening. An increase in bioactive compounds were pbserved from the second maturation stage to the ripened fruit, with the ripened fruit showing the highest bioactive compound content. Phenolic content and carotenoid levels were highest in the pulp. Carotenoid content showed a positive correlation with antioxidant activity. Colorimetric studies showed a high correlation between levels of carotenoids and color change during the ripening stages. (7)
• Drying Kinetics / Effect on Bioactive Compounds / Pilp: Study reports on the drying kinetics of B. glandulifera, pulp, as well as changes in its phenolic compounds, carotenoid content, and antioxidant activity. The drying curves exhibited a period of fast decline and an exponential trend in all of them. The concentration of phenolic compounds and carotenoids decreased during the first minutes of drying. Bioactive compounds were most sensitive to high temperatures, while antioxidant activity was mainly affected by the drying time. (8)

Availability
- Cultivated.