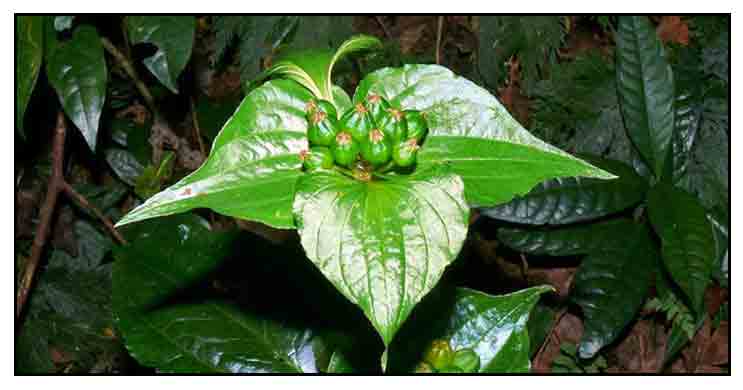 Botany
Payung-payuñgan is a perennial herb. Rootstock is tuberous, ovoid, small, 2 to 4 centimeters in diameter. Petiole is slender, 20 to 30 centimeters long. Leaves are pedately 5- to 7-partite, 15 to 20 centimeters in diameter, thin; segments are oblong to elliptic-oblong, entire, acuminate, the lower two on each side more united than the others. Scapes are slender, about as long as the leaves. Flowers are umbellate, pedicelled, purple and green, about 8 millimeters long, the involucre usually of four leaves, the outer two broadly ovate, acuminate, nearly sessile, and 3 to 6 centimeters long; the inner two with constricted bases, petioled. Fruit is subglobose, fleshy, red, and about 1 centimeter long.
Distribution
- In thickets and secondary forests at a low altitude in Pangasinan, Nueva Ecija, Bulacan, Rizal, Bataan and Laguna Provinces in Luzon, in Semirara, and in Panay.
- Indochina to Malesia.
Properties
- Rhizomes are bitter.
- Astringent, analgesic. stomachic,

Parts used
Rhizomes.

Uses
Folkloric
- In the Philippines, used for indigestion; scrapings from tuberous rhizomes are chewed as stomachic.
- Also used by women for menstrual disorders.
- Used in diarrhea and dysentery.
Studies
• No studies found.

Availability
Wild-crafted.