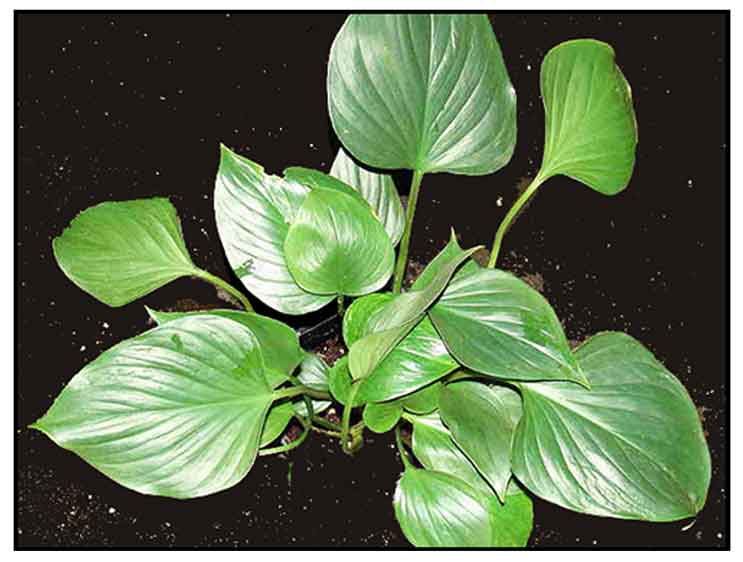 Snippet
- The Plant List includes 212 scientific plant names of the species rank for genus Homalomena, with 106 accepted species names. (5)
- Homalomena derives from a mistranslated Malayan vernacular name, homalos meaning flat, and mene meaning moon. (4)
- Many species of Homalomena yield a strong smell of anise. (4)

Botany
Payau is an herbaceous plant up to 1 meter high. Leaves grow in clusters from the ground, heart-shaped with pointed tip, 25 to 30 centimeters long, and on long petioles. Spathe is greenish, flushed with purple, oblong, 4 to 5 centimeters long. Spadix is about 3.5 centimeters long. Seeds are ovoid, and about 5 millimeters long.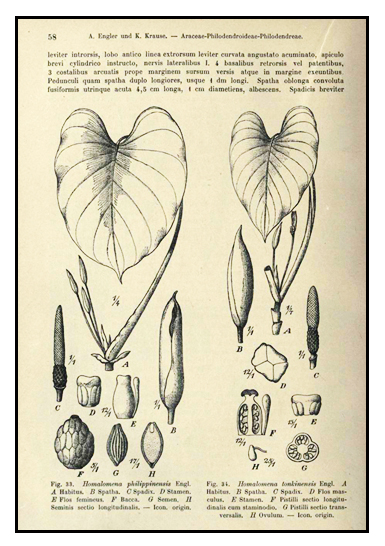 Distribution
- Along small streams in primary forests at low altitudes, often common but endemic
- Common in Isabela, La Union, Pangasinan, Pampanga, Rizal, Bataan, Laguna, and Sorsogon Provinces in Luzon; Mindoro; Palawan; Panay; Leyte; Biliran; Negros; and Mindanao.
- Also reported in the Lan Yu Islands of Taiwan.
Constituents
- Study of rhizomes for secondary metabolites yielded carbohydrates, flavonoids, proteins, sterols, and tannins. Alkaloids were absent. (see study below) (6)
Properties
- Antirheumatic.
- Vulnerary.

Parts used
Rhizomes, leaves.

Uses
Culinary
- Large leaves are extensively used in the Camarines area for wrapping articles of food.
Folkloric
- Rhizomes used as antirheumatic in the form of embrocation. (2)
- Leaves used as vulnerary.
- The Subanen tribe of Lapuyan, Zamboanga del Sur sniff sliced and pounded stems for colds. Outer layer of stems fashioned into a necklace and tied around a child's neck for colds. (3)
Others
- Wrapping food: Large leaves used in the Camarines for wrapping food. (2)
Studies
• Antibacterial / Rhizome: Phytochemical screening of rhizome extract showed mild inhibitory effect against Staphylococcus aureus. Extract showed no inhibition of Escherichia coli, Candida albicans, and Saccharomyces cerevisiae. (see constituents above) (6)

Availability
Wild-crafted.