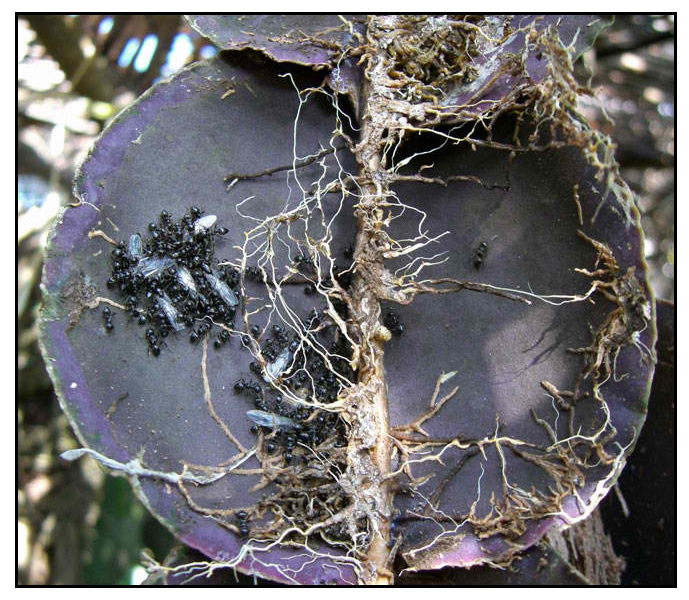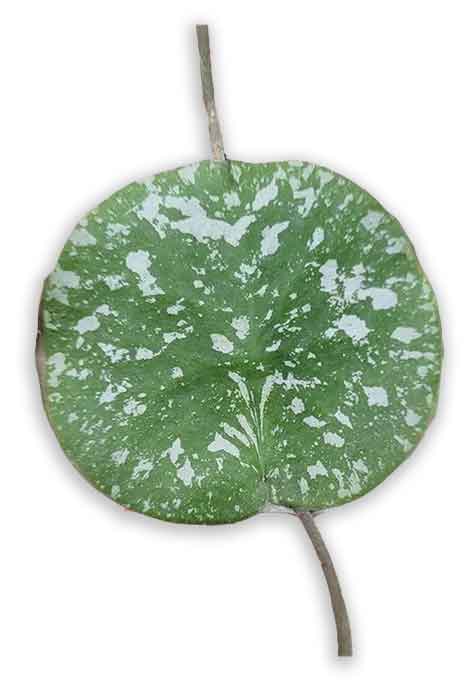 Gen info
Hoya imbricata is a species of plant in the genus Hoya native to the Philippines and the Indonesian island of Sulawesi. It is unusual for its large, decorative, mottled green and purple dome-shaped leaves, about 25 cm diameter, which offer shelter to ant colonies. (2)
Botany
Paui-pauikan is a smooth, epiphytic, woody vine climbing or cleaving to tree trunks. Stems are wiry and form rootlets. Leaves are broadly ovate or rounded, 6 to 12 centimeters wide, heart-shaped at the base, rounded at the tip, somewhat leathery and rigid, and reddish-purple; the upper surface is convex and smooth, the lower surface concave, hairy and inhabited by ants. Inflorescences are borne on leafless stems, almost stalkless, with many small, odorless, velvety and creamy-white flowers, 8 to 10 millimeters in diameter. Corolla-lobes are very slender, pointed, reflexed, smooth on the outside, and hairy within.
Additional info
Succulent leaves have the appearance of waterlily pads, and are like upturned dinner plates, convex on the inner surface, hugging tree trunks on which the plant grows. Plant provides a network of roots beneath each leaf, exploiting nutrients from the presence of ant colonies. (2)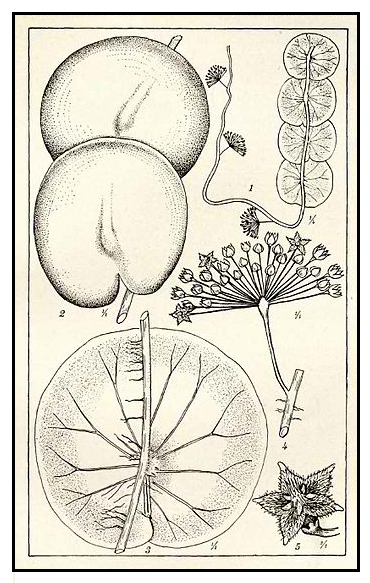 The leaves typically grow close together, overlapping one another like roofing shingles or fish scales (the specific epithet "imbricata" refers to this similarity to roofing tiles). Ant colonize the space beneath the leaves, using adjacent leaves as "nurseries", food storage, or specialized rooms for the ant colony. The plant may absorb a significant amount of carbon dioxide exhaled by ants, providing the plants carbon needs for production of sugar, proteins and lipids. (3)
Distribution
- Native to the Philippines.
- Found on tree trunks at low and medium altitudes in Bontoc, Rizal and Laguna Provinces; and in Busuanga.
- Also native to Sulawesi. (4)

Parts used
Leaves.

Uses
Folkloric
- Leaves applied externally as a poultice to ripen boils.
- A mixture of burned, charred and powdered leaves - triturated, mixed with coconut oil and stirred thoroughly - is applied to old wounds or varicose ulcers ("bangkukang") for rapid cicatrization. (5)
Studies
• No studies found.

Availability
Wild-crafted.