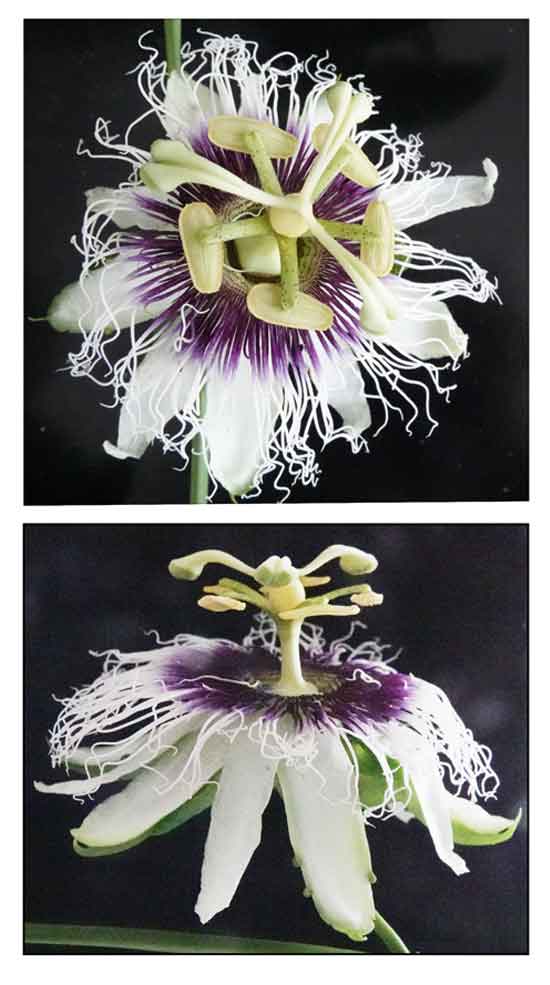 Gen info
- Passiflora edulis belongs to the Passifloraceae family, with about 500 species distributed in warm temperatures and tropical regions.
- Granadilla is a shared common name for three varieties of Passiflora: Passiflora quadrangularis, Passiflora incarnata, and Passiflora edulis. - The "passion" plant name derives from the early Spanish times when the floral parts symbolized aspects of the Crucifixion: the five stamens signifying the wounds; the petals and sepals, the apostles; the corona inside the petals, the crown of thorns; and the three pistil stiles, the nails of the cross, and the tendrils on the vines representing the whip that lashed Christ.
- In 2017, global passion fruit production was estimated at 1.5 million tons. Brazil is the largest producer at 690,444 tons in 2020.

Botany
• Pasyonaryo is a sturdy climbing vine with angular stems. Leaves are ovate, deeply 3-lobed, green, with many serrate edges, up to 13 centimeters broad. Fruits are edible, globular-oblong, dull purplish, with a hard rind, up to 6 centimeters in diameter.

• Passiflora edulis is a herbaceous vines, woody at base, ca. 6 m long. Stem slender-striate, glabrous. Leaves 6-13 × 8-13 cm, membranous, base cuneate or cordate, deeply 3-lobed, middle lobe ovate, lateral lobes ovate-oblong, margin glandular-serrate, with 1 or 2 small cup-shaped glands near base of sinuses, glabrous. Inflorescence a reduced cyme, central flower not developed, one lateral branch converted to a tendril,flower opposite tendril; bracts green, broadly ovate or rhombic, 1-1.2 cm, margin irregularly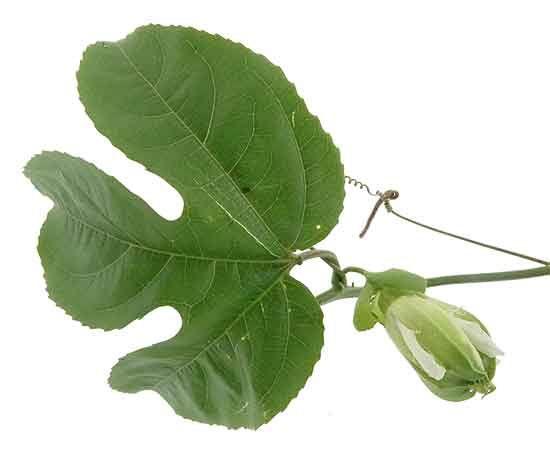 serrulate. Pedicel 4-4.5 cm, biglandular at apex. Flowers 4-7 cm in diam.; hypanthium 0.8-1 × 1-1.2 cm. Sepals green outside, light green or white inside, 2.5-4 × ca. 1.5 cm, awn 2-4 mm. Petals 2.5-3 cm × ca. 8 mm. Corona in 4 or 5 series; outer 2 series ligulate with filiform distal half, 2-2.5 cm, base light green, middle purple, apex white; inner 2 or 3 series filiform, 1-3 mm, green and purple; operculum recurved, 1-1.2 mm, margin entire or irregularly lacerate apically; disk ca. 4 mm high, membranous; androgynophore 1-1.2 cm tall; trochlea (ring-shaped enlargement on androgynophore) just above disk. Filaments 5-6 mm, flat, coherent at base; anthers light yellow-green, oblong, 5-6 mm. Ovary obovoid, ca. 8 mm, glabrous to pubescent; styles flat; stigma reniform. Fruit purple at maturity, ovoid, 3-4 cm in diam., glabrous. Seeds many, ovoid, 5-6 mm. (Flora of China)
Distribution
- Introduced.
- In the Philippines, cultivated in gardens in towns and cities.
- Native to Argentina, Brazil, Paraguay.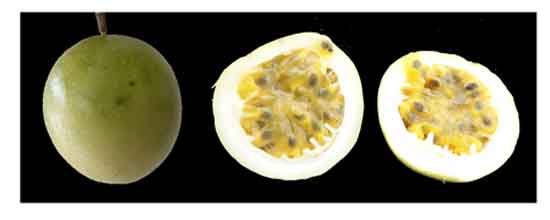 Constituents
- Phytochemical screening of leaf and callus yielded alkaloids, saponins, tannins, and triterpenes from ethanol and chloroform extracts. (See study below) (5)
- Study of methanolic and aqueous extracts revealed a predominance of triterpenoid steroids and saponins. The methanolic extract also showed tannins and flavonoids. (See study below) (7)
- Flavonoids, mainly C-glycosylflavones, are the major constituents of leaves and pulp.  (9)
- Phytochemical analysis of various extracts of leaves yielded saponins, steroids, cardiac glycosides, amino acids, terpenoids, alkaloids, flavonoids, phenolic compounds, reducing sugars, and tannins. A methanolic extract yielded 5 bioactive compounds, viz., dodecanoic acid,10-methyl-,methyl ester (C14H28O2 ), E,E,Z-1,3,12-Nonadecatriene-5,14-diol (C19H3402), 9,12,15-Octadecatrienoic acid,2,3- dihydroxypropyl ester (Z,Z,Z) (C21H36O4 ), S.Hexadecenoic acid,9-octadecenyl ester (Z,Z)  (C34H64O2 ) and Docosanoc acid,1,2,3 propanetriyl ester (C69H134O6) respectively. (11) 
- Nutritive analysis of fresh fruit per 100 g yield 97 Kcal, 23.38 g. carbohydrates, 2.20 g. protein, 0.70 g total fat, 0 mg cholesterol, 10.40 g dietary fiber. Vitamin contents yielded 14 µg folates, 1.50 mg niacin, 0.10 mg pyridoxine, 0.130 mg riboflavin, 0 mg thiamine, 1274 IU vitamin A, 30 mg vitamin C, 0.02 µg vitamin E, 0.7 mg vitamin K. Electrolytes yielded 0 mg sodium, 348 mg potassium. Minerals analysis yielded 12 mg calcium, 0.086 mg copper, 1.60 mg iron, 29 mg magnesium, 68 mg phosphorus, 0.6 µg selenium, and 0.10 mg zinc. Phytonutrient analysis yielded 743 µg carotene-B, 41 µg crypto-xanthine-B, and 0 µg lycopene. (19)
- In a study for phenolic content, a methanol extract of P. edulis yielded 2.37 ± 0.11 g GAE/100 g. Antioxidant activity of the leaf was 653.5 ± 6.1 µg/mL. Antioxidant activity of stem was 429.6 ± 3.6 µg/mL. (31)
- Phytochemical analysis of ethanolic and aqueous extracts of leaves and fruits yielded tannins, flavonoids, and cardiotonic glycosides. (see study below) (34)
- Nutrient analysis of seeds (g/100 g on dry basis) yielded protein 13.99, lipids 32.65, carbohydrates 51.87, ash 1.49, dietary fiber 48.18; mineral content (mg/100g): sodium 241.7, magnesium 138.3, potassium 352.5, calcium 173.1, phosphorus 115.3, iron 6.2, copper 1.4, zinc 5.6. (47)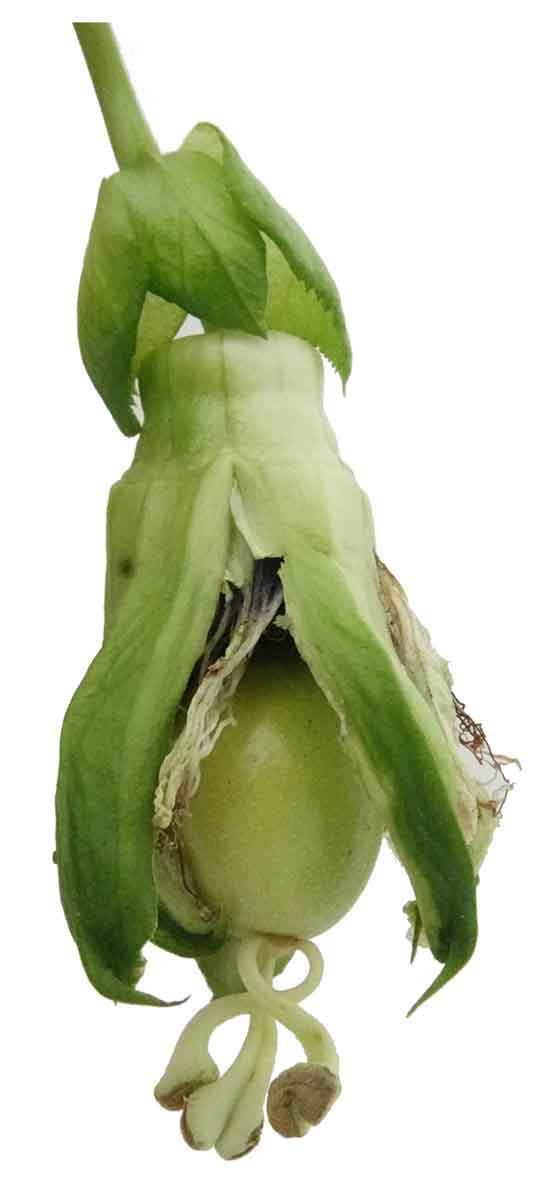 Properties
- Studies have shown antibacterial, anxiolytic, anti-inflammatory and lipid-benefit activities.
- Studies have suggested the fruit rind has a higher nutrient content than the pulp. (9)
- Studies have suggested antioxidant, anti-inflammatory, antiproliferative, anxiolytic, hypnotic, antibacterial, analgesic, anticonvulsant, anti-sickling, melanogenesis inhibitry, antihypertensive, neuropharmacological, anti-aging properties.

Parts used
Leaves, fruits, flowers.

Uses
Edibility
- An edible fruit, sour, the pulp eaten raw with seeds.
- In Brazil, the fruit is widely cultivated and used in the food industry as concentrates and processed juices.
- Used for making juices, jellies, and ice cream.
Folkloric
- No reported medicinal use in the Philippines.
- Elsewhere, used for hypertension.
- In Brazil, leaves extracts long used as treatment for anxiety and insomnia. Flower decoction used to treat asthma, bronchitis, and whooping cough. (•) Cataplasm made from leaves used as healing agent for skin infections and inflammations. (41)
- In American countries, leaves used for anxiety and nervousness. (11)
- In China, South America, India and other countries, used as tonic, digestive, sedative, diuretic, antidiarrheal, insecticidal. Used for treatment of cough, constipation, insomnia, diarrhea, dysmenorrhea, infant colic, joint pain, dysentery, etc.
Others
- Rituals: Juice reportedly used in Brazilian jurema rituals.

Studies
• Anxiolytic Activities / Flavonoid Contents / Comparative Effects: Study compared the anxiolytic activities and flavonoid compositions of species of P. edulis with purple fruit and yellow fruit. Ethanolic extracts of P. edulis flavicarpa displayed anxiolytic activities while P. edulis edulis exhibited sedative effect. Study yielded six major flavonoid compounds from the leaves of PE 'flavicarpa': lucenin-2, vicenin-2, isoorientin, isovitexin, luteolin-6-C-chinovoside, and luteolin-6-C-fucoside. Results suggest flavicarpa is extremely different from edulis and should be distinguished. (3)
• Anxiolytic Activities: Study of hydroalcoholic extracts of P alata and P. edulis leaves using the elevated plus-maze test showed anxiolytic activity. (4)
• Phytochemicals / Antibacterial: Study evaluated the phytochemical and antibacterial activity of leaf and callus of P. edulis Sims using various extracts. A chloroform extract of leaf and callus showed the maximum solubility and antimicrobial activity. (5)
• Increased HDL Cholesterol Levels / Industrial Waste Potential: Study evaluated the biochemical profile of male Wistar rats treated with extract of rind of Passiflora edulis. Results showed increase in HDL cholesterol levels. The passion fruit rinds are discarded by fruit processing plants and its waste has a potential as source of new functional product. (6)
• Anti-Inflammatory / Antibacterial / Leaves: A methanolic extract exhibited significant antibacterial activity against S. aureus. The extracts were devoid of antifungal activity. A methanolic extract exhibited significant anti-inflammatory activity in Wistar rats using carrageenan-induced left hind paw edema method. (7)
• Angiotensin-Converting Enzyme Inhibitory Activity: Study evaluated the ACE-inhibitory effect of several extracts from species of P. edulis and P. crispus. Considerable angiotensin-converting enzyme inhibitory activity was found for Passiflora edulis ethanolic extracts of fruit juice and leaves but not for Petroselinum crispum leaves. (8)
• Antioxidant / Isoorientin / Fruit Rind: Study showed a higher amount of isoorientin in healthy rinds. Studies allied to assays of radical scavenging activity suggest the potential of P. edulis rinds as a natural source of flavonoids or as a possible functional food. (9)
• Lipid and Oxidative Stress Benefits: Study showed P. edulis juice in experimental conditions showed beneficial effects on lipid profile and improved lipid peroxidation in Wistar rats. (10)
• Antimicrobial: Study evaluated the antimicrobial activities of the leaf extracts against Escherichia coli, Bacillus subtilis, Staphylococcus aureus, Pseudomonas aeruginosa, Salmonella typhi, Klebsiella pneumoniae. A methanol extract exhibited the best antimicrobial activity against the bacteria. (11)
• Human Spermicidal Effect / Fruit Extract: Study evaluated the spermicidal activity of Passiflora edulis extract on human spermatozoa. Results showed decreased motility and viability. Extract showed no cytotoxic effects on proliferation of MDBK and VERO cells. (12)
• Diabetes Benefits / Decreased Insulin Resistance / Peel Flour Supplementation: P. edulis fruit peel flour have showed positive action in adjuvant blood glucose control. Study showed supplementation decreased insulin resistance in type 2 diabetic patients, suggesting a potential for adjuvant therapy in blood glucose control. (13)
• Sedative / Anticonvulsant / Dried Leaves: P. edulis extract showed sedative activity in mice, significantly increasing total sleep time induced by diazepam. The extract also showed anticonvulsant activity protecting mice against strychnine-induced seizures and antagonized NMDA-induced turning behavior in mice. (14)
• Toxicity Studies / Effect on Hematological Parameters / Safety: Study evaluated the toxicological effects of aqueous leaf extract in Wistar albino rats in acute and subacute toxicity studies. Results showed no effect of hematological parameters, renal and hepatic markers. Acute toxicity study showed the extract to be safe up to 2000 mg/kg. Subacute study showed no effects on bone marrow function, with no hepatotoxic or nephrotoxic effects. (15)
• Anti-Anxiety: Study in rats showed that, similar to diazepam, P. edulis and P. alata induced anxiolytic-like effects in rats, with no disruption in the memory process. P. edulis required lower active doses of aqueous extracts than P. alata in inducing anxiolytic-like effects. (16)
• Antioxidant / Leaves: Study evaluated an ethanol extract of P. edulis leaves for antioxidant activity using a DPPH quenching assay and reducing power test models. The leaf extract showed potential antioxidant in both assay models. Phytochemical analysis yielded saponins, tannin and phenolic compounds, flavonoids, steroids, oils and fats, and terpenoids. (17) Study evaluated the leaf extracts of P. alata and P. edulis for antioxidant activities in in vitro and ex vivo assays. Both extracts showed antioxidant properties, the activities significantly correlating with polyphenol contents. Both extracts attenuated ex vivo iron-induced cell death. (18) Study evaluated the in vitro and in vivo antioxidant potential of aqueous extract of P. edulis leaves. The leaf extract yielded vitexin, isovitexin, and isoorientin. Animals treated with the tea extract showed a 45% reduction on DOS activities in the liver and brain. Tea intake also promoted colonic bacterial growth. Results suggest a potential for enhancement of antioxidants and protection against oxidative stress. (29)
• High Fiber Diet Effect on Metabolic Profile: Study evaluated the effect of high-fiber diet albedo of passion fruit on metabolic and biochemical profile in alloxan induced diabetic rats. Results showed a statistically significant decrease in plasma glucose, suggesting a potential hypoglycemic effect and an ability to reduce triglycerides and VLDL-cholesterol levels, with a principal reduction of insulin and leptin. (20)
• Analgesic / Leaves: Study evaluated leaf extracts of P. edulis for analgesic activity by tail immersion method in Swiss albino mice. The n-butanol extract showed better analgesic activity when compared to the other extracts and the standard drug, aspirin. (21)
• Hypoglycemic / Leaves: Study investigated P. edulis for hypoglycemic effects in Wistar albino rats. Results showed significant hypoglycemic activity which may be attributed to the presence of phenols and flavonoids. (22)
• Piceatannol / Seeds / Melanogenesis Inhibition / Promotion of Collagen Synthesis: Study evaluated the effect of passion fruit o melanin inhibition and collagen synthesis on cultured human melanoma and fibroblast cells. Fruit seeds yielded piceatannol (3,4,3′,5′-tetrahydroxy-trans-stilbene), a major component shown to be responsible for the effects on melanogenesis and collagen synthesis.       (23)
• Antihypertensive Effect / Leaves and Fruit Juice: Study showed the ethanolic extract of leaves and fruit juice of P. edulis were effective in decreasing the arterial blood pressure in hypertensive rats, with oral acute toxicity. (24)
• In Vitro Anti-Sickling Potential Effect: Study evaluated the in vitro antisickling potential of aqueous extracts of leaf and fruit extracts of P. edulis. Results showed activities with linear increase in inhibitory and reversal activities as concentration of the aqueous extract increased. The leaf extract was more active in inhibitory and reversal activities compared to the fruit juice. (25)
• Neuropharmacological Effects / Pericarp: Study evaluated the central effects of various extracts and fraction of P. edulis flavicarpa in mice. Results showed an anxiolytic-like effect. The AE showed a sedative effect, potentiating the hypnotic effects of ethyl ether. The extracts and fractions showed a predominance of C-glycosylflavonoids, identified as isoorientin, vicenin-2-spinosin, and 6,8-ci-C-glycosylchrysin. (26)
• Inhibition of Protein Glycation / Diabetic Benefits / Leaves: Study evaluated the effects of ethanolic extract of Passiflora edulis leaves on blood glucose, protein glycation, NADPH oxidase activity and macrophage phagocytic capacity after Candida exposure in alloxan-induced diabetic rats. Extract treated diabetic animals showed lower fructosamine concentrations. Results showed the leaf extract prevented an increase in serum protein glycation and helped maintain diabetic rat macrophage ROS production at levels similar to non-diabetic animals. (28)
• Drug Interactions: P. edulis have moderate interactions with CNS depressants. It may cause drowsiness and sleepiness with sedatives such as pentobarbital (Nembutal), phenobarbital (Luminal), secobarbital (Seconal), clonazepam (Klonipin), lorazepam (Ativan), zolpidem (Ambien), among others. (30)
• Hypnotic-Sedative / Toxicity Study: Study evaluated the hypnotic-sedative effects and toxicity aqueous extract of P. edulis in rats and mice and in healthy volunteers. Results showed a non-specific central nervous system depressant effect. Study also showed hepatobiliary and pancreatic toxicity. (32)
• Cytotoxicity / Potential Anticancer : Study evaluated the cytotoxicity of 17 methanol extracts from 11 Cameroonian medicinal plants against the sensitive leukemia CCRF-CEM cells. Passiflora edulis was one of five plants that showed good cytotoxicity against CCRF-CEM leukemia cells and its resistant subline CEM/ADR5000 cells. The selectivity to the two cells lines suggest a potential for the development of novel anticancer drugs to fight leukemia. (33)
• Antiproliferative / Antioxidant / Leaves and Fruit Juice: Study investigated the antioxidant and antiproliferative activity of ethanolic and aqueous extracts from leaves and fruits of P. edulis. An ethanolic extract from leaves showed best antioxidant activity (EC50=0.096 mg/ml) in DPPH assay and the juice (EC50=0.022 mg/ml) on Hydroxyl free radical scavenging assay. All extracts showed greater than 98% inhibition of hemolysis induced by H2O2. The aqueous extract from leaves showed highest cytotoxicity against SW480 and SW620. (see constituents above) (34)
• Anti-Inflammatory / Leaves: Study evaluated the mechanism of anti-inflammatory effect of aqueous lyophilized extract from leaves of P. edulis var. flavicarpa in a mouse model of pleurisy induced by carrageenanan (Cg). bradykinin, histamine or substance P. Results showed anti-inflammatory effect that be due to the inhibition of pro-inflammatory cytokines (TNF-α, IL-1ß), enzyme (myeloperoxidase) and mediators (bradykinin, histamine, substance P, nitric oxide) release and/or action. (35)
• Isoorientin / Flavonoids / Fruit Pulp: Quantification study of passion fruit pulp (P. edulis Sims f. flavicarpa) yielded 16.226 ± 0.050 mg L-1 of isoorientin and 158.037 ± 0.062 mg L-1 of total flavonoid. Levels suggest P. edulis may be comparable to other flavonoid food sources like orange juice and sugarcane juice. (36)
• Cytotoxic / Apoptotic / Leaves and Juice: Study evaluated the effect of leaf and juice extracts of P. edulis var. flavicarpa on viability, cytotoxicity, and induction of apoptosis in an in-vitro model of liver cancer (HepG2 cell). Phytochemical analysis showed the leaf extract to have higher polyphenolic content, whereas the juice had more polysaccharide content. The juice extract effected a significant decrease in viability while the leaf extract caused a significant increase in cytotoxicity. Both extracts significantly increased propapoptotic activity. (37)
• Mutagenic Effects: Study evaluated the toxic, aneugenic, and clastogenic effect of P. edulis tincture on the initial development and mitotic index of meristematic onion root cells using Allium cepa test system. The tincture showed great mutagenic potential, and was responsible for inducing damage to the cell cycle. Author advises further testing for validation of its use in humans. (38)
• Effect on Bladder Wound Healing / Leaves: Study evaluated the effects of hydroalcoholic extract of Passiflora edulis leaves in the healing of urinary bladder in Wistar rats from histological measure. The use of P. edulis leaves extract resulted in less acute inflammation, greater fibroblastic proliferation, collagenous formation, and capillary neo-formation on rats' bladder wound healing. (39)
• Review / Antihypertensive / Anxiolytic / Rind / Leaves: Significantly decreased systolic diastolic blood pressure of spontaneously hypertensive rats were observed after 1 to 7 hours of oral administration of methanol extract of P. edulis rind (10 mg/kg or 50 mg/kg)evaluated the hypoglycemic property of P. edulis leaf extract. Rind extract content of GABA (y-amino butyric acid) was 2.4 mg/g dry weight. It has been reported the oral GABA significantly lowered BP in spontaneously hypertensive rats but not in normotensive rats. Study of spray-dried powder of leaves by elevated plus-maze test in Swiss rats showed anxiolytic effect at low doses. (40)
• Effect on Open Wounds / Morphologic and Histologic Study: Study evaluated the healing effect of a hydroalcoholic extract of leaves ins open wounds of adult Wistar rats. While the application of P. edulis extract did not accelerate the healing process of open wounds in rats, there was an increase in the number of fibroblasts on the 7th day and greater collagen deposition on the 15th P.O. day. (41)
• Flavonoid Extraction: Study reports on a simple, rapid, and environmentally friendly extraction method for flavonoid. In the study, the optimized conditions for flavonoid extraction for P. edulis is maceration with 75% ethanol. (42)
• Anti-Aging / Comparative Antihyaluronidase Activity / Peel and Seeds: Study compared the antioxidant activity and anti-hyaluronidase activities of peels and seeds of P. edulis. Results showed percentage reduction of ABTS of seed and peel was 15.58 and 27.68, respectively at 50 µg/ml. Hyaluronidase inhibition of seed and peel was 70.96 and 61.68%, with anti-hyaluronidase activity IC50s of 122.70 and 67.35, respectively. Results suggest anti-aging potential for seeds and peels. (44)
• Acne Vulgaris Treatment / Fruit / Pilot Study: The fruit is known have high linoleic acid and piceatannol content with reported antibacterial, anti-inflammatory, and antioxidant activities. Study evaluated the efficacy of topical use of P. edulis var. edulis seeds extract on acne vulgaris. Results showed significant reductions in noninflammatory (80.9%), inflammatory (71.1%), and total (73%) lesion count after 8 weeks of cream application (p<0.001). Most subjects (77.8%) noticed significant improvement in their acne vulgaris and expressed good satisfaction rate. (45)
• Effect on Metabolic Profile of Diabetic Rats: Study evaluated the effects of passion fruit on biochemical profile of offspring from diabetic rats induced by streptozotocin. Treatment showed significant reduction of total cholesterol, triglyceride, and LDL-cholesterol and increased HDL-cholesterol. Results showed passion fruit juice improved lipid profiles, and may have beneficial effects in the prevention and treatment of dyslipidemias and hyperglycemia. (46)
• Seeds / Safety Studies and Potential: Passion fruit seeds are eaten raw with the pulp. Many human and animal studies on seeds extracts have not reported serious side effects or adverse events. In a human study, 11 healthy adults consumed a beverage containing 27.3 g of seed extract (100 mg of piceatannol) daily for four weeks. There were no reported adverse effects, no changes in hematological and biochemical parameters. Another skin-patch study of cream formulation of seed extract showed no signs or symptoms of irritation. Studies suggest safety and potential for use in food and cosmetic applications. (47)
• Effect on Striae Distensae (Stretch Marks) / Fruit Seed Cream: Striae distensae (stretch marks) is a skin disorder that can be cause of cosmetic concern and psychological effects. Fruit seeds contain piceatannol, ascorbic acid, flavonoids, resveratrol, hydroalcohols and sterols, which play a role in repair of striae distensae through ant-inflammatory mechanisms, fibroblast proliferation, collagen production, and increased cross-linking between collagen fibers and moisturizers. Study evaluated the effect of 6% purple fruit seed extract cream on striae distensae. Results showed improved appearance of striae distensae without side effects and with good level of satisfaction. (48)
• Effect on Glycemic Management of Diabetes / Review: Study evaluated the effects of different parts of P. edulis on glycemic control of individuals with diabetes mellitus, based on studies and reviews, three of which were randomized controlled trials, two were experimental studies, using various pharmaceutical forms i.e., flour from peel and albedo, seed extract and ethanolic extract from leaves of P. edulis. Most studies showed lowering of fasting blood glucose and glycated hemoglobin. Study suggests that passion fruit parts such as seeds, leaves, and peel contain substances that can help in the glycemic control of diabetic patients. (49)

Availability
Wild-crafted.