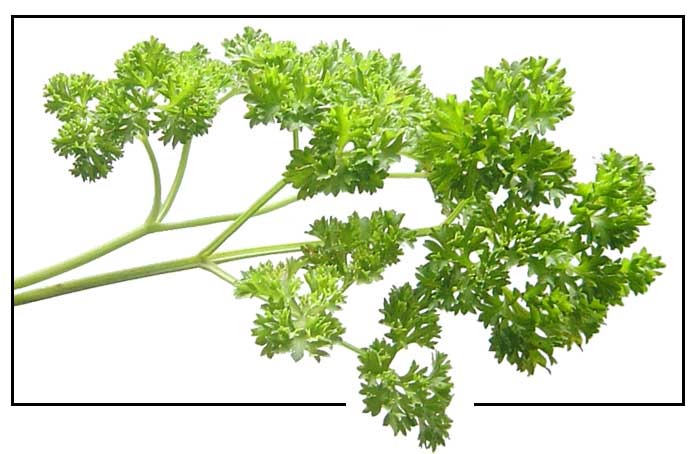 Botany
Parsley is a biennial herb with fleshy, spindle-shaped roots and thin, erect, grooved, angular and branching stems. Leaves are bright to dark green, bi- or tri-laterally divided, on long petioles. Leaflets are wedge-shaped. Flowers are greenish yellow compound umbels.
Distribution
Cultivated.
Part utilized
Leaves, seeds and roots.
Constituents
• Studies have yielded active constituents: phenolic compounds and flavonoids, particularly apigenin, apiin, and 6"-acetylapiin; essential oil, mainly myristicin and apiol; and coumarins.
• Nutrition information per 100g of fresh parsley: (Principle) Energy 36 Kcal, carbohydrates 6.33 g, protein 2.97 g, total fat 0.8 g, cholesterol 0 mg, dietary fiber 3.3 g; (Vitamins) folates 152 µg, niacin 1.313 mg, pantothenic acid 0.400 mg, pyridoxine 0.090 mg, riboflavin 0.098 mg, thiamin 0.086 mg, vitamin A 8424 IU, vitamin C 133 mg, vitamin E 0.75 mg, vitamin K 1640 µg; (Electrolytes) sodium 56 mg, potassium 554 mg; (Minerals) calcium 138 mg, copper 0.149 mg, iron 6.20 mg, magnesium 50 mg, manganese 0.160 mg, phosphorus 58 mg, zinc 1.07 mg; (Phytonutrients) carotene-ß 5054 µg, lutein-zeaxanthin 5561 µg. (16)

Properties
• Studies have suggested antimicrobial, anti-inflammatory, analgesic, antiplatelet, diuretic, emmenagogue, laxative, gastroprotective, hypotensive, tonic, carminative, antiurolithiatic, antidiabetic properties.
Uses
Culinary
- Used as garnish, condiment, and flavoring.
- A popular decorative green sprig on restaurant entrees.
Folkloric
- Tea and juice of the plant used for dropsy, gonorrhea, asthma, coughs and painful menstruations.
- Also used for gallstones.
- Decoction of seeds used for killing scalp vermin; dried powdered leaves sprinkled on hair or used as ointment for lice.
- Bruised leaves applied to contusions.
- Juice of leaves used for blepharitis and conjunctivitis.
- Poultice of leaves for stings and bites.
- Elsewhere, used for dysuria.
- Used to induce menstruation.
- Used to stimulate hair growth.
- Leaves applied to cracked or chapped skin, bruises, insect bites.
- Decoction of fruits and seeds used for colic, indigestion and intestinal gas.
- In Egypt traditional medicine, used for urinary tract infections.
- In Israeli traditional medicine, seeds used for kidney stones and impotence.
- In the French pharmacopeia, root and leaves are used for dysmenorrhea and menstrual cramps.
- In Turkey, used to reduce blood glucose.
- In Brazil, used as a diuretic.
Others
- Parsley seed oil used as fragrance in soaps, cosmetics, and perfumes.

Studies
• Antioxidant: Study showed that parsley oil possessed a certain degree of antioxidant activities in terms of ß-carotene bleaching and free radical scavenging, with negligible metal chelating capacity. Myristicin was found to be the dominant compound that exhibited a moderate antioxidant activity. Results showed PO can be a potential alternative source of natural antioxidants. (2)
• Hepatoprotective: Study showed that parsley has a significant hepatoprotective effect in diabetic rats. (3)
• Antibacterial: Study of P crispum extract showed inhibitory effect at various concentrations against Gram-positive and Gram-negative bacteria. It showed inhibitory effect against Br melitensis, E coli and B lichiniformis. Results confirm its use in folk medicine. (4) Study for antibacterial activity showed an ethanol extract to be active against S. aureus, Ps. aeruginosa, and S. typhi. A water extract showed similar activity, in addition to E. coli. (15)
• Diuretic / Hypotensive: Study of the aqueous extracts of parsley seeds showed diuretic and hypotensive effects in anesthetized Wistar rats, confirming its traditional use in Brazil as a herbal diuretic. (5)
• Warfarin Interaction: Large amounts of parsley may increase blood clotting. It might decrease the blood thinning effect of warfarin (Coumadin). (8)
• Antidiabetic / Antioxidant: Study evaluated the antidiabetic and antioxidant effects of aqueous extracts of Balanites aegyptica and Petroselinum sativum on streptozotocin-induced diabetic and normal rats. Herbal preparations significantly reduced the mean plasma glucose and MDA levels and significantly increased the mean plasma insulin. Results suggest potential use of the extracts with insulin therapy to minimize its side effects, improve treatment of T1DM and probably other oxidative stress-associated diseases. (10)
• Immunomodulation / Essential Oil: Study In evaluated the effects of parsley essential oil on phytohemagglutinin (PHA)-stimulated splenocytes (T cells) and lipopolysaccharide (LPS)-stimulated B cells, as the main effector cells in adaptive immune system. Results proposes the suppressive effect of parsley essential oil on macrophages, as the major cells involved in the innate immune system. (11)
• Nephroprotective / Diuretic / Antioxidant: Study of aqueous extracts of Petroselinum sativum, Eruca sativa and Curcuma longa in gentamicin (GM)-nephrotoxic rats showed nephroprotective, diuretic, and antioxidant effects in gentamicin-nephrotoxic rats. The extracts increased urine volume and urinary excretion of Na+ and K+, ameliorated renal tubular necrosis and increased activities of renal antioxidant enzymes in GM-intoxicated rats. (12)
• Antilithiatic: Study showed a preventive effect of Petroselinum sativum on calcium oxalate calculi in rats. The effect of the herb extract could be related to the increase of diuresis via inhibition of the Na+K+ pump in renal epithelial cell. (13)
• Anticancer: Study demonstrated preliminary screening of anticancer activity of Portulaca oleracea and Petroselinum sativum extracts against HepG2 cells, significantly reducing cell viability in a concentration dependent manner. (14)
Safety
- Likely safe when used in foods.
- Classified GRAS (Generally Recognized As Safe) in the US.
- Pregnancy: Likely unsafe. High concentrations are contraindicated during pregnancy because it can be a potential abortifacient and a uterine and menstrual flow stimulant.
- Parsley oil, ingested orally can cause severe side effects because of the apiole and myristicin constituents.
- Contraindicated in patients with kidney inflammation or disease.
- Toxicity includes hemolytic anemia, thrombocytopenic purpura, nephrosis, hepatic dysfunction and kidney irritation.
Source. Natural Medicines. Comprehensive Database
Availability
Cultivated.
Tinctures, extracts, and essential oil in the cybermarket.