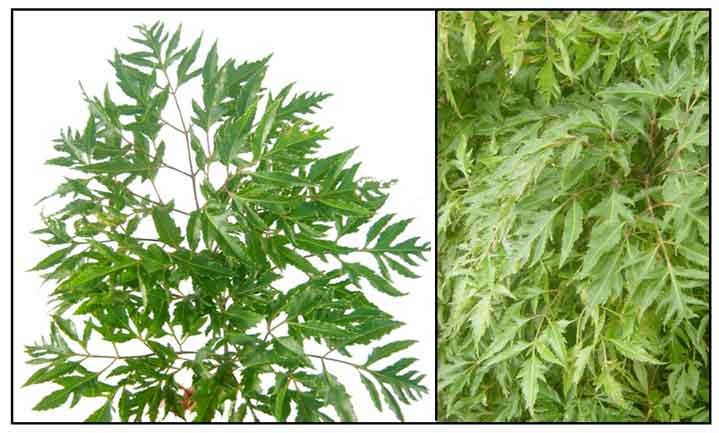 Botany
Papua is an erect shrub, growing growing 1 to 2.5 meters high. Leaves are decompound, 3-pinnate, and up to 30 centimeters long. The pinnae are 6 to 10, the upper ones are shorter. Leaflets and ultimate segments are very diverse, mostly lanceolate, 5 to 10 centimeters long; the terminal segments are usually larger than the others and more often lobed, pointed at the tip, sharply and irregularly toothed. Flowers are numerous, umbellately arranged, shortly stalked, borne on terminal inflorescences in the upper axils of the leaves, up to 15 centimeters long. Fruit is broadly ovoid, compressed and about 4 centimeters long.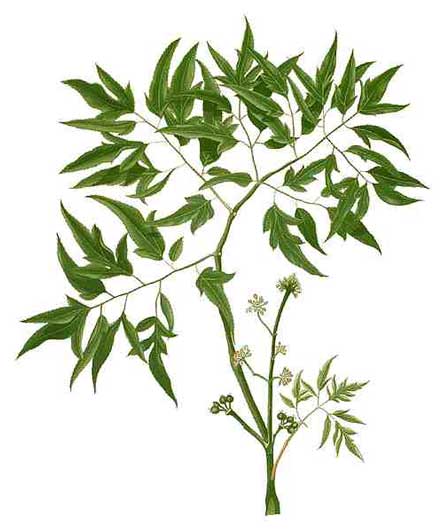 Distribution
- Commonly planted in hedges and about houses, but is nowhere spontaneous.
- Cultivated for its hedge and its leaves, the latter for providing body to florists' wreaths.
- Of prehistoric introduction.
- Probably of Malayan origin.
- Reported from India, Malaysia, and Polynesia.
- Now planted in all tropical countries.
Constituents
- Study of fresh leaves yielded 0.32% volatile oil, slightly yellow in color, with a grassy scent. It was highly positive for sesquiterpene. Mass spectroscopy showed bergamotene, oxygenated sesquiterpene, -elemene, ß-bourbonene, ß-cubebene, ß-bisabolene, farnesene, elemene among others. (1)
- Study of roots and leaves yielded eight new oleanolic acid saponins named polysciosides A to H together with three known saponins. (8)
- Methanol extract of leaves yielded three bisdesmosidic saponins, 3-O-[𝛽-D-glucopyranosyl-(1→4)-𝛽-D-glucuronopyranosyl] oleanolic acid 28-O-𝛽-D-glucopyranosyl
ester (1), polyscioside D (2), and 3-O-[ß-D-glucopyranosyl-(1→2)-[𝛽-D-glucopyranosyl-(1→4)]-𝛽-D-glucuronopyranosyl}
oleanolic acid 28-O-𝛽-D-glucopyranosyl-(1→2)-𝛽-D-galactopyranosyl ester (3). (see study below) (11)
- GC-MS analysis of sesquiterpenoid volatile leaf oils of Polyscias fruticosa yielded about 24 constituents. ß-elemene, α-bergamotene, germacrene-D and (E)-gM-bisabolene were present in major proportions. (12)
- Study of leaves isolated and purified two new oleanane-type triterpenoid saponins, polyscioside J (1) and polyscioside K (2), along with two known saponins, ladyginoside A (3) and chikusetsusaponin IVa (4). (19)

Properties
- Astringent, febrifuge, sudorific, vulnerary.
- Root is aromatic in taste and smell, parsley-like.
- Root considered diuretic.
- Studies have suggested antipyretic, analgesic, anti-inflammatory, molluscicidal, adaptogenic, antitussive, anti-asthma, diuretic, antiasthmatic, alpha-glucosidase and alpha-amylase inhibitory activities.
Parts utilized
Leaves, roots.

Uses
Edibility / Culinary
- In Java, used as food and condiment in lieu of celery and parsley.
- Young leaves, shoots, and roots eaten raw or steamed; added to soups as flavoring.
- The root has an agreeable, strongly aromatic, parsley-like.
Folkloric
- Leaves are powdered, mixed with salt for wound healing.
- In India, used as astringent and febrifuge.
- In Fiji, root used as diuretic. Juice from bark taken for thrush and tongue and throat ulcers. Bark poultice applied to syphilitic sores. (13)
- In Cambodia, considered a sudorific inhalant; also used for neuralgia and rheumatic pains.
- In Vietnam, used as digestive.
Others
- Wreaths: Leaves used by florists to give body to wreaths.
- Ritual sticks: Plant used for making joss sticks by Buddhist monks in Cambodia. (10)
Studies
• Antipyretic / Analgesic: Study of n-butanol extract of leaves of Polyscias fruticosa in egg white-induced paw edema in rats showed antipyretic and analgesic activities. (2)
• Molluscicidal: The NBES (n-butanol extract containing saponins) showed a potential as an effective plant molluscicidal, an effect attributed to the saponins. It is of added interest because fresh water snails act as intermediate host to schistosomes, the causative agents of schistosomiasis. (2)
• Adaptogenic / Anti-Inflammatory: Adaptogenic activity studies showed Polyscias fruticosa leaf and root saponins possess effective anti-stress activity as compared with white panax ginseng root saponins. The polyscias saponins were effective in acute models of inflammations. Its immunostimulant activity revealed it can be a good substitute for white panax ginseng. (4)
• Anti-Inflammatory / Ovalbumin Induced-Asthma / Toxicity Study / Leaves: Study evaluated the anti-inflammatory property of an ethanolic extract of Polyscias fruticosa in ovalbumin-induced asthma. There was no significant toxic effect at lower doses (NOAEL: <1000 mg/kg). Treatment with extracts showed an anti-inflammatory effect with significant reduction of elevated WBCs and its differential, and significant decrease in erythrocyte sedimentation rate. (6)
• Antitussive/ Mucosuppressant in Asthma Management: Study evaluated the muco-suppressant, anti-tussive and safety profile of an ethanolic leaf extract in its use as an anti-asthmatic. Results showed significant inhibition (P≤ 0.01-0,001) of tracheal mucus phenol and secretion, and suppression of citric acid-induced cough. Subchronic toxicity study showed no significant changes in body weight, hematologic profile, liver and kidney functions. (7)
• Removal of VOCs: A University of Georgia study evaluated the ability of various species of house plants in removing volatile organic compounds (VOCs) from the air. Polyscias fruticosa (ming aralia) was one of seven plants judged to have intermediate removal efficiency. (9)
• α-Glucosidase and α-Amylase inhibitory Saponins / Leaves: Study of methanol extract of Polyscias fruticosa leaves yielded three bisdesmosidic saponins. Saponin 1 inhibited porcine pancrease α-amylase and yeast α-glucosidase activities. Combination of compound 1 and acarbose showed synergistic inhibitory effect. Results suggest a potential for major saponin 1 in the prevention and treatment of diabetes. (11)
• Diuretic / Acute Oral Toxicity Study / Roots: Study evaluated the diuretic effect of petroleum ether extract of P. fruticosa roots in albino rats. In acute oral toxicity study using OECD guidelines, no mortality was observed up to 2000 mg/kbw. The extract showed notable diuretic effect as evidenced by significant increase in urine volume, sodium and potassium content; the effect was similar to furosemide. (13)
• Redactor and Stabilizer of Gold Nanoparticles Formation / Leaves: Study reports on the green biosynthesis of gold nanoparticles (AuNPs) using aqueous leaf extract of P. fruticosa. (14)
• Antiasthmatic / Leaves: Study evaluated the anti-asthmatic property and possible mechanism of action of an ethanol leaf extract of P. fruticosa in a guinea pig model. The PF extract prolonged the onset of pre-convulsive dyspnea and decreased recovery time. It also enhanced the percentage protection against histamine-induced bronchospasm and decreased percentage recovery time. It significantly inhibited contractile responses of histamine and produced significant inhibition of mast cell degranulation. (15)
• Hypoglycemic /Triterpenoid Saponin / Leaves: Study evaluated the inhibitory effect of 3-O-[ß-d-glucopyranosyl-(1-->4)-ß-d-glucoronopyranosyl] oleanolic acid 28-O-ß-d-glucopyranosyl ester (PFS), a major saponin isolated from leaves of P. fruticosa, on α-amylase and α-glucosidase and potential for reducing postprandial blood glucose in mice. The PFS strongly inhibited porcine pancreas α-amylase and yeast α-glucosidase. In the sucrose tolerance test, PFS significantly decreased postprandial blood glucose level in mice fed a high-sucrose diet. Results suggest the leaves and the major saponin PFS has potential to treat diabetes and treat its complications. (16)
• Effect of Extraction Methods on Polyphenols and Flavonols and Antioxidant Activity / Roots: Study evaluated the effects of various extraction conditions on polyphenol and flavonoid contents and antioxidant activity by DPPH and ABTS methods. Highest extraction yield was obtained with 90% ethanol with highest polyphenol content (96.09 µg gallic acid equivalent/mg) and highest flavonoid content (58.30 µg quercetin equivalent/mg dry extract). The root extract showed antioxidant activity with IC50s of 96.14 µg/ml and 38.76 µg/ml for DPPH and ABTS, respectively. (17)
• Effect of Roasting on Total Phenolic, Flavonoid, and Antioxidant Activity / Roots, Bark and Leaf: There has been a concern on the detrimental effect of thermal roasting to stability of phytochemical constituents. Study evaluated the effect of different roasting conditions on total phenolic, total flavonoid, and antioxidant activity in root, bark and leaf of P. fruticosa. All samples were steamed in vapor, dried by convection dryer and roasted in differe3nt conditions. Results showed roasting at 135/9°C/minutes was appropriate to preserve the most phytochemical constituents. (18)
• Maternal and Post-Implantation Toxicity / Leaves: Study evaluated the maternal and post-implantation loss in pregnant rats gestationally exposed to P. fruticosa leaf extract (PFE) in female Wistar rats. Results showed gestational exposure to PFE (>100 mg/kg) produced risk of post-implantation loss and renal injury in dams. PFE should be avoided in pregnancy. (20)
• Anti-Osteoclastogenic / Leaves: Many bone-related diseases such as osteoporosis and rheumatoid arthritis are commonly associated with excessive activity of osteoclasts. Study evaluated the effect of ethanol extract of P. fruticosa leaves (EEPL) on RANKL-induced osteoclastogenesis in vitro and LPS-induced bone loss in mouse, and evaluated the anti-osteoclastogenic activities of its major constituents. Study identified 3-O-[ß-D-glucopyranosyl-(1-->4)-ß-D-glucoronopyranosyl] oleanolic acid 28-O-ß-D-glucopyranosyl ester (1) and quercitrin (3) as the active constituents in EEPL for inhibiting RANKL- induced osteoclast differentiation. Results showed EEPL exerted anti-osteoclastogenic activity in vitro and in vivo by inhibiting RANKL-induced osteoclast differentiation and function, and suggest potential for beneficial applications for prevention and inhibition of osteoclast-mediated bone diseases. (21)
• Effect on Male Fertility / Leaves: Study evaluated the effect of Polyscias fruticosa leaf extract on male fertility and toxicity in adult male Wistar rats. Sperm motility relatively increased in PFE treated rats, along with decrease in sperm abnormality. Results suggest improved caudal epdidymal sperm count and may be useful as male fertility enhance. Exhaustive safety studies on key male sex organs were suggested. (22)
• Science Opinion / Synergism of P. fruticosa and Morus alba as Anti-Diabetic: Based on knowledge and field survey results in control and management of diabetes mellitus by complementary/alternative medicine, it is suggested the combination of P. fruticosa and Morus alba will be useful in preventing hyperglycemia and late complications in the future. (23)
• Volatile Oil / Anticancer / Leaves: Study of volatile oils from fresh leaves yielded bergamotene (20.25%), y-elemene (15.28%). and germacrene-D (13.29%). Oil showed significant pharmacological effect (ED50 <<30µg/ml) to anticancer activity. (24)

Availability
- Cultivated.
- Extracts in the cybermarket.