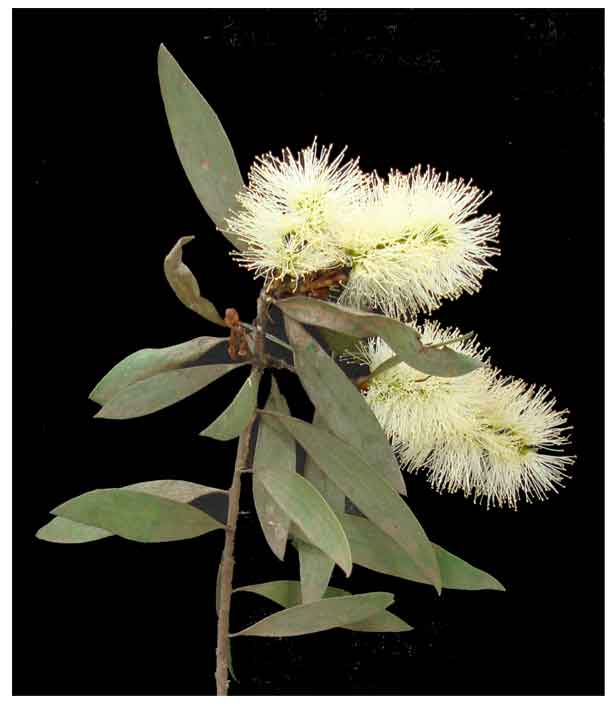 Etymology
Melaleuca is of Greek origin, meaning "black and white," referring to the white bark that is often charred by fire. (11)
Botany
Melaleuca is a tree growing to 10 meters or more, with a dense narrow crown, a stout, often twisted trunk. Bark is spongy and corky and peels off in thin layers. Branches are pendulous. Leaves are thin, leathery, alternate, lanceolate, up to 7 centimeters long, 1.5 centimeters wide, 5-nerved, short-petioled, and pointed at both ends. Flowers are finely hairy, white, in dense spikes, up to 6 centimeters long, emits an unpleasant, musty odor. Fruit is small and greyish-brown with a narrow groove around the top surrounding a small, crater-like cup marked with 5 radial grooves.
Distribution
- Recently introduced to the Philippines.
- Cultivated and planted along streets in Baguio and Manila.
- Rare elsewhere in the Philippines.
- Found in Australia, Brunei, Burma, Cambodia, Hawaii, India, Malaysia, Myanmar, New Caledonia Island, New Caledonia, Papua New Guinea, Solomon Islands.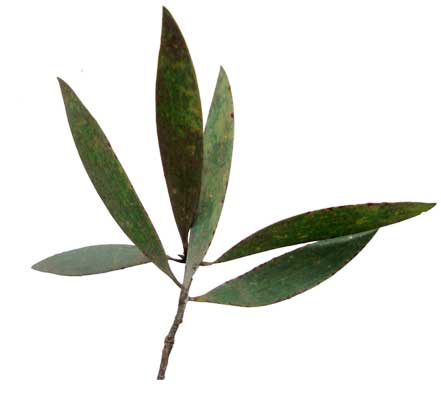 Constituents
- Melaleuca oil is distilled from fresh leaves and twigs.
- The leaves yield cajeput oil which contains 45 to 56 % cineol, esters of butteric, valerianic and acetic acids, dl-pinene, valeral, butril, benzaldehydes, l-linalool, etc.
- The essential oil concentration in leaves is relatively high, about 1-3% of fresh mass. Among the 150 compounds present in M. quinquenervia foliage, 5-10 constitute more than 95% of the solvent-extractable terpenoids. Of these, 1,8-cineole, a-pinene, limonene, trans-nerolidol, b-caryophyllne and viridiflorol constitute the major terpenoids in the leaves.
- In one study, Niaouli essential oils were classified into three chemotypes: Chemotype 2, rich in 1,8-cineole (up to 80%); C1, rich in terpinene derivatives; , and C3 rich in a-pinene and viridiflorol.
- Indonesian study on leaf oils showed the presence of 26 compounds,1,8-cineole (44.76–60.19%), α-terpineol (5.93–12.45%), d(+)-limonene (4.45–8.85%), and β-caryophyllene (3.78–7.64%) were the major components.
- Study of leaves yielded a new lupane-type nortriterpene, 28-norlup-20(29)-ene-3beta,17beta-diol, and 13 known compounds, (2E,6E)-farnesol, phytol, squalene, alloaromadendrene, ledene, palustrol, viridiflorol, ledol, betulinaldehyde, betulinic acid, 3beta-acetyl-lup-20(29)-en-28-oic acid, 3-oxolup-20(29)-en-28-oic acid, and platanic acid. (9)
- Study of leaves yielded four polyphenlic acid derivatives and three ellagitannins elucidated as: gallics acid (1), ellagic acid (2), 3-O-methylellagic acid (3), 3,4,3′-tri-O-methylellagic acid (4), 2,3-O-hexahydroxy-diphenoyl-(α/β)-D-4C1-glucopyranose (5), castalin (6), and grandinin (7). (see study below) (15)
- GC/MS analysis of 64 samples of M. quinquenervia oils collected from 21 different trees during three seasons characterized 47 compounds. Statistical analysis revealed two chemotypes: chemotype I (1,8-cineole type) and chemotyoe II characterized by a high viridiflorol content (48%). (16)

Properties
- Oil considered anesthetic, carminative, antispasmodic, sudorific, stimulant, rubefacient.
- Studies have shown antioxidant, hypoglycemic, antimicrobial, antimalarial properties.

Parts used
Oil, bark.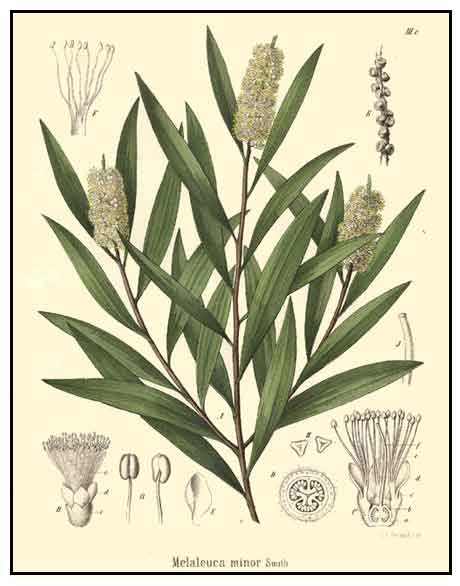 Uses
Edibility
- In New Caledonia, tea is made from the leaves.
- Cajeput oil used in small amounts as flavoring in food and beverages.
Folkloric
- In eastern Malaysia, the bark, softened by mastication, is applied to suppurating wounds to draw out the pus.
- In Sarawak, the bark is used with Hydrocotyle leaves on festering wounds, also to draw out pus.
- Oil used externally as a parasiticide and as anthelmintic.
- In Malaysia, oil is used externally for headaches, toothaches, earaches, rheumatism, cramps and fresh wounds.
- In European medicine, oil is used as a sudorific and vermifuge.
- In Cuba, extracts used as analgesic and antimalarial.
- Oil used for rheumatism and neuralgia.
- Oil used in dental caries, as anodyne; as eardrops for earaches; and locally, for ptyriasis, psoriasis and eczema.
- Oil also used as counterirritant, rubbed over the chest in bronchitis, pneumonia, pleurodynia, pleuritis.
- Oil may be mixed with mustard oil as an anodyne liniment.
- On unbroken skin, oil is stimulant and rubefacient.
- Oil is a domestic remedy for all muscular pains.
- Oil taken internally as a powerful stimulant, carminative and antispasmodic; given in choleric diarrhea.
- Oil considered a powerful sudorific.
Others
• Wood: Not a traditional timber product because of a high bark-to-wood ratio. However, the wood may be used as pulp and cabinetry, and make a fine firewood. The papery bark is used by the Malays for caulking their boats.
• Repellent: Oil makes an excellent mosquito repellent.
• Fuel: Entire tree can be used as biomass fuel, but not ideal because of its powdery, low-density bark.
• Cosmetics: Essential oil used in various cosmetic products.

Studies
• Phytochemical Screening: Study of the leaf and stem of MQ yielded hydrocarbons, fatty acids, cholesterol, stigmasterol, b-sitosterol, oleanic acid, kaempferol, quercetin, quercetrin and saponin glycosides. (2)
• Polyphenols and Ellagitannins / Grandinin / Antioxidant / Hypoglycemic: Study isolated four polyphenolic acid derivatives and three ellagitannins from the leaves of MQ for the first time. One of the 7, grandinin, showed radical scavenging properties, found to be nontoxic, and to have a significant dose-dependent hypoglycemic effect in STZ-induced diabetic mice. Grandinin also reduced the elevated BUN and serum lipid peroxides. (4)
• Allergenicity: Study was done to determine if Melaleuco quinquenervia tree is a source of allergen and respiratory irritant. Results indicate the Melaleuca tree is not a significant source of aeroallergen and the Melaleuca odor is not a respiratory irritant. (5)
• Antimalarial: Study showed M. leucadendron to have in vitro activity against Plasmodium falcifarum and marginal activity in vivo against Plasmodium berghei.
• Antimicrobial: An extensive Cuban study on in vitro antimicrobial profiling of three medicinal plants, Simarouba glauca, Melaleuca leucadendron and Artemisia absinthium, was tested for their antiprotozoal potential against Trypanosoma b. brucei, T. cruzi, Leishmania infantum and Plasmodium falcifarum, antifungal activity against Microsporum canis and Candida albicans, and antibacterial activity against E coli and S aureus. Only M. leucadendron extract showed selective activity against all the microorganisms tested. (7)
• Antimicrobial / Antibiotic Resistant Staphylococcus aureus / Essential Oil: Study of Melaleuca sp. oil showed in vitro inhibitory effect against Staphylococcus aureus isolates obtained from lower limb wounds and resistant to several antibiotics. (13)
• Antimicrobial Activity of Niaouli Leaf Extracts Against Skin Flora: Study evaluated the antimicrobial activity of niaouli leaf extracts against skin flora viz., Bacillus subtilis, S. aureus, Propionibacterium acnes, E. coli, P. aeruginosa, and the yeast Plasmodium ovale. Results showed a 50% ethanol extract/fraction of naouli could be applicable to cosmetics as natural preservatives effective in antimicrobial activity against skin flora. (14)
• Grandinin / Lowering of Blood Glucose /Antioxidant / Leaves: Study of leaves yielded four polyphenolic acid derivatives and three ellagitannins. The major component, grandinin, showed radical scavenging properties by DPPH assay and exhibited significant dose-dependent hypoglycemic effect in STZ-induced diabetic mice, together with reductionn in elevated BUN and serum lipid peroxides. (see constituents above) (15)
• Anthelmintic / Essential Oil: Study evaluated essential oils of Citrus sinensis and Melaleuca quinquenervia against Haemonchus contortus Embrapa 2010 resistant isolate. M. quinquenervia yielded lngifoolene (32.95%) and 1,8-cineole (25.43%) as major components. In the EHT (egg hatch test), MQ showed an IC50 and IC90 were 1.52 and 5.63 mg/ml, respectively. In LDT (larval development test), IC50 and IC90 were 044 and 0,94 mg/ml, respectively. Results suggest a potential for nematode control. (17)
Availability
Wild-crafted.
Extracts and cajeput oil in the cybermarkets.