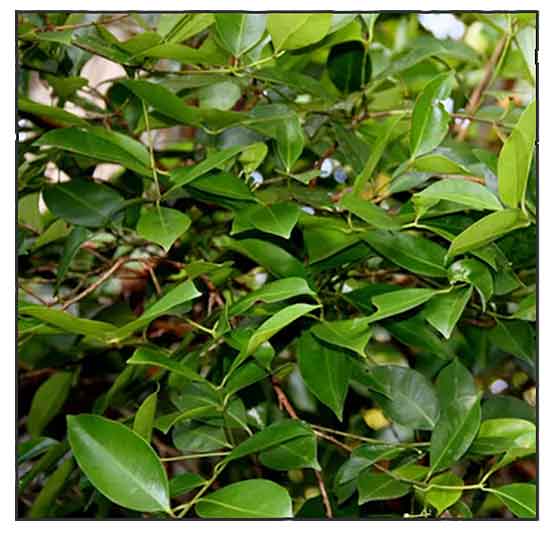 Gen info
- Syzygium is a genus of flowering plants in the myrtle family, Myrtaceae. The genus comprises about 1200 species, the native range extending from Africa and Madagascar through southern Asia east through the Pacific.
Botany
Syzygium simile is a small tree up to 15 m tall. Leaves opposite, elliptical-ovate to oblong-ovate, 9-11 cm × 4-6 cm, with c. 14 pairs of fairly indistinct secondary veins, petiole slender, up to 25 mm long. Flowers in panicles from branches below the leaves, calyx c. 3 mm long, with 4 distinct and persistent lobes, petals white. Fruit a subglobose berry, purplish to black.
Syzygium simile is a tree, to 8 m tall. Branchlets light brown, slender; older branchlets dark brown, terete, glabrous. Petiole ca. 1 cm; leaf blade oblanceolate, obovate-elliptic, or oblong, 7-8 × 3.5-4 cm, subleathery, adaxially glandular punctate, secondary veins 8-9 on each side of midvein, ca. 8 mm apart, and inconspicuous, intramarginal veins 2-3 mm from margin, base attenuate to cuneate, margins slightly revolute, apex cuspidate. Inflorescences axillary, cymes 3-4 cm, few-flowered; branches short, opposite. Flowers pink, ca. 3 mm. Hypanthium campanulate. Calyx lobes broadly triangular, very short. Petals coherent. Stamens numerous, ca. 3 mm; anthers elliptic, small. Style ca. 3 mm; stigma sharp. Fruit blackish purple, globose, ca. 3 mm in diam., apically with a persistent calyx rim. (Flora of China)
Distribution
- Native to the Philippines.
- In forests at low and medium altitude throughout the Philippines.
- Also native to Taiwan. (2)
Properties
- Study has suggested fatty acid uptake inhibitory properties.

Parts used
Leaves.

Uses
Edibility
- Fruits are edible, eaten raw.
Folkloric
- No reported folkloric medicinal use in the Philippines.
Others
- Wood: The wood color is white, thus the name "Pulayo puti".
- Construction: Used for house and ship building and for implements.

Studies
• Inhibitor of Fatty Acid Uptake / Leaves: Non-alcoholic fatty liver disease (NAFLD) has become a common liver disease, increasing in global prevalence, and is predicted to be a major etiology for liver transplantation. Study reports that the extract of S. simile leaves (SSLE) has anti-lipid droplet (LD) accumulation effect in hepatic cell lines. Analysis of expression profile of genes involved in lipid metabolism revealed that SSLE suppressed the mRNA expression of CD36, fatty acid translocase. The suppression of CD36 expression and fatty acid uptake can contribute to the lipid-lowering effect of SSLE. Results suggest potential source for a novel therapeutic modality for NAFLD. (3)
• Natural Inhibitors of CD36 in Nonalcoholic Fatty Liver: NAFLD is the leading etiology of chronic liver disease. Hepatic steatosis, a condition marked by abnormal buildup of triglycerides in the liver, is the precursor to NAFLD. Differentiated cluster 36 (CD36), a scavenger of receptor class B protein, contributes significantly to hepatic steatosis by taking part in fatty acid uptake and triglyceride storage and secretion. CD36 is a worthy target in studies on NAFLD. The paper offers an overview on the pathogenesis of CD36 in NAFLD and summarizes natural compounds or extracts under investigation for modulating NAFLD via CD36 or the CD36 pathway, providing an alternative approach for development of CD36-related drugs in NAFLD. (4)
Availability
Wild-crafted.