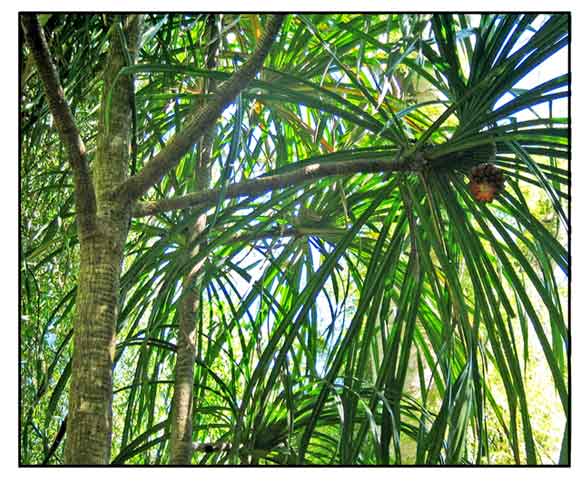 General info
Pandanus is a genus of monocots of about 600 known species, varying in size from small shrubs less than a meter to medium-sized trees of about 20 meters.

In the Philippines there are 48 species of Pandanus, many of them are endemic, growing in various habitats, from sandy beaches, mangroves and primary forests. The fruit of some species are edible, eaten by bats, rats, crabs, elephants and lizards. The majority of species are dispersed primarily by water.
Botany
Pandan-luzon is a slender tree, up to 5 to 8 meters high, with few short prop roots. Leaves are 1.5 to 1.75 meters long, about 2.75 centimeters wide, narrowly acuminated apex and spinescently serrated margins. Peduncle is recurved, about 2 centimeters long, with a few foliaceous bracts toward the distal end. Syncarpium fruit is solitary, subglobose, about 9 centimeters in diameter; the drupes are yellowish-red, 3.5 centimeters long; the apical portion pyramidal and conspicuously ridged, the small, flat, stigmatic surface with 3 to 6 stigmas.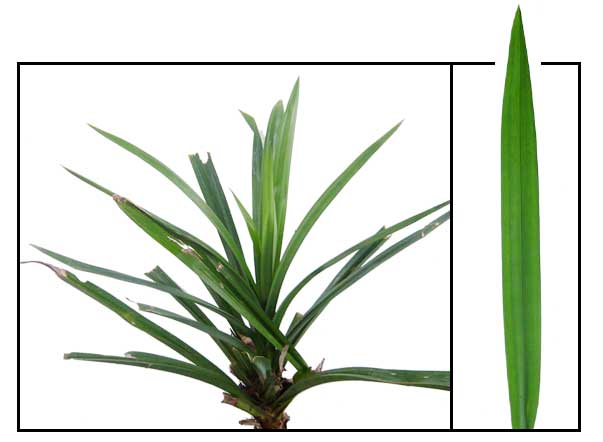 Distribution
- Native to the Philippines.
- Chiefly in secondary forests at low altitudes in the Luzon areas of Pangasinan, Bulacan, Zambales, Rizal, Bataan, Laguna Provinces.
- IUCN listed as "Near Threatened".
Properties
- Roots are stomachic and diuretic.
- Study suggested diuretic property.

Parts used
Anthers, seeds, roots and oil.
Uses
Folkloric
- Decoction of tips of fresh or dried prop roots used as diuretic.
- Pounded prop roots, mixed with leaves of Mentha arvensis in water, the expressed liquid used as stomachic.
- The Ayta community in Dinalupihan Bataan apply leaves on the forehead to treat headaches.
Others
• Weaving: Leaves used for weaving hats, baskets, mats.
• Firewood.
• Cooking: Leaves put underneath grains while cooking rice in a pot to add a sweet taste and a nice smell to the rice.
Studies
• Diuretic: Crude alcoholic extracts of five Pandanus species were evaluated for diuretic properties in albino rats. Urine parameters of volume, Na+, K+ and pH were measured. Pandanus species that appeared to exhibit diuretic potential were Pandanus luzonensis Merr., P. amarylliflius Roxb., and P. tectorius Parkinson ex Z. (2)


Availability
Wild-crafted.