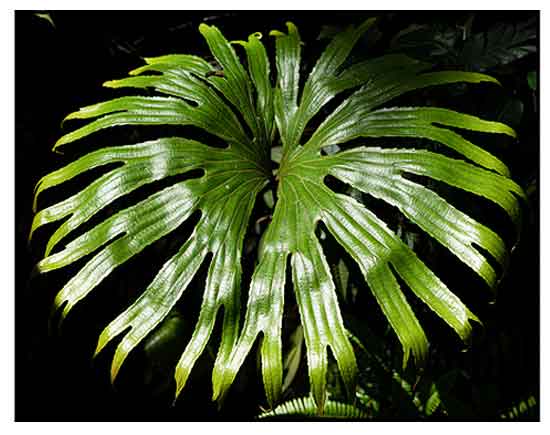 Gen info
- Dipteris conjugata is a species of fern in the family Dipteridaceae.
- Etymology: The specific epithet conjugata derives from Latin, referring to the leaf have one pair of leaflets.
Botany
Dipteris conjugata is a terrestrial, umbrella-shaped fern, 0.5-2 m tall. Rhizome wide- or long-creeping, up to 1.5 cm in diameter, densely setose; setae 0.2 mm × 4-5 mm, lustrous reddish-brown to black, the base sometimes widened. Leaves monomorphous, repeatedly bifid; petiole stout, up to over 2.5 m long, yellow-brown, basally setose; lamina reniform, up to 25-50 cm × 70 cm, divided to the base into two spreading flabellate halves, the base cordate to hastate, apex rounded, coriaceous, glabrous, dark green adaxially, paler or glaucous abaxially, young leaves yellow-green with reddish tinge; segments broadly obovate, up to over 60 cm long, usually twisted through 90 degrees, spreading more or less horizontally, 3 or more times dichotomously divided; ultimate lobes narrowly subtriangular, the margins irregularly and broadly dentate, gradually narrowing into a caudate-acuminate apex; main veins repeatedly dichotomous, intermediate veins forming a dense network with free included veinlets in the areoles. Sori small, numerous, irregular in shape and size, scattered over the undersurface and borne on the minor veins, without indusium, paraphyses capitate. Spores monolete, ellipsoid, 29-38 μm, smooth. (2)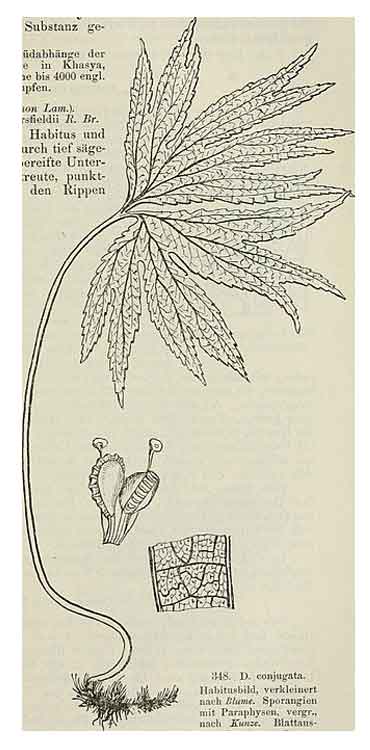 Distribution
- Native to the Philippines.
- Also native to Borneo, Cambodia, Fiji, Hainan, Jawa, Lesser Sunda Is., Malaya, Maluku, Nansei-shoto, New Caledonia, New Guinea, Queensland, Samoa, Solomon Is., Sulawesi, Sumatera, Taiwan, Thailand, Vanuatu, Vietnam, Wallis-Futuna Is. (1)
- In forest clearings at mid to high altitudes, 300-1,500 m.
Constituents
- Study of fronds isolated three new ent-kaurane-type diterpenes, elucidated as16β, 17-dihydroxy-ent-kauran-19-oic acid, 16β, 17-dihydroxy-19-nor-ent-kauran-18-oic acid and 16β, 17, 18-trihydroxy-ent-kauran-19-oic acid, respectively. (5)
Properties
- Studies have suggested antibacterial and anti-lipolytic properties.

Parts used
Roots.

Uses
Folkloric
- In Benguet, roots used in traditional medicine.
- In Fiji, roots used by for male-reproductive ailments.
Others
- Rainy-day use: In Benguet and the Mindanao highlands, large fronds used as umbrella.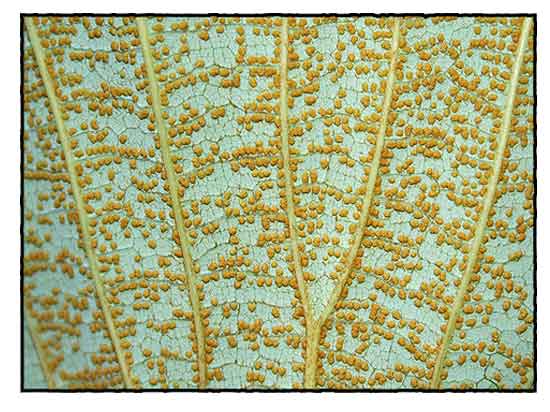 Studies
• Antibacterial / Anti-Lipolytic / Leaves: Study evaluated the biologic properties and identified the functional components of methanolic leaf extract of D. conjugata. By agar diffusion method, the MLE at concentration of 25 µg/ml showed marked activity against all bacterial strains with 11-25 mm zone of inhibition. Best MICs of 2.25 and 9.0 mg/ml were reported against Staphylococcus aureus and Enterobacter sp., respectively. The MLE also exhibited good antilipolytic activity (55%) against porcine pancreatic lipase (PPL) and cholesterol oxidase inhibition (69%). Results suggest antibacterial activity and efficient cholesterol degradation and anti-lipolytic activities that may be beneficial in body weight management.  (4)
Availability
- Wild-crafted.
- Ornamental cultivation.
- Seeds in the cybermarket.