Botany
Oringen is an erect, small tree. Leaves are alternate and smooth, consisting of 2 to 6 leaflets. Leaflets are leathery, about 10 centimeters long, about a third as wide. Flowers are yellowish white, corymbosely fascicled or upon short racemes, and subtended by large bracts. Fruit is hard, scurfy brown, 2 to 4 centimeters long.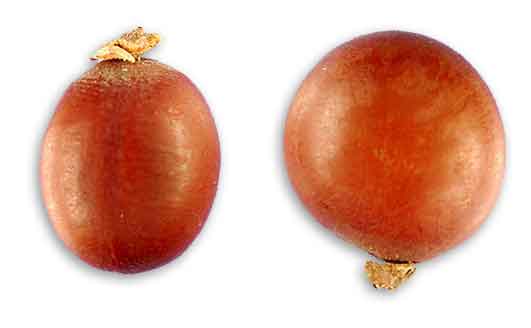 Distribution
- In forests along streams at low and medium altitudes in Cagayan, Bulacan, Rizal, and Quezon Provinces in Luzon.
- A recent contribution to horticulture, it is cultivated for its beautiful, pendant inflorescences covered with large, conspicuous, attractive silvery bracts.
- Also occurs in from India, Indo-China, Thailand through Malaysia to the Pacific.
Constituents
- Roots considered purgative.
- Ethanolic extract yielded three compounds as major constituents, viz., caffeic acid (1), apigenin (2) and 3-(2,3,4-trihydroxyphenyl)-7-hydroxycoumarin (3). (see study below) (9)
- Leaves yielded flavonoids, tannins, alkaloid, phenolics, saponins, and steroids.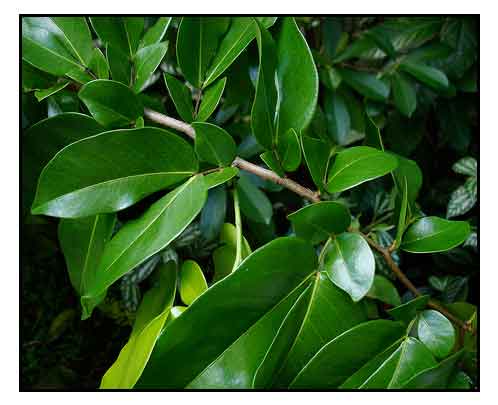 Properties
- Roots considered purgative.
- Studies have suggested antioxidant, cytotoxic, antibacterial, CNS depressant, antinociceptive, antiulcer properties.

Parts used
Seeds, leaves.

Uses
Folkloric
- Roots are purgative.
- Seeds and leaves are used as anti-herpetic.
- In Malabar, leaves used to make a lotion for skin diseases.
- Oil drawn from the seeds also used for skin affections.
- In Bangladesh, a honeyed lotion made from leaves and boiled in cow's milk is applied to scabies, leprosy, and other skin lesions. Seed oil also used for the same. (11)
- In Indonesia, plant used to treat diabetes, hypertension, high uric acid. (14)
Others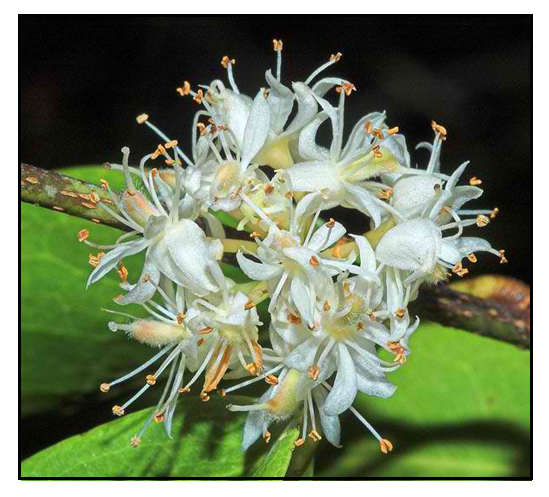 - Timber: Wood used for interior and light construction, plywood, decorative veneers. Also for firewood and charcoal.
- Dye: Wood chips yield a purple dye in water. (17)

Studies
• Cytotoxic / Anticancer Activity: Study investigated the cytotoxic effects of various extracts from 16 Bangladesh medicinal plants, including Cynometra ramiflora, against human gastric, colon and breast cancer cell lines. CM exerted low toxicity against mouse fibroblast but selective cytotoxicity against different cancer cell lines. (1)
• Phytochemical / Antibacterial: Phytochemical screening yielded gums, reducing sugars, tannins and saponins. Study showed moderate antimicrobial activity against E coli, Staph epidermis, Shigella dysenteriae, Enterococci, S sonnei, S aureus, S typhi, S flexneri and Vibrio cholera. (2)
• Blood Glucose Lowering: Extract of Cynometra ramiflora was found to significantly lower the postprandial blood glucose level of the sucrose loaded rats significantly. (3)
• Neuropharmacological / Antibacterial / Antinociceptive: Crude methanolic extract of bark of C. ramiflora was evaluated for neuropharmacological, antibacterial and antinociceptive properties. Results showed depressant central nervous system effects. Toxicity testing showed safety up to 1600 mg/kbw. Extract also showed significant antibacterial activity against V. cholera, S. typhi, S. aureus. The methanolic extract showed significant inhibition of writhing in the acetic acid-induced writhing model in white albino mice. (4)
• Antioxidant / Cytotoxic: Study investigated the antioxidant, cytotoxic activities and chemical constituents of ethanolic extracts of C. ramiflora. On DPPH radical scavenging assay, stem barks showed the highest antioxidant activity. Cytotoxic activity was most active against WiDR cell lines. (see constituents above) (7)
• Cytotoxic: In a study of 32 extracts of Bangladesh plants for selective cancer cell cytotoxic activity, C. ramiflora showed low toxicity (IC50 >2.5 mg mL-1 against mouse fibroblasts but selective cytotoxicity against different cancer cell lines. (8)
• Antibacterial / Stem Bark: Study evaluated the antibacterial activity of an ethanolic extract of stem bark of Cynometra ramiflora against five bacterial species. Results showed antibacterial activity with MBC value of 2% against S. aureus, P. aeruginosa and S sonei, with low potential against K. pneumonia and E. coli. (9)
• Anti-Ulcer / Leaves: In a study evaluating anti-ulcer properties of medicinal plants, methanolic extract of leaves of Cynometra ramiflora showed weak antiulcer activity with 13.9% ulcer inhibition and ulcer index of 5.167±0.989. (10)
• Antioxidant / Stem Bark: Study evaluated the antioxidant activity of C. ramiflora various methanol extract and fractions of fruit, leaves, and stem bark using DPPH assay. The stem bark methanol extract showed highest activity with IC50 41.90 ppm. (12)
• Antiviral for Dengue Virus / Leaves: Study evaluated the effect of Cynometra ramiflora leaf extract in vitro on Huh71t-1 cells as a specific antiviral for DENV infection. Results showed inhibition of DENV replication (IC50 20.1 µg/mL). Toxicity to Huh7it showed a CC50 of 125 µg/ µg/mL. Results suggest the extract is not toxic and has potency as antiviral for DENV. (13)
• Cytotoxicity to WiDR Cell / Leaves: Study evaluated ethanol extract of stem bark and leaves of C. ramiflora for cytotoxicity effects against cancer cell lines. Leaves showed cytotoxicity effect to HeLa, T47D and WiDR with IC50 of 1.92, 6.37, and 0.41 g/mL, respectively. The leaves showed selective cytotoxicity to WiDR cell line. (14)
• Glucose Lowering / Stem Bark: Study evaluated the glucose lowering effects of ethanol extract of bark Sala on wistar rats with glucose elevation induced by alloxan. Results showed significant (p<0.05) decrease in blood glucose in rats compared to control. (15)
• Xanthine Oxidase Inhibitory Activity / Leaves: Study evaluated the xanthine oxidase inhibitory activity of methanol leaf extracts of 11 medicinal plants. All the extracts inhibited xanthine oxidase. S. thaipengensis and C. pulcherrima showed highest inhibition. C. ramiflora exhibited more than 20% inhibition at 5 uL and >50% inhibition at 15 uL. Allopurinol was standard at 100%. (16)
Availability
Wild-crafted.