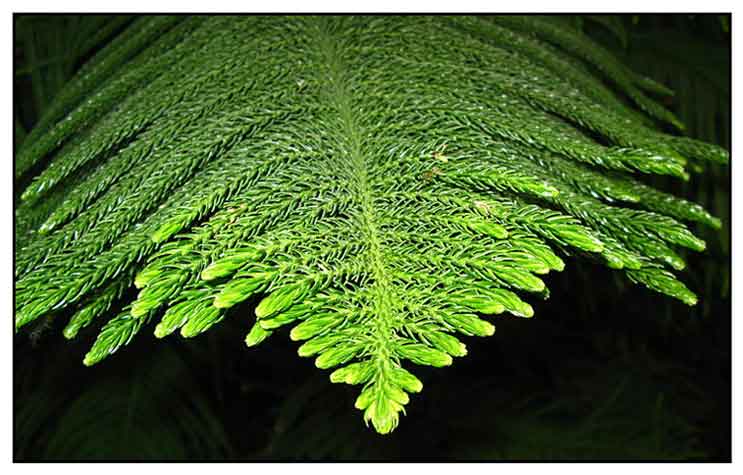 Botany
Norfolk pine is a cone-shaped evergreen tree growing 15 meters high, with lateral branches from the main trunk arranged in whorls. Branches are longest at the base, gradually becoming shorted upwards. Leaves are small, needle-like, crowded along the branches and branchlets.


Distribution
- Widely distributed in the Philippines.
- Planted in parks and gardens.
- Native to Norfolk Island.
- Classified as "vulnerable" in the IUCN Red List of Threatened Species. (8)
Constituents
- Study of resin collected from the stem exudates yielded three labdane diterpenes, labda-8(17),14-diene, 13-epicupressic acid, and 13-O- acetyl-13-epicupressic acid. (see studies below) (3)
- Preliminary phytochemical screening of aqueous extract of leaves of A. heterophylla yielded alkaloids, flavanoids, sterols, cardiac glycosides, saponins, tannins, phenols, and terpenoids. (10)
- Foliage oil of A. heterophylla was dominated by 13-epi-dolabradiene (42.7%), beyerene (22.2%), rimuene (13.7%), and dolabradiene (3.9%). Main constituents of resin oil were α-copaene (29.9%), germacrene D (21.4%), γ-gurjunene (9.7%), δ-cadinene (7.1%), and sandaracopimara-8(14),15-diene (6.5%) as main constituents. (see study below) (11)

Parts used
Resin.


Uses
Folkloric
No reported folkloric medicinal use in the Philippines.

Studies
• Antiulcerogenic / Resin from Stem Exudate: Resin isolated from stem exudates showed anti-ulcerogenic activity against ethanol-induced stomach ulcers in Sprague Dawley rats using ranitidine as standard. (3)
• Resin / Cytotoxicity / Breast and Colon Cancer Lines: Resin and isolated compounds showed variable cytotoxic activities against breast (MCF7) and colon (HCT116) cancer cell lines. The in vitro cytotoxic effect of the resin extract was comparable to the reference drug Doxorubicin. Effect may be a synergism effect of the diterpene content. (3)
• Biosorbent / Chromium Removal: Study showed Araucaria leaves has the potential for a cheap and efficient biosorbent for toxic hexavalent chromium removal from natural and waste waters. (4)
• Phytoremediation / Leaf Biomass / Pb+2 Removal: Study showed A. heterophylla leaf powder can be used as an effective, low cost, and environmentally friendly biosorbent for removal of Pb+2 from aqueous solution. (5)
• Air-Purifying: Araucaria heterophylla is one of 50 plants (30/50) listed by a NASA study to have air purifying property. Norfolk pine is reported to absorb formaldehyde. (6)
• Mucilage / Potential as Excipient: Mucilage was obtained by extraction from the bark exudates of A. heterophylla. Mucilage showed the presence of reducing sugars and starch. Swelling capacity and gelatinization suggested a potential for use as pharmaceutical excipient. (9) Study evaluated and characterized gum obtained from stem of Araucaria heterophylla for use as natural excipient. In vivo study done on wistar albino rats for oral acute toxicity showed non toxic results and zero mortality in animals. (12)
• Antibacterial Study / Essential Oils of Folliage and Resin: Study evaluated the essential oils of foliage and resin of Araucaria cunninghamii and Araucaria heterophylla by hydrodistillation and GC/FID and GC-MS analysis. Foliage and resin essential oils of both species showed MICs in range of 250-500 µg/mL and MBC in range of 1000 to >1000 µg/mL against tested bacterial strains. (see constituents above) (11)
- Acute Oral Toxicity / Gum: Study evaluated the LD50 of isolated Araucaria heterophylla natural polysaccharide gum by acute oral toxicity study in healthy albino mice using OECD guidelines. The LD50 of isolated AH gum was found to be more than 2000 mg/kg body weight. No significant changes were noted in the wellness parameters as well as no mortality in animals. Results confirms AH gum did not cause apparent toxicity in the animal model. (15)
Caution / Toxicity / Risks
- All plant parts reportedly toxic to dogs and cats. (13)
- Toxicity in cats have been associated with ingestion of needles and water sources. Poisoning is suggested by gastrointestinal upsets (anorexia, diarrhea, vomiting, and mouth irritation) and dermatitis. The toxic principles are unknown. Preservative chemicals that are sprayed on trees and the water in which the plant is placed are suspect sources of poisoning. (14)
- In a Risk Assessment Study, Araucaria heterophylla attained a Low Risk (-5) score. (16)

Availability
- Cultivated.
- Seeds in the cybermarket.