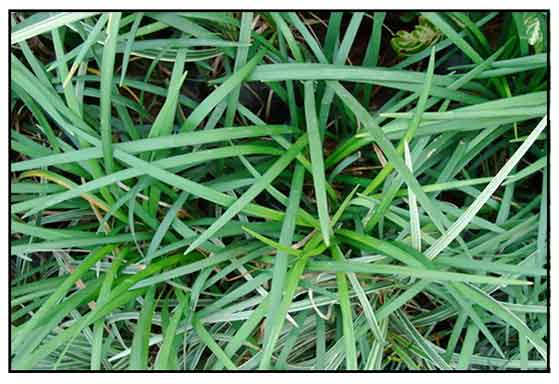 Botany
Mondo grass is a low, stemless, glabrous, grasslike, perennial herb with large stolons with tuberous roots. Leaves are leathery, narrow-linear, 20 to 30 centimeters long, gracefully arching and dark green. Flowers are small, drooping, violet-purple to lilac or white, borne on erect racemes up to 8 centimeters long. Fruit is a blue berry, 5 millimeters in diameter.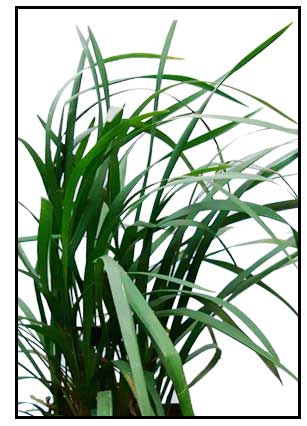 Distribution
- Recently introduced in the Philippines.
- Used as ground cover.
- Native to China, India, Japan, and Vietnam.
Constituents
• Study yielded five new homoisoflavonoids from the extract of tuber of O. japonicus - ophiopogonanone C, ophiopogonanone D, ophiopogonone C, ophiopogonanone E, and ophiopogonanone F, plus six other compounds.
• Study isolated a new phenolic glycoside, ophiopojaponin D, with two other known compounds, from the tuber.
• Study of flowers yielded eleven compounds viz., beta-sitosterol (1), diosgenin (2), daucosterol (3), ophiopogonin C' (4), dioscin (5), 7-dihy-droxy-6-methyl-3-(4'-hydroxybenzyl) chroman-4-one(6), luteolin (7), kaempferol-3-O-beta-D-glucopyranosides (8), kaempferol-3-O-(6"-tigloyl) -beta-D-glucopyranosides (9), kaempferol-3-O-(6"-acetyl) -beta-D-glucopyranosides (10), glucose (11). (16)
• Study isolated two new and six known steroidal glucosides from the tuber of Ophiopogon japonicus viz. (20R,25R)-26-O-β-d-glucopyranosyl-3β,26-dihydroxycholest-5-en-16,22-dioxo-3-O-α-l-rhamnopyranosyl-(1 → 2)-β-d-glucopyranoside (1) and 26-O-β-d-glucopyranosyl-(25R)-furost-5-en-3β,14α,17α,22α,26-pentaol-3-O-α-l-rhamnopyranosyl-(1 → 2)-β-d-glucopyranoside (3). (17)
- Nutritional analysis showed tubers are rich in carbohydrates, proteins, minerals, and amino acids. (see study below) (19)
Properties
- Considered tonic and tranquilizing.
- Studies have suggested anti-thrombotic, anti-inflammatory,
cardioprotective, antiangiogenesis, radical scavenging, hypolipidemic properties.
Parts utilized
Rhizomes, leaves and roots.

Uses
Folkloric
- No reported folkloric medicinal use in the Philippines.
- In China, traditionally used as anti-inflammatory. Also, as tonic and tranquilizer, treatment of cough, insomnia, diabetes, constipation, and diphtheria.
- Also, used in traditional Chinese medicine to treat sicca-associated disorders and cardiovascular disease. Used to nourish yin and promote production of body fluids.
- Used as antiseptic for healing of mouth sores.
- Used for cough suppression.
- Used to stimulate milk in nursing mothers.
Others
• Six Juice Drinks: A Chinese concoction called "six juice drinks" for diabetes, has O. japonicus as a herbal constituent.

Studies
• Anti-thrombotic: Study of the ethanol extract of Radix Ophiopogon japonicus showed in-vivo inhibitory effects on venous thrombosis probably from its endothelial cell-protective and anti-adhesive activities, supporting the therapeutic use of the plant for thrombotic diseases. (1)
• Anti-thrombotic / Ruscogenin / Ophiopogonin D: Study showed the aqueous extract of Radix Ophiopogon japonicus exerted significant anti-thrombotic activity and ruscogenin and ophiopogonin D are the two active components.
• Anti-Inflammatory: Study of the Radix O. japonicus extract yielded two active components, ruscogenin and ophiopogonin D, and showed remarkable anti-inflammatory activity supporting its traditional use in inflammatory diseases. (2)
• Diabetes: A Chinese study on the root tubers of O japonicus significantly lowered blood sugar of normal and alloxan-diabetic mice. In combination with Ginseng, there was blood sugar reduction in alloxan-induced diabetes but no significant effect in normal mice. (3)
• Sjogren's Syndrome: SS is an autoimmune disorder with lymphocytic infiltration of salivary and lacrimal glands, xerostomia, keratoconjunctivitis sicca. Th1/Th2 imbalance has been shown to have a role in its pathogenesis. In an autoallergic mouse model for SS, results provided a basis for the use of Ophiopogon japonicus for Sjogren's syndrome. (4)
• Homoisoflavonoids / Radical Scavenging Effects: Study yielded 10 homoisoflavonoids from O japonicus extracts with the majority showing radical scavenging effects.(5)
• Anti-Myocardial Ischemia: O japonicus polysaccharide from Radix ophiogonis has shown antimyocardial activity. This study on a series of sulfated FOJ-5 (FOJ-5-S) showed that when the degree of substitution was in a certain range, the FOJ-5-S had excellent anti-myocardial ischemic activity. (6)
• Cardiovascular Benefit / Anti-Ischemic / Angiogenesis: Study showed a water soluble b-D-fructan (MDG) from OJ had remarkable anti-ischemic activity and protects cardiomyocyte and HMEC-1 cells from ischemic-induced cell damage through cytoprotective and proangiogenic effects via the S1P/bFGF/Akt/ERK/eNOS signaling pathway. (10)
• Shengmai San / Hypolipidemic / Anti-lipid Peroxidation: SMS is a traditional Chinese medicine composed of Panax ginseng, Schisandra chinensis and Ophiopogon japonicus used for treating coronary heart disease. Study showed that SMS may reduce hepatic lipids and lipid peroxidation in rats. (11)
• Anti-Inflammatory Homoflavonoids / Roots: Tuberous roots yielded two new homoisoflavonoids, named ophiopogonone E and ophiopogonanone H, together with 13 known ones. Compounds 2, 4, 6, 7, 10, 11 showed potent inhibitory effects on NO production. (14)
• MDG-1 / Anti-Diabetic Mechanisms: MDG-1, a water-soluble ß-D-fructan polysaccharide from O. japonicus, has been used in the treatment of experimental T2DM. Fecal metabonomic study investigated the mechanism of MDG-1 in a spontaneous diabetic model. Findings suggest MDG-1 actions against diabetes may be through absorbable monosugars and butanedioic acid via suppression of intestinal glucose absorption, enhancement of liver glycogenesis, inhibition of glycogenolysis and promotion of GLP-1 secretion. It can also alleviate diabetes and diabetic nephropathy by reducing 7H-purine and 2'-deoxyinosine. (18)
• MDG-1 / Anti-Diabetic Mechanisms/ α-glucosidase inhibitory: Study analyzed the nutritional composition of OJ tubers, antioxidant and α-glucosidase inhibitory activities. The n-butanol fraction and chloroform/methanol extract of tubers showed high amounts of total phenolic and flavonoid contents and exhibited good α-glucosidase inhibition (higher than acarbose) and antioxidant activities. (19)
• Antioxidant / Antifatigue: Study evaluated the antioxidant and antifatigue potential of Ophiopogon japonicus extracts in exercised Sprague Dawley rats. OJE was able to significantly scavenge DPPH radicals in a concentration-dependent manner. The extract also significantly extended endurance time of treadmill running to exhaustion, decreased lactate and serum urea nitrogen contents, together with amelioration of biochemical parameters related to fatigue in the exercise rat model. (20)
• MDG-1 / Hypoglycemic / PI3K/Akt Pathway: Study evaluated the effects of a water-soluble-ß-D-fructan (MDG-1) from O. japonicus on T2DM through the PI3K/akt pathway in a diabetic KKAy mouse model. Results showed MDG-1 reduced the hyperglycemia, hyperinsulinemia and hyperlipidemia in the KKAy mice. It showed remarkable anti-diabetic activity through the InsR/IRS-1/PI3K/Akt/GSK-3/Glut=4 signaling pathway. (21)
Availability
Cultivated.