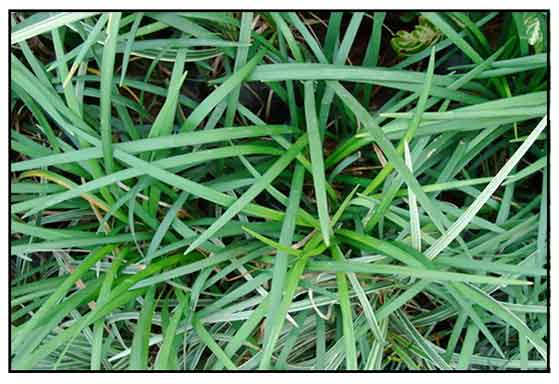 Botany
Mondo grass is a low, stemless, glamorous, grass-like, perennial herb with large stolons with tuberous roots. Leaves are leathery, narrow-linear, 20 to 30 centimeters long, gracefully arching and dark green. Flowers are small, drooping, violet-purple to lilac or white, borne on erect racemes up to 8 centimeters long. Fruit is a blue berry, 5 millimeters in diameter.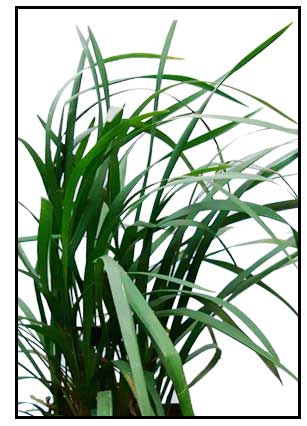 Distribution
- Recently introduced in the Philippines.
- Used as ground cover.
- Native to China, India, Japan, and Vietnam.
Constituents
• Study yielded five new homoisoflavonoids from the extract of tuber of O. japonicus - ophiopogonanone C, ophiopogonanone D, ophiopogonone C, ophiopogonanone E, and ophiopogonanone F, plus six other compounds.
• Study isolated a new phenolic glycoside, ophiopojaponin D, with two other known compounds, from the tuber.
• Study of flowers yielded eleven compounds viz., beta-sitosterol (1), diosgenin (2), daucosterol (3), ophiopogonin C' (4), dioscin (5), 7-dihy-droxy-6-methyl-3-(4'-hydroxybenzyl) chroman-4-one(6), luteolin (7), kaempferol-3-O-beta-D-glucopyranosides (8), kaempferol-3-O-(6"-tigloyl) -beta-D-glucopyranosides (9), kaempferol-3-O-(6"-acetyl) -beta-D-glucopyranosides (10), glucose (11). (16)
• Study isolated two new and six known steroidal glucosides from the tuber of Ophiopogon japonicus viz. (20R,25R)-26-O-β-d-glucopyranosyl-3β,26-dihydroxycholest-5-en-16,22-dioxo-3-O-α-l-rhamnopyranosyl-(1 → 2)-β-d-glucopyranoside (1) and 26-O-β-d-glucopyranosyl-(25R)-furost-5-en-3β,14α,17α,22α,26-pentaol-3-O-α-l-rhamnopyranosyl-(1 → 2)-β-d-glucopyranoside (3). (17)
- Nutritional analysis showed tubers are rich in carbohydrates, proteins, minerals, and amino acids. (see study below) (19)
- Study of tubers for liposoluble components isolated 16 compounds consisting of 7 homoisoflavones, 2 anthraquinones, 3 phenolic acids, 2 terpenes and 2 fatty acids. Structures were identified as methyl-ophiogonanone A (1), methylophiopogonanone B (2), methylophiopogonone A (3), methylophiopogonone B (4), 2'hydroxy methylophiopogonone A (5), 6-aldehydoisophiopogonanone A (6), 5, 7 dihydroxy 8 methoxy 6 methyl 3 (2′ hydroxy 4′ methoxybenzyl)chroman 4 one (7), chrysophenol (8), emodin (9), vanillic acid (10), P hydroxy benzaldenhyde (11), P trans coumarinic acid (12), l borneol β D glucopyranoside (13), oleanolia acid (14), azelaic acid (15) and n tricosanoic acid (16). (25)
- Study isolated a new steroidal glycoside, named ophiopojaponin C (1), along with two known ones. Spectroscopic and chemical evidence showed the structures to be ophiopogenin 3‐O‐[α‐L‐rhamnopyranosyl(1→2)]‐β‐D‐xylopyranosyl(1→4)‐β‐D‐glucopyranoside (1), diosgenin 3‐O‐[2‐O‐acetyl‐α‐L‐rhamnopyranosyl(1→2)]‐β‐D‐xylopyranosyl(1->3)‐β‐D‐glucopyranoside (2), and ruscogenin 1‐O‐[2‐O‐acetyl‐α‐L‐rhamnopyranosyl (1->2)]‐β‐D‐xylopyranosyl (1->3)‐β‐D‐fucopyranoside (3). (28)
- GC-MS analysis for essential oil yielded 0.085%, containing monoterpenes and sesquiterpenes as main constituents. Major constituents were Longi-folene (18.5%), ß-patchoulene (9.6%), guaia (5.2%), cyperene (2.6%), α-patchoulene (1.8%), humulene (1.8%) among others. (35)
Properties
- Considered tonic and tranquilizing.
- Main components which include steroidal saponins, homoisoflavonoids and polysaccharides have exhibited pharmacological activities viz., cardiovascular protection, anti-inflammation, anticancer, anti-oxidation, immunomodulation, cough relief, antimicrobial and antidiabetes. (22)
- Studies have suggested anti-thrombotic, anti-inflammatory, cardioprotective, antiangiogenesis, radical scavenging, hypolipidemic properties.
Parts utilized
Rhizomes, leaves and roots.

Uses
Edibility
- Mucilaginous roots report to be edible. While some report it as sweet and aromatic, it has been reported as bitter. (23)
Folkloric
- No reported folkloric medicinal use in the Philippines.
- In China, traditionally used as anti-inflammatory. Also, as tonic and tranquilizer, treatment of cough, insomnia, diabetes, constipation, and diphtheria.
- Also, used in traditional Chinese medicine to treat sicca-associated disorders and cardiovascular disease. Used to nourish yin, promote production of body fluids, moisten the lungs, ease the mind, and clear away heart fire. (22) Essential oil used for treatment of sore throat, cough, and heart disease. (35)
- Used as antiseptic for healing of mouth sores.
- Used for cough suppression.
- Used to stimulate milk in nursing mothers.
Others
• Six Juice Drinks: A Chinese concoction called "six juice drinks" for diabetes, has O. japonicus as a herbal constituent.
• Agroforestry: Considered a good ground cover or carpeting plant, and for preventing soil erosion. (23)

Studies
• Anti-thrombotic: Study of the ethanol extract of Radix Ophiopogon japonicus showed in-vivo inhibitory effects on venous thrombosis probably from its endothelial cell-protective and anti-adhesive activities, supporting the therapeutic use of the plant for thrombotic diseases. (1) Study evaluated the antithrombotic and thrombolytic activity of a fermented extract of O. japonicus in thrombosis-induced rats. Results showed clotting time, bleeding time, PT and APTT were prolonged in the middle-dose group more than the control and thrombosis groups, thereby, suggesting antithrombotic and thrombolytic effects. (30)
• Anti-thrombotic / Ruscogenin / Ophiopogonin D: Study showed the aqueous extract of Radix Ophiopogon japonicus exerted significant anti-thrombotic activity and ruscogenin and ophiopogonin D are the two active components.
• Anti-Inflammatory: Study of the Radix O. japonicus extract yielded two active components, ruscogenin and ophiopogonin D, and showed remarkable anti-inflammatory activity supporting its traditional use in inflammatory diseases. (2)
• Diabetes: A Chinese study on the root tubers of O japonicus significantly lowered blood sugar of normal and alloxan-diabetic mice. In combination with Ginseng, there was blood sugar reduction in alloxan-induced diabetes but no significant effect in normal mice. (3)
• Sjogren's Syndrome: SS is an autoimmune disorder with lymphocytic infiltration of salivary and lacrimal glands, xerostomia, keratoconjunctivitis sicca. Th1/Th2 imbalance has been shown to have a role in its pathogenesis. In an autoallergic mouse model for SS, results provided a basis for the use of Ophiopogon japonicus for Sjogren's syndrome. (4)
• Homoisoflavonoids / Radical Scavenging Effects: Study yielded 10 homoisoflavonoids from O japonicus extracts with the majority showing radical scavenging effects.(5)
• Anti-Myocardial Ischemia: O japonicus polysaccharide from Radix ophiogonis has shown antimyocardial activity. This study on a series of sulfated FOJ-5 (FOJ-5-S) showed that when the degree of substitution was in a certain range, the FOJ-5-S had excellent anti-myocardial ischemic activity. (6)
• Cardiovascular Benefit / Anti-Ischemic / Angiogenesis: Study showed a water soluble b-D-fructan (MDG) from OJ had remarkable anti-ischemic activity and protects cardiomyocyte and HMEC-1 cells from ischemic-induced cell damage through cytoprotective and proangiogenic effects via the S1P/bFGF/Akt/ERK/eNOS signaling pathway. (10)
• Shengmai San / Hypolipidemic / Anti-lipid Peroxidation: SMS is a traditional Chinese medicine composed of Panax ginseng, Schisandra chinensis and Ophiopogon japonicus used for treating coronary heart disease. Study showed that SMS may reduce hepatic lipids and lipid peroxidation in rats. (11)
• Anti-Inflammatory Homoflavonoids / Roots: Tuberous roots yielded two new homoisoflavonoids, named ophiopogonone E and ophiopogonanone H, together with 13 known ones. Compounds 2, 4, 6, 7, 10, 11 showed potent inhibitory effects on NO production. (14)
• MDG-1 / Anti-Diabetic Mechanisms: MDG-1, a water-soluble ß-D-fructan polysaccharide from O. japonicus, has been used in the treatment of experimental T2DM. Fecal metabonomic study investigated the mechanism of MDG-1 in a spontaneous diabetic model. Findings suggest MDG-1 actions against diabetes may be through absorbable monosugars and butanedioic acid via suppression of intestinal glucose absorption, enhancement of liver glycogenesis, inhibition of glycogenolysis and promotion of GLP-1 secretion. It can also alleviate diabetes and diabetic nephropathy by reducing 7H-purine and 2'-deoxyinosine. (18)
• MDG-1 / Anti-Diabetic Mechanisms/ α-glucosidase inhibitory: Study analyzed the nutritional composition of OJ tubers, antioxidant and α-glucosidase inhibitory activities. The n-butanol fraction and chloroform/methanol extract of tubers showed high amounts of total phenolic and flavonoid contents and exhibited good α-glucosidase inhibition (higher than acarbose) and antioxidant activities. (19)
• Antioxidant / Antifatigue: Study evaluated the antioxidant and antifatigue potential of Ophiopogon japonicus extracts in exercised Sprague Dawley rats. The extract contained polyphenols, flavonoids, and polysaccharides. OJE was able to significantly scavenge DPPH radicals in a concentration-dependent manner. The extract also significantly extended endurance time of treadmill running to exhaustion, decreased lactate and serum urea nitrogen contents, together with amelioration of biochemical parameters related to fatigue in the exercise rat model. (20)
• MDG-1 / Hypoglycemic / PI3K/Akt Pathway: Study evaluated the effects of a water-soluble-ß-D-fructan (MDG-1) from O. japonicus on T2DM through the PI3K/akt pathway in a diabetic KKAy mouse model. Results showed MDG-1 reduced the hyperglycemia, hyperinsulinemia and hyperlipidemia in the KKAy mice. It showed remarkable anti-diabetic activity through the InsR/IRS-1/PI3K/Akt/GSK-3/Glut=4 signaling pathway. (21)
• Effect on Chemotherapy Induced Bone Marrow Depression / P. ginseng and O. japonicus: Study evaluated the effects of combination of Panax ginseng and Ophiopogon japonicus (PG-OJ) herbs at different ratios on myelosuppression induced by chemotherapy in mice. Myelosuppression was induced by IP injection of cyclophosphamide (CTX). Measured parameters were numbers of bone marrow nucleated cells and peripheral blood cells, along with thymus and spleen indices. The PG-OJ herb pair with a ration of 2:3 showed excellent synergistic effect on myelosuppression induced by CTX. Study suggests that rare ginsenosides and ophiopogonin D may be the main constituents involved in the treatment of bone marrow suppression after chemotherapy. (24)
• Steroidal Saponin / Protective Effect Against Cisplatin-Induced Renal Cell Toxicity / Tubers: Study of tubers isolated a new furostanol saponin, ophiopogonin T. The compound was evaluated for cytotoxic effect on cancer cell lines and protective effect against anticancer drug-induced nephrotoxicity. Results showed treatment with ophiopogonin T significantly reduced cisplatin-induced cytotoxicity in porcine kidney. (26)
• Amelioration of Oxidative Stress / Age-Delaying Effect / Herbal Tea: Study evaluated the antioxidant activity and longevity-promoting potential of O. japonicus herbl tea using Caenorhabditis elegans model. By DPPH scavenging assay, OJT showed scavenging of free radicals. OJT increased the survival rate of nematodes and reduced the endogenous levels of ROS under oxidative stress induced by paraquat. Results showed antioxidant activity and age-delaying effect of OJT, which may provide insights into the potential of O. japonicus for health promotion. (27)
• Oligofructans / Reduction of Atopic Dermatitis Flare-Ups / Clinical Trial: Atopic dermatitis is a chronic relapsing inflammatory skin disease affecting 15-2-% of children and 2-10% of adults worldwide. This randomized, single-blind, placebo-controlled, multicenter clinical trial was conducted in a cohort of 90 Caucasian childrena and 144 adults with mild-to-moderate atopic dermatitis. A natural ingredients from O. japonicus improved patient's quality of life and significantly reduced the number of relapses in patients compared to placebo.. Results suggest the treatment could be effective in controlling mild-to-moderate atopic dermatitis between flare-ups. (29)
• Homoisoflavonoids / Antioxidant / Roots: Study of root extract identified 17 different homoisoflavonoid compounds with two major compounds identified as methylophiopogonanone A and methylophiopogonanone B.  methylophiopogonanone B exhibited highest antioxidant ability by various in-vitro assays. Among the extracts, the chloroform/methanol extract which contained high amounts of homoisoflavonoids showed strongest antioxidant activity. Results suggest O. japonicus can be a potential source of homoisoflavonoids and natural antioxidant. (31)
• Release-Controlling Enteral Absorption Enhancement / Sodium Caprate: Study evaluated how to improve the intestinal absorption of O. japonicus polysaccharide by incorporating it together with sodium caprate into erodible matrices, designed to release OJP and SC at various rates over different periods of time. (32)
• Steroidal Saponin / Cardioprotective / Amelioration of Doxorubicin-Induced Heart Failure: Study evaluated the cardioprotective effects of steroidal saponins extract from OJ roots against doxorubicin-induced chronic heart failure in Sprague-Dawley rat model of CHF. Results showed a cardioprotective effect against DOX-induced CHF through suppression of inflammation and oxidative stress. (33)
• Exopolysaccharides / Inhibition of Proliferation and Migration in MC-4 Human Gastric Cancer Cells: Study investigated the antitumor activity of exopolysacchardies (EPSs) extracted from endophytes in O. japonicus. The endophyte bacterium MD4 was isolated from O. japonicus. MD4 was identified as a Staphylococcus sp. with 99% similarity. The MD4 endophyte acted as natural antitumor agents to inhibit the migration of gastric cancer cells. (34)

Availability
- Cultivated.
- Teas and root powder extracts in the cybermarket.