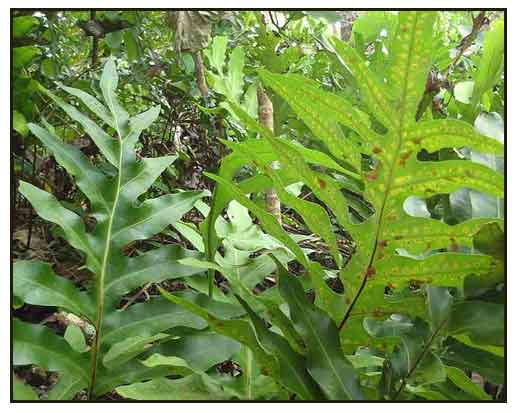 Botany
Monarch fern is an epiphyte, with wide, creeping and glabrescent rhizomes. Stipes are scattered, 5 to 40 centimeters long, and naked. Fronds are variable in size, from simple-lanceolate to deeply pinnatifid, 10 to 40 centimeters long. Costae are prominent but the venation is hardly visible. Sori are very large, shallowly immersed, and conspicuous on the upper surface, in single rows along the main veins, or scattered, but not numerous.
Distribution
- Growing in the crown or trunks of trees and on rocks along streams, at low and medium altitudes.
- Commonly distributed in the Philippines.
- Also found from Polynesia across Africa.

Constituents
- Yields glycirrhizin and saponin.
- Yields triterpenoids [22(29)-hopene, 17(21) -hopene, 13(18)- hopene, 9(11)-fernene, 8-fernene, 7-fernene], waxes, fatty acids, C31 and C33 alkanes, and sterols.
- An excellent source of ecdysone (0.16% of dry weight) and 20-hydroxyecdysone (0.20%), and significant amounts of makisterones a and C (0.01-0.02%), inokosterone and amarasterone A, along with lower amounts of poststerone and a compound tentatively identified as 24,28‐diepi‐cyasterone. Study also isolated three new minor phytoecdysteroids viz. 20‐deoxymakisterone A, a 25(?)‐epimer of amarasterone A and 25‐deoxyecdysone 22‐glucoside. (2) 

Properties
- Aromatic, aperative, diaphoretic.

Parts used
Young leaves, roots, bark.

Uses
Folkloric
- No reported medicinal use in the Philippines.
- In Indo-China, young leaves of the fern used in chronic diarrhea. (1)
- In Palau, the Chamorros mist and crush the leaves with those of Asplenium nidus, Premma serratifolia, and Erythrina variegata, and the juice drunk for colds. (4).
- In Polynesia, the leaves are pounded and mixed with scrapings from Atuna racemose to make perfume. On Ifaluk, leaves are traditionally used the cover the private parts of young girls; mashed leaves are wrapped with Lei (Morinda citradolia), cooked and used as medical bandage. (4)
- In New Guinea, plant is heated over fire and the smoke inhaled to relieve catarrh. In Tonga, infusion of leaves or bark used to treat filariasis in infants; pounded leaves applied to boils. In Samoa, frond used to treat headaches and stomach catarrh. In Fiji, leaf juice used for stomach ache, swollen breasts and boils. Infusion of leaves and roots used to strengthen the woman after childbirth. Infusion of leaves used for postpartum depression. (5)
- In Samoa, infusion of scraped rhizome and/or crushed leaves taken as a potion for various kinds of inflammation; also applied to skin for infected or slow-healing wounds. (6)
- In Kosrae, light green leaves chewed to stop diarrhea. (7)
- In Benin, sold in markets as an anti-hemorrhagic plant. (8)
Others
• Repellent: Young fronds spread on bed to keep off bed bugs. (1)
- Perfume: In Polynesia, the leaves are pounded and mixed with scrapings from Atuna racemose to make perfume.
- Rituals: In Pohnpei, used by young dancers as a mwaramwar (head garlands)--the erect crown of fronds act as a "fence" to protect against ghosts brought on the dancers or as protection against any magic being cast on them. (7)

Studies
• Ecdysteroids: Ecdysteroids might be responsible for some of M. scolopendria's medicinal properties. Study showed it to be an excellent source of ecdysone and 20-hydroxyecdysone, and also significant amounts of makisterones A and C, inokosterone and amarasterone A, with smaller amounts of poststerone. (see constituents above) (2)
Availability
Wild-crafted.