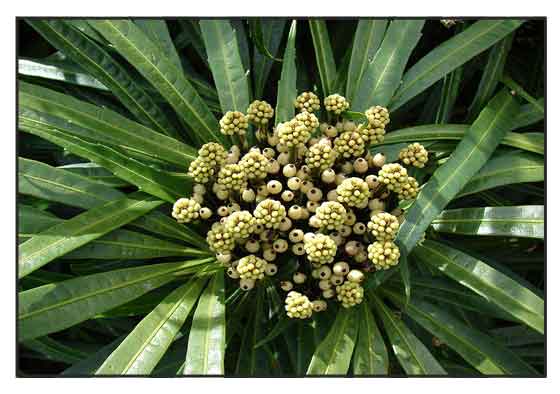 Gen info
- Osmoxylon is a genus of flowering plants in the family Araliaceae, containing about 60 species.
- Etymology: Genus name derives from Greek words "osmo" meaning "flagrant" and "xylon" meaning "wood", referring to the odor of the wood of some members of the genus. The specific epithet "linear" refers to the shape of the foliar segments of the species. (2)
Botany
Osmoxylon lineare is an erect, low bushy, evergreen shrub that grows up to 10 feet tall with a similar spread. Root system is extensive, holding the plant securely to the soil. Stems are light gray, hairless, shining, somewhat scurfy at the tips. Upright branches are topped with clusters of glossy, deeply cut foliage. Leaves are hairless, appear palmately compound but are actually entire, with 4-6 narrow, linear segments, 8 inches long and 0.5 inch wide, arranged in a whorl at the top of the stem. Flowers are small, white, in terminal compound umbels. Flower blooms are followed by contrasting round black fruits. Fruits are ovoid, 5-ridged, 5-celled, 3 mm long, white when immature, gradually darkening to a dull black or purple. (2) (3)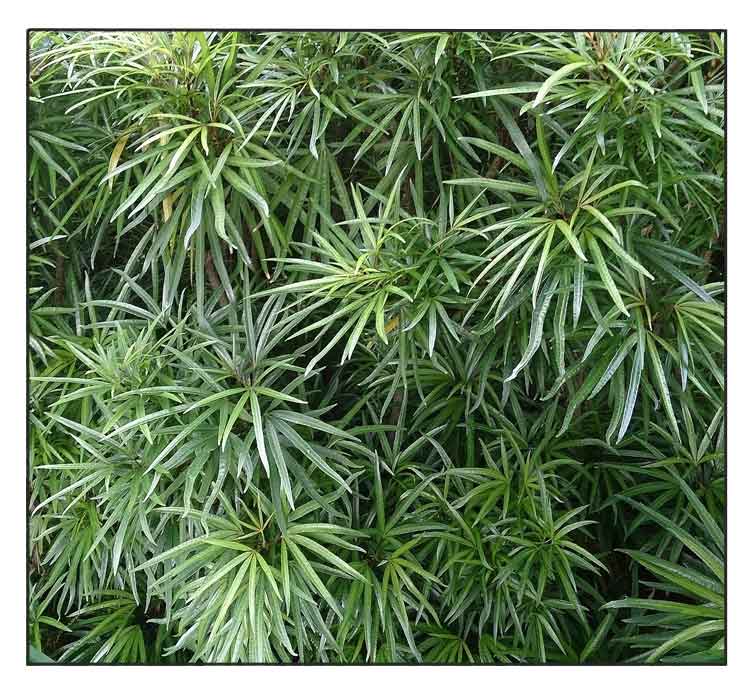 Distribution
- Native to the Philippines.
- Found along riverbanks.
- Endemic to the Philippines but found in cultivation throughout the tropics and subtropics.
- Introduced and cultivated in Australia, Singapore, Hawaii.
- Cultivated as ornamental for its dark green and shiny foliage.

Constituents
No phytochemical studies found.
Properties
Study has suggested phytoremediative property.

Parts used
Leaves.

Uses
Folkloric
- In Surigao del Norte, leaf decoction used for treatment of cough. (5)
Others
- Ornamental: Species used in Japanese-style gardens for its fine leaf texture. Also cultivated as hedges. (2)

Studies
• Phytoremediation: Study has shown high nitrate removal of 66%, making it a suitable candidate for phytoremediation (Hunt 2014). Also potential for use in bioretention systems. (3) (6)
Availability
- Wild-crafted.
- Ornamental cultivation.