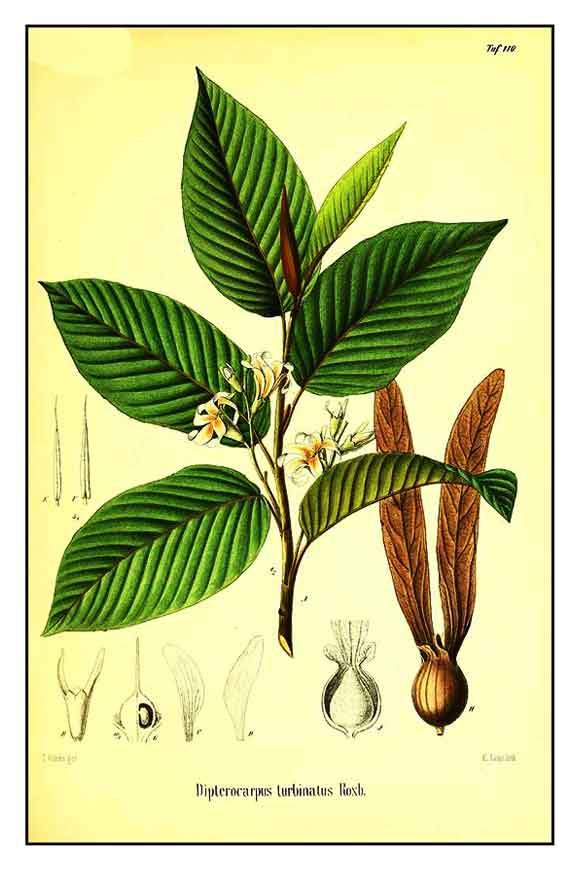 Botany
Dipterocarpus turbinatus is a lofty tree, growing 30 to 45 meters tall. Trunk is clean and cylindrical, about 2.5 m in diameter. Bark is about 3.5 cm thick, gray or dark brown, flaky, and shallowly fissured longitudinal. Branchlets are terete or occasionally flattened with marked lenticels, whitish and glabrous or sometimes covered with minute, stellate hairs, often pubescent just below the scars of stipules. Leaves simple, alternate, spiral; stipules ca. 5 cm long; petioles ca. 2.5-5 cm long, canescent to glabrous; lamina ca. 12-36 x 5.5-15 cm, ovate or ovate-lanceolate to elliptic or elliptic-oblong, rounded or slightly cordate to rarely cuneate at base, acute or acuminate at apex, sinuate crenate or entire, glabrous on both surfaces, glossy above, on drying slate brown; secondary nerves 10-20 pairs. Flowers 3-7 in axillary spikes, from the axils of fallen leaves, white or yellow with pink tinge, ca. 3-3.5 cm long; calyx tube ca. 1-1.3 cm long, campanulate or obconic, glabrous or pruinose; three shorter lobes ca. 2 mm long, ovate to rounded, two longer lobes ca. 1 cm long, linear-oblong, glabrous; petals ca. 2.5-3 cm long, linear, softly pubescent outside; stamens 30; filaments ca. 4 mm long, flattened; anthers ca. 5 mm long; connective produced into a 4 mm long bristle; Ovary tapering towards apex, densely pilose. Fruits globular or ovoid or ellipsoid, smooth with marked striations; ca. 3-3.8 cm long and 2-3 cm in diam. at belly, produced into a short stalk at base; wings ca. 11-17.5 x 2.5-3.5 cm long, linear-oblong to oblanceolate oblong, obtuse, pink, glabrous, more or less glaucous, strongly reticulate with 3 main nerves. (2)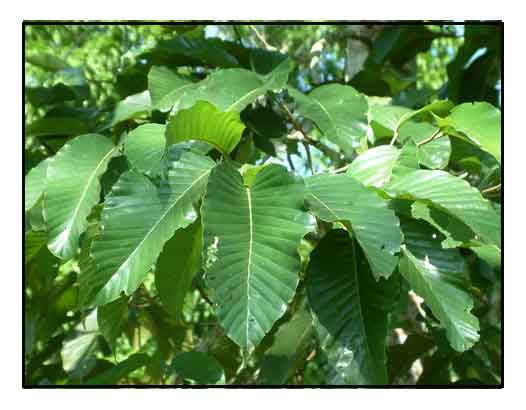 Distribution
- Native to northeastern India and Southeast Asia.
- Cultivated in Indonesia, Philippines, and China.
Constituents
- Essential oil from oleoresin yields humulene, beta-caryopyllene, a bicyclic sesquiterpene hydrocarbon and a sesquiterpene alcohol. (3)
- Twig bark contains 9% tannins and 7.3% soluble non-tans. (3)
- Phytochemical screening yielded alkaloids, flavonoids, steroids, terpenoids, and tannin. The petroleum ether and chloroform extracts of bark yielded terpenoids and steroids, with absence of alkaloid. The ethanolic extract yielded alkaloids, terpenoid, steroids, flavonoids, and tannin. (8)
Properties
- Studies have suggest antioxidant, antimicrobial, hepat9oprotective, anti-inflammatory anticancer properties.

Parts used
Bark, resin, oil..

Uses
Folkloric
- Resin used for treatment of ulcers and ringworm.
- Bark decoction used for rheumatism. Oil stimulant to the genitourinary tract, diuretic, spasmolytic. (3)
- In Bangladesh, used for treatment of gonorrhea. Oil is topically applied to eczema, cuts and wounds.  (12)
- In Chinese medicine, Borneol oil is used externally to alleviate itching and pain. (4)
- In India, the oleoresin used in the treatment of tuberculosis, leprosy, psoriasis, indolent ulcers, and gonorrhea. (8)
Others
- Wood: Source of the keruing wood, often used in the plywood industry. (2)
- Resin: Source of the keruing wood, often used in the plywood industry. (2)
- Fuel: Wood used as fuel and making charcoal.
- Borneol: Both natural and chemically synthesized borneol are used in traditional Chinese medicine. (+)-Borneol is mainly obtained from the endangered woody plant, D. turbinatus, which is also an important source of aromatic essential oil. Because of slow growth rate, the price of natural (+)-borneol is the highest among all borneol isomers. (4) (see study below: 5)
|
Studies
• Borneol / Anti-Inflammatory / Healing Action in Chemotherapy Induced Mucositis: Borneol is a monoterpene, bicyclic aromatic alcohol, found in many essential oil of medicinal plants, including Dipterocarpus turbinatus. Study evaluated the effect of gels containing the monoterpene borneol in induced oral mucositis is animal models using an oral gel formulation. Bprneol 2.4% gel proved effective in the treatment of oral mucositis with statistically significant differences between groups for angiogenesis control, inflammatory cell count reduction and percentage neoformed collagen increase. Results presents as a good marker for predicting the plant activity for extracts rich in this substance (5)
• Borneol / Antioxidant: Study evaluated the antioxidant activities of refined D-borneol and standard D-borneol by DPPH and hydroxyl radical scavenging activities and reducing power. Results showed the same antioxidant activity/ They exhibited higher hydoxyl radicals scavenging activity, but weaker reducing power compared with the synthetic borneol. (6)
• Cytotoxicity Against Cancer Cell Line / Bark and Leaf: In a study of of Bangladesh medicinal plants, 14 extracts from 11 plant species, including Dipterocarpus turbinatus bark and leaf, showed significant cytotoxicity with IC50 <1.0 mg/mL against at least one of four human cancer cell line tested viz. gastroc. AGS; colon, HT-29; and breast, MCF-7 and MDA-MB-231. (D. turbinatus showed activity against MDA-MB-231). (7)
• Insignificant Antidiabetic Effect / Bark: Study of an ethanol bark extract of Dipterocarpus turbinatus for antidiabetic effect in alloxan monohydrate-induced diabetic rats showed insignificant results on blood glucose levels and other biochemical parameters. While it contains flavonoids, other chemical entities resent may inhibit antidiabetic activity. (9)
• Antimicrobial / Bark: Study evaluated the antimicrobial activity of D. turbinatus and S. robusta bark extracts. The ethanolic extracts of both plants showed good antimicrobial activity. The ethyl acetate soluble fractions and residual ethanolic fractions were effective against several bacterial and fungal pathogens. Most of the isolated fractions showed activity against gram negative bacteria. (10)
• Hepatoprotective / Antioxidant / /Bark: Study evaluated the ethanol extract of bark for hepatoprotective activity on paracetamol and carbon tetrachloride induced hepatotoxicity in rats. Silymarin was used as standard. Results showed dose dependent hepatoprotective activity as evidenced by significant reduction om various biochemical parameters like SGOT, SGPT, ALP. serum cholesterol, serum bilirubin. Activity was attriibuted to its antioxidant property. (11)
Availability
- Wild-crafted.
- Essential oil in the cybermakrket.