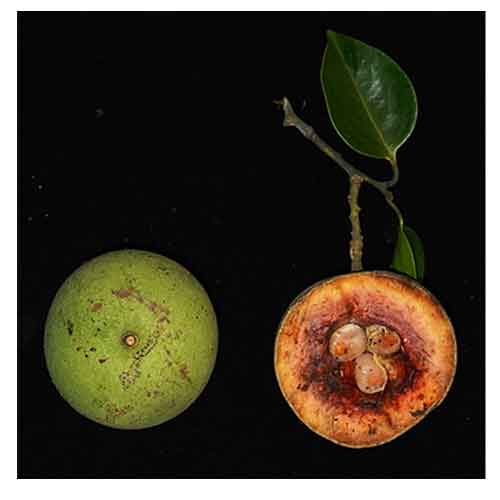 Gen info
- Xanthophyllum is a genus of about 109 species of trees and shrubs of the family Polygalaceae. It was previously placed in the monotypic family Xanthophyllaceae in the Cronquist system. (3)
- Etymology: The genus name Xanthophyllum derives from Greek, meaning "yellow leaf" referring to the yellow leaves when dry.
- Change of rank: Ng (1972) and van der Meijden (1982, 1988) recognized Xanthophyllum amoenum and X. stipitatum A.W.Benn. as two distinct but closely related species. Ng distinguished Xanthophyllum stipitatum from X. amoenum in having consistently smaller leaves, whereas van der Meijden segregated the two species based on the length of the petals, hairiness of the ovary and style, number of leaf glands and thickness of the pericarp. When considering these characters for all available material, including those from outside Singapore, we can only conclude that Xanthophyllum amoenum should be included as a variety within Xanthophyllum stipitatum. (4)
Botany
Xanthophyllum amoenum is a mid-canopy tree up to 33 m tall and 66 cm dbh. Stipules absent. Leaves alternate, very small to large, simple, penni-veined, shiny, glabrous, venation inconspicuous. Flowers ca. 18 mm diameter, white-reddish, placed in unbranched inflorescences. Fruits ca. 48 mm diameter, yellow-orange, fleshy berries with several seeds in white pulp. (2)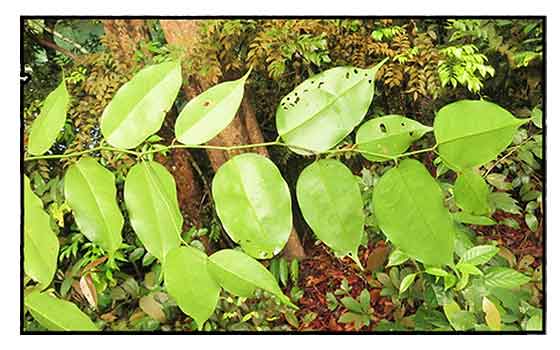 Distribution
- Probably native to the Philippines.
- Also native to Borneo, Malaya, Sumatera. (1)
- Grows primarily in the wet tropical biome.
Properties
- Study has suggest metal polishing property.

Parts used
Fruit, leaves.

Uses
Edibility
- Fruit is edible; eaten raw, with a sweet cream-like pulp.
Folkloric
- No recorded folkloric medicinal use in the Philippines.
- Fruit paste applied to painful area of the body to relieve pain.
- Fruit used for itching of the scalp and to remove dandruff.
- In Indonesia, leaf powder applied to skin diseases.
Others
- Soap-making: Fruit skin used in making soap. Skin is dried, ground, and used as shampoo. Pericarp of fruit also used as shampoo.
- Rituals / Superstitions: In Malaysia,dried fruit walls are burned to keep evil spirits away. (5)

Studies
• Natural Metal Polish / Skin: Study evaluated the fruit skin of X. amoenum as substitute for synthetic metal polishes. An aqueous extract of X. amoenum skin was tested form the presence of saponin, a natural surfactant. Metallic surfaces were soaked and polished with the extract and compared with conventional metal polish from aspects of effectiveness and pH. 10 ml of skin aqueous extract formed 300% of froth indicating the presence of saponin. Shelf life of the extract is approximately 1 week; the dried form can be kept for years. The extract was most effective at polishing metallic surfaces, especially silver, with 71.80% polishing effect. At 20% concentration, the extract is 64.42% more effective than conventional polish. Results suggest potential as an efficient, user-friendly, and cost-effective metal polish. (3)
Availability
- Wild-crafted.
- Seeds in the cybermarket.