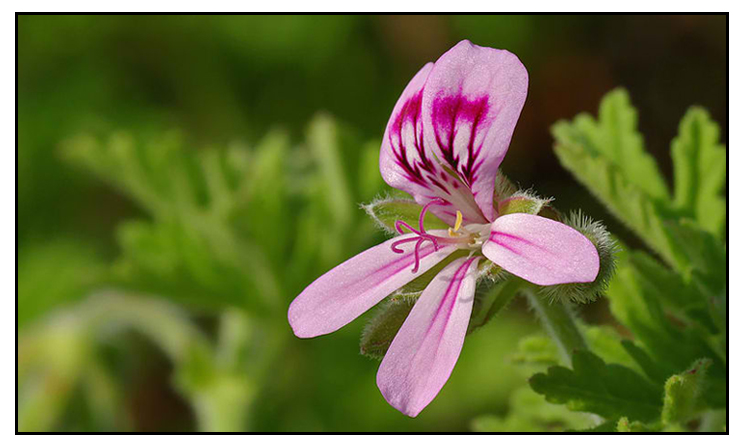 Botany
Malvarosa is a small branching hairy shrub growing about a meter high. Leaves are long-petioled, palmately compound, 5- to 7-lobed or parted and fragrantly mint-scented. Flowers are many, pink or light purple on long peduncles. Calyx is hairy and almost sessile.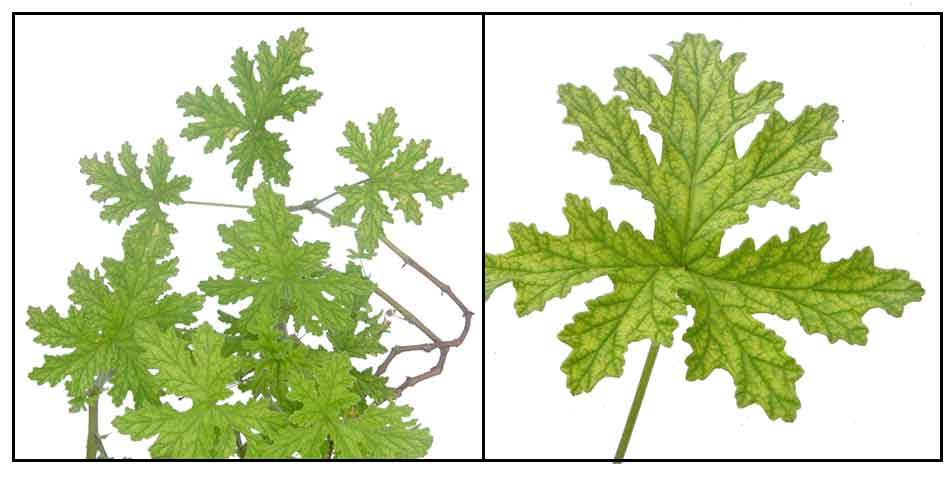 Distribution
- Native to South Africa.
- In the Philippines, cultivated for its aromatic and ornamental foliage and for its medicinal value.

Constituents
• Essential oil contains myrcene, or beta-myrcene, an olefinic monoterpene which is used in traditional and commercial repellent preparations. (Source)
• Yields citronellol, linalool, isomenthone, geraniol (widely used in the pharmaceutical industry) and citronellyl formate.
• Study of essential oil of P. graveolens yielded 24 compounds; major constituents were: ß-citronellol 36.4%, citronellyl formate 12.1%, geraniol 10.7%, isomenthone 7.3%, linalool 5.1%, ß-caryophyllene 3.4%, cis-rose oxide 2.8%, para-menthone 2.7%, geranyl formate 2.6%, geranyl n-butyrate 1.3%, germacrene D 1.3%. (16)
• Study of geranium essential oil from Tajikistan yielded 79 components representing 95.1% of total oil identified. Main constituents were: citronellol (37.5%), geraniol (6.0%), caryophyllene oxide (3.7%), menthone (3.1%), linalool (3.0%), β-bourbonene (2.7%), iso-menthone (2.1%) and geranyl formate (2.0%). (17)
Properties
• Astringent and hemostatic.
• Considered anti-inflammatory, antiseptic, astringent, sedative, anti-cancer, antioxidant, antibacterial.
Parts used
Leaves, flowers, essential oil.
Uses
Edibility / Culinary
- Flowers and leaves are edible; usually added to salads.
- Fresh leaves as condiment or tea.
- Rose-scented leaves used as flavoring in desserts, jellies, vinegars.
Folkloric
- Decoction of leaves used for cough and stomach aches.
- Elsewhere used to stop bleeding, for wound healing and for antibacterial properties.
- Used for rheumatism, colitis, hepatopancreatic afflictions.
- Used as emmenagogue.
- In Tunisia, used in the treatment of hyperglycemia.
Aromatherapy
- Leaf essential oil used in aromatherapy and massage for stress and skin problems. Essential oil considered to have antidepressant properties but has not been proven by clinical studies.
Others
- Repellent: The oil is used to repel mosquitoes, head lice and other creepers.
- Deodorant: Leaves used in potpourri for perfuming rooms.
- Cosmetic: Popular ingredient in cosmetic products for acne, anti-wrinkling, anti-stretch marks preparations.
- Ornamental / Aroma: Planted as ornamental plant for beauty and fragrant aroma. Cultivars impart a wide variety of scents.
Studies
• Essential Oils / Antioxidant: Study of essential oil and monomer as well as residue and waste water after distillation from buds, stems, and leaves of Pelargonium graveolens showed antioxidant effect using DPPH assay. (1)
• Antibacterial Effect / Antibiotic Synergism : Study was done to verify the possible synergistic effect between P graveolens essential oil and the antibiotic Norfloxacin. The results showed the occurrence of pronounced synergism between P graveolens essential oil and Norfloxacin against three bacterial species. (3)
• Overdose / Renal and Hepatic Effects : Study showed an overdose of geranium extract can cause liver and kidney damage and suggests careful dosing and periodic laboratory testing for renal and liver functions. (4)
• Essential Oil / Antibacterial: Study analyzed essential oils of Pelargonium graveolens and Vitus agnus-castus for antibacterial activity. ß-citronellol is a prominent component of P. graveolens volatile oil. The essential oils yielded similar compounds: a-terpineol, citronellyl acetate, ß-caryophyllene, a-humulene and caryophyllene oxide. The essential oils were active against all of the studied bacteria except Listeria monocytogenes. (6)
• Denture Stomatitis / Essential Oil: In a double-blind randomized clinical trial, the application of a 1% Geranium oil topical gel formulation showed to be more effective than placebo in the treatment of denture stomatitis. (7)
• Hypoglycemic / Leaf Essential Oil: Study evaluated leaf essential oil for hypoglycemic and antioxidative properties. Results showed a hypoglycemic effect significantly more effective than that of glibenclamide, and suggests the essential oil may be helpful in the prevention of diabetic complications. (8)
• Antibacterial Against Staph Aureus Stains / Oil: Study evaluated the antibacterial properties of geranium oil from P. graveolens against one standard S. aureus ATCC 433000 strain and 70 clinical S. aureus strains. Results showed P. graveolens has strong activity against all clinical S. aureus isolates, including multidrug resistant strains. (9)
• Hypoglycemic / Hypolipidemic / Essential Oil: Study evaluated essential oil and aqueous leaf extract of P. graveolens against pancreatic triacylglycerol lipase, α-amylase and α-glucosidase. Comparable to acarbose, PG leaves aqueous extracts (AEs) were identified as in vitro potent and efficacious dual inhibitors of α-amylase and α-glucosidase with IC50: 4.6±0.1 mg/mL (p<0.001, n=3). Results suggest the leaves, as nutraceutical modulating gastrointestinal carbohydrate and lipid digestion and absorption, maybe advocated for obesity/diabetes/metabolic syndrome management. (10)
• Benefits of Male Reproductive System / Hypolipidemic / Essential Oil: Study showed a positive influence of geranium essential oil in animal male reproductive system through by prevention of testicular oxidative damage induced by delmathrin in mice with improved total sperm motility, viability and morphology in mice spermatozoa. (11)
• Benefits of Nanosilver Application on Photosynthetic Pigments: Study evaluated the potential effects of nanosilver application on variations of photosynthetic pigments (chlorophyll and carotenoids) and essential oil content and composition of P. graveolens. Results showed nanosilver application can maintain and enhance the photosynthetic pigments and essential oil content of P. graveolens. (12)
• Antifungal / Pityriasis Versicolor: Study showed Z. multiflora, P. graveolens and C. cyminum essential oils have considerable anti-Malassezia activities, suggesting further studies for clinical applications for the treatment of pityriasis versicolor. (13)
• Potentiation of Antimicrobial Activity of Ciprofloxacin / Essential Oil: Study evaluated the antimicrobial effect of P. graveolens essential oil in combination with ciprofloxacin on uropathogens, viz., K. pneumoniae, P. mirabilis, and S. aureus. Results showed synergism of PG essential oil with ciprofloxacin which may be applied for the treatment of urinary tract infections. (14)
• Antioxidant / Antibacterial / Antifungal: Study on in-vitro antioxidant activity showed IC50 of 14.49 ± 0.46 µg ml; antibacterial activity MIC of 2000 µg ml; and antifungal activity MIC 3330 of µg ml. (15)
• Antibacterial / Essential Oil: Study of essential oil for antibacterial activity showed growth inhibition against E. coli, P. aeruginosa, S. aureus, B. subtilis, and S. enteritidis. The most sensitive strain was Staphylococcus aureus, (see constituents above) (16)
• Inhibition of Proteus mirabilis / Essential Oil: Study evaluated the anti-swarming potential of P. graveolens essential oil against Proteus isolate. Results showed inhibition of swarming by P. graveolens EO and suggests a potential as a product for preventing P. mirabilis infections. (18)
• Protective Effect on Spermatogenesis / Leaves: Study investigated the protective effect of P. graveolens leaf extract on spermatogenesis process in male rats treated by lead. Results showed the PG extract inhibited the detrimental effects of lead acetate on rat testes. PGE increased testosterone hormone and number of sperms in the treated rats. (19)
• Wound Management: Study of ethanolic extract formulation showed strong activity against clinical pathogens such as E. coli and P. aeruginosa. Results reveal that ethanolic extract of P. graveolens may be a suitable drug to develop into nanofilm as wound dressing material for advanced wound management. (20)
• Antinociceptive / Leaves: Study of PG extract of leaves showed antinociceptive effects in male mice using Tail Flick and Writhing models of testing. The analgesic effect may be related to its flavonoid composition and its effect on the opioid system. (21)
• Activity Against House Dust Mites / Leaves: Study evaluated the mite-control activities of materials obtained from P. graveolens oil against Dermatophagoides farinae and D. pteronyssinus compared to commercial benzyl benzoate and DEET. Results showed the mites were controlled more effectively by application of geraniol and ß-citronellol. Results suggest their potential in the management of populations of D. farinae and D. pteronyssinus owing to their selective actions and safety for mammals. (22)
• Silver Nanoparticles / Antibacterial: Study reports on a simple, low cost, clean, nontoxic, and rapid approach for bioreduction and synthesis of silver nanoparticles from P. graveolens leaf extract. The nanoparticles showed antibacterial activity against P. aeruginosa, P. mirabilis, E. coli, S. flexneri, S. somenesis and K. pneumonia. (23)

Availability
- Cultivated for aromatic medicinal and ornamental uses.