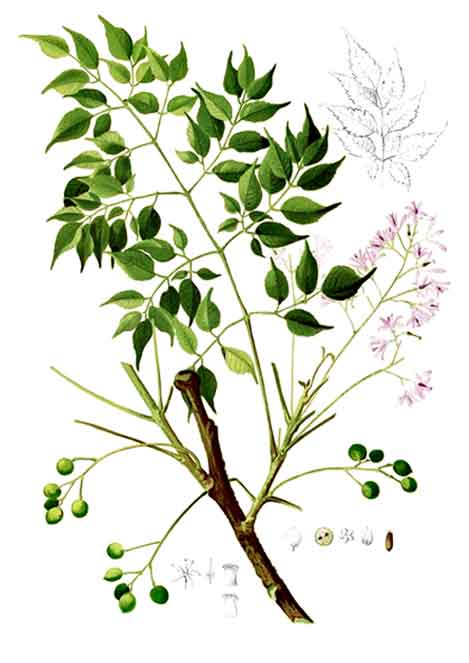 Botany
Malunggaian is a handsome, deciduous tree growing 6 to 15 meters high. Leaves are crowded, long-stalked, 30 to 90 centimeters long, usually bipinnate. Leaflets are in 2 to 5 pairs, ovate to ovate-lanceolate, 4 to 8 centimeters long. Panicles in the upper axils are shorter than the leaves, and many flowered. Flowers are numerous, violet and white, fragrant, about 8 millimeters long, borne on the upper axils of the leaves. Petals are hairy. Fruit is drupaceous, ellipsoid, about 1.5 centimeters long, smooth, shining, and yellowish when ripe. Seed is solitary in each cell, pointed smooth and brown.
Distribution
- Along the seashore, and in thickets and secondary forests , etc., and inland, at low and medium altitudes.
- In Ilocos Norte, Quezon, Bulacan, Bataan, Rizal, and Camarines Provinces in Luzon; and in Mindoro, Negros, Cebu, Siquijor, Bohol, and Mindanao.
- Also reported from India to tropical Africa, southern China and Taiwan, and through Malaya to tropical Australia.
Constituents
Fruit yields a bitter principle, a white crystalline glucoside; also, malic acid, glucose, mucilage, and pectin.

Parts used
Fruit.

Uses
Folkloric
In India, the fruit, with its bitter and nauseous taste, is used for colic.
Fruit also used as anthelmintic.
In Concan, juice of green fruit mixed with sulfur and curds, heated in a copper pot, used as application for scabies and sores infested by maggots.
In the Tamil, Nadu area, paste of berries applied in leprosy.
Others
Wood: Timber is useful; in Java, used for outriggers of boats; In Java and Sumatra, for interiors of houses; in Tonkin, as uprights of houses. Also used to manufacture agricultural implements, furniture, plywood, pools, tool handles.
Fodder: Leaves lopped for fodder and are highly nutritious.
Fuel / Illuminant: Used as fuelwood. Oil used as illuminant.
Poison / Insecticidal: Contains toxic components; aqueous and alcoholic extracts of leaves and seed use for insect, mites and nematode pest control.
Ornamental: Fruit stones used as beads in making necklaces and rosaries.

Studies
• Hypoglycemic / Antidiabetic: Results of study of total fruit extract on streptozotocin-induced diabetic mice suggests it is not only safe, but also an effective, natural and novel hypoglycemic agent.
• Essential Oil / Antimicrobial: Study showed the essential oil of Melia dubia leaf exhibited bacteriostatic and fungistatic activities against Pseudomonas aeruginosa, E coli, Klebsiella pneumonia, Fusarium oxysporum and C albicans.
• Antiviral Activity: Study showed extract of Melia dubia showed partial viral activity at higher concentrations.
• Salannin: Study isolated salannin, a bitter principle from the fruits of M. dubia, previously found in Melia azadirachta.
• Antimicrobial / Camphene: Study of M. dubia leaf volatile oil yielded a monterpine camphene 21.68%, as major constituent, and showed good antimicrobial activity, inhibiting 88% of skin pathogens.
• Bacteriostatic / Fungistatic / Essential Oils: Melia dubia leaf essential oil exhibited bacteriostatic and fungistatic activities against P. aeruginosa, E. coli, K. pneumonia, Fusarium oxysporum and Candida albicans.
Availability
Wild-crafted.