Botany
Malunggaian is a handsome, deciduous tree growing 6 to 15 meters high. Bole is straight and cylindrical, without branches up to 10 meters. Leaves are crowded, long-stalked, 30 to 90 centimeters long, usually bipinnate. Leaflets are in 2 to 5 pairs, ovate to ovate-lanceolate, 4 to 8 centimeters long. Panicles in the upper axils are shorter than the leaves, and many flowered. Flowers are numerous, violet and white, fragrant, about 8 millimeters long, borne on the upper axils of the leaves. Petals are hairy. Fruit is drupaceous, ellipsoid, about 1.5 centimeters long, smooth, shining, and yellowish when ripe. Seed is solitary in each cell, pointed smooth and brown.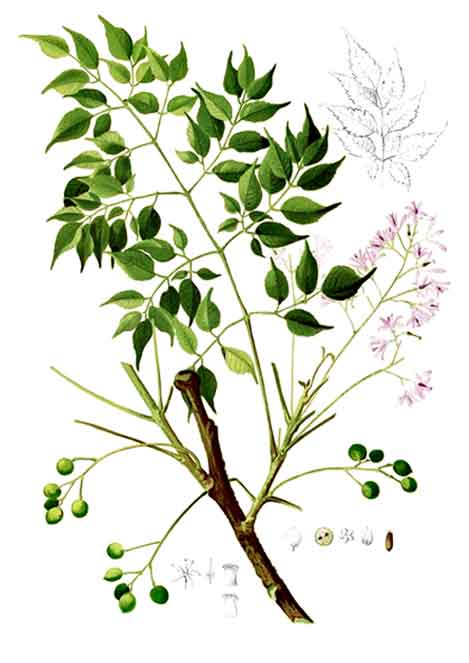 Distribution
- Along the seashore, and in thickets and secondary forests , etc., and inland, at low and medium altitudes.
- In Ilocos Norte, Quezon, Bulacan, Bataan, Rizal, and Camarines Provinces in Luzon; and in Mindoro, Negros, Cebu, Siquijor, Bohol, and Mindanao.
- Also reported from India to tropical Africa, southern China and Taiwan, and through Malaya to tropical Australia.
Constituents
- Fruit yields a bitter principle, a white crystalline glucoside; also, malic acid, glucose, mucilage, and pectin.
- Phytochemical screening yielded alkaloids, carbohydrates, steroids, tannins, flavonoids, saponins, and glycosides. (See study below) (10)
- Leaf extract evaluation yielded the presence of unsaturated fatty acids, terpenoids (diterpenes and sesquiterpenes) antioxidants, phenolic derivatives, and lipophylic organic compounds. Phytochemical compounds were linolenic acid, palmitic acid, caryophyllene, humulene, aromadendrene, probucol, germacrene-d, phthalic acid 6-ethyl-3-octyl, butylated hydroxy toluene. (See study) (15)
- Phytochemical analysis of aqueous extract of bark yielded carbohydrates, glycosides, phenolic compounds, tannins, gums, and mucilages. (see study below) (17)
- Aqueous and ethanolic extracts of leaves yielded alkaloids, carbohydrates, reducing sugars, flavanoids, glycoside, tannins, saponins, proteins and amino acids. (66)
Constituents
- Leaf extract yielded alkaloids, tannins, saponins, phenols, steroids, terpenoids, glycosides, and flavonoids. (27)
- Bark yields a bitter substance, named margosin by Cornish, and azadarin by Piddington.
- Study isolated an alkaloid from the bark of the roots - paraisine - soluble in petrol ether, benzene and chloroform.
- Study isolated an oil from the kernels, consisting of butyric and valeric acids 2.31%, stearic acid 21.38%, palmitic acid 12.62%, oleic acid 52.08%, linoleic acid 2.12%. arachidic and liquoceric acids 0.74%.
- Aqueous and ethanolic extracts of leaves yielded alkaloids, carbohydrates, reducing sugars, flavanoids, glycoside, tannins, saponins, proteins and amino acids. (31)
- Methanol extract of leaves yielded 48 bioactive compounds by GC-MS method. The major constituents were phytol (11.04%-diterpene), quercetin (16.47%-flavanoids), palmitic acid (15.49%-saturated fatty acid), 9,12,15-octadecatrienoic acid (3.43% - n-alkanoic acids). (37)
- Study of ethanolic extract of dried leaves yielded alkaloids, glycosides, tannins, saponins, and flavonoids. (see study below) (47)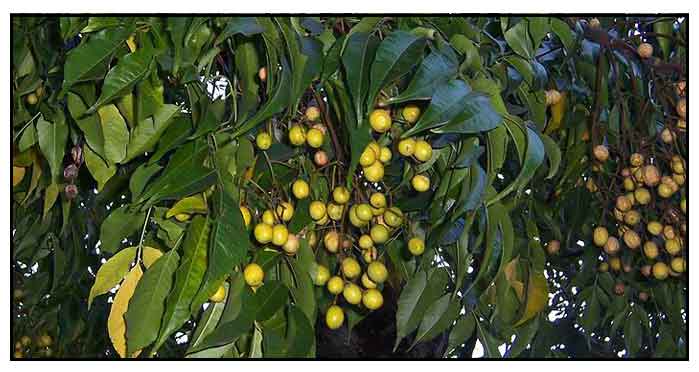 Properties
- Fruit has a bitter, nauseous taste.
- Fruit has reported toxicity.
- In Unani medicine in Arab countries and Ayurvedic medicine in India, used as antioxidative, analgesic, anti-inflammatory, insecticidal, rodenticidal, antidiarrheal, deobstruent, diuretic, antidiabetic, cathartic, emetic, antirheumatic, and antihypertensive. (25)
- Studies have suggested antidiabetic, antimicrobial, antiviral, fungistatic, antioxidant, quorum sensing, anticancer, antiurolithiatic, mosquito larvicidal properties.

Toxicity concerns
- Fruit is highly toxic to warm blooded animals. Ripe fruits are more toxic than green unripe ones. As few as six fruits can cause nausea, spasm, even fatalities in children. (Illustrated Flora of North Central Texas / Diggs, Lipscomb & O'Kennon / 1999) (21)
- All plant parts can cause gastric irritation and liver and kidney deterioration. (21)
- Despite reported medicinal use, many advise against eating of seeds and caution on use of other plant parts. The bark and young flowers are reportedly less toxic than the berries. Some report the fresh leaves to be harmless.
Toxicity
• Report on Human Poisoning: Review of Chinese medical literature reports that human M. azedarach poisoning occur when 6 to 9 fruits, 30 to 40 seeds, or 400 g of bark are consumed. Symptoms occur within 4-6 hrs, or as short as 1/2 hour, consisting of weakness, myalgia, numbness and ptosis. M azedarach poisoning may result in gastrointestinal, cardiovascular, respiratory or neurological effects, and death in severe cases.
• Case Report on a Fatality: There have been scattered reports of human fatalities and non-fatal toxicities: (1) A woman who died after a bark decoction of M azedarach was taken for dysmenorrhea. (2) A fatality from a bark decoction enema. (3) Illnesses from decoctions and infusions causing stomatitis, hematemesis, oliguria.
• Animals: Pulp of seeds reportedly fatal to dogs.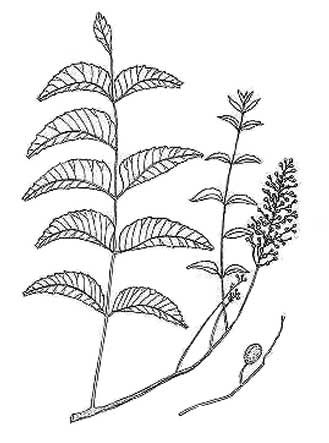 Parts used
Fruit, leaves, stems.

Uses
Edibility
- Leaves are cooked; imparts a bitter flavor; used as pot-herb, in curries and soup. (Sturtevant's Edible Plants of the World / Hedrick UP / 1972) (see toxicity concerns above) (21)
Folkloric
- In India, the fruit, with its bitter and nauseous taste, is used for colic.
- In India, before quinine, root bark used for malaria.
- Fruit and stem bark are anthelmintic.
- Seeds externally used as anti-rheumatic.
- Infusion of bark used as febrifuge especially for periodic fevers; also, for thirst and nausea.
- Poultice of bark used in leprosy and scrofulous ulcers.
- Leaves used in a variety of forms - poultice, wash, ointment or liniment - as external applications to ulcers and skin diseases.
- Internally, infusion of fresh leaves used as a bitter vegetable tonic and alterative. (The stools noticed to become a brilliant yellow after use.) Infusion also used for chronic malarial fevers; and as a powerful alterative for chronic syphilitic infections.
- Crushed leaves used as poultice for boils and sores.
- In Concan, juice of green fruit mixed with sulfur and curds, heated in a copper pot, used as application for scabies and sores infested by maggots.
- In the Tamil, Nadu area, paste of berries applied in leprosy.
- Herbal combo of papaya leaf juice, malai vembu, and hill neem or common neem has been given to dengue patients, the decoction taken twice daily for a week. (12)
- Malai vembu juice also used for diabetes and chicken pox. (12)
- In the Tamil, Nadu, paste of leaves and seeds applied locally to treat small pox, rheumatism, and skin diseases. Young twigs used as toothbrush. (14)
- In Ayurveda: Grahi-inspissant, stomachic, digestive; Kasahara-removes cough; Pittahara-pacifies pitta dosha; Raktadoshahr-blood purifying. Bark used for asthma, hallucinations, malaria, nausea, piles, tumor, urinary diseases, vomiting, rat poisoning. (23)
- In Ayurveda, used for leprosy, inflammation, cardiac disorders and scrofula; as antihelmintic, antilithic, diuretic.
- Seeds are emetic, laxative and anthelmintic; in Indo-China, used for typhoid fever and urinary retention.
- Oil used for syphilitic sores and indolent ulcers; also, for leprosy, suppurating scrofulous glands and rheumatism.
- Oil used as application for erysipelas, scrofula, and various skin diseases; also, as parasiticide in various cutaneous affects as ringworm and scabies.
- Fruit used as purgative and emollient; useful for intestinal worms, urinary affections and piles.
- Paste of flowers used to destroy headlice and associated scalp eruptions. Also, used for prickly heat.
- In Sidh, poultice of leaves used for sprains.
- In Mauritius, the root bark is used as anthelmintic; in Algeria, as tonic and antipyretic; elsewhere, the heartwood is used to relieve asthma, as emetic or as emmenagogue.
- In India, seeds used for piles; bark used as gargle for mouth ulcers; leaves used as mouth wash for gingivitis; seed powder used for leucorrhea, menorrhagia, and intestinal parasites; bark decoction used as blood purifier; dried leaves, bark and seeds used for goiter; leaf decoction used as vaginal wash; boiled leaves applied topically for arthritic and gout pains. (72)
Others
- Wood: Timber is useful, durable but light and not resistant to white ants. in Java, used for outriggers of boats; In Java and Sumatra, for interiors of houses; in Tonkin, as uprights of houses. • Resembles mahogany; used to manufacture agricultural implements, furniture, boxes, tool handles, cabinetry. Known resistance to termites. (57)
- Fodder: Leaves lopped for fodder and are highly nutritious.
- Fuel / Illuminant: Used as fuelwood. Oil used as illuminant.
Poison / Insecticidal: Contains toxic components; aqueous and alcoholic extracts of leaves and seed use for insect, mites and nematode pest control.
- Insecticidal: Leaf extract has insecticidal property; repels insects in clothing. Powdered dust of fruit, crude extract of wood and bark are also insecticidal.
- Dye: Bark yields a red dye.
- Crafts / Ornamental: Fruit stones used as beads in making necklaces and rosaries. (57)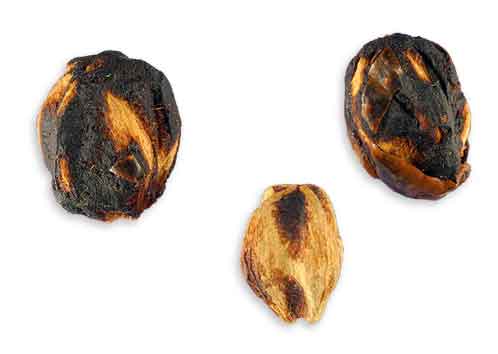 Studies
• Hypoglycemic / Antidiabetic: Results of study of total fruit extract on streptozotocin-induced diabetic mice suggests it is not only safe, but also an effective, natural and novel hypoglycemic agent. (2)
• Essential Oil / Antimicrobial: Study showed the essential oil of Melia dubia leaf exhibited bacteriostatic and fungistatic activities against Pseudomonas aeruginosa, E coli, Klebsiella pneumonia, Fusarium oxysporum and C albicans. (3)
• Antiviral Activity: Eighteen plants with ethnomedicinal background were screened for antivral activity against GSV-1. The extract of Melia dubia showed partial viral activity at higher concentrations. (4)
• Salannin: Study isolated salannin, a bitter principle from the fruits of M. dubia, previously found in Melia azadirachta. (5)
• Antimicrobial / Camphene / Skin Pathogens: Study of M. dubia leaf volatile oil yielded a monterpene camphene 21.68%, as major constituent, and showed good antimicrobial activity, inhibiting 88% of skin pathogens. (6)
• Bacteriostatic / Fungistatic / Essential Oils: Melia dubia leaf essential oil exhibited bacteriostatic and fungistatic activities against P. aeruginosa, E. coli, K. pneumonia, Fusarium oxysporum and Candida albicans. (6)
• Antidiabetic / Antioxidant: Study evaluated extracts of leaves for antidiabetic and antioxidant activities. An ethanolic extract inhibited a-amylase at a lower concentration than Acarbose. Solvent extracts showed excellent antioxidant activity. High phenolic and flavonoid contents were assumed responsible for antidiabetic and antioxidant potential. (10)
• Quorum Sensing / SdiA Inhibitors / Antioxidant: Study investigated the Quorum Sensing (QS) quenching efficiency of various solvent extracts of M. dubia seeds against uropathogenic E. coli on the competitive inhibitor of SdiA, a transcriptional activator of quorum sensing in E. coli. Results showed an ethanolic extract with potency to attenuate quorum sensing of uropathogenic E. coli. (11)
• Antimicrobial: Study showed a Melia dubia petroleum ether fraction to exhibit maximum zone of inhibitions for all all the tested human pathogens. (13)
• Larvicidal / Anti-Malarial: Study evaluated various extracts of seed for larvicidal effect on malarial fever mosquito, Culex quinquefasciatus. Highest mortality of 93% and 81% were seen for third and fourth instar larvae of C. quinquefasciatus. (14)
• Biopesticidal: Study showed effective bioactivity of acetone extract against teak defoliator, Hybleae puera and Ailanthus defoliator Atteva fabricella and Eligma narcissisu. Results suggest a potential of B. dubia as a source of effective biopesticidal and pharmacologic agents. (See constituents above) (15)
• Growth Inhibitory / Antifeedant: Study evaluated growth inhibitory and deterrency of Melia dubia extracts to Spodoptera litura and Helicoverpa amigera. Dichlorethane (DCE) and methanol (Me) extracts inhibited growth in a dose-dependent manner. The DCE was more toxic to larvae than the Me extract. Salannin from the DCE fraction showed antifeedant activity. (16)
• Antibacterial / Bark / Leaves / Flowers / Fruits: Study of ethanol and aqueous extracts of bark of Melia dubia showed significant antibacterial activity against Staphylococcus aureus. (see constituents above) (17) Study of crude leaf extract of M. azedarach are effective against both gram positive and gram negative strains of bacteria. (27) Methanol extract of MA flowers showed potent antibacterial action in rabbits with Staphylococcus aureus skin infection. Effects were comparable to neomycin. (29)Study evaluated the antibacterial effects of methanolic and aqueous extracts of M. azedarach fruit against various bacterial strains. P. aeruginosa, S. aureus, Proteus and Klebsiella sp. showed sensitivity to the aqueous extract. Pseudomonas aeruginosa and Proteus showed significant sensitivity to the alcohol extract. (53)
• Mosquito Larvicidal / Antibacterial / Leaves and Root: Study evaluated an ethyl acetate extract of leaves and root for mosquito larvicidal and antimicrobial activity. Results showed significant larvicial activity against Culex quinquefasciatus. In-vitro antimicrobial screening exhibited a wide range of activity with leaves and root extracts showing inhibition of growth of K. pneumonia, E. coli and S. aureus while the leaf extract showed activity against S. typhi and S. paratyphi. (18)
• Nanoparticles / Leaves / Antifungal: Study reported the bio-fabrication of AgNPs using aqueous leaf extract of M. dubia. The AgNPs were stable and proved to be excellent activity against tested pathogenic fungi A. niger and C. tropicalis. (19)
• Antiurolithiatic / Leaves: Study evaluated the antiurolithiatic activity of various solvent extracts of Melia dubia leaves. The aqueous, acetone and ethanol extracts showed remarkable dose dependent inhibition of calcium oxalate crystal formation. The acetone extract showed maximum inhibitory effect. (20)
• Pesticidal, Insecticidal, Acaricidal Properties / Review: Extracts of fruits, seeds and leaves of M. azedarach have shown pesticidal activities against several pathogenic pest organisms. Extracts of M. azedarach has shown efficacy against the tick Boophilus micoplus, the malarial vector Anopheles stephensi, the dengue vector, Aedes aegypti and the human lice Pediculus humanus capitis. Plant parts have also been shown to have potential as insecticidal, acaricidal, fungicidal and rodenticidal. (22)
• Cytotoxicity / Anticancer: Study evaluated the cytotoxic activity of crude extracts and fractions of M. azedarch and A. indica leaves, pulp, and seeds against HT-29, A-549, and HepG2 and MDBK cell lines. The seed kernel extract of M. azedarach exhibited highest cytotoxicity and selectivity to cancer cell lines with IC50 range of 8.18 to 60.10 g/mL). Phytochemical analysis isolated four flavonol 3-O-glycosides including rutin, kaempferaol-3-O-robinobioside, kaempferol-3-O-rutinoside and isoquercetin along with purin nucleoside, I2-adenosine. The methanol leaf fraction of M. azedarach seemed safer in terms of cytotoxicity. (24)
• Antifungal / Bark / Seed: Study investigated the antifungal potential of hexane and methanolic extracts of Melia azedarach bark against yeast-like fungi (Candida albicans, C. krusei, C. tropicalis, Cryptococcus marinus) as well as fungi (Aspergillus niger and Rhizopus oryzae). The n-hexane and methanolic extracts showed high inhibition against Candida krusei and better zones of inhibition against Rhizopus oryzae and Aspergillus niger. Candida tropicalis and C. albicans showed no response. (26) Extracts from different parts of MA exhibited fungistatic activity against A flavus, D phaseolum, F oxysporum, F solani, among others. The ethanolic seed extract showed to be the most active. (32)
• Hepatoprotective / Leaf Extract / Simvastatin Hepatotoxicity: Study evaluated the hepatoprotective activity of leaves extract against simvastatin induced hepatotoxicity. Results showed significant changes in biochemical parameters, restored towards normalization in M. azedarach treated animals. (28)
• Contraceptive / Antiimplantion: Ethanolic extract of MA roots prevented pregnancy in 60-75% of female rats with decreased rate of implantation. (30)
• Antioxidant / Leaves: Study showed the leaves of MA to possess an erythrocyte protective activity against drug-induced oxidative stress. (31)
• Anthelmintic / Drupe: Drupe extracts of MA in Argentina showed better activity against tapeworm than standard piperazine phosphate used for Cestodal infections. (33)
• Antiviral / H. simplex / Limonoid / Leaves: Extract of leaves of MA isolated a limonoid which showed antiviral activity against vesicular stomatitis and herpes simples virus. (34)
• Anti-lithiasis: Study of aqueous extract of MA showed to be effective against ethylene glycol-induced nephrolithiasis in albino rats. (35)
• Inhibition of Folliculogenesis / Seeds: Study evaluated the quantitative aspects of follicular development in cyclic female albino rats using seed extracts of M. azedarach and M. indica. Results suggest the polar and non-polar fractions of A indica and M azedarach seed extracts significant reduced the number of follicles in rats, with maximum reduction occurring with the Azedarach extract. (36)
• Immunomodulatory / Leaves: Leaf extract from M azedarach L. inhibited phagocytosis of opsonized sheep erythrocytes and the respiratory burst triggered by post-receptor stimuli in human monocytes.   (37) Leaf extract from M azedarach L. inhibited phagocytosis of opsonized sheep erythrocytes and the respiratory burst triggered by post-receptor stimuli in human monocytes. (39)
• Hepatoprotective / Antioxidant / CCl4-Induced Toxicity: Study of the antioxidant and antihepatotoxic activities of the biherbal ethanolic extracts of M azedarach and Piper longum showed potent antihepatotoxic activity against carbon tetrachloride-induced acute toxicity in rat liver. The effect was probably related to its marked antioxidant activity. (40)
• Mosquito Larvicidal: Ethanolic extract of Melia azedarach showed effective larvicidal activity against Anopheles stephensi, Culex quinquefasciatus and Aedes aegypti. Results suggest a potential use as larvicidal agent to control mosquito populations. (41)
• Hepatoprotective / Paracetamol / Carbon Tetrachloride: Study of a methanolic leaf extract of Melia azedarach against paracetamol-induced hepatic damage in rats showed significant hepatoprotective activity. (42) Study of leaf extract of M. azedarach showed significant hepatoprotective activity against carbon tetrachloride (CCl4) induced hepatotoxicity. (43)
• Anti-Ulcer: Study of aqueous extract of leaves of Melia azedarach on anti-ulcer activity in aspirin-induced and pylorus-ligated rate showed antiulcer effects comparable to the standard drug Omeprazole. (44)
• Anti-Fertility / Potential for Rodent Control: Study of Melia azedarach seed extract in adult cyclic Wistar rats showed a reduction in fertility index and average number of embryos in mated rats with associated histological changes. Results suggest the plant extract has a potential use in a rodent control program. (45)
• Antiproliferative Potential / Anticancer: Study investigated the anti-cancer activity of Melia azedarach in comparison to A. indica on cancer lines HT-29, A-549, MCF-7 and HepG-2 and MDBK cell lines. Results showed the seed kernel extract of M azedarach had the highest cytotoxic activity and selectivity to cancer cell lines. The methanol leaf fraction of M. azedarach seems to be safer in terms of cytotoxicity. Study showed an abundance of flavonols in the leaves. (46)
• Antimicrobial / Leaves: Study evaluated various leaf extracts of Melia azedarach for antimicrobial efficacy against eight human pathogens. The alcoholic extract showed maximum zone of inhibition and minimum inhibitory concentration against all the microorganisms. (47)
• Antidiabetic / Gastric Emptying Inhibitory Effect / Leaves: Study evaluated the antidiabetic effect of leaf extracts inT2 diabetic experimental animals. Results showed the leaf extract elicits diabetic activity through a multitargeted effect, primarily an increased insulin-sensitizing effect resulting in blood glucose reduction and improved peripheral disposal, together with reduced gastric emptying and decreased insulin demand. (48)
• Inhibition of α-Glucosidase Activity / Antidiabetic / Leaves: Study evaluated the α-glucosidase activity of an ethanolic leaf extract of M. azedarach. The crude ethanolic leaf extract showed α-glucosidase inhibitory activity. Although it showed less inhibitory activity than acarbose, results suggest a potential candidate for development of anti-hyperglycemic formulation. (49)
• Insecticidal / Fruit: Study evaluated M. azaderach extracts and limonoid fraction for insecticidal activity against beet armyworm Spodoptera exigua. Results showed the extract disturbed development of S. exigua. (50)
• Anticancer / Combination of M. azedarach, Doxorubicin and Cyclophosphamide / Breast Cancer: Previous studies have shown M. azedarach has potent cytotoxicity effect on MCF-7 via induction of apoptosis and cell cycle arrest. Study evaluated the anticancer activity of MA, doxorubicin, and cyclophosphaide combination. The combination can decrease the volume of adenocarcinoma mammary tumors in CH3 mice via increase in BAX expression and decrease AgNOR expression. (51)
• Analgesic / Antioxidant / Leaves: Study evaluated the potential analgesic and antioxidant activity of ethanolic extract of M. azedarach dried leaves. Results showed analgesic activity with significant (p<0.001) inhibition of writhing reflex in mice. The ethanolic extract showed free radical scavenging activity in DPPH assay with IC50 of 95µg/mL, comparable to ascorbic acid. (see constituents above)   (52)
• Hematological Changes / Fruits: Study evaluated the clinical and hematological changes in rabbits exposed to M. azedarach fruits under experimental conditions. Results showed increase in body temperature and heart rate, decrease in body weight, prolongation of bleeding time and clotting time. Hematologic changes included decrease in erythrocyte count, Hb and MCV values, increase in heterophils and monocyte percentages, and decrease in lymphocytic and eosinophil percentage. (54)
• Anti-Viral Against Human Cytomegalovirus: The aqueous extracts of three medicinal plants, Carissa edulis, Prunus africana, and Melia azedarach showed significant reduction in the replication of human CMV in human embryonic lung (HEL) fibroblasts cells in vitro. Using the plaque inhibition assay, results showed potential anti-viral activities of the three plant extracts. (55)
• Toxicological Studies / Mild CNS Sedative Effect: Toxicological evaluation of M. azedarach in rats and mice showed the aqueous and alcoholic extracts to be non-toxic until a dose of 1500 mg/kg orally. Intravenously, the aqueous extract had an LD50 of 395,580 mg/kg (flowers) and 700,925 mg/kg (berries) respectively in mice and rats. Aqueous and ethanolic extracts also showed mild CNS sedative effect.   (56)
• Antileishmanial / Larvicidal / Antioxidant / Cytotoxic / Fruit: Study compared the potential of aqueous extracts of green and ripened fruits for antileishmanial, larvicidal, antioxidant and brine shrimp cytotoxicity assay. Green fruit showed significant activity against L. tropica and excellent larvicidal activity against Cx. quinquefasciatus. On cytotoxicity assay, green and ripe fruits showed LD50 of 18.07 µg/mL and 530.2 µg/mL, respectively. Green fruit showed antioxidant potential (IC50 232.23 µg/mL) with total phenolic contents of 10.54 mg/g DW. The green fruit yielded more active compounds than ripe fruits. (58)
• Zinc Oxide Nanoparticles: Study reports on the inexpensive, single-step, and eco-friendly bioproduction of zinc oxide nanoparticles (ZnO NPs) from aqueous extracts of leaves, stems, roots, flowers, and fruits of M. azedarach. (59)
• Larvicidal / Culex quinquefasciatus: Various concentrations of aqueous extracts of leaves, fruits, and bark were tested for larvicidal activity against C. quinquefasciatus. The aqueous extract of bark showed to be more toxic and efficient. Results suggest a good source of preparations for pest control, especially mosquito control. (60) Acetone extract of both Melia azedarach and Carica papaya showed highest mortality rate and larvicidal activity against Culex quinquefasciatus. (61) Study evaluated the larvicidal activity of aqueous extracts of different parts of M. azedarach against Culex quinquefasciatus. Among the aqueous extracts of fruits, leaves, and bark, the bark extract showed to be more toxic and efficient against Cx. quinquefasciatus, with 17.60 ± 7.3% mortality and LC50 of 368.3 ppm. Results suggests the bark as a potential good source of preparations for mosquito control. (64)
• Antipyretic / Leaves: Study of a hydroalcoholic extract of M. azedarach leaves showed significant (p<0.05) reduction of yeast induced temperature in rabbits at 500 mg/kg as compared to standard drug paracetamol. (62)
• Antihyperglycemic / Leaves: Study of an ethanolic extract of leaves in alloxan induced diabetic rats showed marked decrease in blood glucose level and significant reduction of blood glucose in the glucose tolerance test. (63)
• Effects of Various Fractions on Biochemical Parameters / Fruits: Study evaluated various fractions of a methanolic extract of M. azedarach fruits on various biochemical parameters. All extracts significantly decreased serum glucose, cholesterol, triglycerides and LDL concentrations with elevation of HDL levels. However, only the aqueous extract was considered safe, as the other extracts showed significant alterations in serum levels of GTP, ALP, and creatinine. (65)
• Radical Scavenging / DNA Protective in Cultured Lymphocytes: Study of an ethanol leaf extract showed significant dose-dependent inhibition on in vitro radical scavenging assays and protection against H2O2-induced DNA damage in cultured lymphocytes. Results suggest a potential for an effective antioxidant during oxidative stress. (67)
• Antiparasitic: Antiparasitic activity of drupe extracts of M. azedarach growing in Argentina was tested against a tapeworm and earthworm. Results showed better activity against tapeworms than the standard piperazine phosphate, which is used for Cestoda infections. (69)
• Antibacterial / Cream Formulation / Flowers: A formulated cream contain Melia azedarach flowers showed a strong potential to cure bacterial infections in young children, comparable to neomycin skin ointment. (70)
• Antioxidant: Study showed the extract of Melia azedarach, which contains the highest amount of phenolic compounds, exhibited the greatest anti-oxidant activity compared to A. indica.
Availability
Wild-crafted.