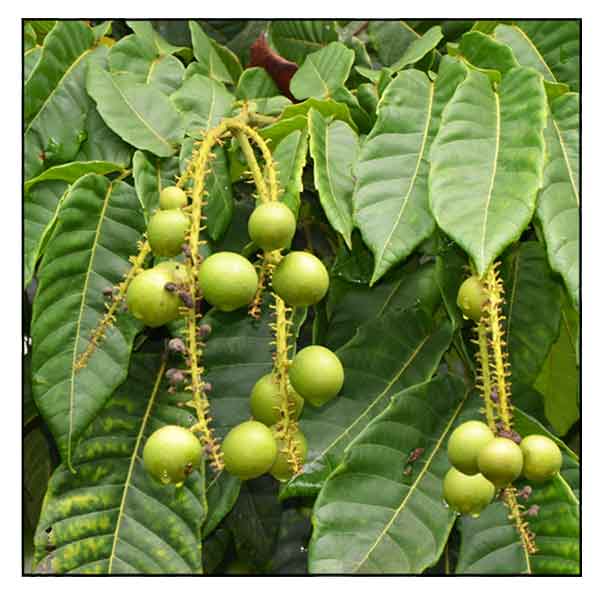 Gen info
- Pometia is a genus of 2 species of rainforest trees from the family Sapindaceae: Pometia pinnata J.R.Forst. & G.Forst. and Pometia ridleyi King.
- Etymology: The genus name commemorates Pierre Pomet (1658-1699), a French pharmacist. and botanist. The specific epithet is Latin, pinnata referring to the pinnate leaves.

Botany
Pometia pinnata is a large tree, ca. 20 m tall, to 50 m tall. Crown large, broad, with evident buttress roots; branches grooved, sometimes hirsute. Leaves rather large, with petiole to 1.5 m, axis and leaflets subglabrous to tomentose; leaflets dense, 5-9 pairs, sometimes to 15 pairs, subopposite; petiolules short, inflated; blades: first pair orbicular, small, base cordate, stipulelike; others oblong or upper ones nearly cuneate, 15-40 × 5-10 cm, margin regularly serrate, apex acute or acuminate. Inflorescences terminal or axillary; rachis and branches strong, straight, 30-50 cm, pilosulose. Pedicels ca. 6 mm, base jointed. Sepals ca. 1 mm, pilosulose. Petals obovate-triangular, ca. 2 × 2 mm. Stamens ca. 5 mm. Fruit shiny, ellipsoid or sometimes subglobose, ca. 3 × 2 cm, glabrous. (.Flora of China @ efloras.org)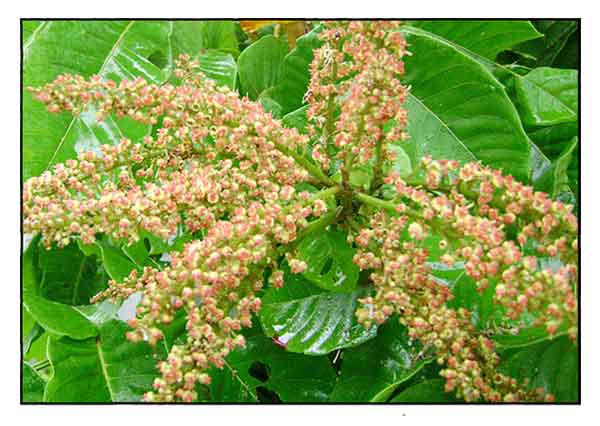 Pometia pinnata is a tree up to 50 m tall, with spreading buttresses up to 5 m tall. It has alternate, stalked, compound leaves that are more than 1 m long. Each leaf consists of 4–15 pairs of leaflets, and lacks a terminal leaflet. The papery to leathery leaflets are egg-shaped to drop-shaped, slightly to distinctly sickle-shaped, red when young, dark green above and lighter green below when mature, hairless to covered with hair, 6–40 by 2–13 cm, and with toothed margins. The lowest pair of leaflets is smaller than others, round, ear-shaped or cushion-shaped, 0.4–3 by 0.3–5 cm, appearing like a stipule, and with one of the leaflets reduced. The plant is monoecious, producing both male and female flowers in the same individual. The flowers are about 2–2.5 mm across, generally white to green-yellow, and occur on branched flowering stalks that are 15–70 cm long. Its fleshy fruits have a stony core each. Its fruit is ellipsoid to round, 1.5–5 by 1–3 cm, and red turning black when ripe. The seed is egg-shaped, unequal sided, up to 2.5 by 1.5 cm, brown, and with a white covering (aril). (25)
Distribution
- Native to the Philippines.
- Also native to Andaman Is., Bismark Archipelago, Borneo, China, Jawa, Laos, Lesser Sunda Is., Malaya, Maluku, Myanmar, New Guinea, Nicobar Is., Niue, Samoa, Santa Cruz Is., Solomon Is, Sri Lanka, Sulawesi, Sumatera, Taiwan, Thailand, Tonga, Tuamotu, Vanuatu, Vietnam, Wallis-Futuna Is. (1)
- In primary and secondary forests, in open and wet places, along rivers and waterfalls, up to 900 m.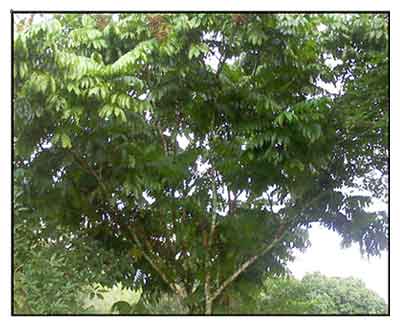 Constituents
- Fruit extracts of seed, peel, and flesh using methanol, ethyl acetate and n-hexane solvents showed the hexane extract with highest yield (54.15%) The methanol extract of flesh fruit showed highest total phenolic content (393.12 mg GAE/g). (4)
- Study of n-hexane extract of stem bark isolated a pentacyclic triterpenoid identified as taraxerone (D-friedoolean-14-en-3-one). (9)
- Study of leaves isolated a new triterpenoid saponin (1), together with a known compound, kaemferol 3-O-α-L-rhamnopyranoside (2). The structure of 1 was established as 3-O-[α-L-arabinofuranosyl-(1→4)–α-L-rhamnopyranosyl-(1→2)-α-Larabinopyranosyl]-hederagenin. (13)
- The phytochemical evaluation of n-Hexane extract of Matoa fruit peel yielded tannins, phenols, saponins and, little terpenoids; the ethyl acetate extract contains flavonoids, tannins and phenols; while methanol extract contains flavonoids, tannins, phenols and, saponins. (see study below) (22)
Properties
- Studies have suggest anti-HIV integrase, antioxidant, antibacterial, antihypertensive, antidiabetic, hepatoprotective, ovicidal, antidiabetic, antiobesity, nephroprotective properties.

Parts used
Leaves, fruits, seeds.

Uses
Edibility
- Fruits are edible, eaten fresh; the sweet juicy pulp resembles Litchi.
- Seeds are roasted or boiled.
- Leaves used for chewing with lime.
Folkloric
- Fruits used in traditional medicine for treatment of hypertension, obstetrical and gynecological complaints, diarrhea, dysentery.
- Malays and Indonesians used the bark to treat sores and infected wounds. Leaves and bark used to make bathwater for fever. (25)
Others
- Wood: Wood is pink, reddish when exposed to light. Used as general purpose construction, furniture, flooring.
- Fuel: Also used for firewood and making charcoal.

Studies
• Anti-HIV Integrase Compound / Leaves: HIV-1 integrase (HIV-1 IN) is a key enzyme in the replication cycle of the retrovirus. Study evaluated the anti-HIV-1 IN activity of 8 ethanol extracts of Thai medicinal plants. The extract of Pometia pinnata exhibited the strongest anti-HIV-1 IN activity with an IC50 of 8.8 µg/mL. An assay guided isolation identified an active compound, proanthocyanidin A2, which showed satisfactory anti-HIV-1 IN activity with IC50 of 30.1 µM. (3)
• Antioxidant / Free Radical Scavenging: Study showed DPPH free radical scavenging activity varied widely with increase concentration. The fruit peels showed higher antioxidant activity compared ti seed and flesh fruit. Antioxidant activity of peel extracted with methanol, ethyl acetate, and hexane extract yielded IC50s of 1419 µg/ml, 917 µg/ml, and 1195 µg/ml. (5)
• Silver Nanoparticles as Bioreductor / Leaves: Study reports on the green synthesis of silver nanoparticles (AgNPs) using leaves of Pometia pinnata as bioreductor. AgNPs synthesized can be optimized by adjusting the pH to obtain a particular size and shape. (6)
• Hepatoprotective / Cisplatin Induced Toxicity: Study evaluated the hepatoprotective activity of ethanol extract of P. pinnata on rats induced cisplatin. Results showed hepatoprotective activity as evidenced by reduction in level of AST, ALT, total protein, and LDH levels. (7)
• Antidiabetic / α-Glucosidase Inhibition / Seed: Study showed antidiabetic activity of Pometia pinnata seed by α-glucosidase inhibition increased with increase of concentration level. Pometia pinnata seed extract with methanol, ethyl acetate, and n-hexane had antidiabetic activity (IC50) of 169.81 µg/mL, 505.55 µg/mL and 263.18 µg/mL, respectively. (8)
• Antihypertensive / Angiotensin Receptor Blocker from Leaves: Study evaluated the antihypertensive effect of P. pinnata leaves in male Wistar rats. Hypertension was induced by angiotensin II, the hypertensive effect was measured as blood volume of rats. The percentage reduction in blood volume of rats was seen in leaf extract dose of 300 mg/kbw., which showed mean difference in negative control group with significance value of <0.05. (10)
• ZnO Nanoparticles / Antibacterial / Leaves: Study reports on a single-step green synthesis of a bi-phase structure of Zn/ZnO nanoparticles using laser ablation in a liquid medium. Tested against two strains, S. aureus and E. coli, the Zn/ZnO sample showed more substantial antibacterial effect compared with pure ZnO. (11)
• Hepatoprotective / Paracetamol Toxicity / Leaves: Study evaluated the hepatoprotective effects of matoa leaves on paracetamol induced injury in rat's hepatocytes. Silymarin was used as reference drug. Oral treatment with ethanol extract of matoa leaves at dose of 500 mg/kbw significantly reduced AST, ALT, ALP in serum. The hepatoprotective effect was attributed to potent antioxidant activity. Neutralizing reactive oxygen species enhancing the activity of original natural hepatic-antioxidant enzymes may be the main mechanism of hepatoprotective effect. (12)
• Antioxidant / Total Phenol and Total Flavonoids / Leaves: Study evaluated an ethanol extract of leaves for antioxidant activity, total flavonoid and total phenolic contents using LC-MS / MS analysis. By DPPH, the extract showed strong antioxidant activity with IC50 of 11.751, with total flavonoid and phenols of 13.153 mg QE/g extract and 376.324 mg GAE/g extract, respectively. The extract contained quercetin, procyanidin, and kaempferol. (14)
• SnO2 Nanoparticles / Antibacterial / Leaves: Study reports on the biofabrication of flower-like SnO2 nanoparticles using P. pinnata leaf extract as photocatalyst and antibacterial activity against K. pneumonia, E. coli, S. aureus, and S. pyogenes. The synthesized SnO2 NPs exhibited inhibition of tested bacteria. Results suggest potential for environmental and medical applications. (15)
• Toxicity against Artemia salina / Stem Bark: Study evaluated a steroid compound from dichloro-methane extract of matoa's stem bark and toxicity against Artemia salina Leach. The compound was identified as stigmasterol and showed toxicity against A. salina with IC50 of 41.334 µg/mL. (16)
• α-Glucosidase Inhibitory Activity / Flavonol Rhamnosides / Leaves: Study have shown an ethyl acetate fraction fraction of P. pinnata leaves showed strong α-glucosidase inhibitory activity. Two flavonol rhamnoside compounds were isolated from the fraction and identified as kaempferol-3-O-rhamnoside (1) and quercetin-3-O-rhamnoside (2). Among tested eight compounds, kaempferol 7 (percent inhibition = 80.10% ± 0.8) and quercetin 8 (percent inhibition = 82.93% ± 0.4) had stronger α-glucosidase inhibitory activity than that of other derivatives. Among kaempferol derivatives bearing sugar moiety, compound 1 showed the strongest activity. Moreover, compound 2 showed strong α-glucosidase inhibitory activity among quercetin derivatives.  (17)
• Supplementation of Pasteurized Milk with Matoa and Alginate: Natural additives to pasteurized milk processing enhances the functionality of the product. Study evaluated the proper level of matoa leaf extract and alginate that will show the best inhibitory effects on the growth of E. coli and and S. aureus. Matoa leaf extract seemed capable of suppressing the growth of both bacteria, with inhibition increasing as more extract is added. Alginate showed antibacterial effect against E. coli, but not S. aureus. Higher level of alginate increased suppressing effects on E. coli growth. The best inhibition was achieved with matoa leaf extract 0.20% and alginate 0.2-0.3%. (18) (Also see23)
• Nephroprotective / Cisplatin Induced Toxicity: Use of cisplatin can cause serious nephrotoxicity and acute kidney injury. Study evaluated the nephroprotective activity of ethanol extract of P. pinnata on rats induced cisplatin. Groups treated with leaf extract showed reduction in biochemical parameters (increased urea, creatinine, uric acid) attributed to antioxidant activity. (19)
• Anti-Obesity / Fruit: Study evaluated the anti-obesity effects of matoa (Pometia pinnata) and salak (Salacca zalacca) fruit peel in Sprague-Dawley rats. Matoa peel powder (MPP) at dose of 3% (w/w) high fat diet decreased body weight, visceral fat, serum triglyceride levels as well as hepatic lipid content. The anti-obesity effect of matoa was partly through inhibitory effect of the peel extract on fatty acid-induced secretion of ApoB-48 protein, a marker of intestinal chylomicrons, in differentiated Caco-2 cell monolayers. MPP is abundant in hederagenin saponins, which may have potential as anti-obesity substances. Results suggest potential for matoa fruit peel extract as a functional food with anti-obesity effects. (20)
• Diuretic / Leaves: Study evaluated the diuretic activity of matoa extracts of leaves, peels, and seeds in male Wistar rats, using doses of 50, 100, 250 mg/kbw. The effective dose for the leaves extract for diuretic activity was 100 mg/kbw, which could increase the excretion of sodium and potassium. (21)
• Antidiabetic Activity / α-Glucosidase Inhibitory / Fruit Peel: Study evaluated the antidiabetic activity of various extracts of fruit peel using α-glucosidase enzyme. The best antidiabetic activity was seen with the ethyl acetate extract. (see constituents above) (22)
• Ovicidal against Aedes aegypti Effects / Dengue Vector Control Activity / Leaves: Study evaluated the oviposition deterrent activity and ovicidal effects of ethanol extract of P. pinnata leaves against Aedes aegypti. The ethanolic extract of leaves at concentrations of 0.05%, 0,1%, 0.15%, 0.2%, and 0.25% showed ovicidal activity of 11%, 28%, 87%, 94%, and 98% against Aedes aegypti eggs, respectively. Results suggest a potential alternative in dengue vector control. (24)
• Antihypertensive / Leaves: Study evaluated the antihypertensive activity of extracts and fractions of matoa leaves in hypertensive Sprague Dawley rats induced by NaCl 50 mg/kbw and prednisone 1.5 mg/kbw daily for 28 days. Histomorphological exam of heart muscle showed increase collagen production in NaCl-prednisone induced rats. The ethyl acetate fraction of leaves (13.08 mg/kbw) and methanol leaf extract (150 mg/kbw) exhibited significant blood pressure lowering effect (p<0.05), similar to hydrochlorothiazide (0.45 mg/kbw). (26)
Availability
Wild-crafted.