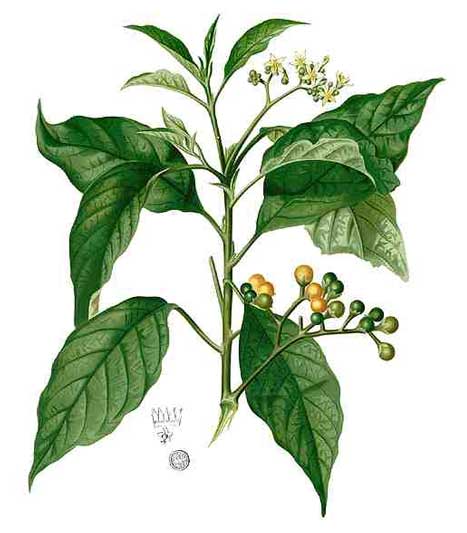 Botany
Malatalong is a shrub 1 to 4 meters high, covered all over with dense, yellowish, grey, tomentum with scurfy, stellate hairs. Leaves are ovate, oblong-ovate or elliptic-ovate, 10 to 23 centimeters long, entire, and usually pointed at both ends, occasionally rounded at the base, the lower surface pale and densely covered with stellate hairs. Flowers are white or pale blue, about 2 centimeters across, in compact, dichotomous corymbs. Calyx is grayish green, cup-shaped, about 5 millimeters long, very wooly, with short and broadly triangular segments. Corolla is wooly without, with spreading, oblong-ovate lobes, about 1.3 centimeters in diameter. Fruit is fleshy, green or yellowish, rounded and about 1 centimeter in diameter, with minutely dotted seeds.
Distribution
- Weed found throughout the Philippines in thickets and secondary forests at low and medium altitudes.
- Pantropic.
Constituents
- Plant is rich in protein, with considerable amounts of carbohydrate, iron, potassium, sodium, calcium, phosphorus, vitamins A and C.
- Plant and fruit contains solanine, mallic acid, a coloring matter, and saponin.
- Yields steroidal saponins, free genins, steroidal alkaloids of the spirosolane group, such as solasodine and tomatidine. Alkaloids account for 0.4% of the mass of dry berries and leaves.
- Three solvent extracts of bark yielded 21 phytocompounds: Ethyl acetate extract—Acetamide, acetohydroxamic acid, pyridine, 5-tetradecene,(E)-, diethyl phthalate, 1-nonadecene, 1-dodecanol, bicyclo3.1.1heptanes, 2, 6, 6-trimethyl-, pentadecanoic acid, trichloroacetic acid, 9, 12, 15-octadecatrienoic acid, methyl ester, phytol, octadecanoic acid, methyl ester; methanol and acetone extracts—Formic acid, 1 methylethyl ester, trimethylhydroxysilane, 1-naphthoic acid, 1- piperazineethanamine, hexadecanoic acid, 2-pentanonemethyl ester, and gamma-sitosterol. (13)
- Proximate composition yielded moisture (85.5%), protein (32.55%), lipid (2.90%), ash (7.20%), fiber (4.8%) carbohydrate (52.55%), and caloric value (366.5 KCAL). Anti-nutrient composition was hydrocyanide 1.2 mg/100 g, oxalate 114.40, phytate 1.92 and tannin 0.98. Vitamin composition was vitamin A (retinol) 371.72 mg/100g, vitamin C 39.99. Mineral composition was magnesium 10.1429 mg/100g, iron 31.126, potassium 726.394, calcium 253.912, and phosphorus 19.90. (14)

Parts used
Leaves and roots.

Uses
Folkloric
- Leaves are heated and applied as emollient on the forehead for headaches.
- Decoction of roots taken internally for diarrhea and dysentery.
- In Mexico, leaves are heated and applied to forehead for headaches; and as poultice, to boils and ulcers.
- In Nayarit, decoction of roots used for fever.
- Decoction of root with piece of Zingiber rhizome and an onion, used in the treatment of hematuria.
- Leaves are used for the expelling of impurities through the urine; used for women with vaginal discharge.
- Leaves also used as abortifacient.
Others
- Cleaning: In the Philippines, the soft and velvety leaves are often used for cleaning and removing grease from dishes.

Studies
• Cinnamide / Phytochemicals: Study isolated a new cinnamide derivative, N-2-hydroxy-2 (p-hydroxyphenylethyl)p-coumaramide, together with N (p-hydroxyphenylethyl)p-coumaramide and vanillic acid. (1)
• Flavonoid Glycosides: Study isolated three flavonoid glycosides, including a new one, 7'4'-dimethyl-apigenin-6-C-B-glucopyranosyl-2"-O-a-L-arabinopyranoside from the leaves of SV. (2)
• Antibacterial: Study investigated the antimicrobial activity of 23 species of traditional Ghanaian medicines, with special interest in anti-methicillin resistant S aureus activity. Results showed antibacterial activity in extracts of E drupifera, R vomitoria and the leaves of Solanum verbascifolium. (3)
• Cytotoxicity / Human Cancer Cell Lines: Thirty-two methanol extracts of 31 Vietnamese medicinal plants were studied for cytotoxicity against five human cancer cells lines. Nine, including Solanum verbascifolium, exhibited high potent cytotoxic activity against different cell lines. (4)
• Cytotoxicity / Mammary Adenocarcinoma: Screening of 40 extracts from Argentinean plants revealed the presence of 4 highly cytotoxic compounds against the mammary adenocarcinoma LM2 cells. One of the active extracts was an aqueous extract from Solanum verbascifolium flower, inducing 50% death (IC50) in LM2 cells. (7)
• Antibacterial: Study investigated the antimicrobial activity of traditional Ghanaian medicines with special interest in methicillin-resistant Staph. The presence of antibacterial activity in the extracts of E. drupifera, R. vomitoria and leaves of Solanum verbascifolium was reported for the first time. (6)
• Solaverbascine / New alkaloid: Study isolated a new alkaloid, solaverbascine, from the leaves, together with solasodine and tomatidine. (9)
• Essential Oil / Leaves: Study isolated 17 compounds from the essential oil of leaves. Main constituents were germacrene D(37.07%), copaene(26.29%),1β-(1-methylethyl)-4,7-dimethyl-1α,2,4a(β),5,8,8a(α)-naphthalene(13.63%),caryophyllene(8.03%),1β-ethenyl-1α-methyl-2β,4β-bis(1-methylethenyl)-cyclohexane(5.81%),γ-elemene(2.16%),α-cubebene(2.06%) and isoledene, accounting for 90.22% of the total oil. (10)
• Antioxidant: In a study of 26 Taiwanese extracts of medicinal plants for antioxidant activity, Solanum verbascifolium showed moderate and dose-dependent free radical scavenging activity (149 µg/ml IC50) and superoxide anion scavenging activity (IC50: >200µg/ml). (11)
• Acaricidal / Interaction with Metarhizium anisopliae: Study evaluated the interaction of S. verbascifolium and a strain of Metarhizium anisopliae for its virulence against cattle tick Rhipicephalus microplus. Results showed the emulsion formulation provided an excellent alternative to the application of fungal conidia alone. (12)
• Anthelmintic: Study evaluated various extracts of S. verbascifolium with albendazole against adult Indian earthworm Eisenia fetida. All extracts exhibited significant anthelmintic activity in a dose-dependent manner. (15)

Availability
Wild-crafted.