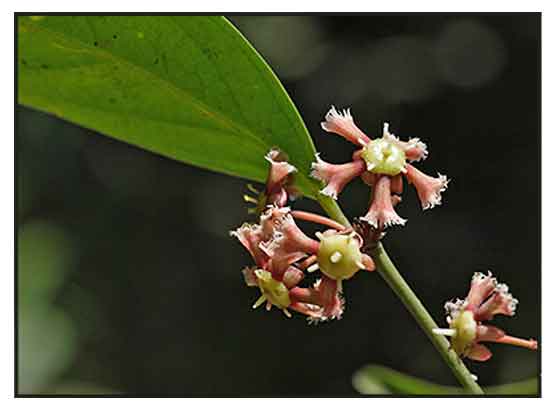 Gen info
- Euonymus is a genus of flowering plants in the staff vine family, Celastraceae. It comprises about 130 species of deciduous and evergreen shrubs, small trees and lianas.
Botany
Euonymus javanicus is an evergreen, small to medium-sized tree up to 25 m tall; bole up to 50 cm in diameter, without buttresses; bark surface smooth, grey-brown, inner bark pinkish. Leaves opposite, often decussate, simple, entire or crenate; stipules lanceolate, caducous. Flowers bisexual, in an axillary fascicle or a simple cyme, 5-merous; calyx deeply lobed; petals imbricate, fimbriate, pale green or yellowish; disk 5-angular; stamens inserted on or near the margin of the disk; ovary superior, partly sunken in the disk, 5-locular with 2 ovules in each cell, style short. Fruit a usually clavate or broadly obovoid capsule, red, splitting into valves. Seed black, partly covered by an orange aril. Seedling with epigeal germination; cotyledons emergent; hypocotyl elongated.
Distribution
- Native to the Philippines.
- Also native to Andaman Is., Bangladesh, Borneo, Cambodia, India, Jawa, Laos, Lesser Sunda Is., Malaya, Maluku, Myanmar, New Guinea, Nicobar Is., Sulawesi, Sumatera, Thailand, Vietnam. (1)
- In primary and secondary lowland to montane forests, up to 2400 m altitude.
Properties
- Seeds are emetic and purgative.

Parts used
Leaves, seeds, bark.

Uses
Folkloric
- No reported folkloric medicinal use in the Philippines.
- In India, bark used for treatment of liver disorders that follow or accompany fevers.
- Seeds are strongly emetic and purgative.
- Fresh leaves and dried fruit and seeds used externally to treat scabies, lice (head, body or pubic), ticks and other skin parasites. (2)
- Used for eye diseases, dyspepsia, constipation. Aqueous extract of leaves used to treat spermatorrhea. (3)
Others
- Wood: Fairly strong, moderately durable when in contact with the ground; considered resistant to weathering and insects. (2)
- Crafts and Construction: Used for house building, temporary construction, bridges, small furniture, carving, and turnery. Also for making spindles, pegs, spoons, and toothpicks. (2)
Studies
• No studies found.
Availability
Wild-crafted.