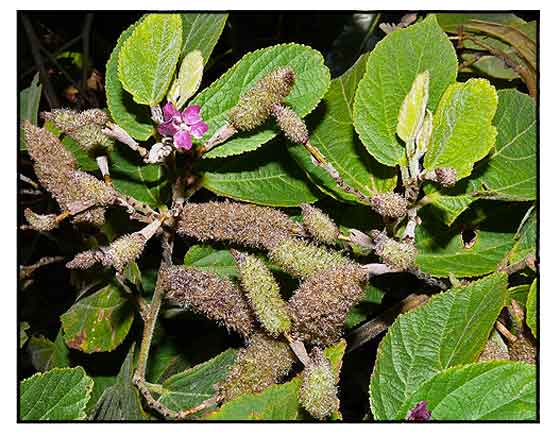 Botany
Helicteres hirsuta is a shrub, 1-3 m tall. Branchlets stellate. Petiole ca. 2 cm, densely tomentose; leaf blade ovate or ovate-oblong, 5-15 × 2.5-5 cm, both surfaces densely stellate puberulent, particularly abaxially, basal veins 5, base obliquely cordate or truncate, margin irregularly dentate, apex acuminate or acute. Inflorescence axillary, elongate, spikelike, one-sided, less than 1/2 as long as leaf blade, several-flowered. Pedicels shorter than flowers, articulate, with caducous epicalyx lobes at base. Calyx tubular, 12-15 mm, 4-5-lobed, puberulent. Petals red or red-purple, 2-2.5 cm, claw with pair of marginal teeth near apex. Androgynophore glabrous. Stamens 10; staminodes 5, as long as filaments. Ovary verrucose; ovules 20-30 in each locule; style as long as ovary. Capsule long exserted on glabrous stalk, cylindric, 3.5-4 × 1.1-1.2 cm, apex beaked, densely villous and verrucose. Seeds numerous, 1-2 mm in diam., surface rugose. (Flora of China)
Helicteres hirsuta is a straggling shrub, 1-2.5 m tall, densely covered with stellate hairs which are not viscid. Leaves lanceolate to elliptical, up to 22 cm × 8 cm, rather rough above. Inflorescence spiciform to racemose, 6 cm long with flowers usually dark red or pink and bearing a large, sessile red-purple gland at base, gynandrophore 1-2 cm long, petals 1-3 cm. Fruit composed of 5 follicles, straight (not twisted), up to 4 cm long, woolly hairy. (2)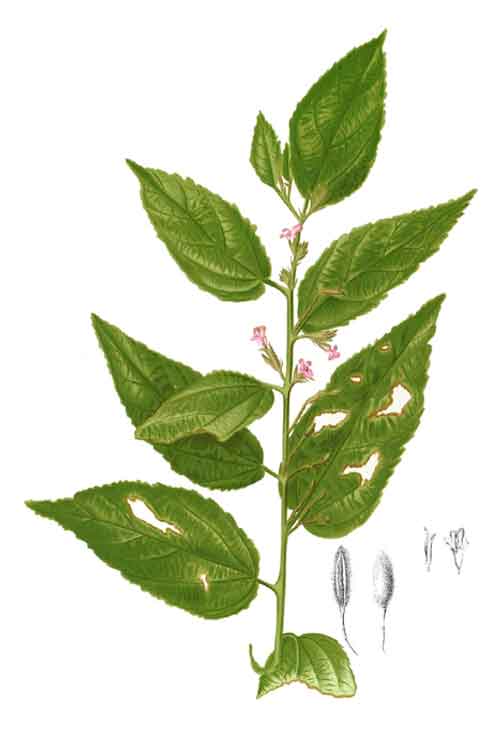 Distribution
- Native to the Philippines.
- At low and medium altitudes in thickets, clearings and secondary forest. 
- Also native to Assam, Bangladesh, Cambodia, China, Hainan, Himalaya, India, Laos, Malaya, Myanmar, Thailand, Vietnam. (1)
Constituents
- Cytotoxicity-guided fractionation of stems isolated six lignans, namely: (±)-pinoresinol, (±)-medioresinol, (±)-syringaresinol, (−)-boehmenan, (−)-boehmenan H and (±)-trans-dihydrodiconiferyl alcohol. (see study below) (3)
- Three powdered extracts from leaves and stems showed high levels of phenolic (177.07-241.03 mg GAE/g), flavonoids (158.03-280.06 mg CE g) and saponins (163.77-1035.33 mg ESE/g). (see study below) (4)
- Silica gel column chromatography and semi-preparative HPLC of aerial parts isolated three new compounds: 4,4'-sulfinylbis(2-(tert-butyl)-5-methylphenol) (1), 7,4'-di-O-methylisoscutellarein (2), and 7-O-methylisoscutellarein (3). (see study below) (5)
- The LC/MS analysis of fractions from saponin-enriched extract of stems revealed bioactive compounds, such as caffeic acid, rosmarinic acid, sagerinic acid, usnic acid, cucurbitacins and absinthin. (6)
- Phytochemical study of H. hirsuta isolated 12 secondary metabolites, namely: 3-O-trans-caffeoylbetulinic acid (1), 3β-benzoylbetulinic acid (2), betulinic acid methyl ester (3), betulinic acid (4), lupeol (5), 4-hydroxybenzoic acid (6), 3,4-dihydroxybenzoic acid methyl ester (7), 4-hydroxy-3,5-dimethoxybenzoic acid (8), 5,8-dihydroxy-7,4′-dimethoxyflavone (9), isoscutellarein 4'-methyl ether 8-O-β-D-glucopyranoside (10), methyl caffeate (11) and stigmasterol (12). (see study below) (8)
- Study of aerial parts isolated two terpenoids: 3β-O-acetylbetulinic acid (1) and simiarenol (2) together with three phenolic compounds: 4,4'-sulfinylbis(2- (tert-butyl)-5-methylphenol) (3), 7-O-methylisoscutellarein (4), 7,4'-di-O-methylisoscutellarein (5), and a mixture of stigmasterol and β-sitosterol. (see study below) (12)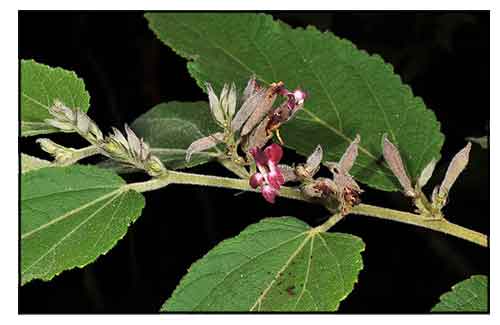 - Study of methanol extracts of plant parts (branch, fruit, aerial parts) yielded luteolin in amounts of 49.06, 56.61, and 91.15 µg/g, respectively. (17)
- Study of methanol extract of stem isolated a new benzofurane 7-methoxy-2-(3-hydroxy-4-methoxyphenyl)-benzofuran-5-carboxylate (1) and 5 known compounds, such as propacin (2), hisbiscolatone A (3), heliclactone (4), rosmarinic acid (5), and syringaldehyde (6). (see study below) (18)
- Four compounds were isolated from CHCl3-soluble fraction: (+)-pinoresinol (1), (3,4-dihydroxyphenyl)acetic acid ethyl ester (2), 7-O-methylisoscutellarein (3) and ethyl 3-(3,4-dihydroxyphenyl)lactate (4). (19)
- In studies in Indo-China in the 1940s, the fiber of H. hirsuta, separated by retting for 8 days, contained 55% cellulose, 17% pentosans, 14% lignin and 1% ash. (2)
Properties
- Studies have suggested cytotoxic, antibacterial, antioxidant, anticancer, hepatoprotective, antidiabetic, α-glucosidase inhibitory properties.

Parts used
Stems, roots, leaves.

Uses
Edibility
- No reported info on fruit edibility
Folkloric
- In Vietnam, used in herbal mixes for treatment of fatty liver. (7) The Cho Ro ethnic group use preparations of stems and leaves for treatment of liver cancer and hepatitis B. (15)
- Used in traditional medicine for treatment of malaria, diabetes, and cancer.
- In rural Thailand, decoction of roots used for treatment of diabetes.
Others
- Fiber: The fibrous bast is made into rough cordage. There are contradictory reports on durability of the cordage under humid conditions. In Sumatra, rope is made and used only in dry season only.

Studies
• Cytotoxicity Against Cancer Cell Lines: Study of stems isolated six lignans. Of these, (±)-pinoresinol exhibited potent cytotoxic effects against a small panel of cancer cell lines. (see constituents above) (3)
• Antioxidant / Leaves and Stems: Study compared phytochemical profiles and antioxidant capacity of various extracts from stems and leaves. All three powdered extracts from leaves and stems showed high levels of phenolic (177.07-241.03 mg GAE/g), flavonoids (158.03-280.06 mg CE g) and saponins (163.77-1035.33 mg ESE/g) and exhibited strong antioxidant capacity. Results suggest powdered aqueous fractions and saponin-enriched butanol fractions are potential sources of biologically active compounds. (4)
• Anti-Inflammatory / Aerial Parts: Study evaluated the anti-inflammatory activity of aerial parts extracts of Helicteres hirsuta using COX-1/COX-2 enzyme inhibition assays in vitro for inhibition of prostaglandin biosynthesis. All extracts exhibited inhibition of COX-1/COX-2 enzymes at 50 µg/ml with DCM showing most potency. (see constituents above) (5)
• Anti-Pancreatic Cancer Activity / Stem: Study evaluated fractions from saponin-enriched extract of H. hirsuta stem and examine the in vitro anti-pancreatic cancer activity of derived fractions (F0-F5). Except for F0, the five fractions (F1-F5) possessed strong inhibitory activity against PC cells at IC50s of 3.11-17.12 µg/mL. The fractions caused cell cycle arrest at S phase and promoted apoptosis in MIAPaCa-2 PC cells. Results suggest the fractions exhibited potent in vitro anti-pancreatic activity. (see constituents above) (6)
• Anticancer Activity / Stem: Phytochemical study of H. hirsuta isolated 12 secondary metabolites. Eight were tested for cytotoxicity against 5 cancer cell lines (HeLa, HepG2, SK-LU-1, AGS, and SK-MEL-2). Compounds 1, 3, 4, 5, and 9 showed moderate cytotoxic activities. (see constituents above) (8)
• Effect of Extraction and Drying Methods on Antioxidant Activity / Leaves: Study evaluated the effects of various extraction solvents and drying methods on physicochemical properties and antioxidant capacity of H. hirsuta leaves. Among five solvents, water could extract the highest level of solid content and phenolic compounds, while methanol was more effective for obtaining flavonoids and saponins. Leaves dried under hot-air drying at 80°C (HAD80) or vacuum drying at 50°C (VD50) yielded highest amount of phenolic compounds (7.77 and 8.33 mg GAE/g, respectively) and total flavonoid content (5.79 and 4.62 mg CE/g, respectively), and possessed strongest antioxidant power. Results suggest HAD%80 and VD50 are recommended for preparation of dried leaves, and water and methanol solvents for extraction of phenolic compounds and saponins from leaves. (9)
• Antioxidant Activity / Methyl Gallate: Study evaluated the antioxidant activity of extracts and fractions of H. hirsuta. The ethyl acetate fraction of leaf showed the most potent antioxidant activity with IC50 of 9.50 µg/mL, which is 4 times lower than IC50 of curcumin. Methyl gallate and rutin dominated the extracts at 8.62 and 6.76 mg/g, respectively, out of a total of 21.00 mg/g active fraction. Methyl gallate strongly correlated with total phenolic content and total antioxidant capacity, and may be used as a marker of antioxidant activity in medicinal plants. (10)
• Antibacterial / Anticancer / Leaf and Stem: Study evaluated the in vitro antibacterial and anticancer properties of leaf and stem extracts and sub-fractions from H. hirsuta. Using disc diffusion method, the saponin-enriched fractions of leaves and stems showed highest antibacterial activity against E. coli (MIC 2.50 and 5.00 mg/mL, respectively) and S. lugdunensis (MIC 0.35 and 0.50 mg/mL, respectively). The fractions possessed strong anticancer activity towards cancer cell lines MIS PaCa-2 (pancreas); A2780 (ovarian); H460 (lung); A431 (skin); Du145 (prostate); HT29 (colon); MCF-7 (breast); SJ-G2, U87, SMA (glioblastoma) and BE2-C (neuroblastoma) at low doses (GI50 values of 0.36–11.17 µg/mL). There was potent anti-pancreatic cancer activity in vitro against MIA PaCa-2, BxPC-3 and CFPAC-1 cells with IC50 values of 1.80–6.43 µg/mL. (11)
• Anticancer Activity / Triterpenoids and Phenolics / Aerial Parts: Study of aerial parts isolated triterpenoids, phenolic compounds (1-5), and a mixture of stigmasterol and ß-sitosterol from aerial parts of H. hirsuta. Compounds 1-5 were tested for cytotoxicity on four human cancer cell lines. Compounds 1 and 3 showed moderate activity on leukemia CCRF-CEM and colon HCT116 cancer cells with IC50s ranging from 14.6 to 31.5 µM (p<0.05). (see constituents above) (12)
• Hepatoprotective / Carbon Tetrachloride Toxicity / Aerial Parts: Study evaluated the effect of methanolic and ethanolic extracts of aerial parts on liver fibrosis induced by carbon tetrachloride (CCl4) in rats for the first time. Groups that received silymarin and extracts had milder liver damage cirrhosis stage F1-F2 compared to stage F-4 cirrhosis in the model group. (13)
• Suppression of MCF-7 Human Breast Cancer Cell Mobility: Study evaluated the anticancer activity of H. hirsuta against a breast cancer cell line MCF-7. Crude extract was partitioned in n-hexane, chloroform, and ethyl acetate. Total phenolic compounds were 22.07, 58.57, and 235.56 mg GAE/g in the nH, Cl and EA fractions, respectively. Flavonoids contents were 5.76, 9.25, and 19.37 mg quercetin equivalent/g, respectively. The EA fraction significantly decreased the viability of breast cancer MCF-7 cells after 48h treatment with IC50 of 95 µg/mL, and suppressed the invasion and migration of MCF7 cell lines in a dose dependent manner at non-toxic concentrations. (14)
• Suppression of MCF-7 Human Breast Cancer Cell Mobility: Study of aerial parts isolated three pure compounds: ß-stigmasterol (1), protosta-17(20),24-dien-3b-ol (2), and icosanoic acid (3). Compound 2 showed remarkable cytotoxic activity against SK-LU-1, Hep-G2, and HeLa cells lines with IC50s from 32.86 to 77.31 mg/mL. Compound 3 showed moderate cytotoxicity against SK-Mel-2, AGS, SK-LU-1, Hep-G2, and Hela cell lines with IC50 values from 59.02 to 80.87 mg/mL. (16)
• Anticancer / Benzofuran / Stems: Study of methanol extract of stem isolated a new benzofurane 7-methoxy-2-(3-hydroxy-4-methoxyphenyl)-benzofuran-5-carboxylate (1) and 5 known compounds, such as propacin (2), hisbiscolatone A (3), heliclactone (4), rosmarinic acid (5), and syringaldehyde (6). The compounds were evaluated for cytotoxicity against 4 human cancer cell lines. Compound 2 exhibited moderate cytotoxic activity against Lu-1, MCF-7, HepG2, and KB cell lines with IC50s of 43.97, 46.53, 52.63, and 56.37 µg/mL, respectively. (18)
• Antidiabetic / Alpha-Glucosidase Inhibition / Aerial Parts: Study evaluated a chloroform extract of aerial parts for α-glucosidase inhibitory activity . Four compounds were isolated from CHCl3-soluble fraction: (+)-pinoresinol (1), (3,4-dihydroxyphenyl)acetic acid ethyl ester (2), 7-O-methylisoscutellarein (3) and ethyl 3-(3,4-dihydroxyphenyl)lactate (4). All compounds exhibited good α-glucosidase inhibitory activity with IC50s of 37.9, 69.1, 12.5, and 9.4 µM, respectively, better than positive control acarbose (IC50 168). (19)

Availability
Wild-crafted.