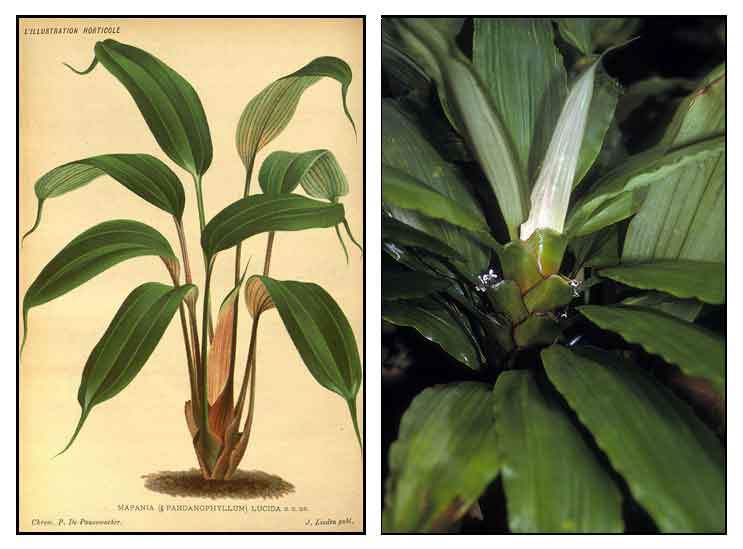 Botany
Malalubigan is a plant with short rhizomes, obliquely descending, and passing upwards into a short stem terminated by a crown of densely equitant leaves. Leaves are 30 to 90 centimeters long, 2.5 to 4 centimeters wide. Scapes are axillary in the lower leaves, 5 to 12 centimeters long, clothed by scales at the base. Inflorescences, when young, are oblong, and when mature, ovoid.
Distribution
- In damp primary forests at low and medium altitudes throughout the Philippines.
- Native range is Andaman and Nicobar Islands, Thailand to New Guinea.
- Also occurs in the Malay Peninsula and Archipelago.

Constituents
- In a study of five different Mapania species, ten group flavonoid compounds were identified viz. 5-deoxyisoflavones, isoflavones, chalcone, flavanones, anthocyanins, flavone glycoside, flavones, flavonols, glycosylflavones and aurones. (see study below) (5)

Properties
- Antibacterial, antidiarrheal, febrifuge.
Parts used
Leaves.
Uses
Folkloric
- Leaves used as a remedy for fever.
- In Malaysia, used for fever; also, as tonic and antidote. (1) Used for dysentery. (6)
- Used for dysentery. (2)
- In Malaysia, root decoction used for treatment after childbirth; leaves used to treat diarrhea. (3)
- In Indonesia, used for treatment of heartache. (8)
- In Sarawak, leaves and roots are burned, mixed with coconut oil, and used for treatment of of poisonous caterpillar stings. (9)

Studies
• Antibacterial: Study evaluated the leaves and rhizomes of five different Mapania species. M. cuspidata var petiolata showed the highest inhibition zone (1.4 cm) among all the species with MIC of 0.125 mg/ml in both E. coli 0157:H7 and B. cereus ATTC 33019. The leaves showed higher inhibition than the rhizomes. (5)

Availability
Wild-crafted.