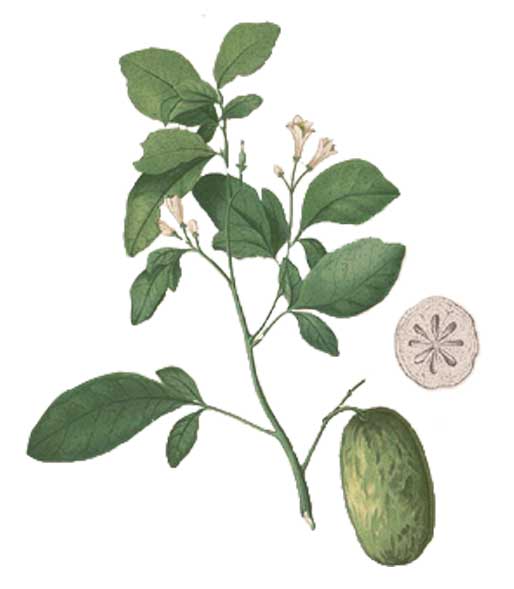 Botany
Malakabuyau is a tree reaching a height of 10 meters, smooth except for the younger branchlets and inflorescences. Trunk is usually spiny. Small spines are usually present on the branches. Leaves are 3-foliate, oblong-ovate to elliptic, entire or somewhat crenate; the terminal one is 6 to 10 centimeters long and the lateral ones are smaller. Flowers are white, fragrant, and about 1.5 centimeters long. Fruit is green or yellow, rough on the outside, oblong, about 10 centimeters long, and 10-celled. Seeds are numerous and surrounded by a fibrous coating.
Distribution
- In thickets and secondary forests at low and medium altitudes from Isabela to Quezon Provinces of Luzon.

Parts used
Fruit.

Uses
Folkloric
- Juice of fruit used as a cure for a skin affliction, known in Ilocano as "kurad."
- Also used in dogs to get rid of ticks.

Studies
• Anti-Tuberculosis: Study assessed the in vitro antitubercular activity of essential oils of 11 mrfivinsl plants grown in Columbia. The major components were carvacrol, thymol, p-cymene, 1,8-cineole, limonene and beta-pinene. INH and rifampin were used for control treatments. Results showed the essentail oils from Achyrocline alata and Swinglea glutinosa were the most active and suggests A alata and S glutinosa and their identified components are potential candidates as phytotherapeutic antitubercular agents.
• Alkaloids / Cytotoxicity / Anti-Plasmodial: (1) Study isolated a new prenylated acridone alkaloid from the stem-bark of S glutinosa, along with three known acridone aklaloids. The isolated alkaloids were assessed for anti-plasmodial activity and for cytotoxicity using HeLa cells. (2) Study evaluated the in vitro anti-plasmodial activity of 11 acridone alkaloids isolated from S. glutinosa. Nine had varying range of activity against P. falcifarum, a smaller number against T b. rhodesiense. showedagainst Plasmodium falcifarum, T brucei rhodesiense and Leishmania donovani.
Availability
Wild-crafted.