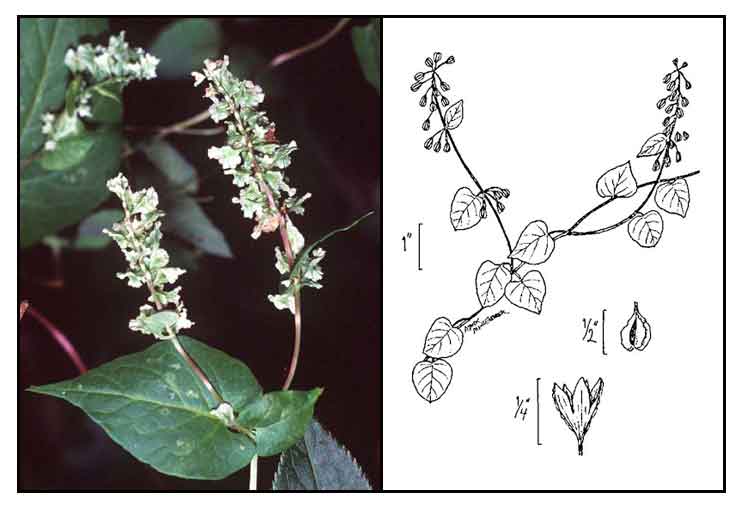 Etymology
Fallopia derives from the 16th century Italian anatomist Gabriello Fallopio, while scandens comes from the Latin word "to climb."
Botany
Malabato is a smooth, somewhat juicy, herbaceous, annual vine, arising from large, fleshy tuberous roots. Stems are green or purplish, and slender. Leaves are shining, somewhat fleshy, ovate to oblong-ovate, 5 to 10 centimeters in length. Racemes are axillary, solitary, erect, usually simple, and 12 to 20 centimeters long. Flowers are numerous, pale-greenish, and about 3 millimeters long. Sepals are broadly winged down the back.
Distribution
- Abundant in thickets at low and medium altitudes in Nueva Ecija, Laguna, Cavite, Rizal and Batangas Provinces in Luzon.
- Introduced species from tropical America.
Constituents
- Study of dried rhizomes yielded a new naturally occurring retrochalcone, 2,4-dihydroxy-6-methoxy-5-formyl-3-methylchalcone. (see study below) (7)
Properties
- Studies have suggested antibacterial and antioxidant properties.

Parts used
Roots.

Uses
Folkloric
- In the Tagalog regions, the tuberous roots are used as topical to hasten the ripening of boils.
- Elsewhere, rhizomes used for the treatment of fractures and flesh wounds.

Studies
• Retrochalcone: Studies yielded a new retrochalcone, 2,4-dihydroxy-6-methoxy-5-formyl-3-methylchalcone, isolated from the rhizomes of Anredera scandens. (2)
• Antioxidant: Study of the tuber polysaccharide exhibited distinct inhibitory action to superoxide anion free radicals. (3)
• Antibacterial: Study evaluated an ethyl acetate leaf extract for antibacterial activity against Shigella flexneri. The MBC (Minimum Bactericidal Concentration) was 8%. Phytochemical analysis of the leaf extract yielded polyphenols and saponins. (4) Study of methanol extract of dried rhizome yielded a naturally occurring retrochalcone, which exhibited moderate activity against Staphylococcus aureus (MIC=13.5 µg/ml) and Pseudomonas aeruginosa (MIC=15 µg/ml). (see constituents above) (7)
Availability
Wild-crafted.