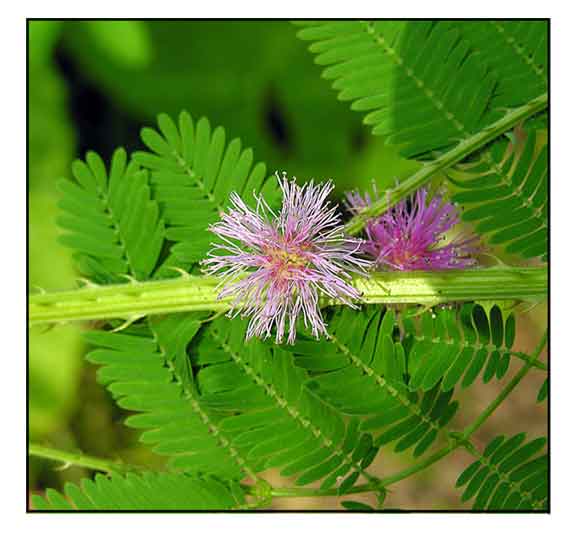 Gen info
- Mimosa diplotricha is a species of leguminous woody shrub native to the Neotropics. It is invasive with a pantropical distribution. It belongs to the genus Mimosa in the subfamily Mimosoideae of the legume family, Fabaceae.
- The specific epithet derives from the Greek 'diploos' meaning 'double' and 'thrix' meaning 'hair'.
- It was first described by American botanist Charles Wright in 1869. It was also described earlier by German botanist Carl Friedrich Philipp von Martius as Mimosa invisa in 1837, but he had already given the name M. invisa in 1834 to a different species. Wright's name is accepted today as the correct name for the species, and Mimosa invisa is accepted as the correct name for Mimosa rhodastachya. (7)

Botany
Mimosa diplotricha is a fast-growing, erect shrub and a scrambling climber, which can form dense thickets in a short span of time. It is an annual, although behaves as a perennial. Leaves are bright green, feathery, alternate, each leaf with about 20 pairs of small leaflets, bipinnate, sessile,opposite, lanceolate, acute, 6 - 12 mm long and 1.5 mm wide, sensitive to disturbance. The stem is four-angled, woody at the decumbent base, with re-curved thorns (3 - 6 mm long), up to 3 m in height. The inflorescence is a clustered fluffy ball, about 12 mm across, pale pink, occurs on short stalks (1 cm long) in leaf joints; the corolla is gamopetalous; there are twice as many stamens as petals. The flowering period is from August to February, but can vary from region to region; it flowers throughout the year in some tropical countries. The pods are clustered, 10 - 35 mm long and 6 mm wide, linear, flat, clothed with small prickles, splitting transversely into one-seeded sections at the groves. The seeds are flat, ovate, spiny, 2 - 2.5 mm long and 0.6 - 1.4 mm thick, glossy and light brown. Seed production is in the range of 8,000 - 12,000 per m2. The weight of 1,000 seeds is around 6 gm. Seed setting is from September to February. Roots are profusely branched and with root nodules. (8)
Distribution
- Introduced to the Philippines. (1)
- Extensively introduced; invasive in many countries.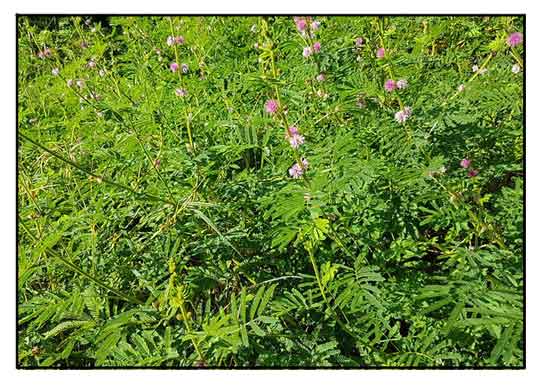 Constituents
- Bioassay-guided isolation of Mimosa diplotricha isolated four new 5-deoxyflavones, diplotrins A-C (1-3) and diplotasin (4), together with 12 known flavonoids, flavonolignans, and triterpenoids. Compounds 1–4were characterized as 2′,5′-dihydroxy-3,7,8,4′-tetramethoxyflavone (1), 3′-hydroxy-3,7,8,4′-tetramethoxyflavone (2), 2′-hydroxy-7,4′,5′-trimethoxyflavone (3), and 4-hydroxy-3,10,11-trimethoxyisochromeno-[4,3-b]-chromen-7(5H)-one (4). (see study below) (3)
- Phytochemical screening of methanolic extract yielded alkaloids, carbohydrates, saponins, glycosides, phytosterols, phenols, flavonoids, proteins, and lipids. (see study below) (5)
- Qualitative phytochemical study of leaf and stem extracts yielded alkaloids, anthraquinones, saponins, tannins and flavonoids. Quantitative study revealed the leaf had highest concentration of alkaloids among plant parts (0.16 mg/100g) and anthraquinones (0.88 mg/100g), while stems showed highest saponins (16.81 mg mg/100g), tannins (0.15 mg/100g) and flavonoids (0.48 mg/100g).
Properties
- Root and leaf extracts and powders considered insecticidal.
- Weed is a nitrogen fixer, used as cover crop, green manure and soil renovator to add soil nitrogen and organic matter and to reduce soil erosion. (6)
- Studies have suggested cytotoxic, antiproliferative properties.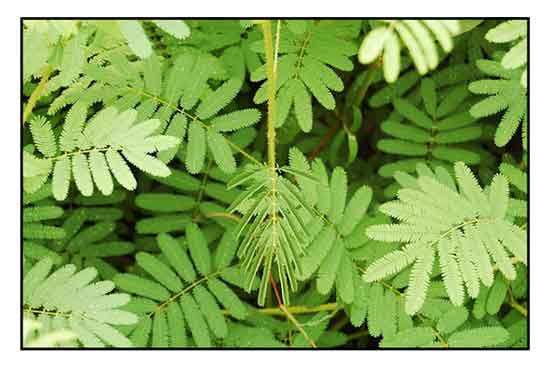 Environmental Invasive impact
- It has invaded many countries throughout Africa, Asia, Oceania and many islands. It forms impenetrable spiny thickets that invade highly disturbed areas, but agricultural systems in particular. It is extremely difficult to control effectively using mechanical and chemical means. (2)
- In the Philippines it is a principal weed of sugarcane, tomato, abaca, pineapple, low-land and upland rice. (2)
- It can produced up to 20,000 seeds/m2/year; even seedlings a few weeks old can produce viable seed. (2)
- Avoidance of Mimosa diplotricha by livestock during grazing is attributed to its sharp and curved thorns and/or the presence of mimosine (a non-protein amino acid), which is toxic to herbivores, which if ingested can cause vascular endothelial damage, anemia, heart and liver disease in cattle. (6)
- It is a wildland fire hazard when dry.

Uses
Folkloric
- No reported folkloric medicinal use in the Philippines.
Others
- Uses. While it looms as a big threat to forest ecosystems, agricultural land and pastures in many countries, it offers some uses. It is a nitrogen fixing cover crop and green manure in several countries in the Asia-Pacific region. The spineless variety is an excellent soil improver and soil binder. In Indonesia, the plant is used as fodder for buffaloes. (8)
Studies
• Cytotoxicity: Bioassay-guided isolation of Mimosa diplotricha isolated four new 5-deoxyflavones, diplotrins A-C (1-3) and diplotasin (4), together with 12 known flavonoids, flavonolignans, and triterpenoids. The cytotoxic effects of the isolated compounds were evaluated against A549, AGS. HT-29, and PC3 human cancer cell lines. Compounds 2 and 5 (5"-methoxyhydnocarpin-D) showed most potent antiproliferative activity. (3)
• Antinociceptive Activity / Leaves: Study evaluated the antinociceptive activity of Mimosa diplotricha using acetic acid induced writhing method and tail immersion method using Swiss albino mice. The methanolic extract of leaves and n-hexane fraction showed significant peripheral antinociceptive activity at dose of 400 mg/kbw with percentage inhibition of acetic acid-induced writhing at 56.25% (p<0.001) and 51.62% (p<0.001), respectively. Antinociceptive activity by tail immersion method was also significant (p<0.001) with 59.35% and 58.94% elongation of reaction time, respectively, compared to morphine at 64.17% (p<0.001). (see constituents above) (5)
• Antimicrobial / Leaves: Study evaluated the invitro antimicrobial activities of leaves and stems of Mimosa invisa against clinical pathogens i.e., Escherichia coli, Salmonella typhi, Klebsiella pneumonia, Aspergillus flavus. Methanol extracts of leaves and stems showed antimicrobial activity against tested microorganisms. Rates of inhibition of the extracts were low and high against Salmonella typhi and Aspergillus flavus respectively. Inhibitory effects of leaf and stem extracts increased with concentration. (see constituents above) (10)
• Antibacterial: In a study of methanol and water extract for antibacterial activity against pathogenic bacteria viz. B. subtilis, S. aureus, K. pneumonia, and P. fluorescens using agar well diffusion method, Mimosa invisa showed highest antibacterial activity against B. subtilis. (11)
Availability
Wild-crafted.