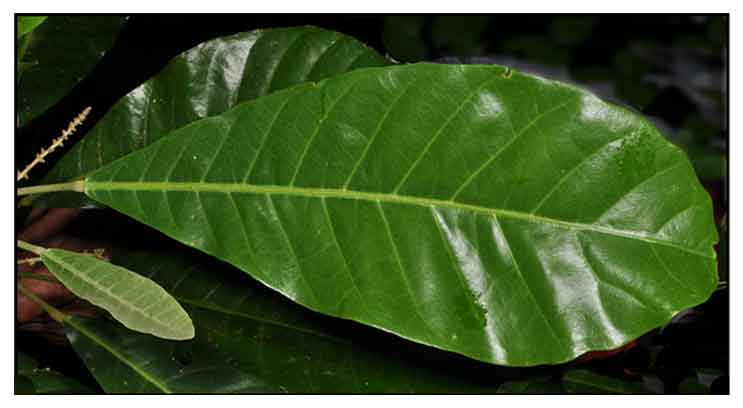 Botany
Lunas is an erect shrub, growing to a height of 3 meters. Twigs are smooth; the young tips olivaceous lepidote. Leaves are alternately crowded, obovate-oblong, 20 to 40 centimeters in length, 7 to 12 centimeters wide, often pointed at both ends. Male are female flowers are covered with lepidote scales, small and yellow, occurring in considerable numbers in axillary inflorescences which are shorter than the petioles. Fruit consists of three yellowish capsules, each about 1 centimeter long, marked with ribs, and opens along the veins and upper sutures.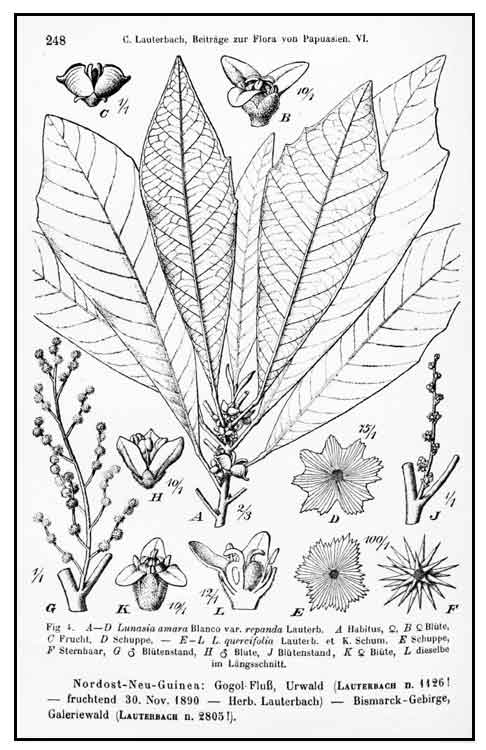 Distribution
In thickets and forests and low and medium altitudes.
Constituents
- Preliminary studies have yielded saponins, alkaloids, tannins.
- Bark and leaves yield an alkaloid or two alkaloids.
- Study yielded two alkaloids from the bark and wood: (1) lunasin, C16H21N2O5, m. p. 188˚, very bitter, soluble in water, and unstable even to milk alkalies, and (2) lunacrin, C16H20NO3, m. p. 116˚, slightly acrid and pungent, insoluble in cold water, very feebly basic, forming salts with mineral acids. Both are quinolin bases, having methoxymethyl-quinolin as one nucleus. Both exhibit similar physiological actions, lunasin slightly more toxic than lunacrin. The alkaloids have no anesthetic action on sensory and motor nerves and no action on the sympathetic ganglion. However,they have a distinct action on muscles, with a continually increasing tone and a rapid diminution of muscle response to stimulation. The lethal effect of the alkaloids is due to cessation of respiration simultaneously with that of circulation. Both alkaloids also exhibit a positive toxic action on protozoal organisms. (Q)
- Study yielded quinoline alkaloids - 4-methoxy-2-phenylquinoline, kokusagine, and graveoline. (see below)

Properties
- Both alkaloids have exhibited a positive toxic action on protozoal organisms.

Parts used
Bark, seeds and leaves.

Uses
Folkloric
- Bark used for stomach troubles; also, used for snake bites.
- Bark and seeds used for gastralgia and adynamic conditions of the bowels.
- Leaves also used for stomach troubles.
- In Papua, New Guinea, used to treat tropical ulcers.
- In Indonesia, decoction of bark and leaves rubbed on swollen limbs; also used as treatment for skin diseases. - In Central Suwalesi, bark sap used as eyedrops for inflamed or irritated eyes. (10)
- In South Suwalesi, used by local people as antibacterial and aphrodisiac. (5)
- Ayta people of Porac, Pampanga burn dried leaves and stems as mosquito repellent. (15)

Studies
• Lunacridine / DNA Intercalating Topoisomerase II inhibitors: An ethnobotanical survey of plants in Papua, New Guinea has identified L. amara as having anti-Staph aureus activity. Study of aqueous bark extract yielded a quinoline alkaloid, lunacridine as the active principle. Study with Strep pneumoniae suggested topoisomerase as the likely target for the drug; also, the compound showed to be a potent inhibitor of the isoform, explaining its activity against human cell lines. Results place the drug among the DNA intercalating class of topoisomerase II inhibitors. (Various inhibitors of DNA topoisomerase are being evaluated for antitumor activities.) (1)
• Review / Anti-Tubercular Alkaloids / Quinoline Alkaloids: Lunasia amara has yielded quinoline alkaloids - 4-methoxy-2-phenylquinoline, kokusagine, and graveoline which displayed significant invitro activity against M. tuberculosis. (2)
• Cytochrome P450 2D6 Inhibitory: Methanol extract study yielded 14 acridone alkaloids. Of the alkaloids, 5-hydoroxygraveoline and lunamarine showed moderate inhibition selective for CYP2D6. (3)
• Antifungal / Antimicrobial: Extract yielded alkaloids and terpenoids which showed activity against Trichophyton mentagrophytes, A. flavus, Candida parapsilosis, M. luteus, B. subtilis, S. aureus. The active constituents were lunidonine and lunacrine. (4)
• Lunacridine / Anticancer: Quinoline alkaloid lunacridine is an active principle of L. amara, reported as a DNA Intercalating Topoisomerase II inhibitor. Study evaluated the cytotoxic activity of lunacridine on P388 murine leukemia cells. Results showed a cytotoxic activity with IC50 of 39.52 µg/mL. Results suggest to design and develop lunacridine as a lead compound for an anticancer drug. (5) (6)
• Aphrodisiac Effect: A preliminary study showed a methanol extract of wood to have an aphrodisiac effect in Wistar white rats. Study showed a combination infusion of Lunasia amara, Centella asiatica and Curcuma domestica had an aphrodisiac effect on male Sprague-Dawley rats libido. (7)
• Constituents / Antimicrobial: Study on constituents yielded many alkaloids and some terpenoids. On antimicrobial activity screened against some human pathogenic bacteria, yeasts and sporulated fungi, L. amara showed pronounced and broad spectrum of antimicrobial activity. Fractionation isolated two antimicrobially active alkaloids: lunidonine and lunacrine. (8)
• Isolation of Active Aphrodisiac Fractions: Study evaluated a MeOH bark extract to assess for aphrodisiac activity and determine and compounds and active fraction. The highest aphrodisiac effect was seen with fraction B demonstrated with introduction, climbing, and coitus. Fraction B yielded alkaloids and terpenoids as main components. (9)
• Fertility Enhancement / Anti-Hyperglycemic Effect: Study evaluated an aqueous extract on male fiertility and anti-hyperglycemic activity in adult male Sprague-Dawley rats with STZ induced diabetes. Results showed the extract significantly increase sperm count, viability and progressive motility. The AE also significantly reduced the FBS by 49.53%. (12)
• Fertility Enhancement: Study of Lunasia amara on Sprague Dawley male rats showed increased sperm count and sperm motility, together with positive testicular histological effect on spermatogenesis. (13)
• Inhibitory Activity Against M. tuberculosis / Quinoline Alkaloids: Communication reports on the inhibitory activity against M. tuberculosis of quinoline alkaloids (1-3) isolated from air-dried Lunasia amara leaves. Alkaloids 1 and 3 showed more potent inhibitory actiity compared to alkaloid 2. Rifampicin was used as standard drug. (14)

Availability
Wild-crafted.