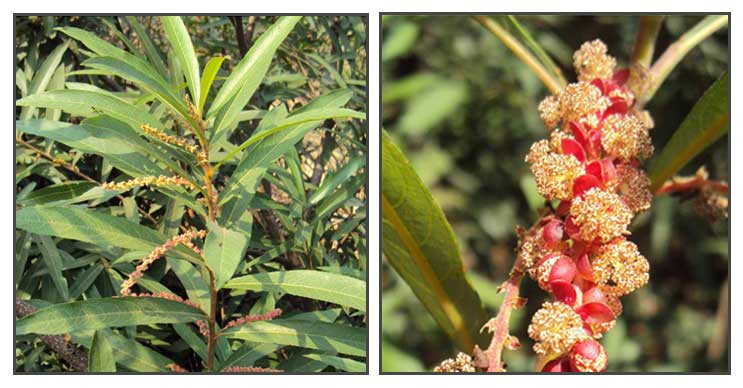 Etymology
Scientific name derives from the Greek word Homonoia meaning Greek goddess and from the Latin riparius, meaning river bank.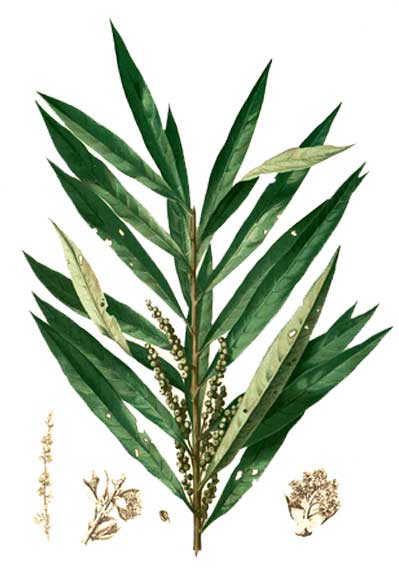 Botany
Lumanai is a shrub attaining a height of 1 to 3 meters. Leaves are linear-lanceolate, 12 to 20 centimeters long, 1.5 to 2 centimeters wide; the upper surface is green and shining; the lower surface, brown and hairy. Capsules are about 8 millimeters in diameter, hairy and borne on axillary, solitary, hairy spikes, 5 to 12 centimeters long.
Distribution
- Along small, swift streams, on banks and stream beds at low and medium altitudes from Cagayan to Sorsogon Province in Luzon, and in Mindoro, Palawan, Sibuyan, Negros, and Mindanao.
- Also found in India to Taiwan, southward to through Malaya to Timor and Celebes.
Constituents
- Phytochemical study of heartwood and stem bark extracts yielded sterols, fatty acid, triterpenoids and their derivatives. The triterpene acid 3-acetyl aleuritolic acid was reported for the first time. (1)
- Study of leaves have reported taraxerone, gallic acid and quercetin glycoside.
- Heartwood has yielded B-sitosterol, stigmasterol, eicosanoic acid, gallic acid, B-sitosterol-3-O-B-D-glucoside; from the bark, taraxerone and taraxerol.
- Aqueous extracts of dried leaves and flowers yielded tannins, flavonoids, saponins, glycosides, and alkaloids. (See study below) (4)
- Study on leaves yielded six new cycloartane-type triterpenes, 24-methylenecycloartane-3β,6β,7β-triol (1), 24-methylenecycloartane-3β,6β,7β,16β-tetraol (2), 24-methylenecycloartane-3β,6β,16β-triol (3), 24-methylenecycloartane-3β,7β,16β-triol 3-O-β-d-xylopyranoside (4), 24-methylenecycloartane-3β,6β,16β-triol 3-O-β-d-xylopyranoside (5), and 24-methylenecycloartane-3β,6β,7β-triol 3-O-β-d-xylopyranoside (6), together with one known compound, 24-methylenecycloartane-3β,6β,7β,16β-tetraol 3-O-β-d-xylopyranoside. (See study below) (5)
- Phytochemical analysis of leaves yielded carbohydrates, proteins, amino acids, flavonoids, alkaloids, saponin, lignin, gums and mucilage, tannin, phenolics, resin, cardenoilids, and flavones. (see study below) (12)

Properties
- Stimulant, depurative
- Powdered root is considered laxative, diuretic and emetic.
- Studies have shown antifungal, antibacterial, anthelmintic, anti-angiogenesis, anti-gout, antiurolithiatic properties.

Parts used
Roots, leaves, fruit, bark, wood.

Uses
Folkloric
- In the southern part of the Philippine Archipelago, species was used, like sarsaparilla, as a stimulant in the treatment of venereal diseases.
- Leaves used for toothache.
- Decoction of roots used as an emetic.
- Water running at the foot of the shrub considered to be depurative.
- Malays of northern Perak use a poultice of pounded leaves and fruit for skin diseases; a decoction may be drunk for at the same time.
- In Cambodia, juice of leaves and shoots used on the hair; drink made from them is considered depurative and clearing to the skin. Infusion of wood used for malaria.
- In Indonesia, sap used to strengthen loose teeth.
- Decoction of root is laxative and diuretic; used for stone, bladder stones, gonorrhea, syphilis and thirst.
- In Java, fruit is considered medicinal.
- In Laos, decoction of leaves used for itching.
- In India, used to treat skin diseases.
- In Vietnam, roots used for influenza; also for detoxification.
- In India, root used as laxative and diuretic, and in treatment of vesical bladder stone. (7) Wood infused used for malaria. In Andhra Pradesh, India, roots used in treatment of gastric ulcer.
- Traditional healers of Sikkim Himalayas use root decoction as laxative. (13)
Others
- Dye: In Java, plant sap used to dye the teeth black.
- Fiber: In China, bark used for making rope.
- Firewood: Stems and branches are a good source of firewood with energy value.
- Fodder: In Vietnam, leaves used as forage.
- Wood: In Borneo, roots used for making bolo handles.
- Hair oil: In Cambodia, hair oil is produced from young shoots and leaves.

Studies
• Anthelmintic: Study of aqueous and ethanol extracts of Homonoia riparia was evaluated for anthelmintic activity against adult earth worms, Pheretima posthuma. Both extracts showed significant anthelmintic activity, the ethanol extract more potent than the aqueous extract. Standard reference drug was albendazole. (2)
• Antifungal: Study evaluated the antifungal activity of extracts of three plants, viz., Homonoia riparia, P. tithymaloides, and Phyllanthus fraternus. Only Homonoia riparia showed antifungal activity, the aqueous extracts of dry flowers and leaves inhibiting the growth of T. mentagrophytes. (4)
• Angiogenesis Inhibitory Activity / Cycloartane-type Triterpenes: Study yielded six new cycloartane-type triterpenes. (See constituents above). Study investigated the inhibitory effects of compounds 1, 3-7 on VEGF-induced vascular permeability in vivo in rats. (5)
• Chemical Constituents / Roots / Weak Cytotoxicity: Study of ethyl acetate extract of roots yielded a new compound and twelve known compounds. (See constituents above) Compound 2, aleuritolic acid, exhibited weak cytotoxicity against AGZY 83-a (human lung cancer cells). (6)
• Anti-Gout: Study evaluated water willow saponins in the hyperuricemic animal animal model. Results showed significant inhibition of xanthine oxidase activity, with a significant dose-response relationship to blood uric acid level. Results show the compounds can be used as lead compounds for the development of an anti-gout drug. (8)
• Antiurolithiatic Activity: Study evaluated an ethanol extract of roots for antiurolithiatic activity against calcium oxalate and magnesium phosphate stones in male albino rats. Results showed the EE of HR to be effective in reducing deposition of calcium in the kidney of both prophylactic and curative group. It was also effective in reducing formation and dissolving pre-formed magnesium phosphate stones. (9)
• Antibacterial Activity: In a study of various extracts of dried leaves of Homonoia riparia for antimicrobial activity, an ethyl acetate extract showed significant range of inhibitory effect against Proteus vulgaris, Salmonella typhimurium, Becillus cereus. (see constituents above) (12)
• Antimicrobial Activity: Study of leaves and male flowers of H. riparia showed antimicrobial activity with growth inhibition of Proteus vulgaris, Staphylococcus aureus and Trichophyton mentagrophytes. Phytochemical analysis yielded tannins, saponins, and flavonoids. (14)
• Inhibition of Aldose Reduction and AGES (Advanced Glycation End Products): Study showed a soluble fraction of 80% ethanol extract of leaves has considerable inhibitory effects on both AGEs formation and rat lens aldose reductase (RLAR). Phytochemical analysis yielded 15 phenolic compounds. Compounds 3, 5-7, 10, 11, and 14 showed significant inhibition of AGEs formation with IC50 ranging from 2.33 to 15.14 µM. In RLAR assay, compound 4 showed potent inhibitory activity with IC50 of 0.064 µM. (15)
• Anticoagulant Activity / Leaves: Study evaluated chloroform and ethanol extracts of air-dried leaves of H. riparia for its effect on clotting time of healthy volunteers. Results showed dose-dependent anticoagulant activity. Phytochemical screening of leaf extract yielded alkaloids, carbohydrate, carboxylic acid, flavanoids, phenol, steroid, saponins, tannin, and terpenoids. (16)

Availability
Wild-crafted.