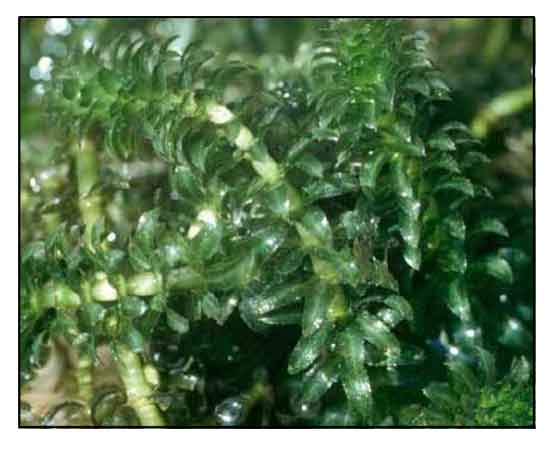 Gen info
- Hydrilla (waterthyme) is usually considered a monotypic genus of aquatic plant, Hydrilla verticillata. However, some botanists divide it into several species.
- The plant belongs to the family Hydrocharitaceae (tape grass family).
- Ecology: Hydrilla verticillata is allelopathic to the common hornwort (Ceratophyllum demersum) and prickly hornwort (C. muricatum), meaning, it produced compounds that inhibit growth of the two. (3)
- In the U.S., especially Florida, it has become an invasive species. Hydrilla has caused economic, environmental, and ecological damage. It is aggressive, out-competing and displacing native species such as pondweeds and eelgrass. (3) The slimy vines lurk up to 30 feet below water, creeping along bottom of lakes, snuffing out fish spawning areas, stomping out life from bottom up. (19)
Botany
Leaves in whorls of 3-8, linear or narrowly strap-shaped, 0.7-1.7 cm × 1-4 mm, midvein distinct, margin conspicuously denticulate, apex acute. Male spathe green; sepals white, ca. 2.3 × 0.7 mm; petals reflexed, white or reddish, ca. 2 × 0.5 mm. Female spathe green; flowers similar to male ones. Fruit with 2-9 spinelike projections or smooth and without projections. Seeds, 1 or 2-6. (Flora of China)
Distribution
- Native to the Philippines.
- Also native to Afghanistan, Assam, Australia, Bangladesh, Borneo, Burundi, Cambodia, China, Himalaya, Hainan, India, Iran, Japan, Jawa, Kenya, Korea, Lesser Sunda Is., Malaya, Maluku, Myanmar, New Guinea, Pakistan, Sri Lanka, Sulawesi, Sumatera, Taiwan, Tanzania, Tibet, Uganda, Vietnam, West Siberia, Zambia, Zaire, etc. (1)
- A hydroshrub that grows primarily in the wet tropical biome. (1)
- Found in lakes, ponds, rivers, streams, and marshes.
- In some places, considered a noxious weed.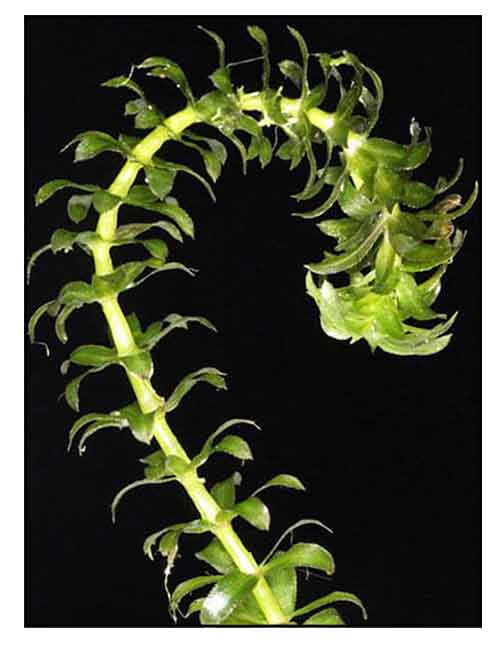 Constituents
- Nutrient contents (mg/10.5 gm): Vitamin B1 26.2, B2 0.08, B3 5.2, B5 11.4, B6 35.9, B12 1.1,
Calcium 1460, Magnesium 76.1, Potassium 245, Phosphorus 29.7, Iron 35.8, Zinc 6.3, Manganese 24.5, Copper 0.2, Cobalt 0.4, Molybdenum 15 µg/10.5g, and ß-carotene 19,600 IU/10.5g. (see study below) (4)
- Study yielded five compounds, namely: crystal loliolide (1), 1-(5′-Hydroxy-4′-hydroxymethyl-1′-methyl-1H-pyrrol-2′-yl)-henicosa-2,12,15-trien-1-one (2), thymidine (3), sulfur-gamma (4), and octadecanedioic acid (5). (7)
- Phytochemical screening yielded alkaloids, phenols, flavonoids, saponins, and terpenoids. GC-MS study of ethanolic extract yielded phytol and hexadecanoic acid ethyl ester as major components. (see study below) (10)
- Study for lipid compounds identified 23 compounds, with major components of hexadecanoic acid, methyl ester (26.26%), 9,12-octadecadienoic acid (Z,Z)-,methyl ester (19.07%), and phytol (11.83%). (16)

Properties
- The plant is usually firmly rooted in the bottom mud, but occasionally breaks free and forms free-floating mats.
- It can survive in a few centimeters of water or in depths of up to 6 m. Ecologically sound, it grows 2.5 cm per day in fresh water. (4)
- Tubers and turions survive adverse conditions and remain viable for several years in the sediment. One tuber can produce 5,000 new tubers per square meter and is easily spread by anglers and recreational boaters. (6)
- Studies have suggested nutritive, wound healing, hepatoprotective, phytoremediative, anti-obesity properties.

Parts used
Leaves, whole plant.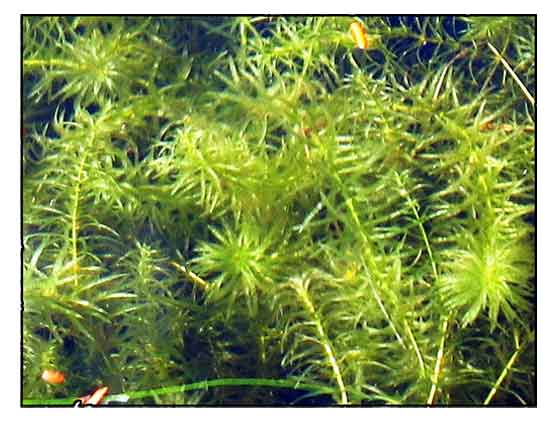 Uses
Edibility
- Almost all parts viz., stems, leaves, flowers, turions, and tubers are employed as food. It can be mixed into beverages, sauces, salads, and salad dressings and cooked into vegetable dishes.
Folkloric
- No reported folkloric medicinal use in the Philippines.
- Ashes of leaves used to treat ringworm.
- Leaf decoction used in treatment of abscesses, boils, and wounds. Dried leaf powder applied on cuts and wounds. (18)
Others
- Green manure: Considered a noxious weed, it has potential use as green manure in agricultural fields. (4)
- Fodder: The submerged plant often harvested as chicken and pig feed.
- Ornamental: Used as aquarium ornamental and as agent of aeration.
Studies
• Wound Healing / Whole Plant: Study evaluated the wound healing activity in Wistar albino rats of ethanolic extract of whole plant collected from unpolluted and polluted water sources. Results showed significant wound healing than in control (indomethacin) and induced (carrageenan) treatment. Plant sample from unpolluted water source showed better wound healing property than sample from polluted water source. There was faster epithelization with high dose of 400mg/kbw than low dose of 200 mg/kbw.
• Phytoremediation: Its abundant source of biomass has found use as bioremediation hyperaccumulator of mercury, cadmium, chromium, and lead.
• Nutritive Value: Hydrilla is especially valuable for true vegetarians; considered a green superfood. Adequate amounts of vitamin B12, iron, and calcium are difficult to obtain in vegetarian diets. Hydrilla contains more calcium than any other food source on earth. Milk and egg production is increased by by 20% and 14%, respectively, if dairy cows and chickens eat hydrilla. Besides calcium, it contains high values of vitamin B12, polysaccharides, amino acids, micro- and macronutrients, and ß-carotene. (see constituents above) (4)
• Hepatoprotective Effect Against Lead-Induced Acute Liver Toxicity: Study evaluated the hepatoprotective effect of H. verticillata on lead-induced hepatic damage in freshwater fish. Hydrilla verticillata supplementation significantly (p<0.05) reduced the level of hepatic enzymes and showed protective effect on hepatocytes by normalization of degenerated and fibrotic liver tissue. Results suggest potential for liver disorders. (8)
• Anti-Adipogenesis Activity on 3T3 L1 Cell Lines: Study evaluated the anti-adipogenesis activity of H. verticillata extract on 3T3 L1 cell lines. Phytochemical analysis of the extract showed a large amount of phytol. In vitro pancreatic assay of the crude extract showed maximum lipase inhibition activity at minimal concentration of 125 µg/ml, similar to standard antiobesity drug, orlistat. The IC50 on 3T3 L1 cell line was 840.91 µg/mL. Results confirms the ethanolic extract possess anti-adipogenesis activity, which can be used for obesity-related treatments. (9)
• Antimicrobial / Antioxidant: Antioxidant activity by DPPH assay showed concentration dependent free radical scavenging activity, with maximum inhibition of 29.60% at 100 µg/ml. Antimicrobial activity evaluation showed greater inhibition zone against Gram positive than Gram negative bacteria. There was no antifungal activity. (see constituents above) (10)
• Larvicidal Against Culex quinquefasciatus / Leaves: Study evaluated crude hexane, benzene, ethyl acetate, methanol, aqueous leaf extracts of Hydrilla verticillata for larvicidal efficacy against fourth instar larvae of Culex quinquefasciatus at concentrations of 62.5, 125, 250, and 500 mg/L. The ethyl acetate extract showed effective larvicidal activity with LC50 of 89.57 mg/L. (11)
• CNS Depressant / Analgesic / Anticonvulsant: Study evaluated an aqueous extract of H. verticillata for possible pharmacological effects on experimental animals. The extract significantly potentiated sleeping time of mice induced by standard hyponotics viz. pentobarbitone sodium, diazepam, and meprobamate in a dose dependent manner. The extract showed significant analgesic properties evidenced by significant reduction in number of writhes and stretches induced in mice by 1.2% acetic acid solution and potentiation of analgesia induced by morphine and pethidine in mice. Pretreatment with extract provided significant protection against strychnine and leptazol-induced convulsions. Results suggest CNS depressant activity. (12)
• Phytoremediation / Phytochelatins / Cadmium Stress: Studies have reported that H. verticillata and other aquatic higher plants are hyperaccumulators of Cd and have demonstrated ability to remove many toxic metals, including Cd, from wastewater. It is hypothesized that cadmium hyperaccumlating ability of the macrophyte is associated with induction of metal chelating properties, the phytochelatins (PCs), to cope with high cellular Cd levels. It was considered worthwhile to study induction of phytochelatins and changes in levels of glutathione and related metabolites in H. verticillata under Cd stress. (13)
• Phytol as Biosurfactant / Antibacterial: Phytol, a natural linear diterpene fatty alcohol present in the integral part of chlorophyll, is present in copious amounts in the aquatic weed Hydrilla verticillata. It is a widely use precursor for the manufacture of vitamins E and K. Study evaluated the separation of phytol from ethanolic extract of H. verticillata for use as an anionic surfactant. HPLC fingerprint profile showed phytol is a major phytochemical in the crude extract. Purified phytol was converted into phytol sulfate by sulphonation, and was found to possess surfactant activity. Phytol sulfate showed potent disinfectant effect by its antibacterial activity against E. coli. Phytol has great potential with its natural source and renewability. (14)
• Silver Nanoparticles: Study reports on the extracellular photosynthesis of silver nanoparticles using aquatic plants Hydrilla verticillata. Study showed antimicrobial potential. (15)
• Biosorption of Lead: Study evaluated the potential of nonliving biomass of Hydrilla verticillata to absorb Pb(II) from an aqueous solution containing very low concentrations of Pb(II) using measures of shaking time, contact time, biosrobent dosages, pH of medium, and initial Pb(II) concentration. The adsorption of Pb(II) was physical in nature. Desorption of Pb(II) from biosorbent by desorbing solutions were HNO3 > Na2CO3 > NaOH > NaNO3. (17)
Availability
- Wild-crafted.