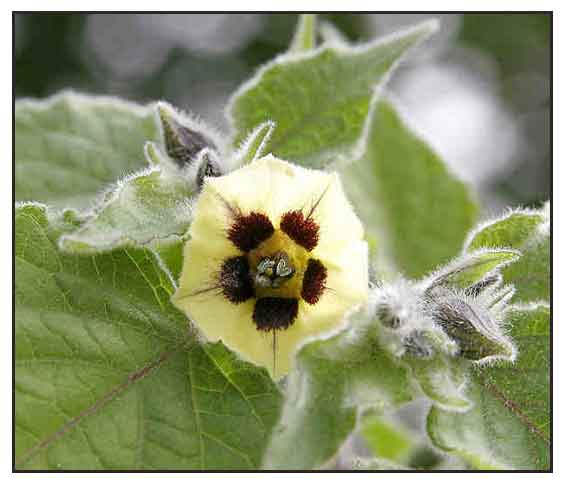 Gen info
- Physalis is a genus of approximately 75 to 90 flowering plants in the nightshade family Solacer. It is native to the Americas and Australasia.
- Estimates for the earliest use of Physalis for human consumption range from 900 BCE to 5000 BCE. (39)
- Physalis peruviana is native to Chile and Peru. The history of P. peruviana cultivation in South America can be traced to the Inca Empire. Widely introduced in the 20th century, it is now grows wild across the world in temperate and tropical regions. (40)
Botany
Lobo-lobohan is more or less an erect herb, with a more vigorous growth than Physalis minima, more upright with less deeply toothed leaves, and with larger flowers. Berries are oblong, about 2 centimeters long. Seeds are numerous, very small, pale yellow and embedded in juicy pulp.
Distribution
- Introduced.
- Thoroughly established In open, waste places in Lepanto and the Benguet subprovinces in Luzon.
- Native to Bolivia, Brazil.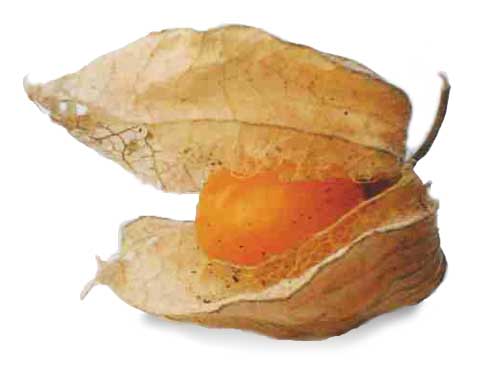 Constituents
- Yields biologically active compounds i.e., phytosterols, vitamins, essential minerals, withanolides and physalins.
- Seeds constitute 4.5 to 5 % of the weight of the husk-free, fresh, ripe berries, and contain 6.28 % of a pale yellow semi-drying oil.
- The oil consists of oleic acid, linoleic acid, palmitic acid, stearic acid and a saponifiable matter.
- Total lipid contents in whole berries, seeds, and seedless parts were 2.0, 1.8, and 0.2% on fresh weight basis, respectively. The dominant fatty acid was linoleic acid, followed by oleic acid. Major saturates were palmitic and stearic acids. Phytosterols were highest in the pulp/peel oil with the highest amounts of unsaponifiables.   (9)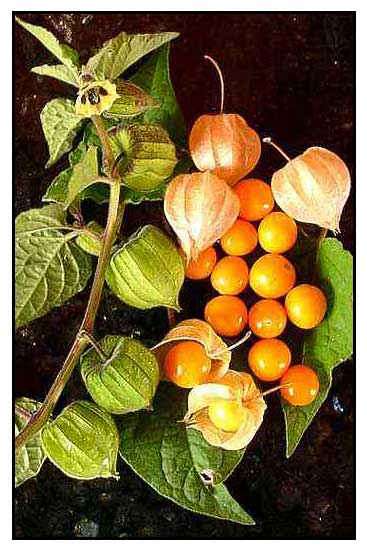 - Study of fruit showed high content of ashes and total lipids, 0.8 and 3.16 g/100g, respectively. Linoleic acid was the predominant in the lipidic fraction. Mineral
composition showed K, Mg, Ca, and Fe as the
main elements. Zinc was also found in high
concentrations, but lower when compared to principal sources like oysters, shrimp, beef, poultry, fish, and beans.
- Study of mineral composition and fatty acid profile of a lipidic fraction yielded high contents of ashes and total lipids and K, Mg, Ca and Fe as the main mineral elements. (14)
- Study of fruit for flavonol contents yielded rutin, myricetin and kaempferol.
- Study yielded a high total lipid content of 2%. Composition in g/100 g DW yielded moisture 80.97 ±1.65; total lipids 3.16 ± 0.32; proteins 1.85 ± 0.31; total carbohydrates 13.22; ashes 0.80 ± 0.03; energy value 88.72 kcal/372.62 kJ. P. peruviana yields high amounts of vitamin C; the ascorbic acid content of PP juice was about 46 mg/100 g, higher than in most common fruits. (19)
- Preliminary phytochemical screening of fruits yielded alkaloids, carbohydrates, flavonoids, phenols, proteins, saponins, tannins, glycosides, and starch. (27)
- GC-MS analysis of essential oil yielded 34 components, including 11 terpene compounds (six monoterpenoids and five sesquiterpenes), 11 esters, five alcohols, two phenolic compounds, two aldehydes, two ketones, and one lactone. Terpenes were the most abundant volatile constituents, accounting for 36.09% of the total volatiles. (see study below) (28)
- Bioguided fractionation of a dichlormethane extract of fruit isolated three new sucrose esters, peruvioses C-E (1-3), along with known peruvioses A (6), B (5), and F (4). (see study below) (32)
- Nutrient analysis of fruit per 100 g (3.5 oz): Water 85.4 g, energy 222kJ (53 kcal), carbohydrates 11.2 g, fat 0.7 g, protein 1.9g; Vitamins: Vitamin A equiv. 36 µg, B1 (thiamine) 0.11 mg, B2 (riboflavin) 0.04 mg, B3 (niacin) 2.8 mg, vitamin C 11 mg; Minerals: calcium 9 mg, iron 1 mg, phosphorus 40 mg. (USDA Database) (40)
- The n-butanol fraction of calyx extract yielded three withanolides viz., 4 β-hydroxywithanolide E (1), Physalin B (2) and 3α, 14β-dihydroxywithaphysalin N (3). (see study below) (44)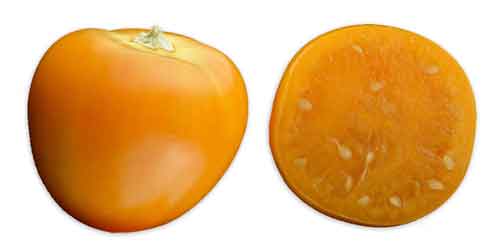 Properties
- Considered vermifuge and diuretic.
- Studies have suggested anticancer, antidiabetic, antioxidant, anti-inflammatory, hepatoprotective, antibacterial, cytotoxic, immunomodulatory, anti-inflammatory, nephroprotective, cardiotoxic properties.
Toxicity concerns
• Unripe raw fruits, leaves, flowers, and stems of the plant contain solanine and solanidine alkaloids that may cause poisoning if ingested by humans, cattle or horses. (40)
• See studies below on toxicity (12).

Parts used
Leaves, seeds, fruits

Uses
Edibility / Nutrition
- Fruit is considered edible, raw or cooked. (Caution: See study toxicity below) (12)
- Cape gooseberries are made into fruit-based sauces, pies, cakes and puddings, chutneys, jams, preserves, and ice cream, or as ingredient in fruit salads. (40)
- In Latin America, consumed as a batido or smoothies.
- Fruit is rich in A, C and B-complex vitamins
Folkloric
- Zulus use an Infusion of the leaf as an enema for children with abdominal upsets.
- Heated leaf used by Europeans to draw inflammations.
- Juice of leaves used for worms and bowel complaints.
- In India, used by the Muthuvan and Tamilian tribes for jaundice.
- In Peruvian traditional medicine, used for treating pterygium.
- In other traditional systems, used for treating cancer, malaria, asthma, hepatitis, dermatitis and rheumatism.
- In Western Ghats, India, leaves and dried seeds used in treatment of jaundice and glaucoma. (27)

Studies
• Anti-Cancer / Cell Apoptosis Mechanisms: Study results suggest the ethanol extract of PP induced Hep G2 cell apoptosis possibly mediated through the CD95/CD95L system and the mitochondrial signaling transduction pathway. (2)
• Antioxidant / Anti-Inflammatory: Study of several extracts showed the SCEPP-5 extract with the strongest antioxidant and anti-inflammatory activities. Its protection against LPS-induced inflammation could be through the inhibition of iNOS and COX-2 expression. (3)
• Anti-Lung Cancer / 4ß-Hydroxywithanolide: 4ß-Hydroxywithanolide (4ßHWE) isolated from golden berries was investigated for its antiproliferative effect on human lung cancer cell line (H1299) using survival, cell cycle, and apoptosis analysis. Results showed the golden berry-derived 4BHWE is a potential DNA-damaging and chemotherapeutic agent against lung cancer. (4)
• Anti-Pterygium / Anti-Fibroblast: Juice of PP exhibited a mild anti-inflammatory activity compared with methylprednisolone. A dose-dependent cytostatic effect on cultured fibroblast was noted. Study showed PP fruit juice's anti-pterygium effect may be related to its inhibiting fibroblast growth. (5)
• Antioxidant: Study showed the ethanol extracts to possess good antioxidant activities; the highest, obtained with 95% ethanol extract of PP. (6)
• Hepatoprotective / APAP Induced Injury: Study showed the aqueous extract of PP possesses antioxidant activity and potent hepatoprotective effect against APAP-induced liver injury in rats. (7)
• Hepatoprotective / Carbon Tetrachloride Induced Injury: Study of water, ethanol and hexane extracts showed antihepatotoxic activities against CCl4-induced hepatotoxicity. (8) Study for in vivo hepatoprotective effect of extract of P. peruviana calyces showed significant inhibition (p<0.001) of liver oxidative stress caused by CCl4, maintaining superoxide dismutase and catalase activities close to normal. The hepatoprotective effect was attributed to its antioxidant activity, especially related to lipid peroxidation inhibition. (23)
• Oil of Goldenberry: Study evaluated whole berries, seeds, and pulp/peel of goldenberry and evaluated content of fatty acids, lipid classes, tiracylglycerols, phytosterols, fat-soluble vitamins, and ß-carotene. Study provides valuable information for further investigation and industrial utilization of berries as raw material of oils and functional foods. (see constituents above) (9)
• Acute and Subchronic Toxicity Studies / Cardiac Toxicity / Fruit: Study evaluated the in vitro genotoxicity and in vivo acute and subchronic toxicity of the fruit of Physalis peruviana. In acute toxicity study according to OECD guidelines, the LD 50 was more than 5000 mg/kg. In subchronic toxicity study, using doses of 100, 1000, and 5000 mg/kg day for 90 days, 50% of male animals treated with 5000 mg/day died during the 90-day period. No difference was found in male animals treated with 100 or 1000 mg/kg day. The lyophylized fruit juice may not induce genotoxicity and may not lead to hematologic, hepatic, and/ppr renal toxicity in both sexes. In the male test group, repeated high doses may cause cardiotoxicity. (12)
• Antioxidant / Cytotoxicity on Various Cancer Cell lines: Study evaluated the antioxidant and cytotoxic activities of edible parts of P. peruviana on different cancer cell lines. Antioxidant capacity of a crude extract showed an IC50 of 0.3±0.003 on DPPH radical scavenging method. Cytotoxicity was shown on HT-29 (human colon adenocarcinoma cell line), Hep3B (human hepatoma cell line), SaOS-2 (human osteosarcoma cell line) and SH-SY5 (human neuroblastoma cell line. (13)
• Antihepatotoxic Effect / Whole Ripe Fruits: Study of whole ripe fruit and water and ethanol extracts in carbon tetracholoride intoxicated rats showed hepatoprotection with significant lowering of elevated serum markers. The water extract showed better activity than the whole ripe fruit and ethanol extract. (15)
• Antidiabetic Effect / Leaf Extracts / Toxicity in High Doses: Study evaluated the antidiabetic effect of aqueous decoctions prepared from dried leaf powder on guinea pigs. Crude aqueous extracts showed hypoglycemic activity, but a high doses may cause severe intoxication. Autopsy showed hemorrhage and swelling in vital organs. (16)
• Peruviose A and B in Inflammatory Bowel Disease: Study of new sucrose esters, Peruviose A and B isolated from the calyces of P. peruviana, significantly reduced the extent and severity of tissue damage, colonic weight/length ration in using a TNBS-colitis model in rats. Results suggest Peruviose A and B can effectively ameliorate experimental IBD, giving new application to calyces which is a waste product in fruit production and an unexplored source of bioactive molecules. (17)
• Anti-Inflammatory: SCEPP (supercritical carbon dioxide extract) showed strong anti-informatory activity in raw 264.7 cells. Studies show SCEPP-5 is an effective inhibitor of LPS induced NO generation and PGE2 production, as well as iNOS and COX-2 expression in raw 264.7 cells. Also, Physalins B and F have potent suppressive activity through inhibition of lymphocyte proliferation, inhibiting the production of pro-inflammatory cytokines and activation of macrophages. (19)
• Antimicrobial / Fruit: Study investigated the antimicrobial activity of fruit extract P. peruviana against B. megaterium, P. aeruginosa, E. coli, K. pneumonia, P. vulgaris, E. aerogenes, C. albicans, C. glabrata, C. tropicalis, Trichophyton sp, and Epidermophyton sp. Results showed varying degrees of inhibition of the bacteria, yeasts, and dermatophytes, with MIC values of 128-1054 µg/ml. (20)
• Anti-Inflammatory / Peruviose A and B: Study investigated the active compounds from an enriched fraction of an ether total extract. The enriched fraction yielded an inseparable mixture of two new sucrose esters named peruviose A and peruviose B. The peruviose mixture was evaluated for anti-inflammatory activity in carrageenan-induced paw edema in rat. (21)
• Inhibitory Effect on Diabetes: Study investigated the possible antidiabetic, hypolipidemic and antioxidant effect in alloxan induced diabetic rats. Results showed significant (p<0.05) reductions of blood glucose, troponin, TNF-α and IL6, with significant increase (p<0.05) in serum insulin. The inhibitory effect on diabetes in rats may be due to its effect on anti-free radicals in the beta cells of the pancreas. Results suggest a potential candidate for a new anti-diabetic agent. (22)
• Antibacterial / Antioxidant / DNA Damage Prevention / Leaf and Shoots: Study evaluated the antibacterial, antioxidant, and DNA damage preventive properties of P. peruviana leaf and shoot ethanol extracts and their effects of cytotoxicity of HeLa cells and expression of apoptotic pathway gene. Maximum antibacterial activity was seen against Lactococcus lactis. Both shoot and leaf extracts exhibited significant protection against DNA damage induced by hydroxyl radical generation by Fenton reaction. The extracts also showed cytotoxic effect on HeLa cells at 100 µg/ml concentration. There was no Bcl-2 expression of extract treated cells. Also mRNA expression analysis showed alteration of antiapoptotic genes with subsequent induction of apoptotic cell death. (24)
• Cytotoxic / Immunomodulatory / Fruit: Study evaluate the biologic potential of ethanol and isopropanol crude extracts of ripe fruits. Cytotoxic and immunomodulatory effects of the extracts were evaluated on human cervical cancer (HeLa) and murine fibroblast (L929) cells. Extracts reduced the release of interleukin-6, interleukin-8, and MCP-1 in a dose-dependent manner. The anticancer and immunomodulatory effects suggest potential for complementary pharmaceutical product development. (25)
• Protection Against Oxidative Damage Induced by Rotenone / Fruits: Study evaluated the effect of various Physalis peruviana extracts from fresh and dehydrated fruits on astrocytic cells (T98G) subjected to oxidative damage induced by rotenone. Results showed increased cell viability, reduced formation of ROS and preserved mitochondrial membrane potential. In rotenone-treated cells co-treated with he fruit extracts, there was a significant reduction in mitochondrial mass. Results suggest potential for the extracts to overcome oxidative damage induced by neurotoxic compounds. (26)
• Antioxidant / Anticancer / Volatile Compounds / Fruit: GC-MS analysis yielded 34 components of the essential oil. Antioxidant evaluation by DPPH, ABTS, and FRAP assays showed the ethanol extract to have higher activity than the hexane extract. On evaluation for anticancer activity against colon and breast cancer, the extract showed more inhibitory activity against colon cancer cell lines (IC50 142 µg/ml) compared with breast cell line (IC50 371 µg/ml). (see constituents above) (28)
• Influence of Extraction Process on Antioxidant Activity and Rutin Content / Calyces:Study evaluated the total phenolic content, rutin content, and in vitro antioxidant activity of P. peruviana calyces (considered waste material). The optimal conditions were use of ethanol 70% as extraction solvent, a percolation time of 72 hours--factors that influence the best results in terms of yield, antioxidant activity, total phenols, and rutin content. (29)
• Improved Insulin Sensitivity / Amelioration of Hyperglycemia / Fruit: Study evaluated the antidiabetic potential of P. peruviana fruits in high fat diet fed-low dose STZ induced diabetic in rats. Fruit extract supplementation attenuated the elevated levels of glucose, HbA1c, AST, ALT, and ALP. The extract indicated antidiabetic activity, with improved insulin sensitivity in HFD-STZ induced T2D in experimental rats. (30)
• Antimicrobial / Antioxidant: Study evaluated ethanol extracts of fruit, seed, root, body. and leaf for antioxidant and antimicrobial activity. The seed extract showed highest phenolic content (4.956 ± 0.001 mg GA/g) and flavonoid content (0.737 ± 0.034 mg QE/g). All extracts yielded gallic acid. Seed and fruit were most effective for antimicrobial activity. (31)
• Peruvioses A-F / a-Amylase Inhibitors / Fruit: Bioguided fractionation of a dichlormethane extract of P. peruviana fruit yielded sucrose esters, peruvioses A-F. The peruvioses showed hypoglycemic effect. Peruviose D (2) showed highest inhibitory activity against a-amylase (84.8%). (see constituents above) (32)
• Amelioration of TNBS Acid-Induced Colitis / Anti-Inflammatory / Calyces: Study evaluated the anti-inflammatory activity of extract of P. peruviana calyces in a rectally administered TNBS acid-induced colitis in a rat model. Extract treatment significantly improve colonic tissue in both macroscopic and histologic measures, along with reduction in IL-1ß and TNF-α production.. Nitric oxide release in RAW264.7 macrophages was significantly inhibited. The anti-inflammatory activity in the colitis model suggests a potential source of metabolites for the treatment of inflammatory bowel disease. (33)
• Hepatoprotective / CCl4-Toxicity / Suppression of Oxidative Stress and Down-regulation of MMP-9 Expression: Study evaluated Cape gooseberry juice for potential protective effect on hepatic injury and fibrosis induced by carbon tetrachloride in rats. Quercetin and kaempferol were active components in the juice. Hepatoprotection was attributed to inhibition of oxidative stress pathways as evidenced by improvement in liver enzyme levels, reduction in collagen areas, down-regulation in expression of fibrotic marker MMP-9, reduction in peroxidative marker malonaldehyde, and inflammatory marker nitric oxide, along with restoration of enzymatic and nonenzymatic systems. (34)
• Inhibition of Airway Inflammation Induced by Cigarette Smoke and Lipopolysaccharide: Study evaluated the protective effect of P. peruviana on cigarette smoke (CS) and lipopolysaccharide (LPS)-induced pulmonary inflammation. Treatment results in reduction of influx on inflammatory cells in the bronchoalveolar lavage fluid (BALF) and lung of mice with CS- and LPS-induced pulmonary inflammation. PP also decreased levels of ROS and proinflammatory cytokines, such as TNF-α and interleukin-6. Results suggest therapeutic potential for treatment of pulmonary inflammatory diseases, such as COPD. (35)
• Antioxidant / Free Radical Scavenging Activity / Hepatocellular Carcinoma Model: Study evaluated the antioxidant capacity and free radical scavenging activity of cape gooseberry juice in DENA- and CCl4- induced hepatocellular carcinoma rats model. DENA and CCl4 increased tumor marker levels, alpha-fetoprotein level, liver function enzymes, and malondialdehyde. Results showed reduction in these control levels. Study suggests CG juice has potential as free radical scavenger and antioxidant processor, antagonizing free radical generation and enhancing antioxidant defense mechanisms. (36)
• Antibacterial / Streptomyces Strain / Aerial Parts and Fruits: Study evaluated crude methanol extracts of aerial parts and 70% ethanol extract of fruits for antibacterial activity. Subfractions PpA2 and PpA3 exhibited inhibitory activities against strain of Streptomyces 85E. (37)
• Manic Episode Report: Study is a case report on a patient who present with a manic episode and a history of using golden berry to lose weight. The patient gave a history of depressive episode five years prior, without mania or hypomanic episodes in the past. (Abstract provides no clinical details) (38)
• Hypoglycemic / Toxicity Study / Leaves: Study evaluated aqueous and methanolic extract of leaves for antidiabetic activity and short-term toxicity in rats. In the glucose tolerance test group, methanolic extracts significantly reduced hyperglycemia by 54.55% (p<0.001), 46.50% (p<0.001) and 39.78% (p<0.001) at 400, 200, 100 mg/kbw, respectively. Aqueous extract at 400 mg/kg reduced hyperglycemia by 39,44% (p<0.05). At 2000 mg/kg dose, leaf aqueous and methanolic extract did not show any signs of intoxication and mortality. (41)
• Acute and Subchronic Toxic Effects / Cardiotoxic in High Doses / Fruits: Study evaluated the invitro genotoxicity and invivo acute and subchronic toxicity of fruit of Physalis peruviana. Lyophilized fruit juice does not induce genetic damage. LD50 of fruit was more than 5000 mg/kg for both sexes. In subchronic toxicity studies, there were no hepatic, renal and hematological toxic effects in both sexes. At 5000 mg/kg of lyophilized fruit, plasma troponin I and troponin T levels were significantly increase in male groups, along with significantly increase potassium levels. Results suggest the lyophilized fruit juice was shown to induced cardiac toxicity only at high doses in the male gender. (42)
• Protective and Therapeutic Effects Against Various Toxicities / Review: Study evaluated the protective and therapeutic effect of P. peruviana in the treatment of some intoxicated cases. Review reports that P. peruviana can modulate the toxic manifestations of cigarette smoke, cadmium, carbon tetrachloride and acetaminophen on different body organs such as lung, testes, liver, and kidney. The plant can also protect against carcinogenesis process in the lung and liver because of its antioxidant and anti-proliferative effects. (43)
• Nephroprotective / Cadmium Chloride Toxicity / Calyx: Cadmium is an environmentally toxic metal that has deleterious effects on both animals and humans due to accumulation in different body tissues. Study evaluated the nephroprotective effect of an 80% aqueous methanol extract of calyx and n-butanol fraction against cadmium chloride induced nephrotoxicity in rats. The n-butanol fraction isolated three withanolides. Molecular docking study showed the isolated compounds displayed remarkable inhibitor activity against IkB kinase. Extract and fraction improved serum kidney function markers and MDA, reduced GSH and CAT, and significantly decreased TNF-α and NF-kß, along with amelioration of histological changes. The aqueous methanol extract and butanol fraction of P. peruviana calyx showed potential nephroprotective activity against cadmium chloride-induced nephrotoxicity correlated at least in part to the considerable withanolides content. (44)
• Restoration of Histopathological Alterations Induced by Lead Toxicity / Fruit: Study evaluated the efficacy of P. peruviana fruit extract in restoring histological deformation of the liver and kidney in lead-poisoned rats. Daily consumption of P. peruviana fruit restored almost all abnormalities in the liver and kidney caused by lead poisoning. (45)
• Ameliorative Against MSG-Induced Toxicity: Study evaluated the toxic effects of monosodium glutamate (MSG), the sodium salt of glutamic acid used as a flavor-enhancing additive in foods, and the protective effect of cape gooseberry (P. peruviana) extract using Allium cepa test material. MSG application caused decreases in rooting percentage, weight gain, root length and MI (mitotic index ratio), increases in frequencies of MN (micronucleus) formation, chromosomal abnormalities and DNA damage. P. peruviana extract ameliorated MSG toxicity evidenced by improvement in all these parameters. Results suggest use of the food additive should be abandoned and suggest P. peruviana as a good antioxidant nutrient to reduce the effects from exposure to toxic substances. (46)

Availability
- Wild-crafted.
- Seeds in the cybermarket.