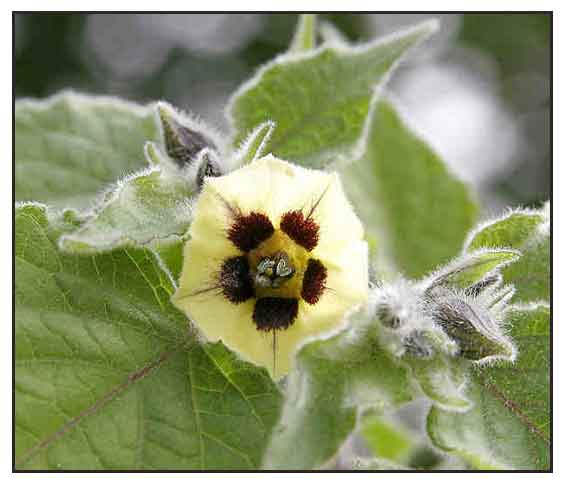 Botany
Lobo-lobohan is more or less an erect herb, with a more vigorous growth than Physalis minima, more upright with less deeply toothed leaves, and with larger flowers. Berries are oblong, about 2 centimeters long. Seeds are numerous, very small, pale yellow and embedded in juicy pulp.
Distribution
- Thoroughly established In open, waste places in Lepanto and the Benguet subprovinces in Luzon.
- Native of tropical America.
Constituents
- Yields biologically active compounds i.e., phytosterols, vitamins, essential minerals, withanolides and physalins.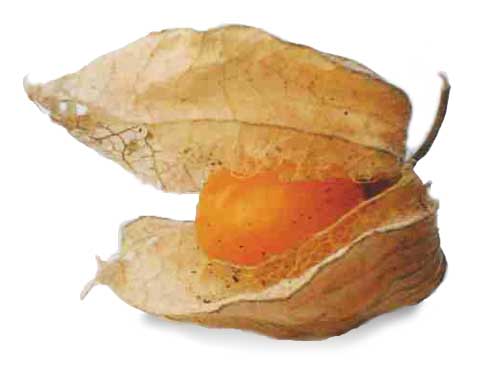 - Seeds constitute 4.5 to 5 % of the weight of the husk-free, fresh, ripe berries, and contain 6.28 percentof a pale yellow semi-drying oil.
- The oil consists of oleic acid, linolic acid, palmitic acid, stearic acid and a saponifiable matter.
- Total lipid contents in whole berries, seeds, and seedless parts were 2.0, 1.8, and 0.2% on fresh weight basis, respectively. The dominant fatty acid was linoleic acid, followed by oleic acid. Major saturates were palmitic and stearic acids. Phytosterols were highest in the pulp/peel oil with the highest amounts of unsaponifiables.
- Study of fruit showed high content of ashes and total lipids, 0.8 and 3.16 g/100g, respectively. Linoleic acid was the predominant in the lipidic fraction. Mineral composition showed K, Mg, Ca, and Fe as the main elements. Zinc was also found in high concentrations, but lower when compared to principal sources like oysters, shrimp, beef, poultry, fish, and beans.
- Study of centesimal and mineral composition and fatty acid profile of a lipidic fraction yielded high contents of ashes and total lipids and K, Mg, Ca and Fe as the main mineral elements. (14)
- Study of fruit for flavonol contents yielded rutin, myricetin and kaempferol.
- Study yielded a high total lipid content of 2%. Composition in g/100 g DW yielded moisture 80.97 ±1.65; total lipids 3.16 ± 0.32; proteins 1.85 ± 0.31; total carbohydrates 13.22; ashes 0.80 ± 0.03; energy value 88.72 kcal/372.62 kJ. P. peruviana yields high amounts of vitamin C; the ascorbic acid content of PP juice was about 46 mg/100 g, higher than in most common fruits. (19)
Properties
- Considered vermifuge and diuretic.
- Studies have suggested anticancer, antidiabetic, antioxidant, anti-inflammatory, hepatoprotective properties.

Parts used
Leaves

Uses
Edibility / Nutrition
- Fruit is considered edible, raw or cooked. (Caution: See study toxicity below) (12)
- Excellent for making of jams and preserves; for pies and cakes.
- Fruit is rich in A, C and B-complex vitamins
Folkloric
- Zulus use an Infusion of the leaf as an enema for children with abdominal upsets.
- Heated leaf used by Europeans to draw inflammations.
- Juice of leaves used for worms and bowel complaints.
- In India, used by the Muthuvan and Tamilian tribes for jaundice.
- In Peruvian traditional medicine, used for treating pterygium.
- In other traditional systems, used for treating cancer, malaria, asthma, hepatitis, dermatitis and rheumatism.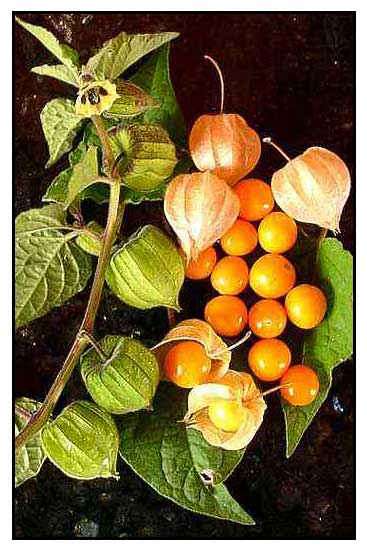 Studies
• Anti-Cancer / Cell Apoptosis Mechanisms: Study results suggest the ethanol extract of PP induced Hep G2 cell apoptosis possibly mediated through the CD95/CD95L system and the mitochondrial signaling transduction pathway. (2)
• Antioxidant / Anti-Inflammatory: Study of several extracts showed the SCEPP-5 extract with the strongest antioxidant and anti-inflammatory activities. Its protection against LPS-induced inflammation could be through the inhibition of iNOS and COX-2 expression. (3)
• Anti-Lung Cancer / 4ß-Hydroxywithanolide: 4ß-Hydroxywithanolide (4ßHWE) isolated from golden berries was investigated for its antiproliferative effect on human lung cancer cell line (H1299) using survival, cell cycle, and apoptosis analysis. Results showed the golden berry-derived 4BHWE is a potential DNA-damaging and chemotherapeutic agent against lung cancer. (4)
• Anti-Pterygium / Anti-Fibroblast: Juice of PP exhibited a mild anti-inflammatory activity compared with methylprednisolone. A dose-dependent cytostatic effect on cultured fibroblast was noted. Study showed PP fruit juice's anti-pterygium effect may be related to its inhibiting fibroblast growth. (5)
• Antioxidant: Study showed the ethanol extracts to possess good antioxidant activities; the highest, obtained with 95% ethanol extract of PP. (6)
• Hepatoprotective / APAP Induced Injury: Study showed the aqueous extract of PP possesses antioxidant activity and potent hepatoprotective effect against APAP-induced liver injury in rats. (7)
• Hepatoprotective / Carbon Tetrachloride Induced Injury: Study of water, ethanol and hexane extracts showed antihepatotoxic activities against CCl4-induced hepatotoxicity. (8) Study for in vivo hepatoprotective effect of extract of P. peruviana calyces showed significant inhibition (p<0.001) of liver oxidative stress caused by CCl4, maintaining superoxide dismutase and catalase activities close to normal. The hepatoprotective effect was attributed to its antioxidant activity, especially related to lipid peroxidation inhibition. (23)
• Toxicity Studies / Cardiac Toxicity / Fruit: Study evaluated the in vitro genotoxicity and in vivo acute and subchronic toxicity of the fruit of Physalis peruviana. Lyophilized fruit juice does not induce genetic damage. In the male test group, findings suggested cardiac toxicity only at high doses. (12)
• Antioxidant / Cytotoxicity on Various Cancer Cell lines: Study evaluated the antioxidant and cytotoxic activities of edible parts of P. peruviana on different cancer cell lines. Antioxidant capacity of a crude extract showed an IC50 of 0.3±0.003 on DPPH radical scavenging method. Cytotoxicity was shown on HT-29 (human colon adenocarcinoma cell line), Hep3B (human hepatoma cell line), SaOS-2 (human osteosarcoma cell line) and SH-SY5 (human neuroblastoma cell line. (13)
• Antihepatotoxic Effect / Whole Ripe Fruits: Study of whole ripe fruit and water and ethanol extracts in carbon tetracholoride intoxicated rats showed hepatoprotection with significant lowering of elevated serum markers. The water extract showed better activity than the whole ripe fruit and ethanol extract. (15)
• Antidiabetic Effect / Leaf Extracts / Toxicity in High Doses: Study evaluated the antidiabetic effect of aqueous decoctions prepared from dried leaf powder on guinea pigs. Crude aqueous extracts showed hypoglycemic activity, but a high doses may cause severe intoxication. Autopsy showed hemorrhage and swelling in vital organs. (16)
• Peruviose A and B in Inflammatory Bowel Disease: Study of new sucrose esters, Peruviose A and B isolated from the calyces of P. peruviana, significantly reduced the extent and severity of tissue damage, colonic weight/length ration in using a TNBS-colitis model in rats. Results suggest Peruviose A and B can effectively ameliorate experimental IBD, giving new application to calyces which is a waste product in fruit production and an unexplored source of bioactive molecules. (17)
• Anti-Inflammatory: SCEPP (supercritical carbon dioxide extract) showed strong anti-informatory activity in raw 264.7 cells. Studies show SCEPP-5 is an effective inhibitor of LPS induced NO generation and PGE2 production, as well as iNOS and COX-2 expression in raw 264.7 cells. Also, Physalins B and F have potent suppressive activity through inhibition of lymphocyte proliferation, inhibiting the production of pro-inflammatory cytokines and activation of macrophages. (19)
• Antimicrobial / Fruit: Study investigated the antimicrobial activity of fruit extract P. peruviana against B. megaterium, P. aeruginosa, E. coli, K. pneumonia, P. vulgaris, E. aerogenes, C. albicans, C. glabrata, C. tropicalis, Trichophyton sp, and Epidermophyton sp. Results showed varying degrees of inhibition of the bacteria, yeasts, and dermatophytes, with MIC values of 128-1054 µg/ml. (20)
• Anti-Inflammatory / Peruviose A and B: Study investigated the active compounds from an enriched fraction of an ether total extract. The enriched fraction yielded an inseperable mixture of two new sucrose esters named peruviose A and peruviose B. The peruviose mixture was evaluated for anti-inflammatory activity in carrageenan-induced paw edema in rat. (21)
• Inhibitory Effect on Diabetes: Study investigated the possible antidiabetic, hypolipidemic and antioxidant effect in alloxan induced diabetic rats. Results showed significant (p<0.05) reductions of blood glucose, troponin, TNFa and IL6, with significant increase (p<0.05) in serum insulin. The inhibitory effect on diabetes in rats may be due to its effect on anti-free radicals in the beta cells of the pancreas. Results suggest a potential candidate for a new anti-diabetic agent. (22)

Availability
- Wild-crafted.
- Seeds in the cybermarket.