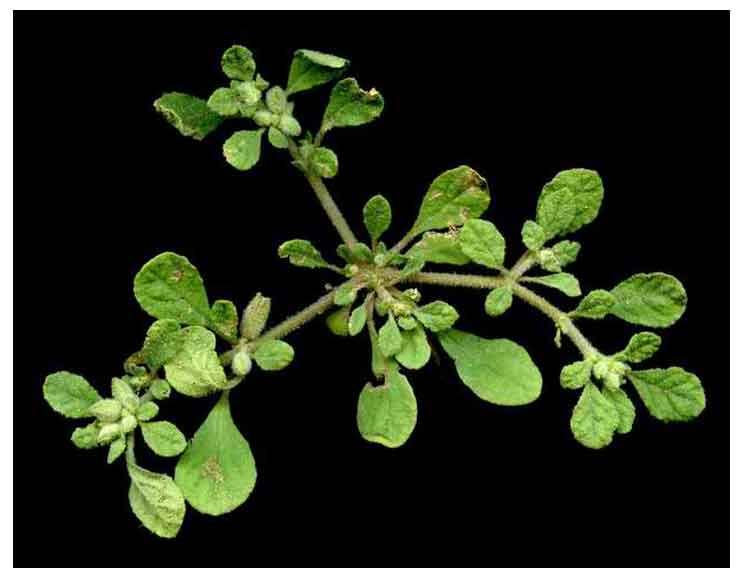 Gen info
- Glinus is a genus of tropical and subtropical plants in the family Molluginaceae. Plants in the genus are sometimes called sweetjuice. (23)
Botany
Lobio is a spreading or prostrate, much branched, annual herb, with branches 20 to 50 centimeters long. All parts are densely stellate-pubescent, with short gray hairs. Leaves are opposite or whorled, broadly obovate, and 1 to 3 centimeters in length. Flowers are fascicled, sessile or shortly pedicelled, greenish, and about 5 millimeters long. Sepals are densely hairy outside. Capsule is ovoid, and somewhat shorter than the sepals. Seeds are small, brown or black, very numerous, and appendaged at the hilum.
Distribution
- Native to the Philippines.
- In open, waste places about towns, in rice paddies, etc., at low and medium altitudes, in Ilocos Norte to Rizal Provinces in Luzon.
- Pantropic.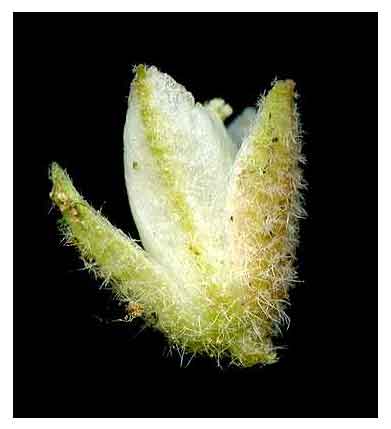 Constituents
- Study yielded Stidmollugogenol-F, a new triterpenoid sapogenin – 3β,16β,22-trihydroxyisohopane. (1)
- Seeds contain protein, carbohydrate, fat, ash, moisture, sugar profile, fatty acids. (7)
- Phytochemical screening yielded anthroquinones, alkaloids, steroids, saponin, tannin, flavonoids, terpenoids, coumarins and quinones. Seeds contains protein, carbohydrate, fat, ash, moisture, sugar profile, fatty acids. (13)
- Seeds yielded four new hopane-type saponins, glinusides F, G, H, and I, and the known succulentodise B, as well as two known flavones 5,7,4'-trihydroxyflavone-6,8-di-C-glucoside (vicenin-2) and 5,7,4'-trihydroxyflavone-8-C-sophoroside (vitexin-2' '-O-glucoside). (15)
- Nutritive content analysis (%) of root (R), shoot (S), and fruit (F) showed: crude protein 6.48 R, 11.38 S, 11.39 F; crude fat 30.19 R, 22.32 S, 18.53 F; total ash 5.72 R, 15.46 S, 23.70 F; nitrogen free extract (NFE) 57.00 R, 49.94 S, 45.41 F; organic matter 94.00 R, 84.54 S, 76.30 F; carbohydrates 87.00 R, 72.24 S, 62.44 F; calcium 3.54 R, 4.76 S, 6.74 F; phosphorus 1.66 R, 1.03 S, 1.24 F. (16)
- Methanol extract yielded flavonoids, sterols, alkaloids, triterpenoids, triterpenes, tannins, saponins, and coumarins. (see study below) (21)
- Study of roots isolated three new hopane saponins, lotoidosides A-C (1-3), and four new oleanane saponins, lotoidosides D-G (4-7). (see study below) (22)
Properties
- Purgative, anthelmintic, wound healing, antibacterial.
- Studies have shown anthelmintic, mollusicidal, wound healing, antibacterial, anticancer, antidiabetic,, antiproliferative, anti-ulcer properties.

Parts used
Dried plant, seeds.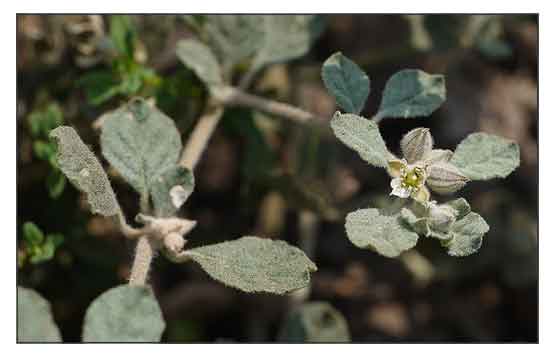 Uses
Edibility
- Tender shoots used as pot herb.
- Young leaves and stems are used as vegetable in some tropical countries.
Folkloric
- In Punjab, herb given as purgative in diseases of the abdomen.
- In Sindh, dried plant prescribed by native practitioners for diarrhea.
- Applied to itches and skin diseases.
- In Ethiopia, seeds of Glinus lotoides used in treatment of tapeworm infestation and stomaches. Used for treatment of diabetes.
- In Sidda medicine, whole plant used to cure vata diseases, gunmam, soolai, mandham, mega noigal (syphilis), leucorrhea, kapha diseases. (13)
- In Pakistan, poultice of leaves applied over wounds and inflammation. Plant ground in water taken orally as blood purifier in syphilis. Crushed fresh leaves in water drunk to expel intestinal worms. (17)
Others
- Fodder: Used as fodder for goats.

Studies
• Toxicity Study / Seeds: Methanolic extract of seeds of G. lotoides and flowers of Hagenia abyssinica were used in repeated dose toxicity studies. Single-dose toxicity study suggested the LD50 of the crude extract of Glinus lotoides might be greater than or equal to 5000 mg/kg. In repeated dose toxicity study of 250, 500 and 1000 mg/kg, no mortality was observed when administered per day for 28 days. (2)
• Toxicity Study / Seeds: Study evaluated single and repeated dose oral toxicities of ME of seeds of Glinus lotoides in rats. Various doses of 0, 1000, and 5000 mg/kg crude extract of Gl lotoides were used in single dose toxicity test, while 0, 250, 500, and 100 mg/kg were used in repeated toxicity studies. In single dose toxicity test, 5000 mg/kg produced mortality in two female and one male rat on day 4. No significant difference was noted in body and organ weights in surviving animals. In the 28-day repeated dose study, no mortality was observed, with no significant differences in body weight, no differences in most hematological parameters examined, and no histopathological changes. (3)
• Genotoxicity / DNA Damaging Effect / Saponins: Study evaluated the potential genotoxicity of G. lotoides crude extracts. Fractions containing hopane-type saponins exhibited pronounced DNA damaging effect without affecting the viability of the cells. Further studies are needed before culprit saponins can be cited for reported genotoxicity. (6)
• Anticancer Activity / Nutritional Value / Seeds: Methanol and n-hexane extracts showed differential growth inhibitory responses in carcinoma cell lines (Calu3 IC50 29.7 and 79.8 µg/ml; Caco-2 IC50 609.7 and 74.6 µg/ml, respectively). The extracts induced significant apoptosis in the cancer cells (p<0.05) at 100 µg/mL. The amount of protein, carbohydrate, fat, ash, moisture, sugar profile and fatty acids support the nutritional value of the seeds. (7)
• Anthelmintic Activity: Extract of seeds was evaluated for in-vivo anthelminthic activity in albino mice infested with Hymenolepsis nana worms. Results showed the seed extract to be active in both single and multiple doses, although more effective in multiple doses. (8)
• Molluscicidal / Cercariacidal / Fruits: Study evaluated aqueous and ethyl acetate crude extracts of fruits for cercariacidal activity and molluscicidal effect against schistosome snail intermediate hosts. Results showed molluscicidal activity against B. pfeifferi snails and cercariacidal activity against S. mansoni. (11)
• Wound Healing / Antibacterial: Study evaluated the wound healing potential and antibacterial activity of chloroform extract from GL. Results showed a wound healing effect evidenced by a high tensile strength and antibacterial activity. Wound healing activity was attributed to flavanoids and glycosides.   (12)
• Gold Nanoparticles Synthesis: Study presents an eco-friendly method of plant-mediated gold nanoparticle formation using extracts of G. lotoides as reducing agent. (14)
• Haemostatic Activity: Study evaluated succulent leaf extracts of six medicinal plants for haemostatic activity in fresh punch wounds in a rabbit model. Glinus lotoides induced haemostasis in 35.00 ± 2.29 seconds compared to automatic haemostasis of 120.00 sec ±2.91 seconds. (18)
• Antidiabetic Activity / Seed: In Ethiopia, it is used for the treatment of diabetes. Study evaluated in the vitro diabetic effect of G. lotoides seeds using carbohydrate and lipid metabolizing enzymes inhibition assay in normoglycemic, oral glucose-loaded and Streptozotocin (150 mg/kg)-nicotinamide (65 mg/kg)-elicited type 2 diabetic rats. Extract LD50 was greater than 2 g/kg. Seed extract significantly lowered blood glucose in normoglycemmic rats (p<0.05-0.001). Highest dose showed 41.1% reduction in blood glucose level of glucose-loaded rats (p<0.001). All doses significantly ameliorated glucose levels after 4 weeks of therapy (p<0.05-0.001). Results showed safety and glucolipotoxicity inhibition potential of the seed extract, suggesting potential as a viable anti-diabetic lead for subsequent studies.. (19)
• Antidepressant / Modulation of Antioxidant and Inflammatory Biomarkers in a Depression Model: Study evaluated the protective role of G. lotoides ethanolic extract in a depression model through modulation of oxidant/antioxidant enzyme system and inflammatory status. Behavioral analysis was evaluated using open field, tail suspension, forced swim, sucrose preference test. Phytochemical studies confirmed presence of phenols and flavonoids and HPLC showed presence of gallic acid, quercetin, chlorogenic and caffeic acid. Total oxidant was significantly decreased, while total antioxidant capacity was significantly increased. The extract diminished MDA, IL-6, and TNF-α and IL-6. Results showed significant antidepressant activity via modulation of oxidative and biochemical parameters. (20)
• Anti-Ulcerogenic Activity: Study evaluated a methanolic extract of Glinus lotoides for anti-ulcerogenic activity in four different models viz. aspirin-induced gastric ulcer in rat, HCl-ethanol induced ulcer in mice, water immersion stress induced ulcer in rats, and histamine-induced gastric acid secretion in rat's stomach. Results showed markedly decreased incidence of aspirin-induced ulcer. The extract antagonized histamine effect and blocked the stimulant effect of HCl on guinea pig atrium. It reduced water induced immersion ulcer by 49.16%. Study confirmed the antiulcerogenic activity of the extracts. (21)
• Antiproliferative Hopane and Oleanane Glycosides Against Cancer Cell Lines / Roots: Study of roots isolated three new hopane saponins, lotoidosides A-C (1-3), and four new oleanane saponins, lotoidosides D-G (4-7). Using murine and human culture cell lines J774.A1, HEK-293, and WEHI-164, compounds 1 and 3-7 showed significant cytotoxicity against the three cancer cell lines with IC50s ranging from -0.018 to 0.62 µM, while compound 2 would weak activity against HEK-293. (22)
• Antidiabetic Activity / Leaves: Study evaluated the hypoglycemic effects of leaves from Glinus lotoides in streptozotocin-induced Wistar diabetic rats. Defatted leaves were administered orally in doses of 250 and 500 mg/kg for 28 days. Acute toxicity study with dose of 5000 mg/kbw resulted in no mortality after 7 days of treatment. Results showed the hydroalcoholic extract of GL leaves exhibited significant antihyperglycemic effect in STZ-induced diabetic mice. Reduction in HbA1c demonstrated the extract's capacity to regulate diabetes. The extract improved levels of antioxidant and metabolizing enzymes, liver glycogen HbA1C and regeneration of pancreatic islets of Langerhans. (24)
Availability
Wild-crafted.