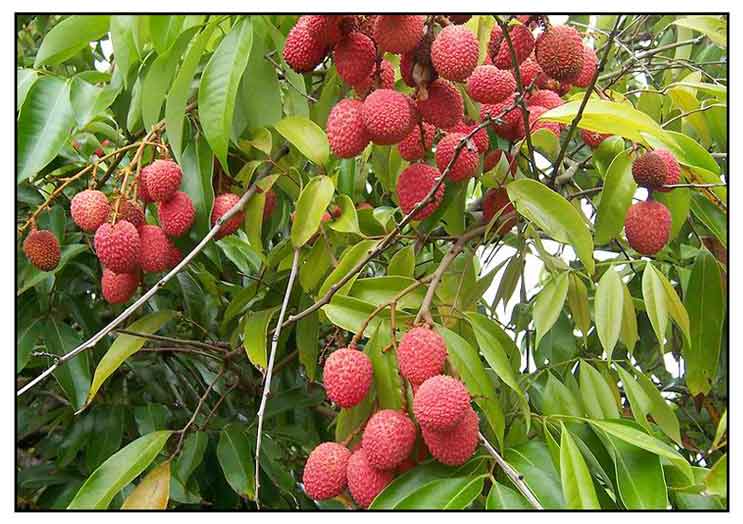 Gen info
Lychee cultivation was recorded in China as far back as 2000 BC. Litchi chinensis is the sole member of the genus Litchi in the soapberry family. In the Philippines, a relatively unknown indigenous species belonging to the same genus is called "alupag" (Litchi chinensis subsp. philippinensis). Initial grafting trials suggest it has good rootstock potential and compatibility with lychee.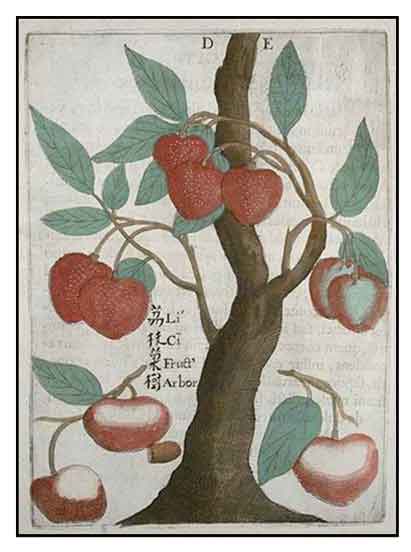 Botany
Litsiyas is a handsome, dense, slow-growing, round-topped tree, growing to a height of 10 to 30 meters. Leaves are alternate, up to 20 centimeters long, acuminate, and leathery. Flowers are greenish white, in terminal panicles. Fruit is rounded, red, 3 to 5 centimeters long, with a pink-red, roughly texture rind, with a sweet, translucent, fleshy edible aril.
Distribution
- In the Philippines, found predominantly in the cool highlands of the Cordilleras. specifically Benguet and Baguio and in Cervantes, Ilocos Sur.
- Introduced from China in the early 20th century.
- Native to the low elevations of provinces of Kwangtung and Fukien in southern China.
- Extensive plantings in Pakistan, Bangladesh, Burma, Taiwan, Japan, Queensland, Madagascar, Brazil, and South Africa.
- Reported scattered cultivation in Hawaii, West Indies, Guatemala, and California.
Varieties
- Majority are "water types" grown in low, well-irrigated land.
- Some leak juice when the skin is broken; some retain juice within the flesh. The latter is referred to as "dry-and-clean" and are highly prized.
- There is much variation in form (round, egg-shaped, or heart-shaped), skin color and texture, fragrance, flavor, and even color of the flesh, and more important, the size and form of the seed.
- Professor Groff, in his book The Lychee and the Lungan, lists 15 cultivars.
- In the Philippines, two cultivars are predominantly grown in the highlands: Mauritius, from South Africa, and Sinco, from China.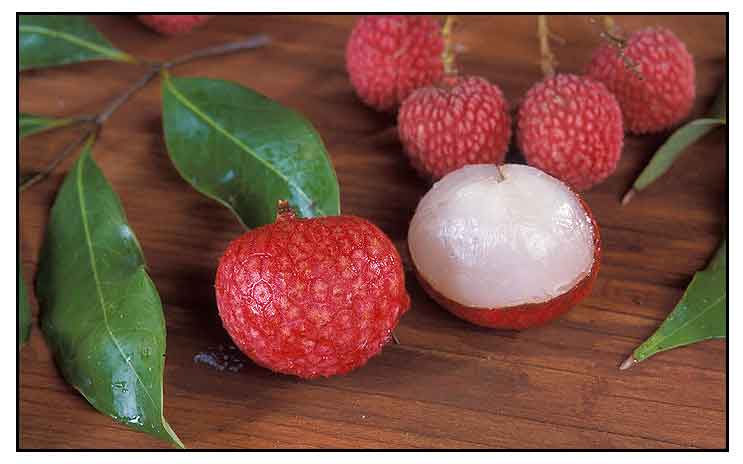 Constituents
- Food value per 100 g of edible portion: calories 63-64 (fresh), 277 (dried); protein 0.68-1 g (f), 2.9-3.8 g (d), fat 0.3-0.58 g (f), 0.2-1.2g (d); carbohydrates 13.31-16.4g (f), 70.7-77.5 g (d); fiber 0.23-0.4g (f), 1.4g (d), calcium 8-10mg (f), 33 mg (d); potassium 170 mg (f), 1,100 mg (d); ascorbic acid 24.6 mg (f), 42 mg (d), among others.
- Study of semen litchi (seeds) yielded five chemical constituents. viz., stigmasterol, P-hydroxy- benzaldehyde, protocatechuic acid, daucosterol, and kaempferol-3-O-β-D-glucopyranoside. (8)
- Study of pericarp extract yielded three flavonoids, viz., Epicatechin, proanthocyanidin B2 and proanthocyanidin B4. (See studies below).
- Nutrient analysis of 100 grams of edible portion of raw lichis yielded proximate values as: water 81.76 g, energy 66 kcal, protein 0.83 g, total lipid 0.44 g, total dietary fiber 1.3 g, ash 0.44 g. Mineral analysis yielded calcium 5 mg, iron 0.31 mg, magnesium 10 mg, phosphorus 31 mg, potassium 171 mg, sodium 1 mg, zinc 0.07 mg, copper 0.148 mg, manganese 0.055 mg, selenium 0.6 mcg. Vitamin analysis yielded vitamin C 71.5 mg, thiamin 0.011 mg, riboflavin 0.065 mg, niacin 0.603 mg, vitamin B6 0.100 mg, total folate 14 mcg, vitamin B12 0.00 mcg. (12)
- Proximate analysis showed the seeds to be an excellent source of carbohydrate (81.098%), protein (6.126%), fat (0.89%) and crude fiber (4.327%%). Nutritive value showed 356.917 Kcal/100 gm of seeds. (see study below) (21)
- Nutritive analysis of fresh fruit per 100 g yielded: (Principle) energy 66 kcal, carbohydrates 16.53 g, protein 00.83 g, total fat .44 g, cholesterol 0 mg, dietary fiber 1.3 g; (Vitamins) folates 14 µg, niacin 0.603 mg, choline 7.3 mg, pyridoxine 0.100 mg, riboflavin 0.065 mg, thiamin 0.011 mg, vitamin A 0 mg, vitamin C 71.5 mg, vitamin E 0.07 mg, vitamin K 0.4 µg; (Electrolytes) sodium 1 mg, potassium 171 mg; (Minerals) calcium 5 mg, copper 0.148 mg, iron 0.31 mg, magnesium 10 mg, manganese 0.055 mg, phosphorus 31 mg, selenium 0.6 µg, zinc 0.07 mg. (USDA National Nutrient Data Base) (27)
Properties
- Studies have shown antimicrobial, anti-inflammatory, hepatoprotectve, immunomodulatory, anti-cancer, anti-diabetic, anti-hyperlipidemic, anti-thrombotic properties.

Parts used
Fruit, seeds, bark, flowers.

Uses
Edibility / Culinary
- Fruit most relished fresh, out-of-hand; but often added to fruit cups and fruit salads, or stuffed with cream, nuts or other fruits.
- Also used for sherbet, gelatin, flavoring ham or grilling on top of meats.
- Canned in sugar syrup.
- In China, dried lychees eaten like raisins. Also, dried flesh used as sweetener of tea, in lieu of sugar.
Folkloric
- No reported folkloric medicinal use in the Philippines.
- Elsewhere, used for common colds, asthma, stomach pains, hiccups, chronic diarrhea, headaches, anemia, menorrhagia, irritable bowels, testicular swellings.
- Reported to relieve coughing, especially when ingested in moderate amounts.
- Also reported beneficial effects on gastralgia, tumors, and gland enlargements.
- In China, seeds used for pain relief; used in neuralgia and orchitis. Tea of fruit peel is taken for smallpox eruptions and diarrhea.
- In India, powdered seeds are considered astringent and used for intestinal troubles; also used for neuralgic pains. Decoction of root, bark, and flowers are gargled to relieve throat ailments.
- In Chinese medicine, used for liver protection. (24)
Studies
• Aldose Reductase / Diabetic Cataracts: Study of extracts of fruits and an EtOAc fraction showed potent inhibition of rat lens reductase in vitro. Aldose reductase has been reported to play an important role in sugar-induced cataract. From the EtOAc fraction, delphinidin 3-O-beta- galactopyranoside-39-O-beta-glucopyranoside was one of four minor compounds identified, and was found to be the most potent of the inhibitors and may be useful in the prevention and/or treatment of diabetic complications. (4)
• Hepatoprotective / Antioxidant / Anti-Apoptotic / Fruit Pulp: Study of fruit pulp extracts in rats intraperitoneally injected with CCl4. Antioxidant properties of the lychees extracts, as evidenced by the vitamin C and phenolic compounds, anti-lipid peroxidation and anti-apoptosis could explain the hepatoprotective effects in CC;4-induced hepatotoxicity. (5)
• Antiplatelet / Anticoagulant / Fribrinolytic: Study of a 70% ethanol extract showed dose-dependent inhibition of collagen- and ADP-induced platelet aggregation in rat platelet-rich plasma. It also significantly prolonged coagulation times (PTT and PT). The antithrombotic effect suggests L. chinensis may be a natural source for development of of antiplatelet, anticoagulant and thrombolytic therapeutics for thrombotic and cardiovascular diseases. (6)
• Hepatoprotective / Fruit Pulp / Leaf: Study showed both alcoholic and aqueous extracts of fruit pulp of L. chinensis exhibited significant hepatoprotective activity in carbon tetrachloride induced hepatotoxicity. The aqueous extract was more effective than the alcoholic extract. (7) Chloroform and methanol extracts of L. chinensis leaf were evaluated for protective effects on paracetamol-induced liver damage in Wistar albino rats. While both test extracts showed hepatoprotective efficacy, the methanol extract was more effective. (14)
• Immunomodulatory / Anticancer / Pericarp: Study of litchi pericarp extract isolated epicatechin, proanthocyanidin B2 and proanthocyanidin B4. All three showed higher stimulatory effects on splenocyte proliferation than the reference, rutin. Epicatechin and proanthocyanidin B2 showed lower cytotoxicities to human breast cancer cell MCF-7 and human embryotic lung fibroblast than paclitaxel. (9)
• Antimicrobial / Antioxidant / Stem-Bark: Study of methanol extract of stem-bark and its fractions yielded phenolic compounds, flavonoids and tannins. An aqueous-methanolic extract showed the highest total antioxidant activity and a maximum growth inhibition against Bacillus subtilis. (10)
• Anti-Inflammatory / Toxicity Studies / Leaves: Animal study of petroleum ether extract of leaves showed no toxicity up to up to 1 g/kg intraperitoneal dose. Results suggest it may inhibit the cyclooxygenase pathway of arachidonic acid metabolism. (11)
• Antimicrobial / Seeds: Study investigated seed aqueous extracts from Litchi chinensis and Nephelium lappaceum for antibacterial activity. Both showed moderate inhibition against both gram positive and gram negative bacteria. The highest inhibitory activity was produced by L. chinensis against Streptococcus pyogenes. (13)
• Anti-Cancer / Seed: Study reviews recent findings regarding the benefits of the traditional Chinese medicine in the treatment of human cancer and the possible cellular and molecular mechanisms of the litchi seed. Study suggests LCSP treatment could inhibit proliferation in various cancer cells and induce cell-cycle arrest and apoptosis in CRC cells, suggesting a potential as a novel chemopreventive agent. (15)
• Anti-Inflammatory / Flower: Flower ethanol extract yielded five flavanoids, nine phenolic acids, and proanthocyanidin. The extract was used to evaluate the inhibitory effects on lipopolysaccharide-(LPS)-induced pro-inflammatory mediators in RAW264.7 cells. Results showed suppression of expressions of inducible nitric oxide synthase (iNOS) and cyclooxygenase-2 (COX-2), the productions of NO and prostaglandin E2, and the secretions of pro-inflammatory cytokines. (16)
• Antioxidant / Antinociceptive: Crude extracts of leaves and ethyl acetate fraction exhibited high antioxidant activity. The antioxidant activity of the main compounds viz procyanidin A2 and procyanidin B2 was remarkably high with DPPH and ABTS. There was also reduction in nociception in FM and HP models. (17)
• Biosorbent / Peel Waste: Study evaluated the adsorption capacity of lychee peel waste for the removal of Acid Blue 25 dye from aqueous solution. Results suggest that Litchi chinensis peel waste can be used as an adsorbent in treating industrial effluents containing dyes. (18)
• Antihyperglycemic / Antihyperlipidemic / Pericarp: Study evaluated the hypoglycemic and antihyperglycemic activities of L. chinensis in normal and STZ-induced diabetic rats. Results showed significant antihyperglycemic, antihyperlipidemic activity and provided significant protection against kidney damage, which might be due to its antioxidant properties. (19)
• Effect on Prostaglandin E2 and NO Production / Heating Fruit: Litchi chinensis is used in Chinese medicine as a "heating fruit." Study investigated the effects of litchi on prostaglandin E2 (PGE2) and nitric oxide (NO) production in myrine macrophage cells. Study isolated three compounds: benzyl alcohol, hydrobenzoin, and 5-hydroxymethyl-2-furfuroaldehyde (%-HMF) from the AcOEt extract. Results showed marked dose dependent increase in PGE2 and NO production. Regulation of COX-2 and inducible NO synthase (iNOS) mRNA expression and NF-kB (p50) activation may be involved in the mechanism of the stimulative process. Study suggests some molecular compounds play inflammatory effects on humans. (20)
• Proximate Analysis / Antioxidant Activity / Seeds: Study investigated the proximate analysis, nutritive value, phenolic content and antioxidant activity of Litchi seeds. Results showed seeds contain medicinally active metabolites. An ethanolic macerate showed the highest phenolic content. An n-butanol fraction showed highest antioxidant activity on DPPH and FRAP assays. (see constituents above). (21)
• Antibacterial / Seeds: Study evaluated the antibacterial activity of aqueous seed extracts of Nephelium lappaceum and Litchi chinensis. Both extracts showed moderate inhibition against pathogenic bacteria viz. gram positive ( Staphylococcus aureus, S. pyogenes and Bacillus subtilis) and gram negative (E. coli, P. aeruginosa) bacteria. The highest inhibitory activity was by Litchi chinensis against S. pyogenes. (22)
• Biphasic Dose Effect on Alcoholic Liver Disease / Pulp: A previous study showed hepatoprotective effect of phenolics from lychee pulp against restraint stress-induced liver injury. This study of lychee phenolic pulp extract showed biphasic effects on ethanol-induced liver injury in mice, indicating a potential for prevention and control of alcoholic liver disease. (24)
• Antineoplastic Mechanisms of Litchi Seeds: Review focuses on the antitumor-related effects, molecular mechanisms, and immune effects of litchi seeds. Litchi seeds can inhibit tumor cell proliferation, promote tumor cell apoptosis, and restrain tumor metastasis. Seeds have a positive anti-cancer effect through a variety of molecular mechanisms with no serious side effects. Study suggests a potential for combining Litchi seeds with radiotherapy and chemotherapy. (25)
• Anti-Nutritional Compounds in Fresh and Dried Fractions: Study evaluate the anti-nutritional factors of L. chinensis peel, pulp, and seed. Among fresh fractions, the seed had the lowest content of phenolic compounds. The pulp showed higher α-amylase inhibitory activity while the fresh peel showed higher trypsin inhibitory activity. All the ethanolic extracts of fractions showed inhibitory activity on pancreatic lipase. The presence of anti-nutrients (phenolic compounds, nitrate, trypsin inhibitors, α-amylase and lipase) are present in amounts that do not preclude use of the fractions, fresh or dried, as nutrient sources. The residues can be used for developing new products and food enrichment. (26)
• Oligonol / Effect on Peripheral Circulation / Pilot Study: Single-blind, placebo-controlled crossover trial investigated Oligonol, a highly bioavailable low molecular weight polyphenol extract from the lychee fruit, for its effect on peripheral blood circulation. Results suggest polyphenol might act as a vasodilator with a potential for treatment of various vasocontrictive symptoms such as cold hands and feet, shoulder discomfort and diabetic related vascular problems. (28)
• Anticancer Activity / Human Breast Cancer / Fruit Pericarp: Study evaluated the anticancer activity of Litchi fruit pericarp extract on human breast cancer in vitro and in vivo. Results suggested LFP extract might have potential anticancer activity on both ER positive and negative breast cancers, in part, from its DNA damage effect, proliferating inhibition and apoptosis induction of cancer cells. (29)
• Clean Production of Freeze-Dried Lychee Powder: Study reports on the clean production of freeze-dried lychee powder with high productivity and low environmental impact. Analysis suggests high feasibility for commercial production. (30)
• Diminished Prostate Cancer Progression / Seeds: Study in mice evaluated an n-butanol alcohol Litchi seed extract against prostate cancer PCe, DU145, RM1 and C4-2B cells. The extract induced a significant decrease in cell viability and clonogenic growth in a dose-dependent manner. There was induction of cell apoptosis and cell cycle G1/S phase arrest via inactivation of Akt signaling pathway. Results suggest a potential for development of a safe and potent alternative therapy for prostate cancer patients. (31)
• Anti-Inflammatory / Hepatoprotective / Fruits: Flavanol (flavan-3-ol)-rich lychee fruit extract (FRLFE is a mixture of oligomerized polyphenols from lychee fruit, rich in flavonol monomers, dimers and trimers. Study evaluated the effects of FRLFE and its constituents on the expression of inflammatory genes in interleukin 1ß (IL-1ß) treated rat hepatocytes. Results showed inhibition of NF-kB activation and nuclear translocation to suppress expression of inflammatory genes. The anti-inflammatory and hepatoprotective effects of the FRLFE may be due to the flavonol contents and may be used to treat inflammatory processes. (32)
ª Induction of Apoptosis and Cell Cycle Arrest in Human Colorectal Carcinoma / Seeds: Study evaluated the effects of polyphenol-rich Litchi seed ethanol extract on proliferation of cell cycle and apoptosis of two colorectal cancer cell lines. Results showed significant induction of apoptotic cell death in a dose-dependent manner and arrested cell cycle in G2/M in colorectal carcinoma cells. Study provides in vitro evidence for the ethanol seed extract as a potential chemopreventive agent for colorectal cancer. (33)
• Oligonol: A polyphenol-rich Litchi extract that has shown favorable effects on various chronic diseases. It has ameliorative effects on diabetes-induced alterations and renal disorders associated with gluco-lipotoxicity-mediated oxidative stress, inflammation, and apoptosis in type 2 diabetic mice. The effects may be attributed to proanthocyanidins . Oligonol has also been reported to induce apoptosis in MCF-7 ad MDA-MB-231 breast cancer cells related to regulation of Bcl-2 family members and inactivation of ERK/MEK signaling. (34)
• Flavanoids from Pericarp / Antioxidant: Study of Litchi chinensis pericarp isolated a new methylene-lined flavan-3-ol dimer, bis(8-epicatechinyl)methane (1), together with dehydrodiepicatechin A (2), proanthocyanidin A1 (3), proanthocyanidin A2 (4), (−)-epicatechin (5), 8-(2-pyrrolidinone-5-yl)-(−)-epicatechin (6), (−)-epicatechin 8-C-β-d-glucopyranoside (7), naringenin 7-O-(2,6-di-O-α-l-rhamnopyranosyl)-β-d-glucopyranoside (8), and rutin (9).  The FRAP of compounds 1 and 6 were comparable to ascorbic acid, and the DPPH radical scavenging activities of compounds 1, 2, 6, and 7 were more potent than ascorbic acid. (35)
• Hepatoprotective / Antidyslipidemic / Peel Flour: Study evaluated the effects of lychee peel flour on serum lipid levels and various parameters related to obesity in rats fed a hypercholesterolemic diet. Results showed peel flour intake attenuated weight gain, reduced body mass index, glucose levels and levels of triacylglycerols, total cholesterol, LDL-C, hepatic enzymes and leptin, besides percentage of hepatic lipids, liver lipid peroxidation and degree of severe steatosis. Study reinforces its potential in reducing risks associated with obesity. (36)
• Anti-Inflammatory / Analgesic / Leaves: Study evaluated the potential of hydroalcoholic extract of Litchi chinensis leaves for anti-inflammatory activity using carrageenan induced paw edema in rats and analgesic activity using acetic acid induced writhing test and hot plate methods in mice. Results showed significant anti-inflammatory and analgesic activity. (37)
• Antineoplastic / Ehrlich's Ascites Carcinoma / Leaves: Study investigated the anti-carcinogenic activity of L. chinensis leaf extract against Ehrlich's ascites carcinoma in mice. The leaf extract inhibited the growth and metabolic activity of viable EAC cells both in vivo and in vitro studies. Treatment showed features of apoptosis. The extract arrested the EAC population in the G2-M phase of the cell cycle. The extract induced apoptosis was mediated through mitochondrial intrinsic pathway involving release of cytochrome C and activation of caspase-9 and caspase-3. (38)
• Polymeric Proanthocyanidins / Antioxidant / Fruit Stones and Pericarp: Study studied fruit stones and pericarps waste produces of Litchi chinensis as a source of polymeric proanthocyanidins. HPLC-ESI-MS analysis showed that epicatechin and A-type dimer were the major constituent units. Antioxidant properties using DPPH, ABTS, and FRAP methods showed that the higher polymerization degree of polymeric proantho-cyanidins from fruit stones exhibited higher antioxidant activities than those from pericarps. (39)
• Nanoparticles / Catalytic Potential / Peels: Study reports on the use of L. chinensis peel extracts for the synthesis of silver and gold nanoparticles. Phytochemical screening yielded polyphenols, starch, reducing sugars, ascorbic acid and citric acid. GCMS/MS analysis yielded diverse phytochemicals in LCPE like erucic acid, geranyl isovalerate, 2-hexadecanol, a-acorenol and tetradecane. Both AgNPs and AuNPs showed significant catalytic potential. (40)
• Renoprotective / Saponin from Seed: Study investigated the effect of saponin from seed of L. chinensis on the growth and apoptosis of human kidney epithelial cells (HKC) cultured in high glucose. SLS can reduce secretion of TGF-ß1 and FN in HKC by reducing deposition of extracellular matrix, and significantly reduced apoptosis by HKC by inhibiting the level of SOCs-1. Results suggest a role of SLS in preventing the progress of glomerular sclerosis. (41)
• Protective Against Alcoholic Hepatotoxicity / Alleviation of Mitrochondrial Dysfunction / Pulp Phenolic Extract: Study evaluated the protective effect of pulp phenolic extract against alcoholic liver disease via modulation of mitochondrial function. LPPE significantly alleviated hepatic steatosis, suppressed serum aspartate aminotransferase activity and decreased triglyceride levels in serum and liver. Results showed LPPE exerted beneficial effects against alcoholic liver injury by alleviating mitochondrial dysfunction. (42)
• Invention / Cosmeceutical / Pericarp: Invention relates to cosmetic and/or pharmaceutical preparations containing extracts from renewable resource of L. chinensis pericarp and isolated procyanidolic oligomers and their derivatives for use as skin and/or hair products. (43)

Availability
Wild-crafted.
Extracts in the cybermarket.