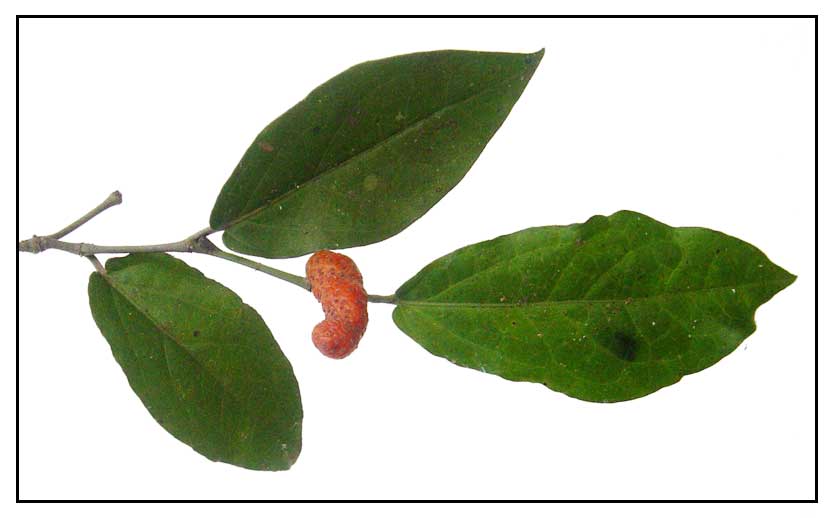 Botany
Litlit is a deciduous vine, growing to a height of 2 to 4 meters. Leaves are short-petioled, pale when dry, oblong, oblong-ovate, or elliptic lanceolate, 6 to 7.5 centimeters long, 3 to 8 centimeters wide, papery; the base sublateral or inequilateral, pointed or slightly heart-shaped and the apex pointed; penninerved, the lateral nerves 7 to 11 on each side of the midrib, ascending. Male spikes are 3.8 to 8.5 centimeters long, 2.5 to 4.5 millimeters in diameter; the bracts somewhat stalked, and peltate. Stamens are 2 to 3, stalkless. Female spikes are oblong when mature, red, fleshy and cylindrical, 3 to 6.5 centimeters long, 6.5 to 11 millimeters in diameter. Rachis is smooth and the bracts are stalkless and peltate. Fruit is more or less united, partly or wholly embedded in and concrescent with the rachis. Stigmas are three and short. Seeds are subglobose to obovoid-globose, 2 to 2.5 millimeters long.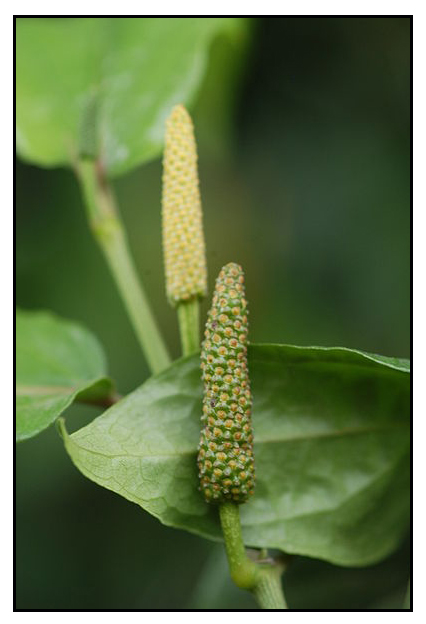 Distribution
- Common in thickets at low altitudes throughout the Philippines.
- Also found in Indo-China and the Malay Peninsula to the Moluccas.
Constituents
• Study yielded retrofractamide-D.
• Study has yielded piperine, piperlonguminine, sylvatine, guineensine, piperlonguimine, filfiline, sitosterol, methyl piperate and a series of piperine-analog retrofractamides.
• Study of leaves isolated two new compounds, piperoside and isoheptanol 2(S)-O-ßD-xylopyranosyl (1-6)-O-ß-D-glucopyranoside, along with 10 known compounds. (see study below) (18)
• Bioactive fractionation of methanolic extract of fruits yielded seven compounds viz. 3-phenylpropanoic acid (1), (2E,4E)-methyl piperate (2), (2E,4Z)-methyl piperate (3), piperlonguminine (4), dihydropiperine   (5), isochavicine (6), and piperine (7). (25)
• Study of a MeOH extract from fruit isolated Piperine, an alkaloid compound. (26)
• Study of P. retrofractum fruit yielded carbohydrate 63.4%, crude protein 11.4%, total ash 4.29%, dietary fiber 28.8%, and total fat 2.97%. Fruit also yielded varying concentrations of calcium, copper, iron, magnesium, phosphorus, potassium, sodium and zinc. A methanol extract yielded sterol, glycosides, flavones, tannin, and alkaloid, and yielded the highest phenol content compared to other extracts. (28)
• Bioassay guided fractionation and chemical investigation of methanol extract of dried fruit isolated three new amides, namely  (2E,14Z)-N-isobutyleicosa-2,14-dienamide (1), dipiperamides F and G (2 and 3), together with 30 known compounds.  (see study below) (34)
- Study of fruits isolated two new amides (E)-N-cinnamoyl-2-methoxypiperidine (1) and (R)-1-(2-oxopyrrolidin-3-yl)-5,6-dihydropyridin-2(1H)-one (2), four new amide glucosides, retrofractosides A–D (3-6), and two new phenylpropanoid glucosides, retrofractosides E (7) and F (8), together with 24 known compounds (9-32). (see study below) (35)

Properties
• Studies have suggested larvicidal, antioxidant, cardioprotective, anti-inflammatory, anti-convulsant, anti-dengue, aphrodisiac, anticancer, antidepressant, antibacterial, antifungal, anti-lice properties.

Part utilized
Roots, leaves, fruits.
Uses
Edibility / Culinary
- Leaves and berries of this pepper are edible.
- In some countries, used for green peppercorn spice.
- Fiery and more pungent than black pepper.
- In India, mainly used for pickles.
- Ripe and unripe fruits used as spice in curries.
Folkloric
- Root is chewed and the saliva swallowed, or the decoction of root taken internally as cure for colic, dyspepsia and gastralgia.
- For postpartum fevers and chills, a handful of leaves are salted and oiled, then heated over embers and stroked over the entire body, from head to foot.
- In Ayurveda, traditionally used to promote respiratory and digestive health; an ingredient in compound medicinal teas.
- In China, used for vomiting, hiccups, stomachaches, diarrhea due to coldness in the stomach. For toothaches, applied externally.
- In Bangladesh, plant used to cure rheumatic pain and body pain after childbirth. Fruits used for coughs, colds, asthma, bronchitis, fever, hemorrhoids. Roots used for asthma, bronchitis, and consumption. (11)
- One of three ingredients in Trikatuk—Zingiber officinale, Piper nigrum, and Piper retrofractum—a Thai traditional medicine, used to adjust a patient's element during the rainy season, for the treatment of illness due to fire, winder and water elements. (20)
- In Ayurvedic and Unani systems of medicine, the fruit's hot flavor is used for improving digestion, blood circulation, and overall health; to treat asthma, influenza, and hypertension, and as antiflatulent.   (36)
- In Indonesian traditional medicine, used to improve stamina and for its aphrodisiac effect and beneficial effect on erectile dysfunction. The effect is attributed to the contents viz., piperin alkaloid, and aisiri oil, among others, considered to have anabolic and androgenic effects. (40)
Studies
• Larvicidal: Mosquito larvicidal activity of aqueous extracts of long pepper (Piper retrofractum Vahl) from Thailand: Among nine medicinal plant extracts, PR showed the highest level of activity against mosquito larvae. Extracts of unripe and ripe fruits showed different levels of activity. The ripe fruit extract was more active against Ae. aegypti than Cx. quinquefasciatus. (1)
• Antioxidant: Chemical Constituents of Peppers (Piper spp.) and application to Food Preservation: Naturally Occurring Antioxidative Compounds: All phenolic compounds isolated, seven from P retrofractum, possess significant antioxidant activities. (2)
• Cardioprotective / Antioxidant: Petroleum ether extract of root and piperine from roots of Piper longum pretreatment decreased lipid peroxide level and maintained glutathione to near normal levels in treated rats. Results showed the extract of the plant root and piperine exerted anti-oxidant activity and cardioprotective benefit in the myocardial ischemic condition.
• Antimycobacterial Activity : In a study of various extracts from medicinal plants used as self-medication by AIDS patients in Thailand were tested for their antimycobacterial activity. The chloroform extract of P chaba fruits showed strong inhibitory effects; piperine was its active compound. (5)
• Piperine / CNS Activity / Anticonvulsant: Piperine isolated from study showed a strong potentiating effect on hexobarbital induced hypnosis. Piperine exerted a potent anticonvulsant effect measured by protection against strychnine mortality.
• Anti-Inflammatory / Anti-IL-6 Production: Study of inflammatory effects of extracts from P. retrofractum clearly showed regulation of LPS-induced IL-6 production by pure products from Piper extracts. (7)
• Aphrodisiac / Toxicity Study: Study evaluated the toxicity and aphrodisiac effect of a combination infusion of P. retrofractum, Centella asiatica and Cucurma domestica on Sprague-Dawley strain of male rats. Results showed significant differences in coitus and climbing frequencies between the treated male rat group and the untreated group. Infusion of 1000 mg/200g bw had a safe aphrodisiac effect on male Sprague-Dawley rat libido. (9)
• Antimicrobial / Fruits: Study of evaluated 28 extracts from the fruits of four species, viz. Piper cubeba, P. retrofractum, P. longum, and P. nigrum against bacterial pathogens Staphylococcus aureus, S. typhi, P. aeuriginosa, E. coli and Bacillus megaterium and one fungus, Aspergillus niger. Compared to Streptomycin all extracts showed good antibacterial activity. Some exhibited antifungal activity. (10)
• Piperidine Alkaloids / Anti-Obesity Effect / Anti-High-Fat Diet-Induced Obesity: Study isolated piperidine alkaloids, including piperine, pipermonaline, and dehydropipermonaline as anti-obesity constituents. Results showed piperidine alkaloids attenuated HFD-induced obesity by activating AMPK (AMP-activated protein kinase) and PPAR, and regulated lipid metabolism, suggesting potential anti-obesity effects. (11)
• Anticancer / TD4 and HeLa Cell Lines / Mixture of Zingiber officinale and Piper retrofractum Extracts: Study of evaluated the cytotoxicity activity of a combination of ethanolic extracts of Z. officinale and P. retrofractum on HeLa and T47D cell lines. Z. officinale yielded terpenoids while P. retrofractum yielded alkaloids. The mixture showed cytotoxicity against HeLa and T47D cell lines, probably through ab apoptotic mechanism. (13)
• Dental Plaque Benefits / Inhibition of Streptococcus sanguis: Streptococcus sanguis is a bacteria involved in the formation of dental plaque, calculus, and caries. Study of various extract concentrations showed growth inhibition of Streptococcus sanguis. (14)
• Anti-Dengue Virus: In a study of 10 medicinal plants for anti-dengue type 2 activities in Vero cell by MTT method. At a concentration of 12.5 µg/ml, an ethanol extract showed inhibitory activity against DENV2 with 45.52% inhibition, 32.06% with a dichloromethane extract. At a concentration of of 100 µg/ml, there was 84.93% inactivation of viral particles. (15) An ethanol extract of P. retrofractum showed antiviral/virucidal activity against DENV-2, inhibiting 84.93% of the virus at concentration of 100 µg/ml. In an earlier study, an aqueous extract showed highest activity against mosquito larvae. (43)
• Neurotrophic Activity / Fruits: Study of fruits yielded three new compounds, 1-3, together with 22 known compounds. Compound 1 was found to enhance the neurite outgrowth of NGF-mediated PC12 cells. (16)
• Antioxidant / Antimalarial: Study showed good antioxidant activity for Piper retrofractum, Zizyphus sativa, Eulophia campestris on DPPH assay method; P. retrofractum was the most potent. The free radical scavenging activity of these plants probably contributes to the effectiveness of the plants in malaria therapy. (17)
• New Phenylpropanoid and Alkylglycoside / Antioxidant / α-Glucosidase Inhibition: Study of leaves isolated two new compounds, piperoside and isoheptanol 2(S)-O-ßD-xylopyranosyl (1-6)-O-ß-D-glucopyranoside, along with 10 known compounds. All the isolated compounds showed modest α-glucosidase inhibitory and antioxidant activities. (18)
• Anti-Lice Shampoo: Study evaluated formulation of herbal shampoo from long pepper fruit (Piper retrofractum) extracts—10% and 3% concentrations—against human head louse (Pediculus capitis) on 60 heavily lice-infested children at Ladkrabang, Bangkok. Both herbal shampoo proved to be highly effective against all stages of human head lice, considered safe in children, with no post-application side effects. (19)
• Potential as Androgenic Phytopharma: Study results suggest javanese long pepper is one source of natural androgen; and a daily dose of 100 mg may act as androgenic phytopharma, which could safely increase libido and testosterone blood levels. (21)
• Clinical Efficacy and Safety of Sahastara in Treatment of Osteoarthritis: Sahastara (SHT) is a Thai traditional alternative medicines used in the treatment of knee osteoarthritis. Its main plants ingredients are Piper nigrum and Piper retrofractum, comprising 33.6% of the whole preparation, and which have shown high anti-inflammatory activity on PGE2 release. Piperine, the main component of SHT remedy is also main components of PN and PR which has shown anti-inflammatory activity on human OA by inhibition of IL-1ß. A double-blind randomized and controlled trial showed SHT exhibited equal clinical efficacy in alleviating symptoms of osteoarthritis of the knee when compared with diclofenac, with improved quality of life, and no liver or renal toxicity. (22)
• Piperine / Antidepressant / Fruit Volatile Oils: Study evaluate the piperine content and antidepressant potential of the volatile oils of fruits of different Piper species, viz. Piper betle, Piper cubeta, P. retrofracturm (P. chaba), P. longum and Piper nigrum using forced swimming method on albino mice with fluoxetine as standard antidepressant drug. All volatile oils of the Piper fruits showed more activity than the standard compound, fluoxetine. Piperine content was maximum in P. nigrum followed by P. chaba. Piperine is a piperidine type alkaloids, known to be a central nervous system depressant.   (23)
• Antioxidant / Combination with Z. officinale: Study evaluated the invitro antioxidant activity of single ethanolic extract and combinations of Z. officinale and P. retrofractum using free radical scavenging DPPH assay. The antioxidant activity of a single ethanolic extract of P. retrofractum showed an IC50 of 3.445 µg/ml. The IC50 of combination of ZO and PF ethanolic extracts at concentration ratios of 1:2.1:1 and 2:1 were 148 µg/ml, 85 µg/ml and 73 µg/ml. (27)
• Piperine / Anticancer / Breast Cancer Cell Line: Piperine, an active component in Java chili fruit (P. retrofractum), is considered an anticancer ingredient. Java chili extract contains flavonoids and alkaloids, along with steroids. Fruit extracts showed highest anticancer activity with inhibitory activity against MCF-7 cancer cells at concentration of 250 µg/ml. (29)
• Comparative Antioxidant Activity of Various Solvents / Fruit: Study evaluated the antioxidant activity of various solvent extracts of P. retrofractum fruit using DPPH assay. All extracts scavenging DPPH free radicals in a concentration dependent manner. IC50 for DPPH radicals with methanol, ethyl acetate and n-hexane extracts were 101.74, 66.12 and 57.66 ppm, respectively. The n-hexane extract IC50 at 57.66 ppm was lower than ascorbic acid at 66.12 ppm, suggesting the extract to be a more potent scavenger of free radicals. (30)
• Invention / Composition for Treatment of Obesity and Diabetes / Fruits: Study reports of an invention relating to a food pharmaceutical composition containing extracts of Piper retrofractum, with anti-obesity effects via thermogenesis produced by an activity of UCP of fat cells with consequent decreased body weight and body fat, and an antidiabetic effect via improved insulin resistance, increase muscle mass, and improved capacity for exercise. (31)
• Antimicrobial / Fruits: Study evaluated antimicrobial activities of crude bioactive metabolites extracted from fruits of P. retrofractum against 10 pathogenic organisms, bacteria and yeasts i.e., B. subtilis, S. aureus, E. faecalis, E. coli, K. pneumonia, P. aeruginosa, S. typhi, V. parahemolyticus and C. albicans causing oppotunistic infections in humans and animals. The extract from the methanol solvent showed greater antibacterial activity than other solvent extracts. The crude extract can inhibit the majority of human and animal pathogens and potential for the pepper fruits in prevention of food contaminating microorganisms, (32)
• Antifungal / Cytotoxic / Fruits: Bioassay guided fractionation and chemical investigation of methanol extract of dried fruit isolated three new amides, namely  (2E,14Z)-N-isobutyleicosa-2,14-dienamide (1), dipiperamides F and G (2 and 3), together with 30 known compounds. Compounds 9, piperamine, showed potent activity against plant pathogenic fungus, Cladosporum cladosporioides, compared to positive control nystatin. Dipiperamides F and G (2,3 chabamide (30), nigramide R (31), dehydropipernonaline (24), pipernonaline (25), guineensine (22), brachystamide B (23) retrofractamide (20), pellitorine (13), and pipericine (14) exhibited cytotoxicity against L51785Y lymphoma cells with IC50 values ranging from 8.9 to 28.3. (34)
• Inhibitory Activity on Platelet Aggregation / Fruits: Study of fruits isolated two new amides, four new amide glycosides, together with 24 known compounds. All the compounds were evaluated for inhibitory activity against mouse platelet aggregation induced by the peptide AYPGKF-NH2. (E)-N-(tetrahydro-sH-pyran-2-yl)cinnamamide (9) showed a weak inhibitory eff3ct, with an inhibitory ratio on 52.0% at a concentration of 150 µM. (see constituents above) (35)
• Invention / Antiobesitic Composition: Invention relates to a food and pharmaceutical composition with anti-obesity effect by exothermic action due to UCP activity of adipocytes, and more particularly to a novel use of a composition containing an extract of Piper retrofractum, effective for antiobesity through weight reduction and body fat reduction. (37)
• Green Synthesis of Copper Nanoparticle / Antibacterial: Study reports on the eco-friendly green synthesis of CiNPs using copper sulfate as starting material and Piper retrofractum extract as bioreductor and capping agent in the formation of CuNPs. The CuNPs showed relatively good stability and could inhibit Escherichia coli and Staphylococcus aureus. (38)
• Drug Interactions: Moderate: The plant may increase the absorption of the following medicines, increasing their effects and side effects: phenytoin (Dilantin), propranolol (Inderal), and theophylline . (39)
• Hypolipidemic: Study showed the ethanol extract of Piper chaba possess significant hypolipidemic with significant lowering effect on LDL and cholesterol levels. (41)
• Piperin and Piplartin / Oral Anticancer: Study evaluated the mechanism of piperin and piplartin as natural oral anticancer drug. Piperin and piplartin are both antioxidants that can protect body cell from damage caused by free radicals. . Piperin and piplartin have potential as natural oral anticancer, by suppressing tumor development by increasing the number of immunity cells (immunomodulator) and by inhibition of cell proliferation with reduction in Ki67, nucleus antigen associated with G1, S, G2, and M phase of cell cycle. (42)
• Nematicidal / Strongyloides stercoralis Larvae / Fruits: A previous study showed P. retrofractum fruit extract with promising nematicidal activity against third stage infective larvae of Strongyloides stercoralis. Study for main components yielded  4-acetylphenyl (4-benzoylphenoxy) acetate (14.86%) and octyl methoxycinnamate (12.72%).  Nematicidal bioassay showed promising potential against SS larvae with LC50 value of 0.059 mg/ml, compared to reference drug ivermectin wit LC50 of 0.020 µg/ml. Results suggest a potential new alternative for anti-Strongyloides chemotherapy. (44)
• Antitubercular / Cytotoxic / Fruit: Study of fruit yielded four compounds: piperine, methyl piperate, sylvatine, and piperionguminine. The crude methanol extract showed antibacterial activity against Mycobacterium tuberculosis with MIC of 25.0 µg/mL. The crude extract and all isolated compounds were tested for cytotoxic activity against lung cancer cells (SCLC H22 and NCI-H187) and human gingival fibroblasts (HGF) in cell cultures. All four isolated compounds showed weak cytotoxicity against lung cancer cells. The crude methanol extract showed moderate cytotoxic behavior against the lung cancer cells and human gingival fibroblasts. (45)
• CNS Depressant, Sedative, Anxiolytic / Fruit: Study evaluated the neuropharmacological effects of ethanol extract of fruit of Piper chaba.: Results showed reduced number of cage crossing, head dips, decreased central and peripheral square crossing, reduced struggling time in forced swim test, and decreased time spent in light and dark test. Results suggest Piper chaba possesses CNS depressant, mild anxiolytic and sedative effect. (46)
• Antiprolferative / Anti-Metastatic /Breast Cancer / Fruit: Piperine can increase the bioavailability of many drugs by increasing absorption from the intestine, suppressing the metabolism of drugs in lung and liver tissue by inhibiting CYP3A4 and P84 glycoprotein. Study showed piperine is able to reduce breasst cancer cell proliferation by 40%, inhibit epidermal growth factor (EGF) by inducing decreased expression of MMP-9 and MMP-13. Piperine works through inhibition of NF-kB and PKC phosphorylation and AP-1 activation by interfering with the ERK signaling pathway, MAPK, and Akt which results in inhibition of migration and metastasis of breast cancer cells. (47)
Availability
- Wild-crafted.
- Fruit powder, oil, seeds, extracts in the cybermarket.