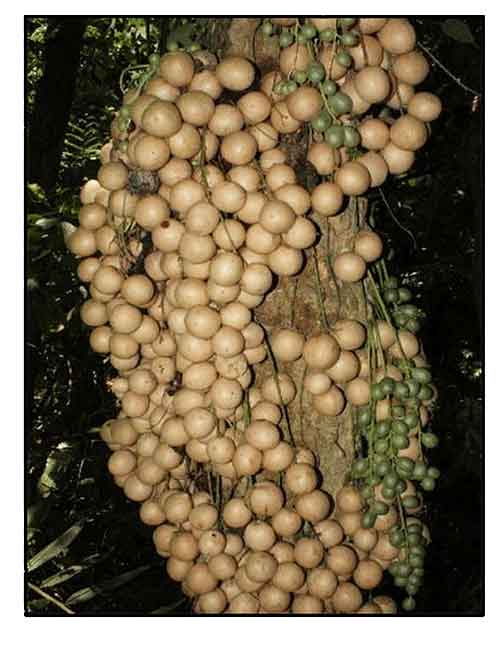 Gen info
- Baccaurea is a genus of flowering plant in the family Phyllanthaceae. The genus comprises over 100 species, distributed from Malesia to the West Pacific.
- Etymology: The genus name Baccaurea derives from Latin words bacca (berry) and aurea (golden), referring to the golden color of the berries. The species epithet lanceolata derives from Latin, meaning "lancet-shaped".
Botany
Baccaurea lanceolata is a tree up to 30 m high; candelabriform branching pattern usually weak; branchlets (sub)glabrous. Indumentum of simple hairs. Stipules (3–)5–16 by 2–6 mm. Leaves: petiole 16–184 mm long; blade elliptic to obovate, 9.2–45 by 3.7–26.5 cm, length/width ratio 1.7–3.4, papery, greenish-grey (to greenish-brown) when dry, base attenuate to round, lower surface without disc-like glands, nerves 6–13 per side. Staminate inflorescences cauliflorous, many together, up to 18 cm long; bracts 0.4–1.5 mm long, bracteoles present. Staminate flowers 2–7 mm in diam., yellow to pink to purple to cream-white; pedicel 1.8–7 mm long; sepals (3)4 or 5, obovate to spathulate, often variable in size and shape, 1.1–5.5 by 0.6–2.7 mm; petals often 3–5, rudimentary; staminodes 3–5; stamens (3)4 or 5, 0.4–0.6 mm long; filaments 0.1–0.3 mm long, straight; anthers 0.2–0.35 by 0.2–0.4 mm. Pistillate inflorescences cauliflorous, few together, up to 33(–50) cm long. Pistillate flowers 3.5–10 mm in diam., yellow to orange to purple to reddish-cream to whitish; pedicel 0.8–4.5 mm long; sepals 4 or 5, ovate to obovate, 1–6 by 0.9–3.2 mm; petals 2–8, reduced; ovary 3- or 4-locular; style absent; stigmas 0.7–1 mm long, cleft for upper 10–90%. Fruits globose to ellipsoid berries, ca 38 by 60 mm when fresh, 24–54 by 16.5–41 by 16.5–41 mm when dry, green to yellow to whitish to greyish to brownish, glabrous outside and inside. Seeds 12.2–26 by 8–15 by 4.8–9 mm; arillode white to gray, translucent. (Flora of Thailand)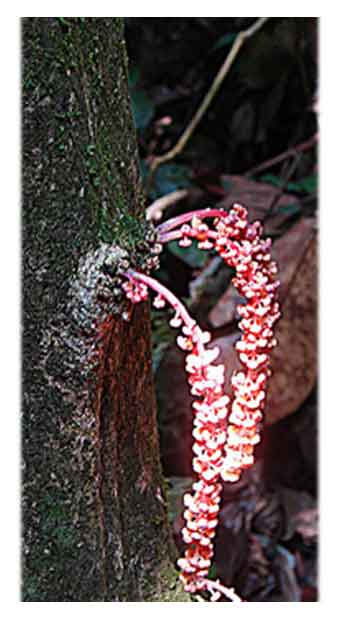 Distribution
- Native to the Philippines.
- Also native to Borneo, Jawa, Malaya, Sumatera, Thailand.
- In undisturbed mixed dipterocarp and sub-montane forests, up to 1300 m altitude.
Constituents
- Phytochemical analysis for TPC (total phenolic content) yielded 3.31 (pericarp), 4.81 (flesh), seed 3.29 mg GAE (gallic acid equivalent)/gm; TFC (total flavonoid content) 2.29, 4.73, 1.97 mg CE (catechin equivalent)/gm; TAC (total anthocyanin content) 0.50, 0.37, 0.07 mg c-3-gE (cyanidin-3-glucoside equivalent)/100 g dry sample; TCC (total carotenoid content) 0.75, 0.67, 0.64 mg BCE (beta carotene equivalents)/1g for phenolic, pericarp, and flesh, respectively. (4)
- Nutritional analysis of fruit per 100 g edible portion yielded: Energy 18 kcal; moisture 92.4%; protein 0.2%; fat 0.2%; carbohydrate 3.7 g; crude 2.2%; ash 0.8%. Mineral content per 100 g edible portion: P 6 mg, K 126 mg, Ca 35 mg, Mg 11mg, Fe 0.3 mg, Mn 2ppm, Cu 1.5ppm, Zn 6.3ppm, Vit C 0.6mg. (4)
- Study evaluated limpasu pericarp extracts for total flavonoid content using UV-Vis spectrophotometry method. TFC of pericarp hexane, ethyl acetate, and methanol extracts were 44.1552, 155.85, and 25.85 g/ml. (8)
Properties
Studies have suggested antioxidant, antibacterial, sun-protective properties.

Parts used
Leaves, fruits, bark.

Uses
Edibility
- Pericarp and arillode are edible but sour; eaten with salt or sugar. (2)
- In Malaysia, local Sabahan drink the fruit juice and sun-dried fruit slices, which are also used in cooking.
Folkloric
- Decoction of leaves pounded in bamboo drunk for stomach aches. (2)
- In Indonesia, fruit used as acne remedy (Skin care products are sold as face mask and powder).
- Fruits used as natural sunscreen by Banjar tribal hamlets in Kalimantan: fruits are processed into powder form and smeared on the face or applied to skin that will be exposed to sun for sunlight protection. Plants used for body pain, headaches, diarrhea, and to reduce drunkenness. (4)
- Poultice of fruit applied to abdomen to relieve abdominal pain. Fruit poultice applied to swellings on the body. Fruit shell eaten to cure diarrhea. Decoction of pounded fruit and leaves used to bathe the head to cure headaches. Pounded tree bark used to reduce drunkenness. (4)
Others
- Wood: Wood is hard and durable; used for house construction.
- Superstitions: In Malaysia, the Iban use the fruit as protection against charms; consumed before paying house visits during Gawai, the harvest festival. When the Dayaks hunt, the fruit is used as indicator for the presence of pig or duk (Macaca nemestrina). (4)

Studies
• Antioxidant Activity / Fruit: Study by Abu Bakar et al incorporated three methods to analyze antioxidant capacity of fruit. Study of pericarp (P), flesh (F), and seed (S) for antioxidant activity showed: DPPH 48.93, 94.96, 85.06 mg ascorbic acid equivalent antioxidant capacity (AEAC) in 1 g of dry sample; ABTS 2.16, 2.99, 3.03 mg AEAC; FRAP 2.29, 2.81, 1.93 mM ferric reduction to ferrous/1 g, respectively. Study showed the highest phytochemical content was in the edible part (flesh). (see constituents above) (4)
• Antimicrobial / Leaves and Stems: Study for antimicrobial activity of leaves and stems showed medium to potent inhibition against selected bacterial strains, with highest inhibition against Moraxella catarrhalis (12mm) and strong inhibition (≥8mm) against Pseudomonas aeruginosa and Bacillus cereus. It showed no inhibition against fungal strains of Candida albicans. (4)
• Effect on Making Yoghurt / Fruit: Yoghurt is a dairy product made through bacterial fermentation process. Study evaluated the effect of addition of pempahong fruit (B. lanceolata) on taste and as source of antioxidants. Organoleptic testing scored 3 (rather like) and antioxidant in the strong to very strong category. Addition of fruit extract had no effect on pH. Best results was obtained with addition of 2% extract. (5)
• Antioxidant / Fruits: Study evaluated extracts and fractions of B. lanceolata for antioxidant activity using DPPH assay. The ethyl acetate fraction showed highest antioxidant activity. ß-sitosterol was isolated from the EtOAc fraction. (6)
• SPF Test / Fruit Isolates: Study evaluated two fruit isolates, K2 and CE, for SPF (sun protective factor) properties. K2 isolate showed SPF value of 3.2 at concentration of 0.2 mg/ml, while CE showed SPF of 5.0 at 0.2 mg/ml. On sensitivity skin test on rabbit skin, both K2 and CE showed values below 1, indicating the isolates did not cause irritation. Results suggest potential for fruit isolates to be developed as sunscreen for UV-protection. (7)
Availability
- Wild-crafted.
- Seeds in the cybermarket.