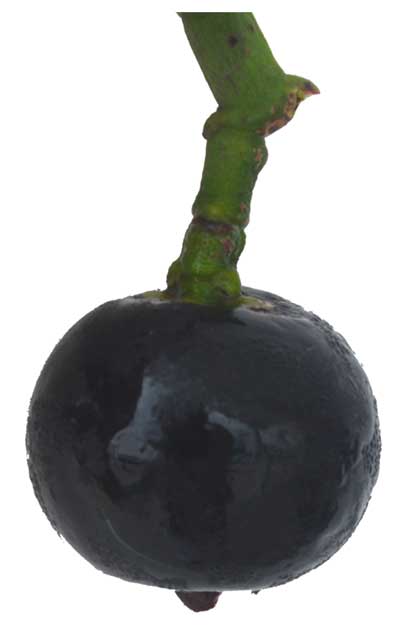 Botany
Lipote is a small to medium-sized tree growing up to 14 meters tall. Trunk is up to 75 centimeters in diameter. Outer bark is purplish gray. Twigs are angularly winged. Leaves are alternate, oblong-lanceolate or obovate, acuminate, 6 to 20 centimeters long, 4 to 7 centimeters wide, with 14 to 16 pairs of secondary veins. Flowers are white, numerous, and in panicles. Fruits are subglobose, fleshy, red to dark purple, sweet sour, and edible, 1 centimeter in diameter.
Distribution
- In primary forests at low and medium altitudes.
- Occasionally cultivated for its edible fruit.
- Considered vulnerable and potentially endangered.
- Reported in Sulawesi and Lesser Sunda Island.
Constituents
- Fruits are rich in vitamin C.
- On screening for flavonols and flavanols, methanol extract yielded 58.85 µg catechin g-1 fresh sample. (see study below) (7)
- Ripe fruit per 100 g contains 83% edible potion, with 83.4 g water, 77 kcal energy, 0.7 g protein, 2.5 g fat, 12.9 g carbohydrate, 1.7 g crude fiber, 93 mg calcium, 22 mg phosphorus, 0.2 mg iron, 50 µg ß-carotene, 10 µg total vitamin A, 0.01 mg thiamine, 0.02 mg riboflavin, 0.3 mg niacin, and 16 mg ascorbic acid. (8)
- Study of fruits for total flavonoids and total phenolic contents yielded 2780 µg Gallic Acid Equivalent (GAE)/g fresh sample and 5141 µg Quercetin Equivalent (QE)/g fresh sample, respectively. (9)
Properties
Considered antioxidant, antihypertensive.
- Studies suggest antioxidant, anti-inflammatory, antibacterial and anti-tumor properties.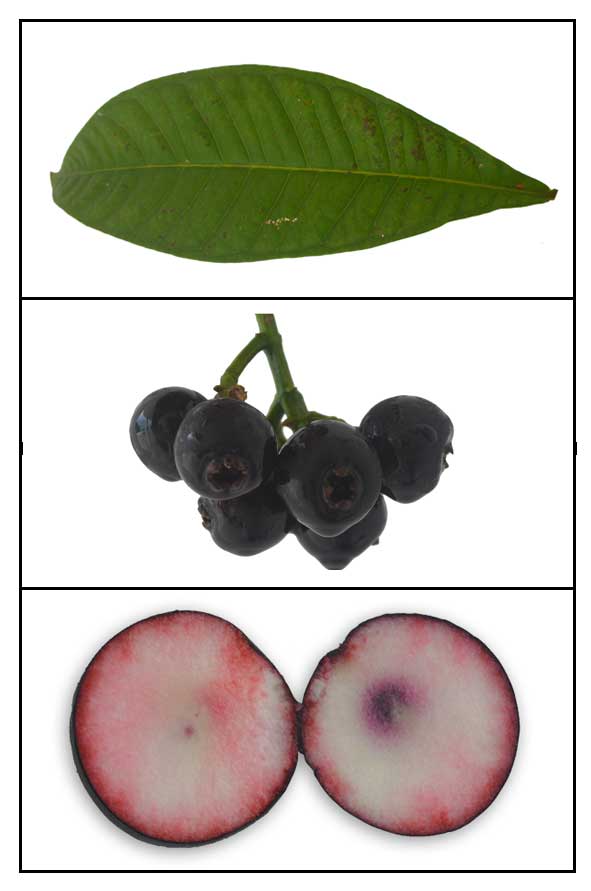 Uses
Edibility
- Fruits eaten, raw or cooked.
- Fruit used in making preserves, jellies, wine, pickles and beverages.
Folkloric
- Used for diabetes, hypertension, and high cholesterol.
- Ifugaos use the sour fruit for treating coughs. Leaf decoction used for hypertension. (6)
Others
- Wine: Source of tropical fruit wine.
- Wood: Used for construction.

Studies
• Syzygiol / Skin Tumor Inhibitory Activity: Study isolated syzygiol from Syzygium polycephaloides. It showed significant inhibitory activity of skin tumor promotion. (2)
• Antibacterial / Anti-Inflammatory / Bark: Study of alcoholic extract of lipote bark yielded active constituents, inorganic salts, carbohydrates, and proteins. The extract showed antibacterial activity, specifically Staphylococcus aureus. The bark extract also showed slight anti-inflammatory activity at dose of 1,000 mg/kg showing 19.67% protection against edema formation in female rats. (3)
• Antioxidant / Flavonols: Lipote fruit showed 77.7% inhibition of linoleic acid peroxidation. On screening for flavonols and flavanols, methanol extract yielded 58.85 µg catechin g-1 fresh sample. (7)
Availability
- Wild-crafted.
- Cultivated.